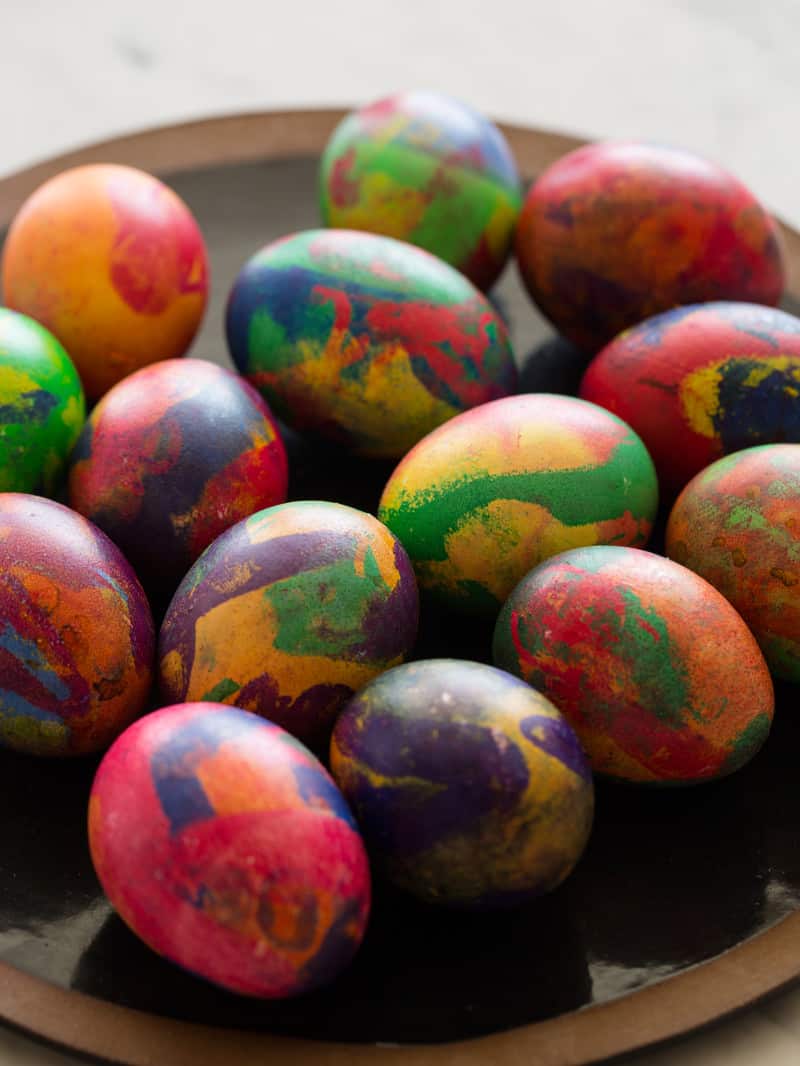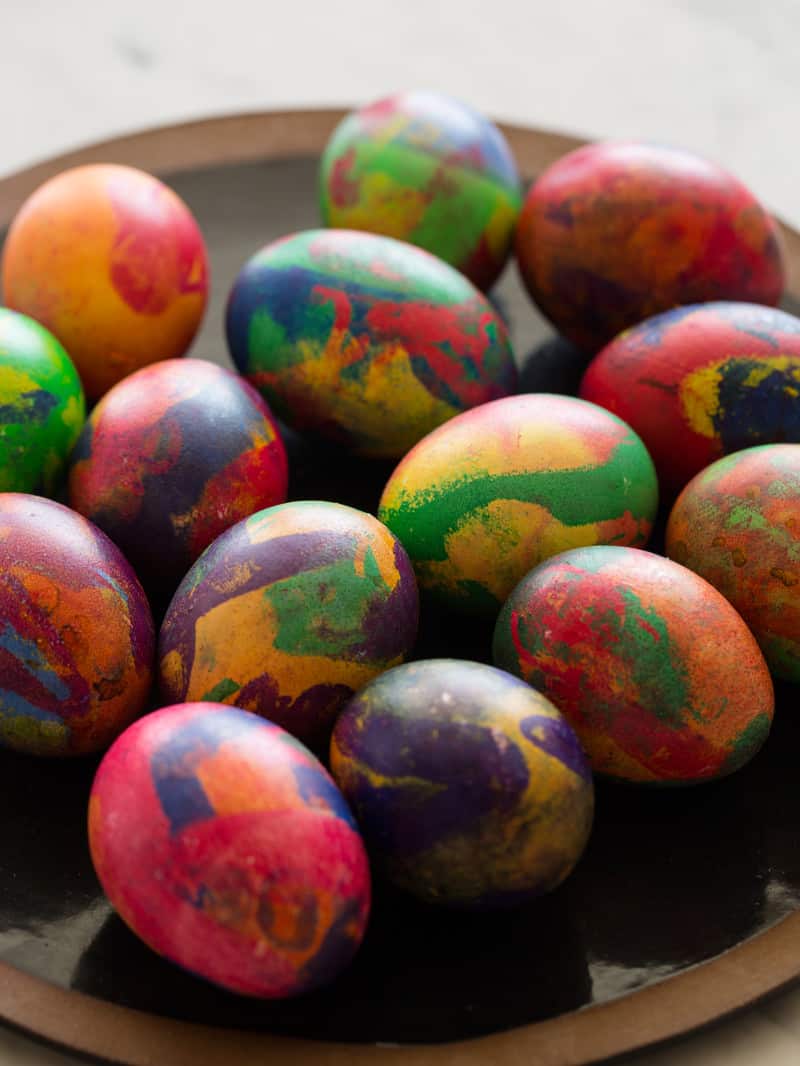 If you are anything like us, you are probably a little bored with PAAS-style dipped eggs. So, we've got a super simple way to put new life in your favorite Easter activity, which involves an unexpected secret tool—lip balm! Lip balm acts as a barrier to dye on an egg, much like wax on fabric in batik dying. We used ChapStick in this tutorial, but any kind of lip balm will work. You can use the balm to draw any shape or design, but because specific designs can smudge so easily we suggest using the smear technique shown here.
Start by washing and drying your eggs (white eggs produce the most vibrant colors, brown eggs will be more muted), prepare your dye in deep bowls or wide mouthed jars, and have some paper towels or absorbent cloths on hand.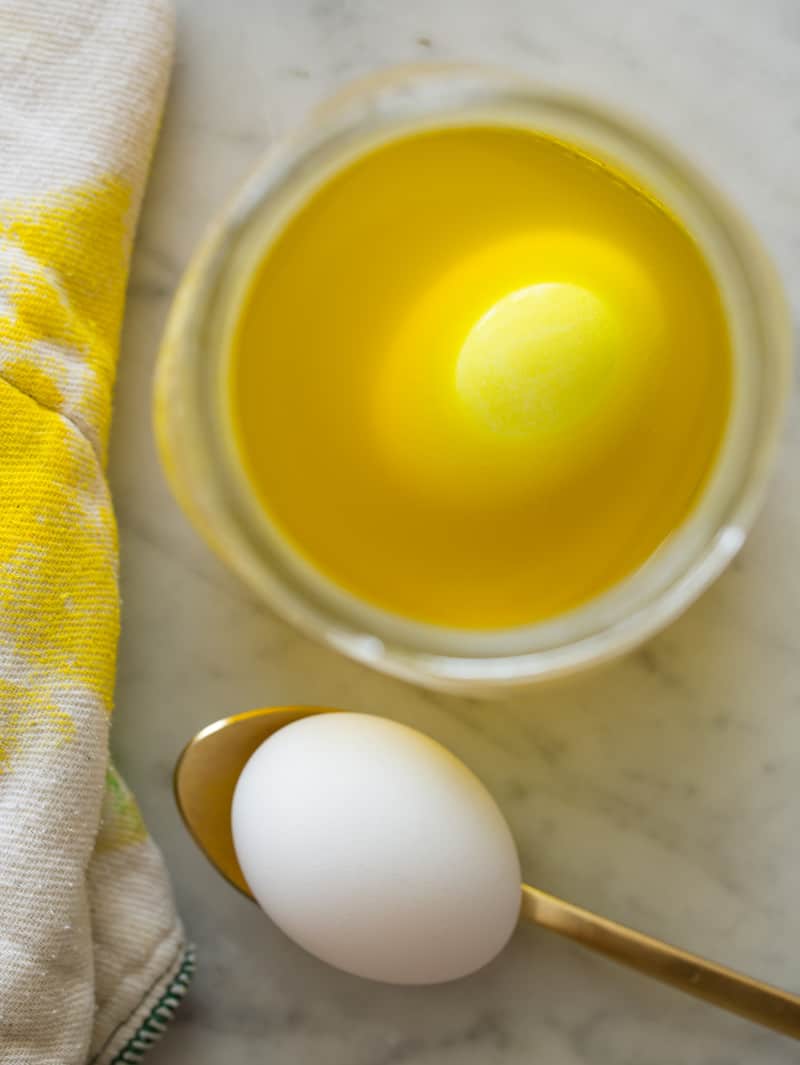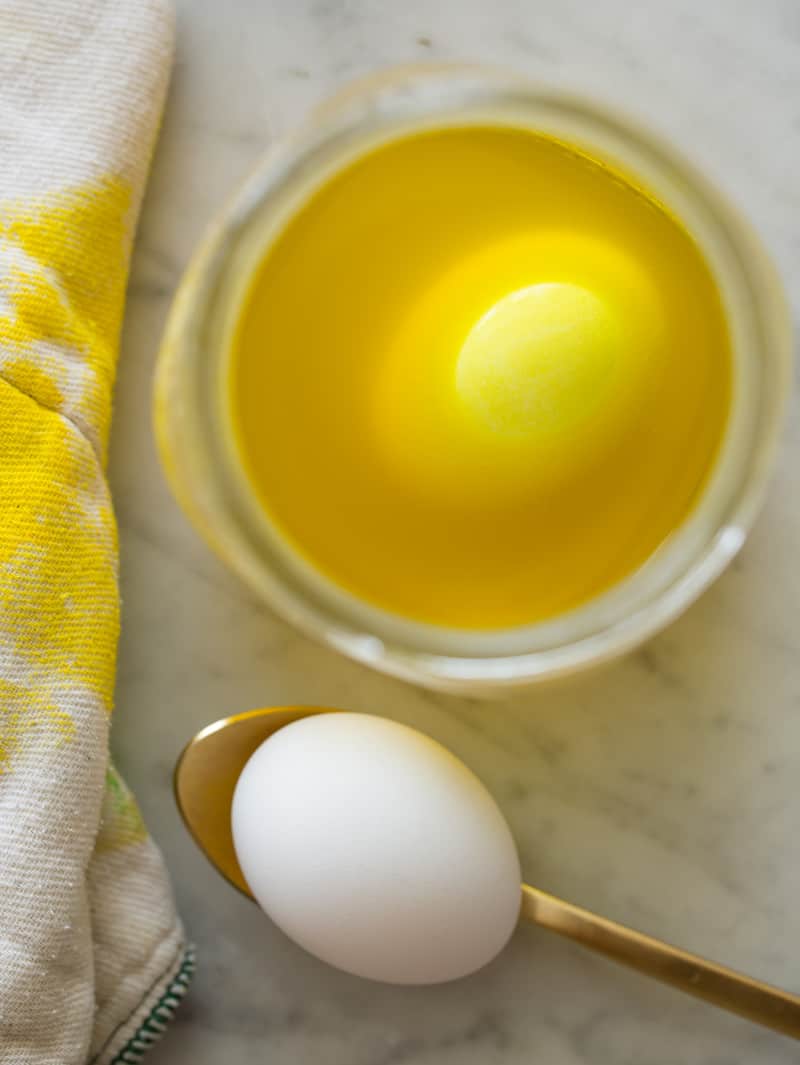 Using a spoon, carefully dip the egg into the first color. Typically, choose lighter dyes first, then move to darker shades (see "Tips and Tricks" below for reasons you might want to ignore this). Dark blue and black should always be last. NOTE: If you want any white in your design, add lip balm first, and then start dying. On an un-dyed egg, whatever you cover with balm will remain white.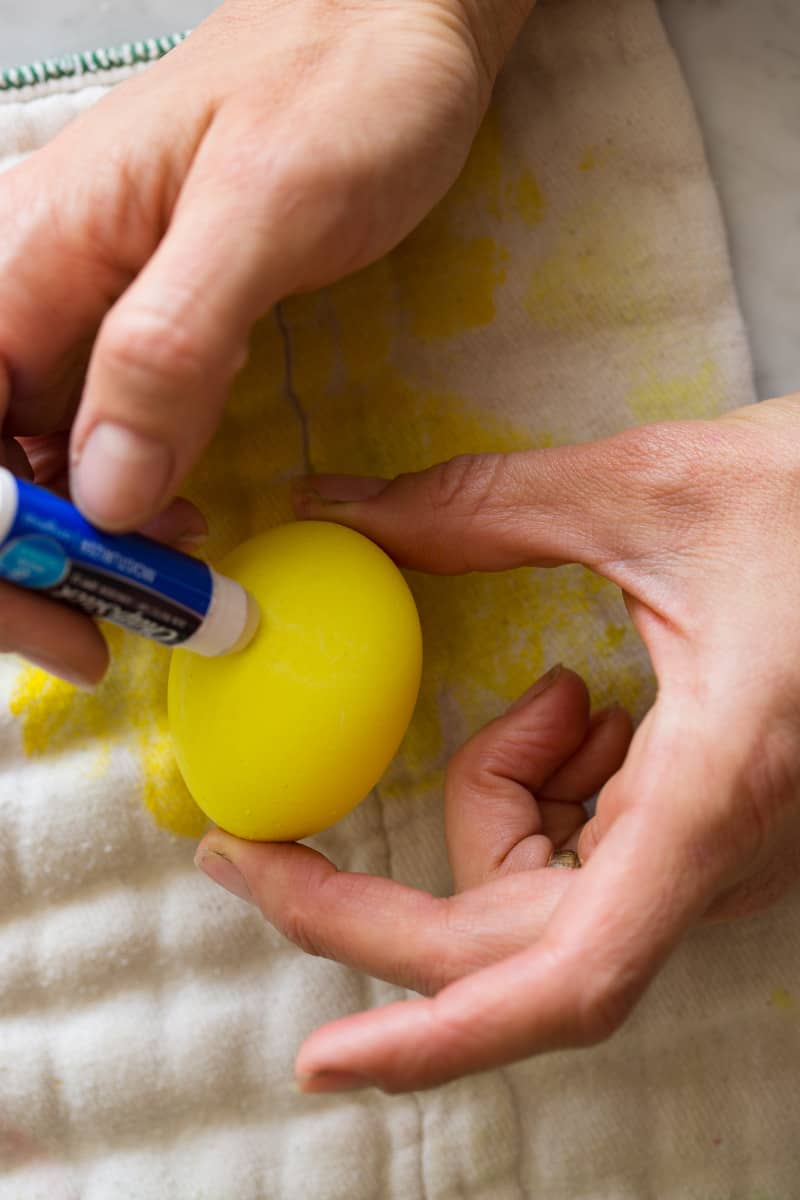 Take the egg out when it reaches the desired shade. After drying off excess dye with a paper towel or cloth, place a bit of lip balm onto a few spots of the egg shell.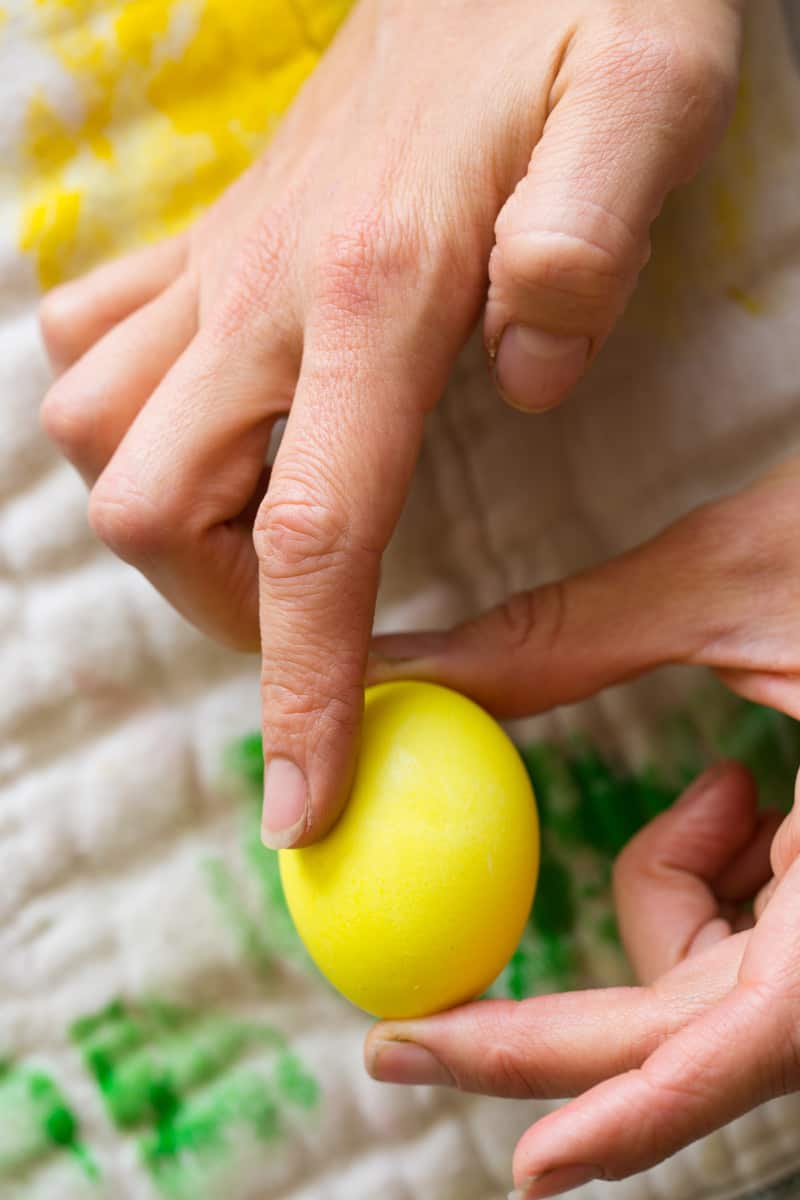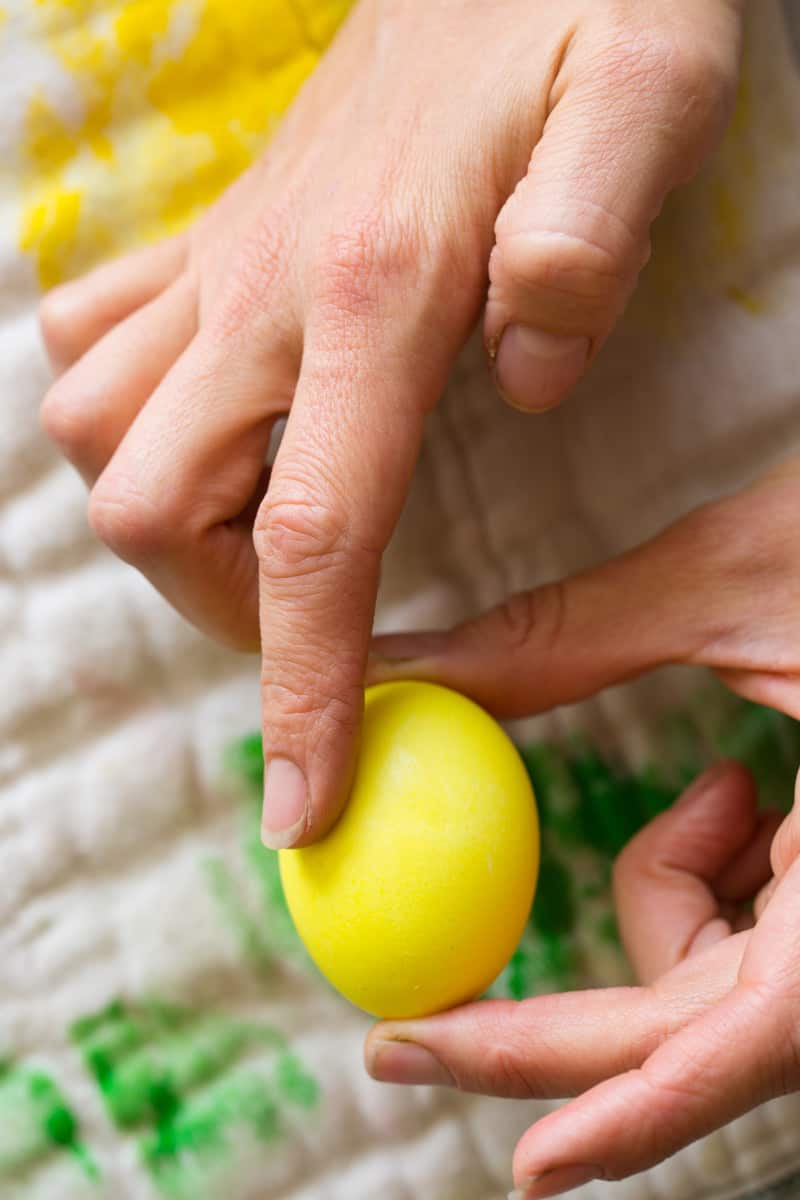 Using your finger, smear it around onto areas you wish to stay the current color of the egg. In this instance, what we covered in lip balm will stay yellow.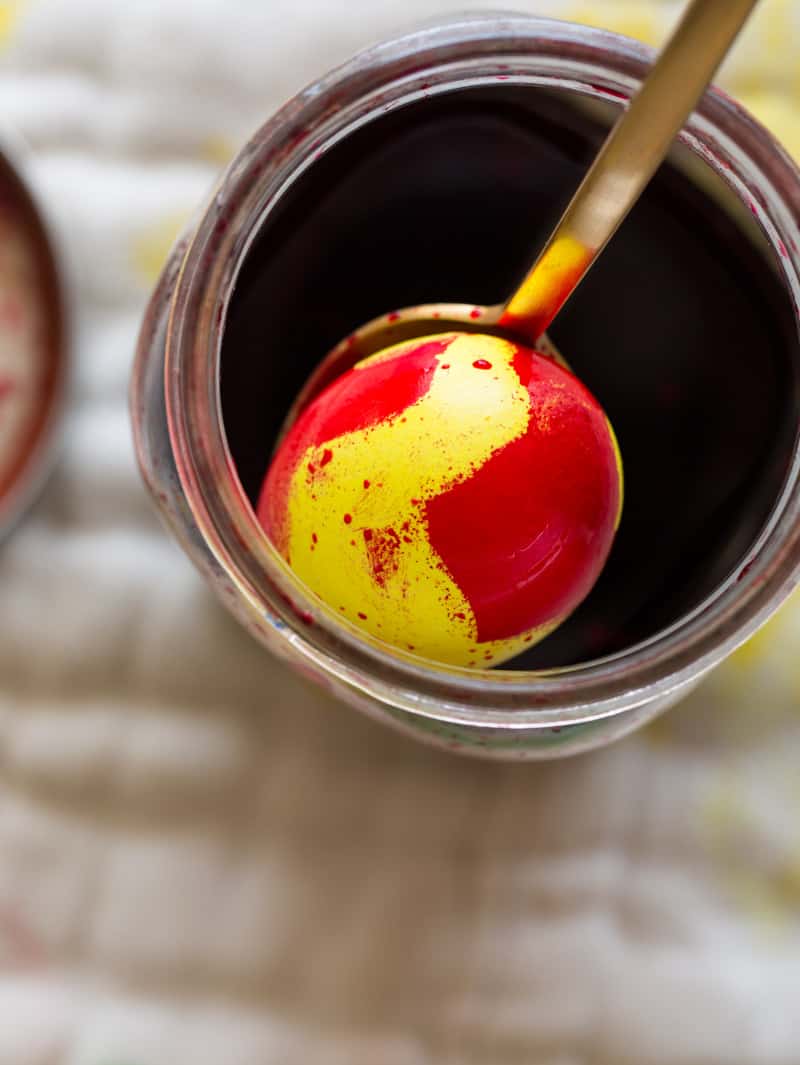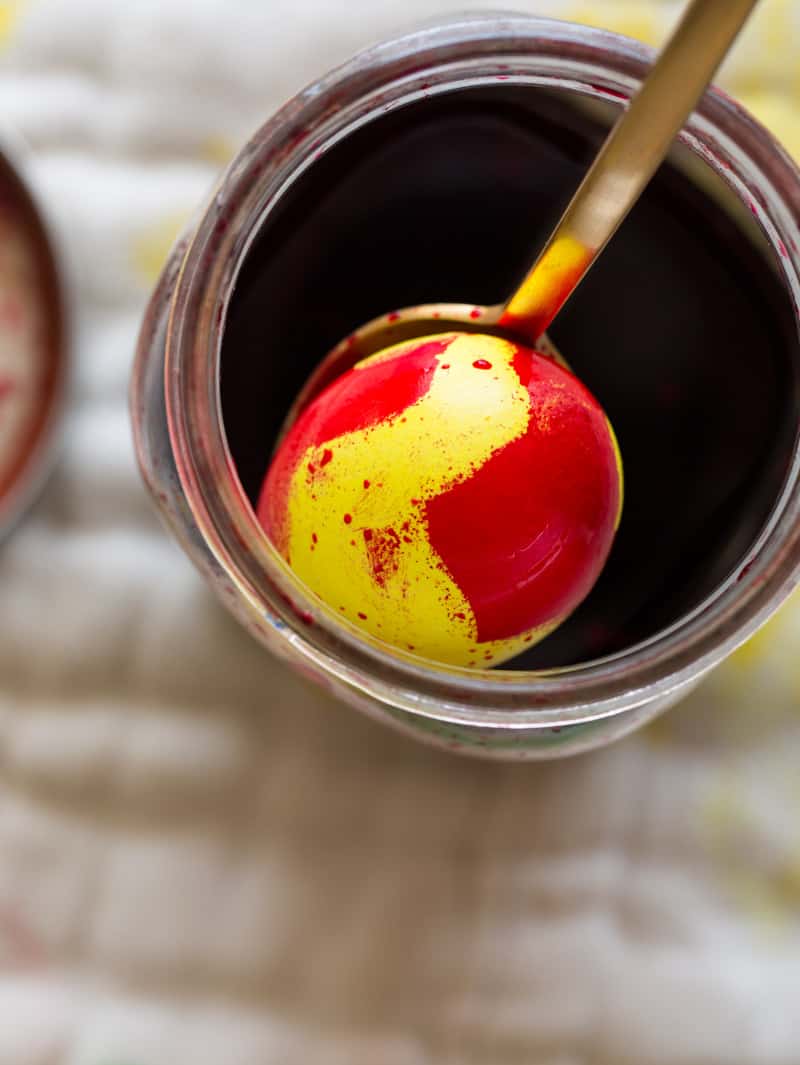 Dip the egg into the next color.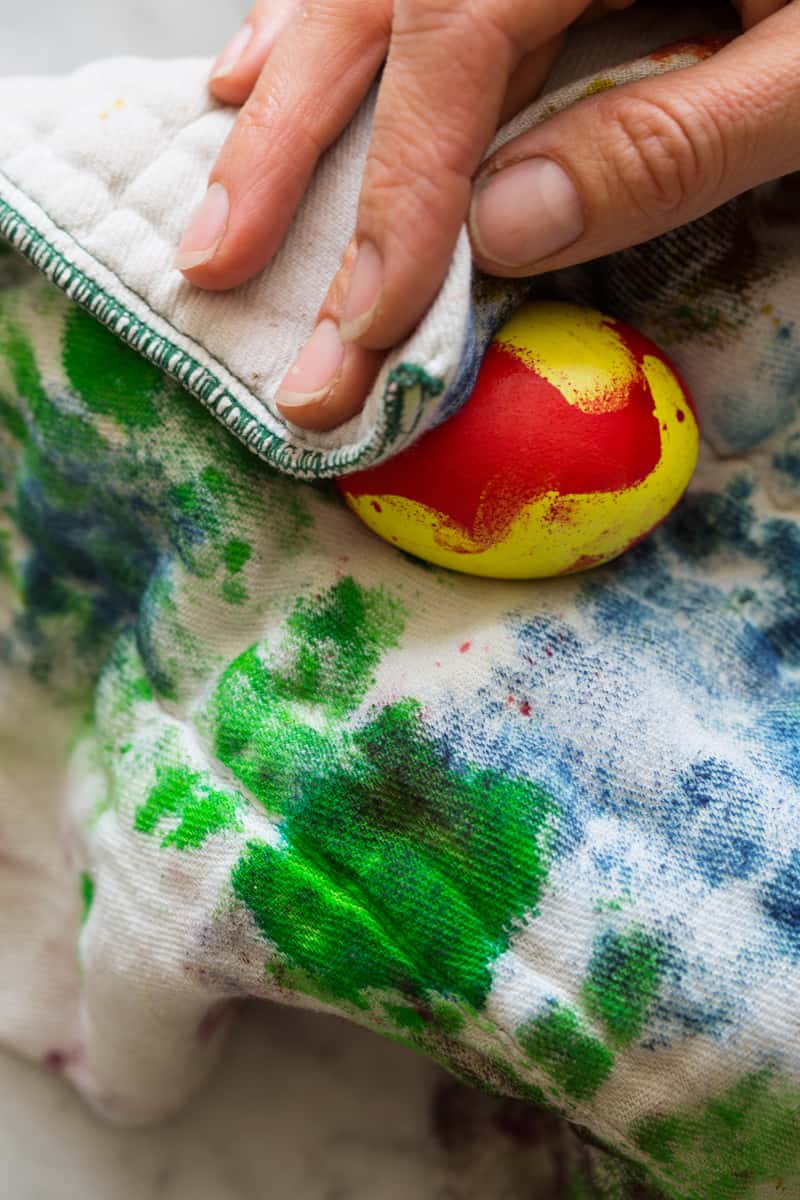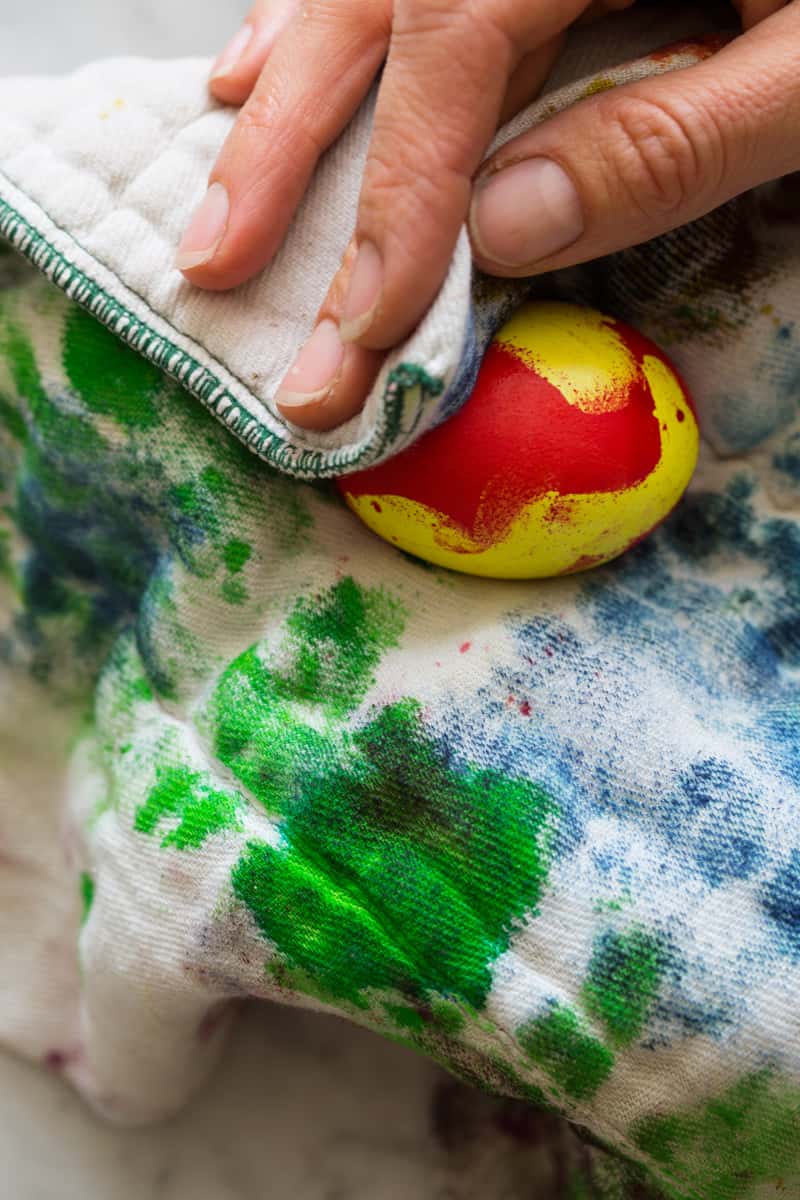 When your egg is the desired shade, carefully dab off the excess dye (without further smearing or taking off the lip balm!).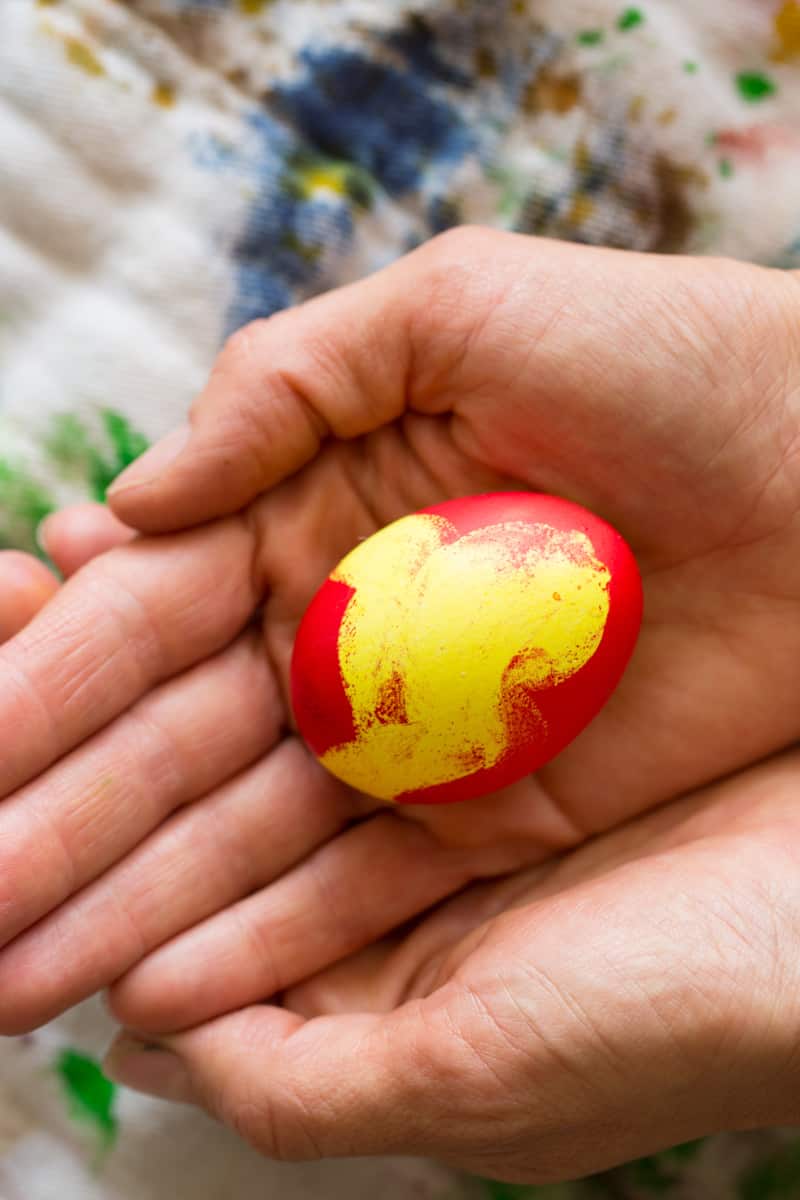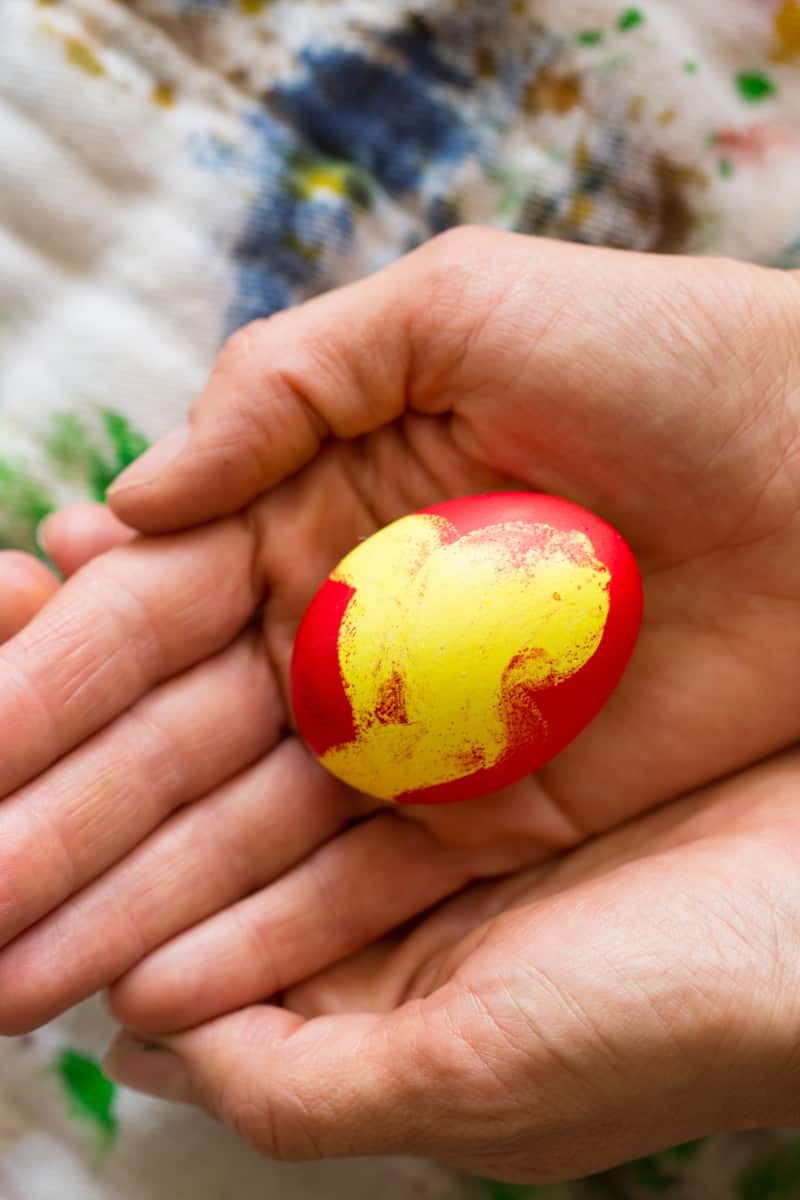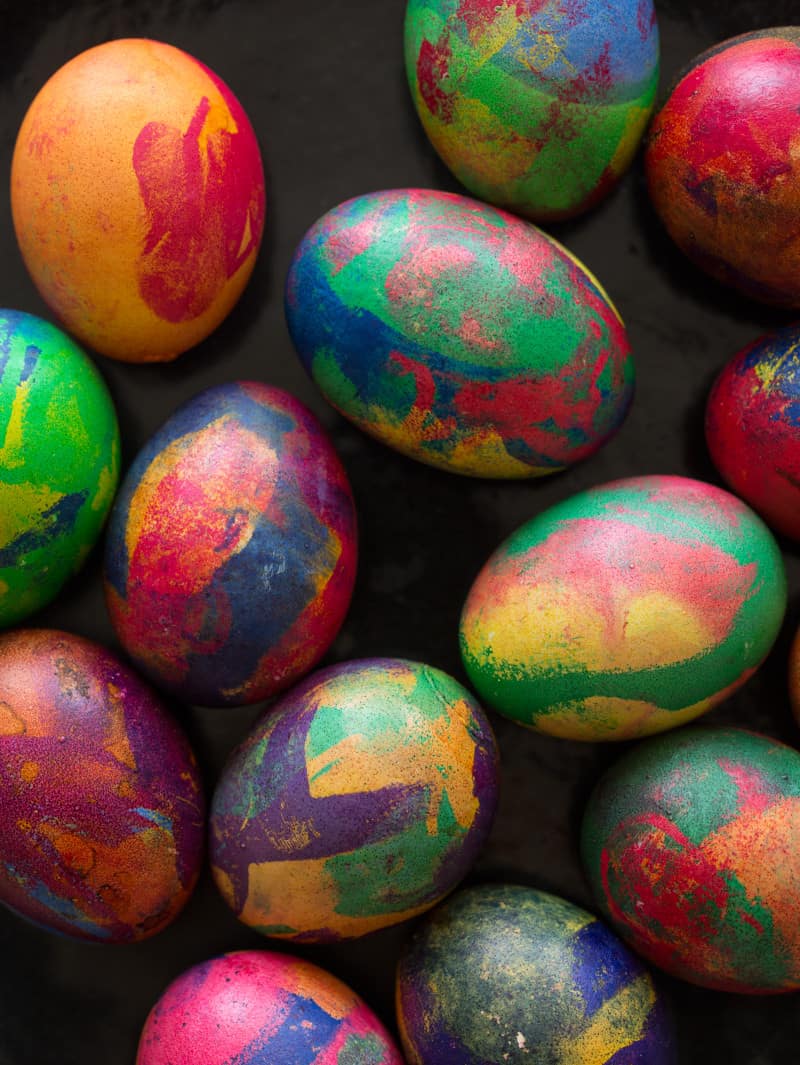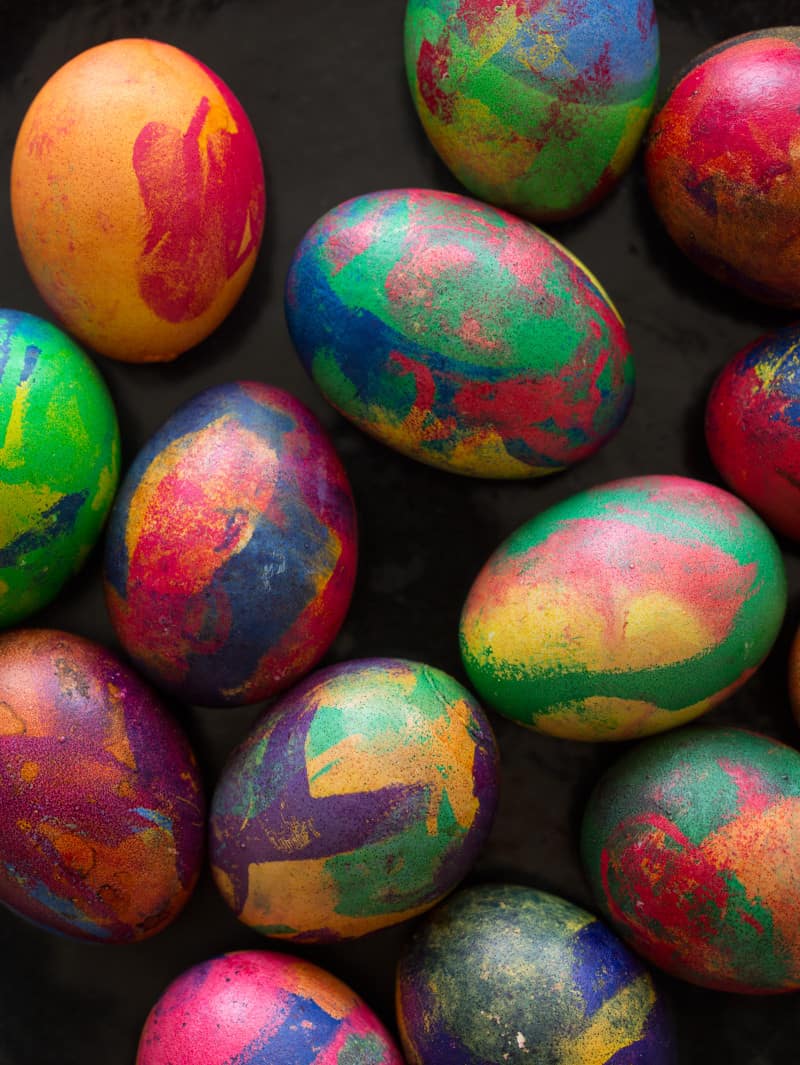 Repeat this process by adding balm on the parts of the egg you want to be the next color. Continue dipping and adding balm until you've achieved your masterpiece!
Tips and Tricks
–It is often suggested to use the lightest dyes first—from yellow, to orange, to red, to green, etc.—but yellow dye tends to "eat" through the other dyes, producing a richer, more interesting yellow. Just remember, if you do use your yellow dye after you've dipped into say, green or blue, your yellow dye will become muddled. It will still dye yellow but eventually will become weaker with each use.
–If you are using a cloth, be careful not to accidentally rub lip balm onto other parts of an egg.
–Wear latex gloves if you don't want dyed hands.
–Don't overdo the use of lip balm on a multicolored egg. For each dip, leave some space for new colors.
This post was brought to you in collaboration with Elisa Parhad for Spoon Fork Bacon! Hope you guys love these eggs as much as we do!!!
More dyed easter eggs you might like: