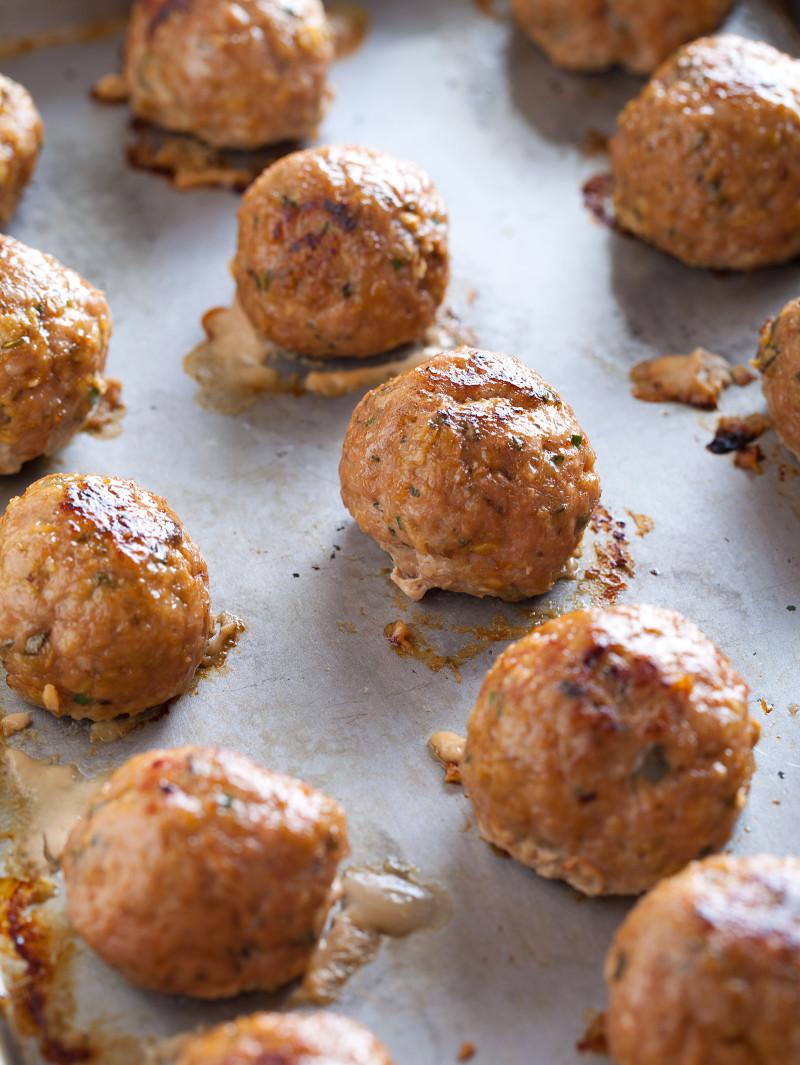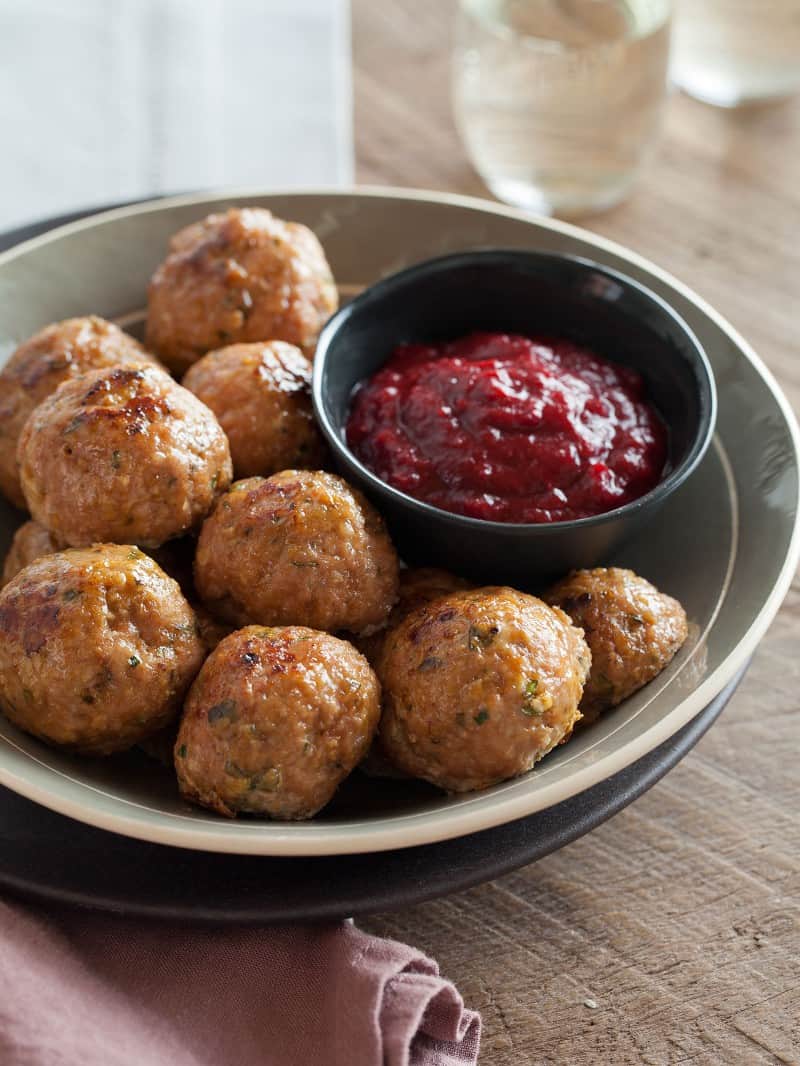 Thanksgiving is one of my favorite holidays, as I'm sure it is to many others. There's just something so comforting about being surrounded by loved ones, reflecting over the year and truly thinking about what you're thankful and grateful for and last but certainly not least the food. Ultimate comfort food. While the traditional dishes are absolutely wonderful, I totally get that not everyone wants to go through the task of roasting a whole turkey, or even a whole turkey breast. So this year why not think a little outside the box and make these turkey meatballs instead?! What's so awesome about turkey meatballs? Not too much I guess…but paired with this cranberry barbecue sauce and BOOM. You get something totally different and awesome! You still get the sweet and tangy flavors of cranberry sauce with the depth and flavor of a smoky barbecue sauce.
Okay, so maybe it's a little extreme ask people to replace the roasted turkey on thanksgiving or to think that meatballs are a sufficient equivalent to a beautifully roasted turkey, BUT wouldn't this make a great holiday party hors'dourves? Just a thought. Enjoy!
xx Jenny
Herbed Turkey Meatballs with a Cranberry Barbecue Sauce
Makes 16-20
Ingredients:
meatballs:
1 pound ground turkey
1/3 cup oats
1 egg, lightly beaten
1 garlic clove, minced
2 tablespoons Worchestershire sauce
2 tablespoons sage, minced
1 tablespoon rosemary, minced
1 tablespoon thyme, minced
1 tablespoon chives, thinly sliced
salt and pepper to taste
cranberry bbq sauce:
12 ounces cranberries
½ cup orange juice
¼ cup molasses
3 tablespoons honey
2 tablespoons light brown sugar
2 chipotle peppers in adobo
1/2 cup ketchup
2 tablespoons apple cider vinegar
¾ teaspoon cinnamon
Directions:
1. Preheat oven to 375°F.
2. Place all ingredients for the turkey meatballs in a large mixing bowl and mix together until just combined. Season with salt and pepper.
3. Take two tablespoons of the mixture and form into a meatball. Place onto a lightly greased baking sheet and repeat until all of the turkey mixture has been used.
4. Bake for 20 to 25 minutes or until lightly browned and completely cooked through.
5. For the sauce: Place first six ingredients into a saucepan and stir. Bring the mixture to a simmer, over medium to medium-low heat.
6. Once the cranberries begin to macerate, about 10 minutes, stir in the remaining ingredients.
7. Simmer for 30 minutes, stirring occasionally until the sauce has thickened and reduced by 1/3. Serve with meatballs.
**Note: Sometimes I like to saute 1/2 yellow onion (diced), a clove of garlic (minced), 1 tablespoon thyme (minced) and 1/4 cup dried cranberries to the bbq sauce before adding the fresh cranberries, sugars etc. It makes this spicy/tangy sauce even more hearty and savory!