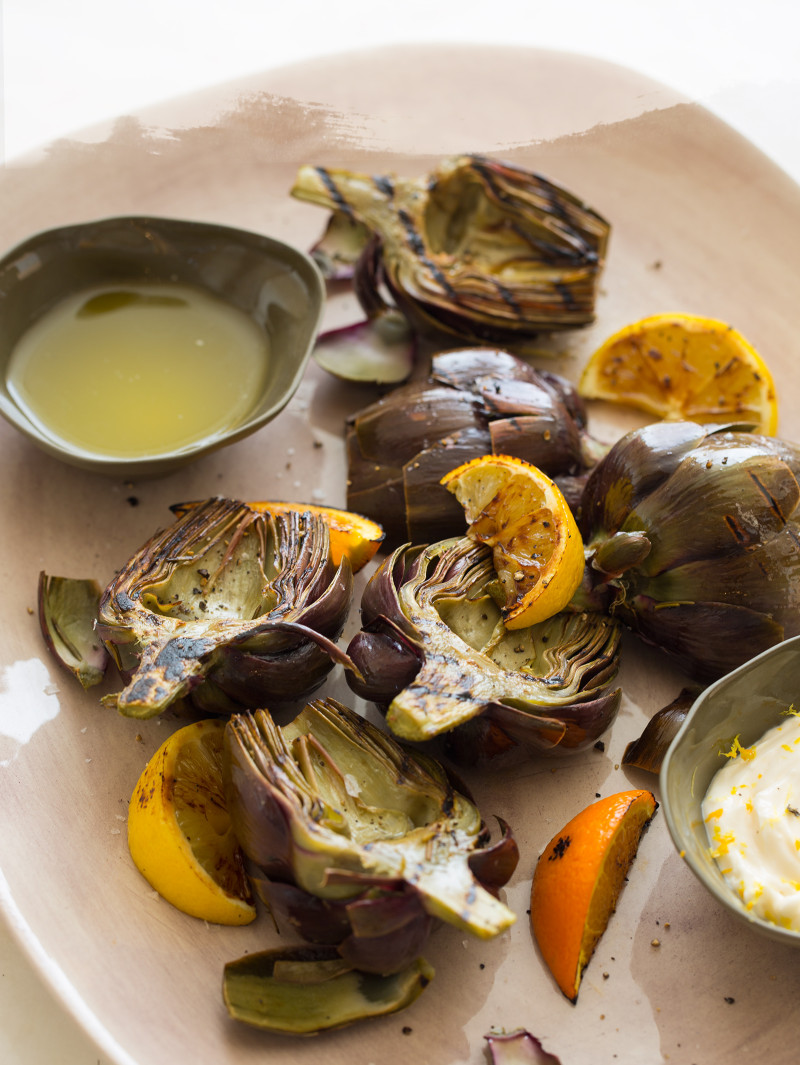 Artichokes are kind of intimidating if you don't know how to clean them. So we have made this quick little video for you guys so you can see how easy it is, and then make them all the time!
Ok! Now that you know how to properly clean and artichoke you can make this simple Grilled Artichoke recipe. We paired ours with clarified butter (obvious and delicious choice), and garlic aioli. Delicious.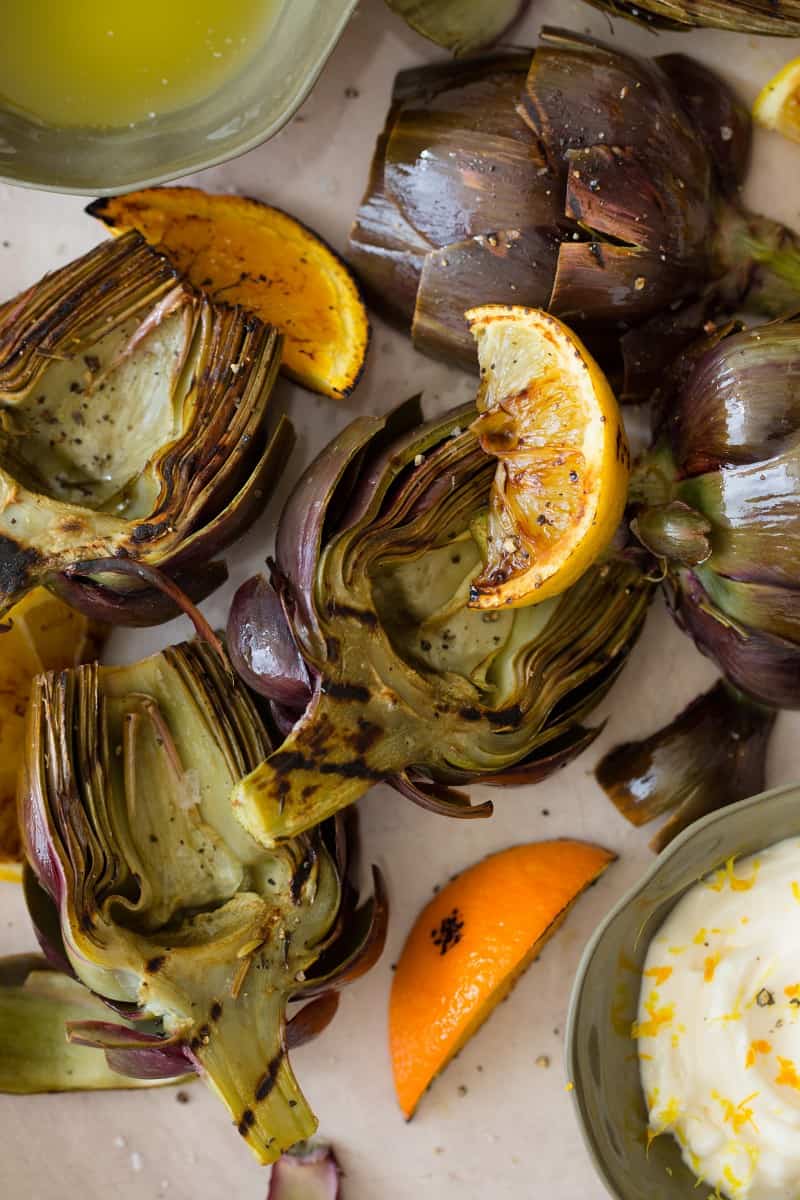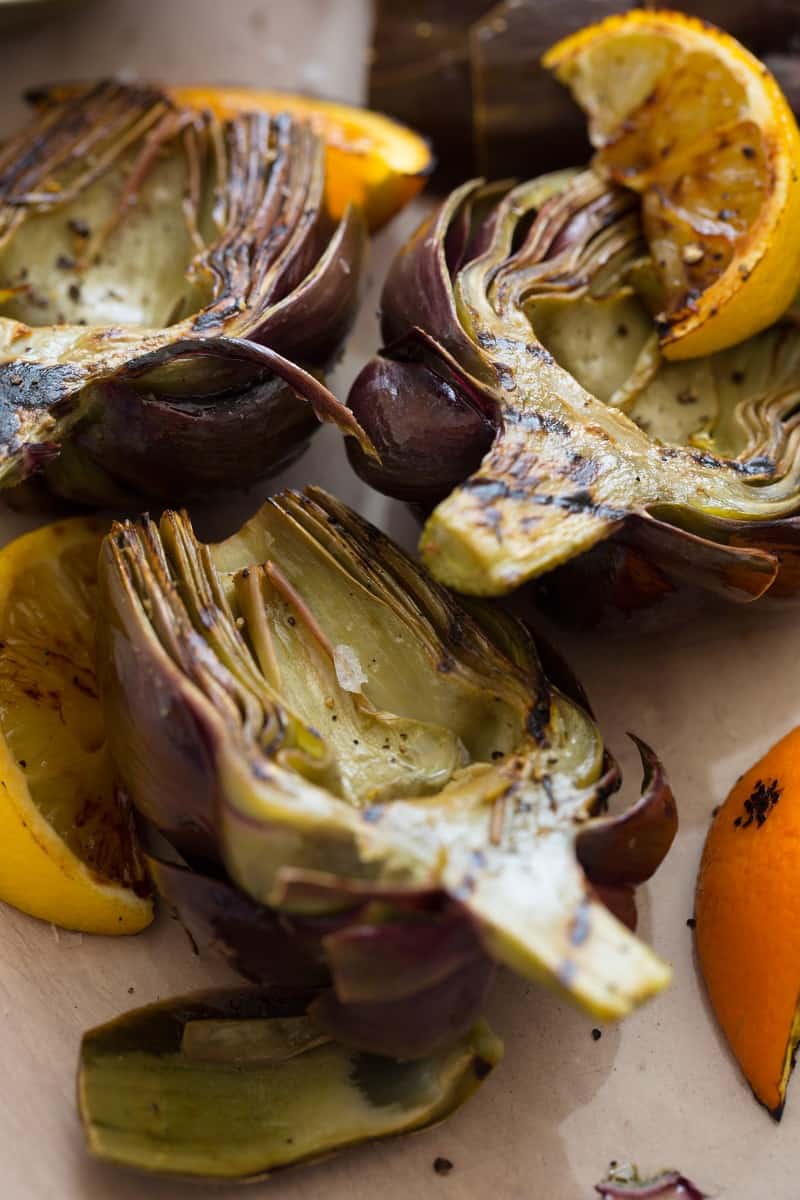 Aren't those gorgeous? I love the whole process of eating artichokes. From popping your piece off the stem, to frivolously dipping it into you aioli. I love the way the meat feels on my teeth as I scape it off. If you're lucky, you get a piece with a bit of charr to it. I love the subtle hints of the spices we used. It really makes the artichoke sing against the sting of the aioli. Enjoy!
♥ Teri
Grilled Artichokes
Makes 4
Ingredients:
4 cleaned globe artichokes
2 quarts vegetable stock
1 (750) bottle dry white wine
2 lemons, juiced
1 orange, juiced
5 sprigs thyme
2 sprigs oregano
5 black peppercorns
3 juniper berries
2 cloves garlic, lightly crushed
1/4 cup extra virgin olive oil
roasted garlic aioli:
1 egg
1/2 juice of lemon
2 teaspoons Dijon mustard
3/4 cup salad oil (vegetable oil is fine)
2 heads roasted garlic, removed from husk
salt and pepper to taste
clarified butter:
1 cup (2 sticks) salted butter, cut into small cubes
Directions:
1. Place artichokes into a large pot and add remaining ingredients, except olive oil. Stir and bring mixture to a boil. Once boiling, reduce heat to medium-low and simmer for 30 to 40 minutes or until artichoke hearts, in each half, are fork tender.
2. Remove artichokes from liquid and brush with oil. Season with salt and pepper.
3. Place halves on grill, cut side down, and grill for 3 to 4 minutes. Flip and continue to grill for 2 minutes. Remove from grill and serve with aioli and butter.
4. For aioli: Place egg, lemon juice and mustard in a blender and pulse until smooth. With the motor running begin adding oil, in tiny, slow drips, waiting for the mixture to emulsify before adding more. Continue until all oil has been use and mixture is thick. Add roasted garlic and pulse until desired consistency has been achieved. Season with salt and pepper.
5. For clarified butter: Place butter in a pot and melt over medium-low heat Once fully melted the milk solids should sink. Skim foam off top and ladle clear butter into a serving container. You can also strain mixture through a coffee filter, but should press the mixture through, as you'll press the solids through, leaving you with cloudy butter.