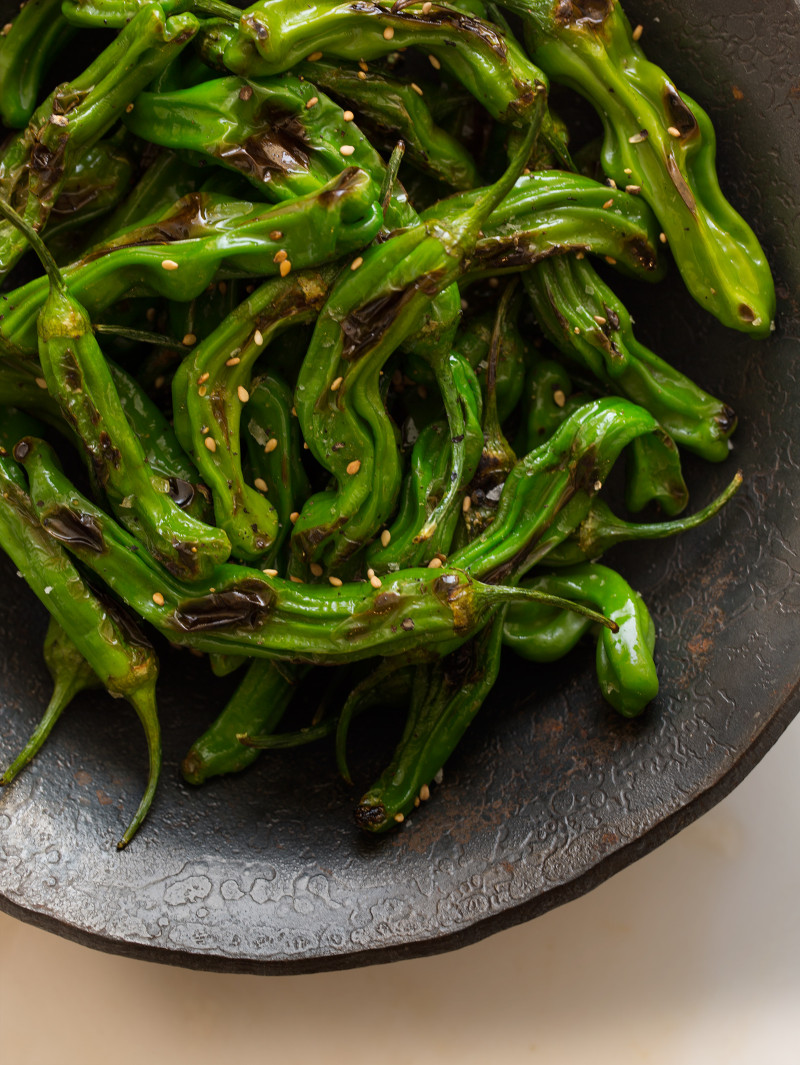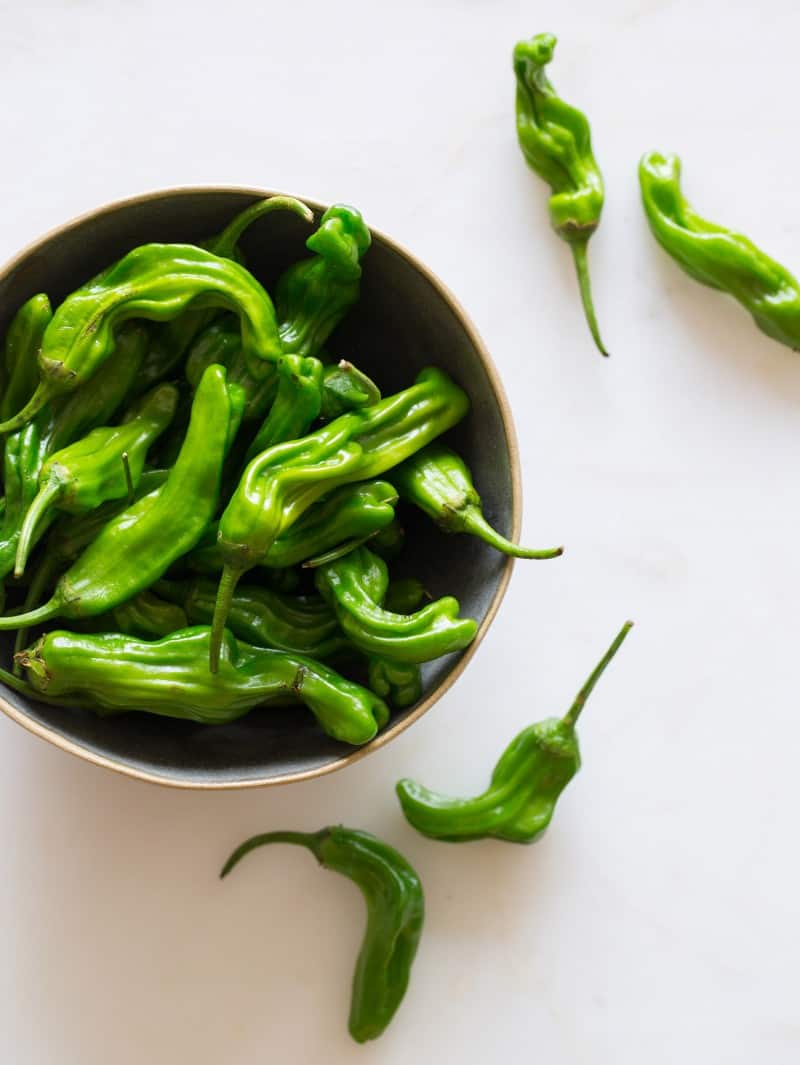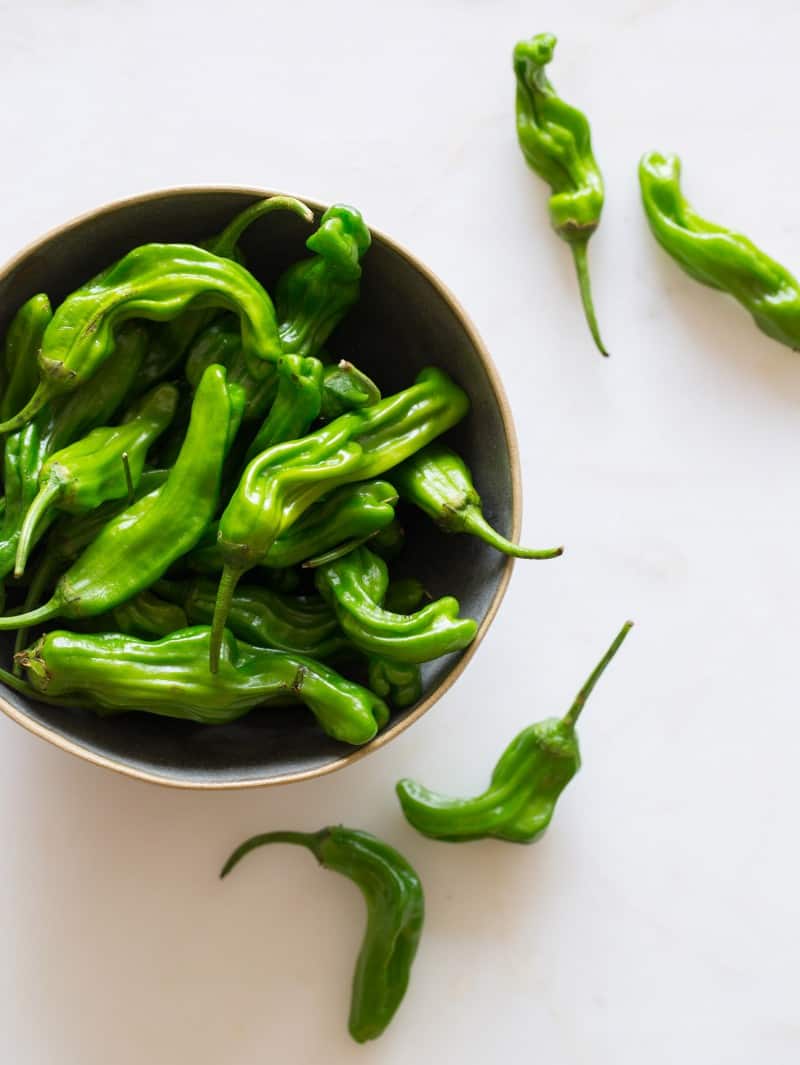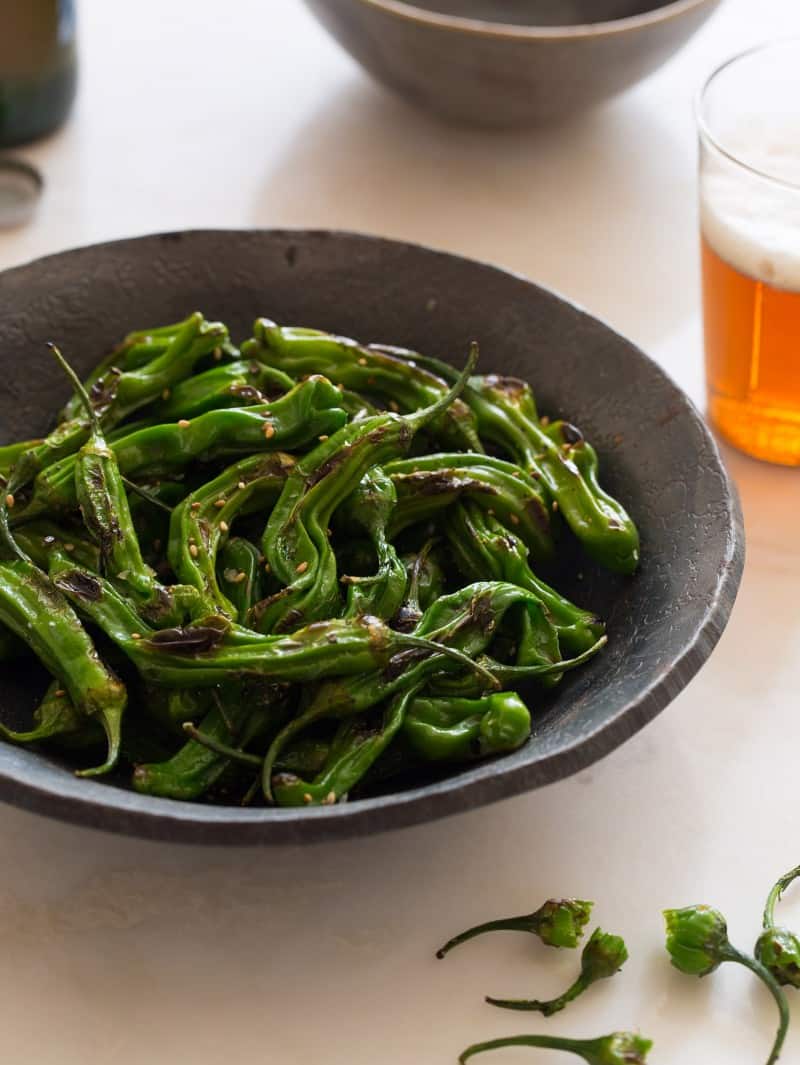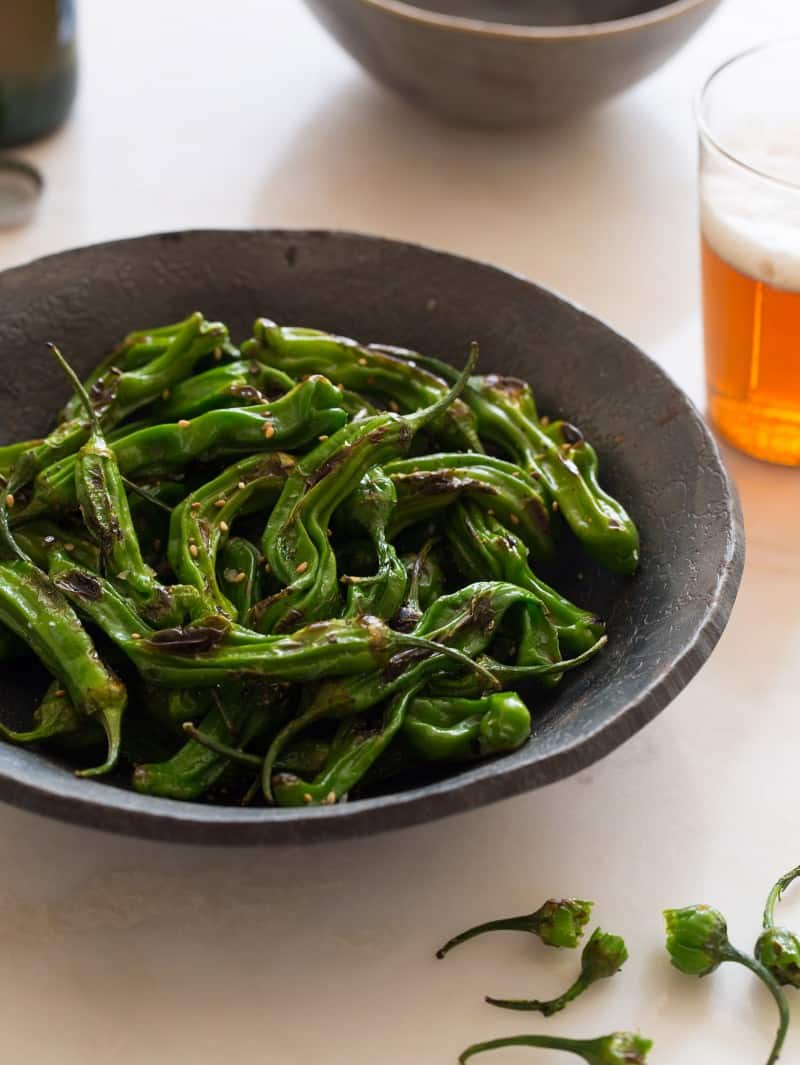 Hi Guys! So two nights ago I was lucky enough to see Anthony Bourdain and Roy Choi speak at the Pantages in LA. Did anyone else go? and did anyone else have the best time listening to the ever articulate and brilliant Tony Bourdain and totally awesome and badass Chef Choi?! I loved it! It's always so refreshing to see and hear two people you look up to so much, pretty much just shooting the shit for 2 hours on stage. Even the audience q&a (which normally I HATE bc man, people can ask some really mundane and self-involved questions and it really sucks sometimes) was really fun and interesting…some people asked really great questions! It was also no matter that I was on a shoot earlier that day that ended up over 50 miles away from the theater! Luckily, the boyfriend was meeting me at the theater bc of the time, bc he probably would've had a heart attack in the car with me. I may have been dangerously weaving through cars and I may have been blazing down the freeway much faster than I should be going….but absolutely nothing was going to keep me from attending an event with my boyfriend…. to watch my other two boyfriends, Tony and Roy, speak. :)
Some of you may know this, some of you may not, but Roy Choi is my current favorite chef. Yes, I'm a little bias because part of my love, for both him (and David Chang for that matter) does stem from the fact that he is an outstanding and creative Korean-American chef, but more so because of the way Chef Choi looks at food and different places he finds his day to day inspiration. I love that he once wrote in an interview how he had an epiphany about how his whole culinary career is based off his obsession with milkshakes! "It's my nostalgia, but I like blending shit up….. All the Kogi stuff, the sauces and marinades, are all blended. We blend it in a bucket. All my sauces at A-frame. I'm tripping out, man. I'm starting to see how everything I do is blended. It has to go back to milkshakes." (quote source from firstwefeast.com) How awesome is that?!?!
In the recent (well for the last year) Chef Choi has gone vegetarian in a sense (still eats meat in dishes offered to him, presented to him, but hasn't ordered a meat dish in about a year) and when it first came out he was highly criticized for turning him back on something that made him oober successful "kogi", which translates to "meat". You know what I say to the nay sayers? Get off his back! (see my creepy obsession starting to build?) He's not turning his back on meat or his successful food trucks as well as his booming restaurants; he's simply made a personal decision for himself and i'm excited. Why? In my mind, a true chef isn't measured by the best savory, rich meat dish he/she can make (bc lets be serious, if we all used bacon fat, duck fat, etc in our cooking, everyone's food would taste amazing), but by the best salad/side dish they can make. No joke. I think it's much more difficult to push a salad than it is to push roasted bone marrow with buttery toast points or a pappardelle and short rib ragu.
So in honor of Chef Choi and his new found love of veggies we have not a salad for you today, lol, but simple and delicious blistered shishito peppers. I love these things and I love them blistered. I've started to see them as small appetizers around a few LA restaurants and that's exciting. Shishito peppers are a sweeter variety of Japanese peppers with a neat "twisted-like" shape. When you blister them, (either on a grill or in a cast iron skillet), they get a really nice smokey aroma to them and soften just the right amount. For these peppers, I like keeping things super simple and let the peppers speak for themselves. Nothing but a little sesame oil, salt and pepper. Yum-town. Not only is this snack delicious and easily transportable (mid afternoon work snack? Yes, please), but it's seriously a 10 minute recipe from start to finish. I'm pretty sure these are going to be my new go to healthy snack and hopefully they're Roy Choi approved. :) Enjoy! xx, Jenny
More recipes you might like: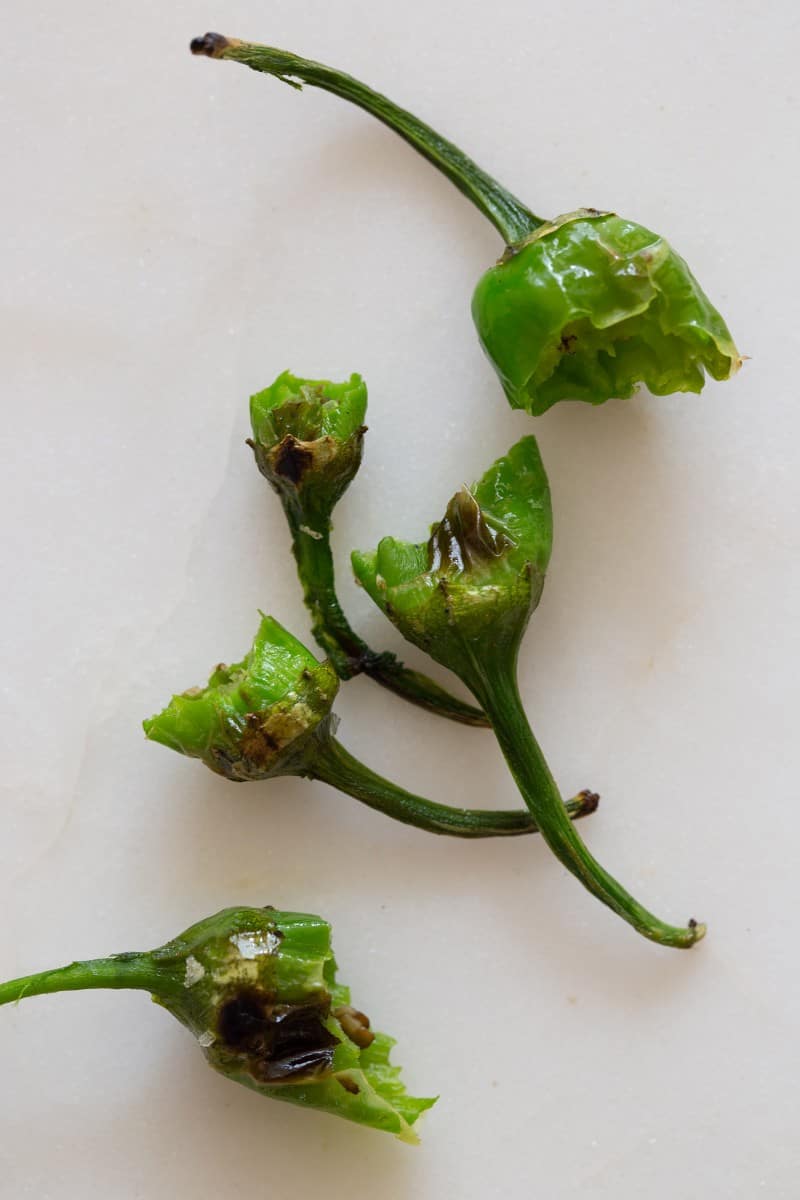 Hungry for more?
Subscribe to never miss a recipe.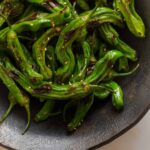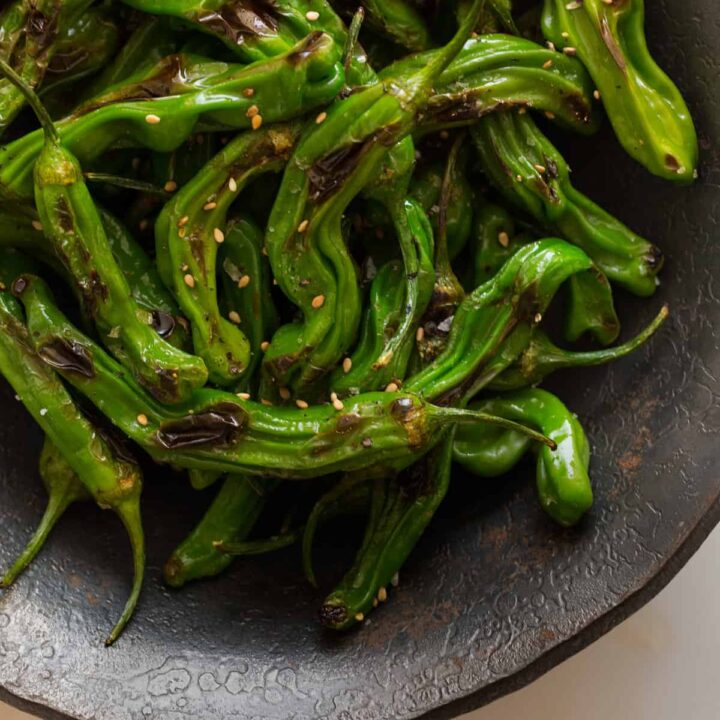 ---
Blistered Shishito Peppers
INGREDIENTS
1

tablespoon

canola oil

1

tablespoon

sesame oil (plus more for drizzling at the end)

½

pound

shishito peppers, cleaned

salt and cracked black pepper to taste
INSTRUCTIONS
Place cast iron skillet over high heat. Once skillet is hot add oils.

Carefully add peppers to pan and sauté for 3 to 5 minutes, moving them around the pan frequently. Season with salt and pepper.

Once peppers have charred/blistered all around and have begun to wilt remove from heat. Adjust seasonings.

Drizzle peppers with sesame oil and top with toasted sesame seeds. Serve.
NOTES
**If using a grill, toss peppers in oils and season with salt and pepper before placing on the grill. It may also be helpful to use a grill basket, to ensure none of the little peppers fall through the grill grates.
Calories:
56
kcal
Carbohydrates:
3
g
Protein:
1
g
Fat:
5
g
Saturated Fat:
1
g
Sodium:
3
mg
Potassium:
122
mg
Fiber:
1
g
Sugar:
2
g
Vitamin A:
360
IU
Vitamin C:
54
mg
Calcium:
5
mg
Iron:
1
mg