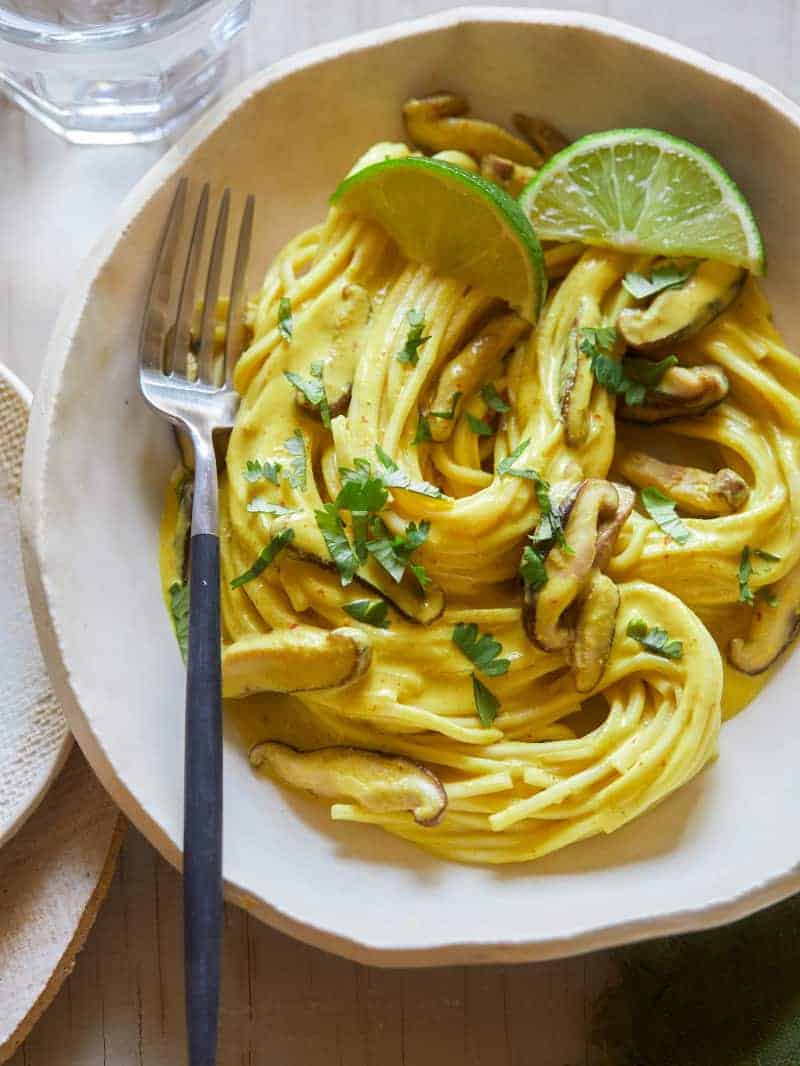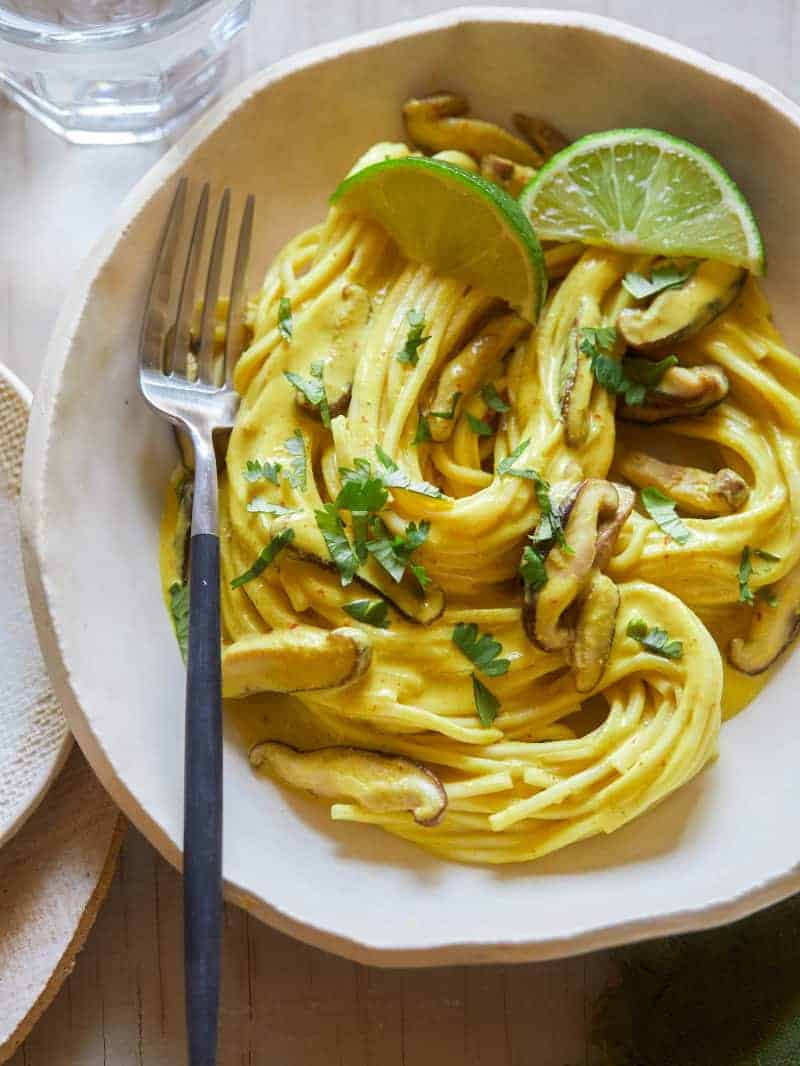 I'm a little bit of a noodle/pasta fanatic. I think if my thighs would allow for it, I would eat noodles and pasta every.single.day. There's just something so cozy and comforting about carbs, you know? So today we have one of my favorite Thai dishes, this Thai Yellow Curry Noodles with Shiitake Mushrooms! I love this dish so so much. It's so warming and satisfying and it's mostly pescatarian, and even vegan if you use my mushroom sauce substitution (at the end of the recipe) instead of the shrimp paste/anchovy paste/fish sauce in the ingredient list. If you go the vegan route, the flavors will be slightly different, but it'll be just as tasty, I promise.
For the longest time making my own curry pastes seemed really daunting and intimidating, especially because of the laundry list of ingredients, but after a good amount of research I realized the process itself is quite simple and it's mostly all about getting great flavor going within your paste, which is the foundation of this recipe. I tend to use a lot of asian ingredients, so I had most of the ingredients on hand already, but if you don't a quick trip to your local market (with maybe the exception of fresh lemongrass…this always seems to be hit or miss) or asian market should have everything you need.
You can also add other things to this dish to bulk it up, like diced potatoes, cauliflower, bamboo shoots…honestly whatever you want! I kept today's version pretty simple since it's mostly about the super flavor packed yellow curry paste! This recipe makes more curry paste than you'll need for the noodles, which is nice because you can store the remaining amount for another couple uses. This paste is also pretty versatile and you can brush some onto a protein of choice like fish or chicken for roasting for grilling. You can also add some broth or stock to this recipe and make more of a noodle soup which I do from time to time, when I want something extra cozy. Enjoy! xx, Jenny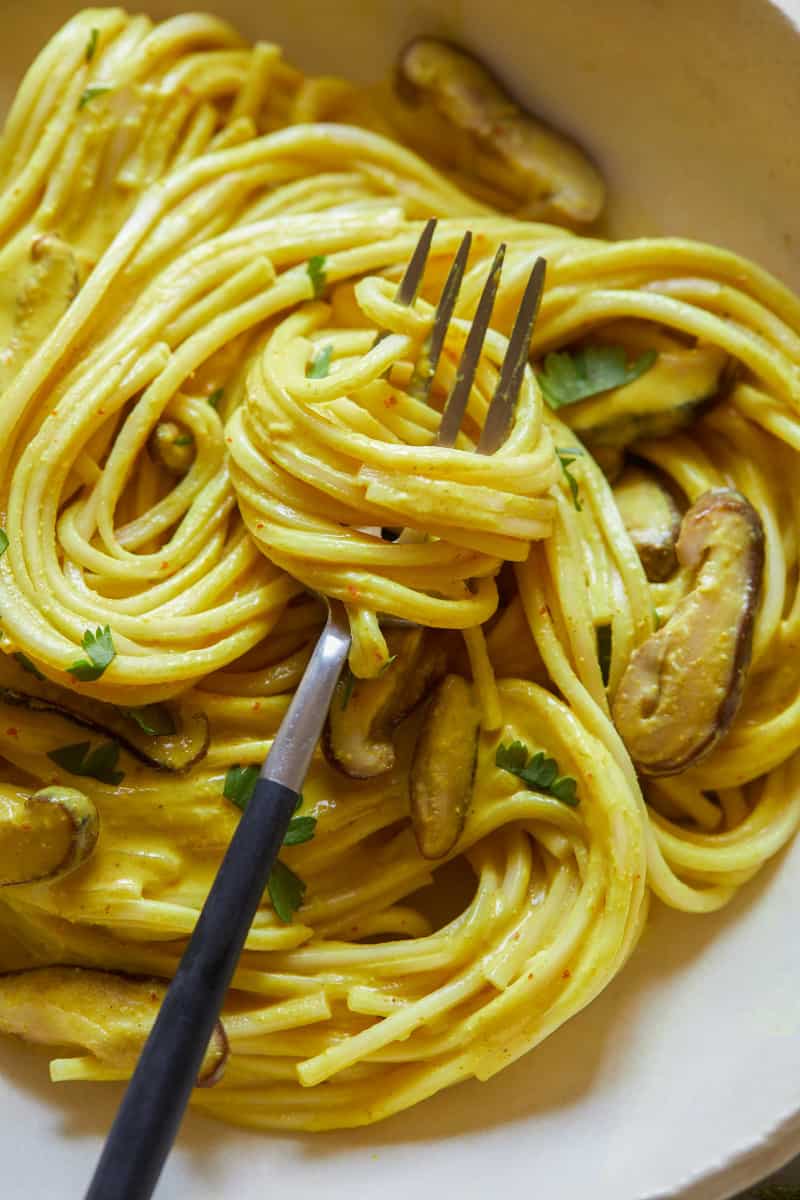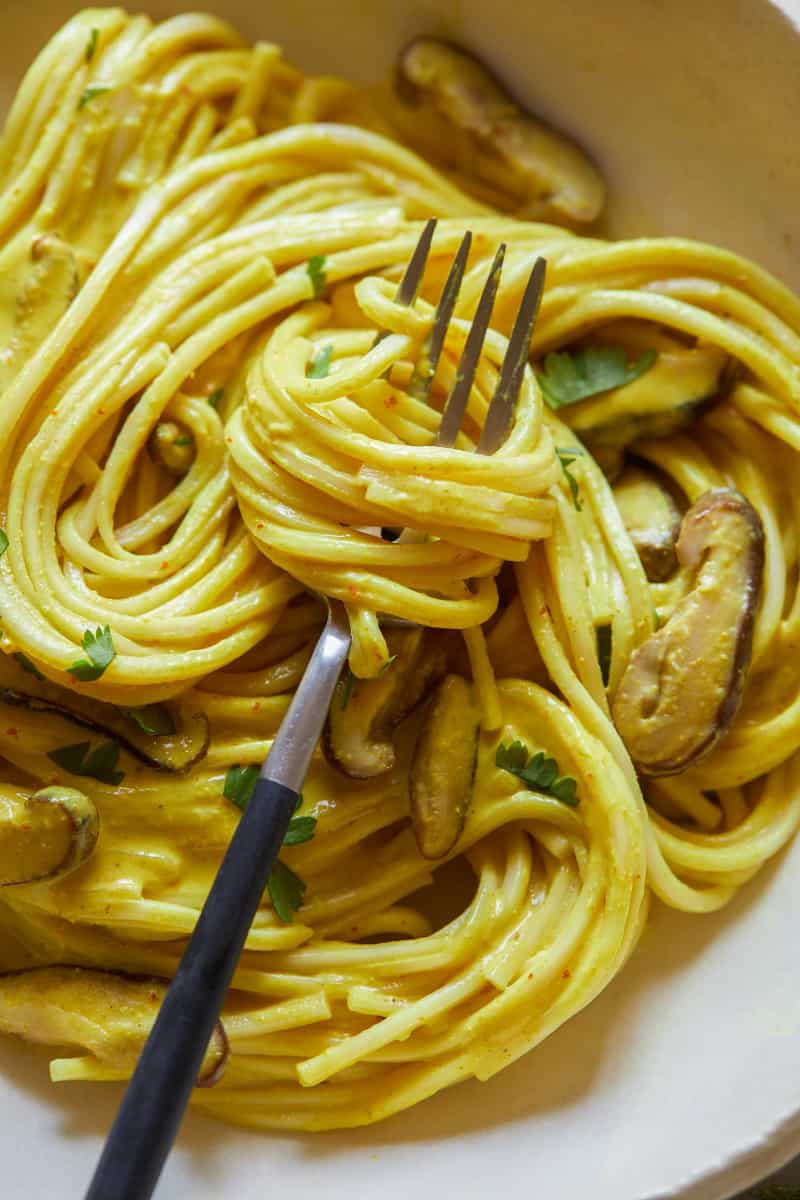 Hungry for more?
Subscribe to never miss a recipe.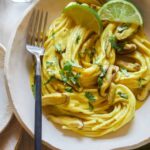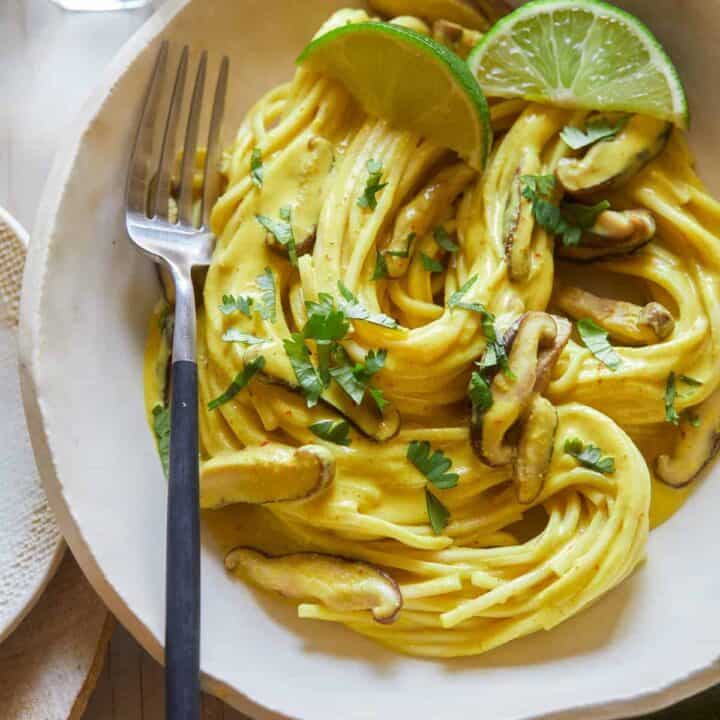 ---
Thai Yellow Curry Noodles with Shiitake Mushrooms
INGREDIENTS
yellow curry paste
2

large

shallots, quartered

6

garlic cloves

1

(3-inch) piece peeled ginger

2

(1-inch) pieces lemongrass each sliced in half lengthwise

1

tablespoon

extra virgin olive oil

2

teaspoons

shrimp paste

or anchovy paste OR mushroom sauce*

1 ½

teaspoons

curry powder

1

teaspoon

ground coriander

1

teaspoon

ground turmeric

½

teaspoon

ground cumin

½

teaspoon

ground white pepper

pinch cinnamon

12

dried Thai chiles (birds eye chiles), seeded and soaked in warm water for 30 minutes

½

bunch

cilantro leaves and stems, plus more leaves for garnish
assembly
1

tablespoon

extra virgin olive oil

4

ounces

shiitake mushrooms, stemmed and thinly sliced

2

(15 ounce cans) coconut milk

not lite coconut milk

1

tablespoon

fish sauce

or mushroom sauce*

1

lime, juiced

12

ounces

lo mein noodles

salt to taste, as needed
INSTRUCTIONS
Yellow curry paste: Place shallots, garlic, ginger, and lemongrass over a sheet of foil and drizzle with oil and lightly season with salt.

Wrap foil into a tight bundle, place directly onto a rack in the oven and lightly roast ingredients for 15 minutes. Remove from heat, open bundle and transfer to a food processor. Allow mixture to cool, about 10 minutes.

Add remaining paste ingredients into the food processor and pulse 6 to 8, times before fully pureeing until mixture is thick and smooth. Set aside.

Fill a large pot with water and bring to a boil over high heat. Add noodles and boil until cooked through, 4 to 5 minutes. Drain, rinse with a little cold water and set aside.

In the same pot heat oil over medium-high heat. Add mushrooms and sauté for 3 to 4 minutes.

Lower heat to medium and add a third of the curry paste (place remaining paste in an airtight container and refrigerate for up to 2 weeks). Toast paste with the mushroom for 1 to 2 minutes.

Stir in coconut milk until mixture is smooth and bring to a simmer. Stir in fish sauce (or mushroom sauce) and lime juice and simmer for 5 minutes.

Add noodles and toss together until fully coated. Simmer for an additional 2 to 3 minutes.

Adjust seasonings, if needed, top with cilantro and serve.
NOTES
*Makes 8 ounces yellow curry paste
**Vegan Fish Sauce (aka Fortified Mushroom Sauce)**
Makes about 2 1/2 cups Ingredients: 4 cups water, 2/3 cup tamari, 1 large sheet (about 5"x 8") kombu, 8 ounces sliced shiitake mushrooms, 5 garlic cloves, crushed with the back of a knife, pinch white pepper

Pour all ingredients into a large pot and simmer for about 30 minutes, or until the mixture has reduced by about 1/3. Remove from heat, cover and steep for 4 to 8 hours. Strain and store liquid in the refrigerator, in an airtight container, for up to 2 weeks.