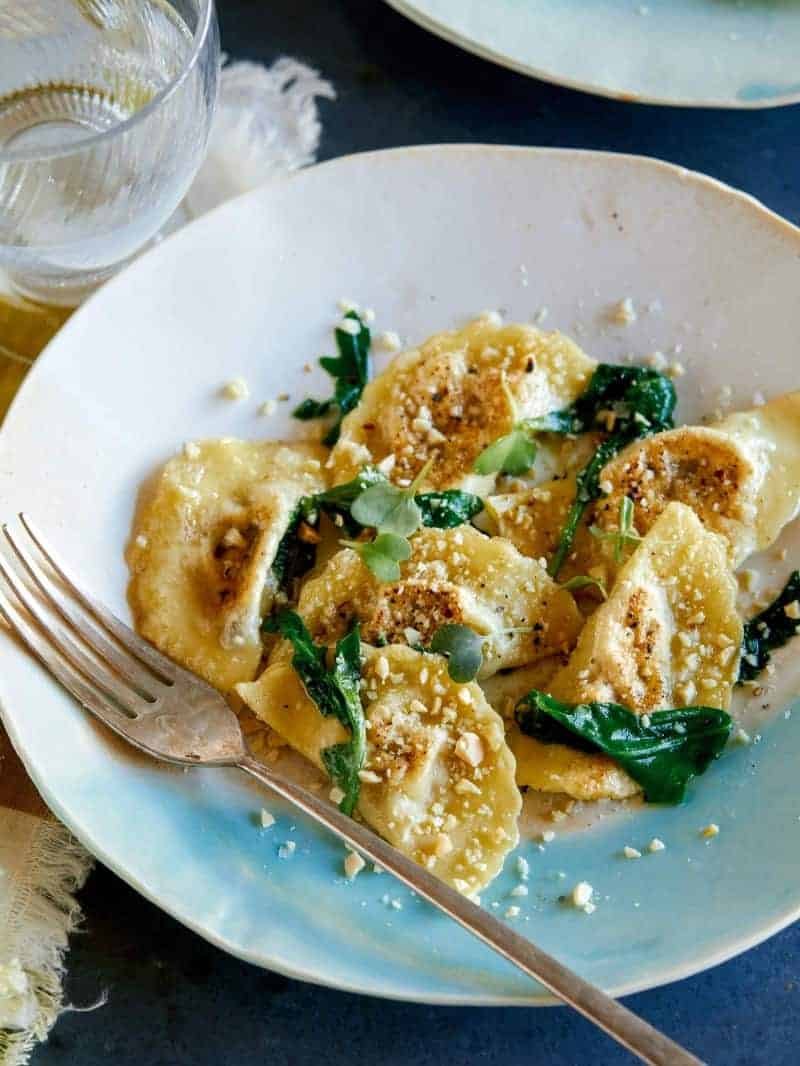 Wild Mushroom Mezzaluna with Garlic Butter Sauce

Makes 50 mezzaluna (sauce serving is for ~20 pieces)

Ingredients:
1/2 recipe homemade pasta
filling:
1 tablespoon extra virgin olive oil
1 garlic clove, minced
2 tablepsoons minced shallots
6 ounces cremini mushrooms, minced
6 ounces shiitake mushrooms, minced
4 ounces mascarpone, softened
2 ounces goat cheese, softened
2 ounces grated Parmesan
1 1/2 teaspoons minced thyme
1 teaspoon salt
1/2 teaspoon cracked black pepper

1 egg, beaten
garlic-butter sauce:
4 tablespoons unsalted butter
2 cloves garlic, minced
1 heaping cup arugula
salt and pepper to taste
garnish:
finely crushed almonds
microgreens, optional

Directions:
1. Make pasta dough according to the instructions from steps 1-3.
2. For filling: Pour oil into a skillet and place over medium-high heat. Add garlic and shallots and sauté for 2 to 3 minutes. Add mushrooms and thyme and continue to sauté for an additional 3 minutes. Season with salt and pepper. Pour mixture into a mixing bowl and stir in the remaining ingredients. Cover and refrigerate filling for 30 minutes.
3. Using a 3-3.5" circle cutter, cut out pasta dough rounds. Fill the center of each dough circle with 1 1/2 teaspoons of the mushroom mixture and lightly brush the perimeter of the circle with the beaten egg. Fold each mezzaluna in half. Set aside.
4. For sauce: Place butter into a large skillet and place over medium heat. Add garlic and and sauté for 3 to 4 minutes and season with salt and pepper. Arugula and sauté until just wilted, about 1 minute. Adjust seasonings.
5. Bring a pot of water to a boil and add a small handful of salt. Add 10 to 20 mezzaluna to the pot and boil for 3 to 4 minutes or until they begin to float.
6. Transfer mezzaluna from the boiling water, with a slotted spoon, into the skillet with the garlic butter sauce, and sauté for about 2 minutes.
7. Transfer mezzaluna to a serving platter and top with a sprinkle of crushed almonds and microgreens, if using. Serve.