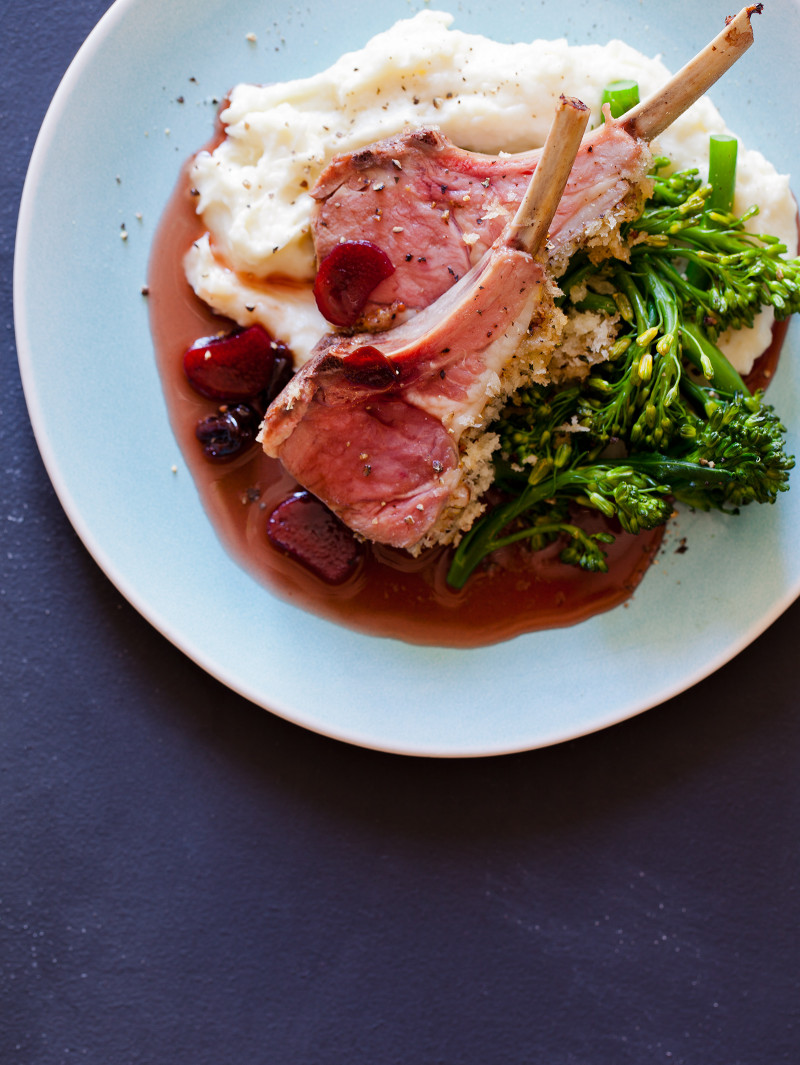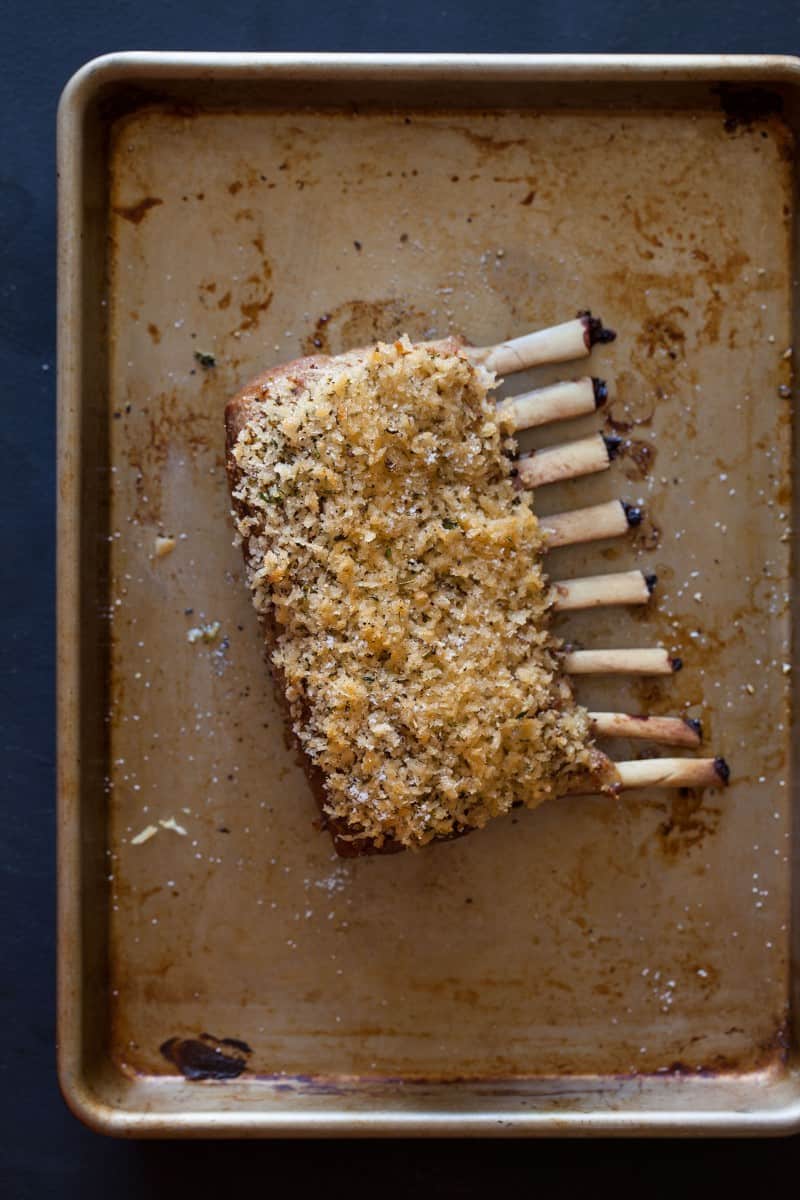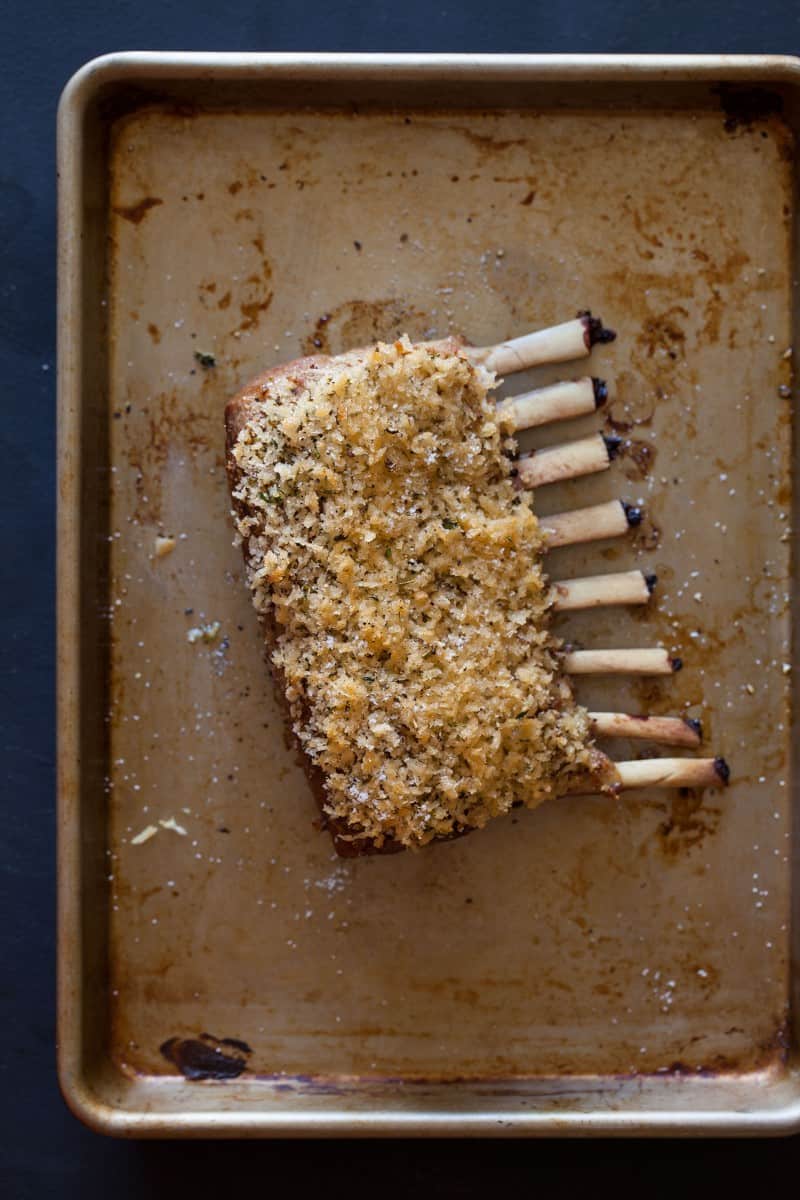 Hi all! So I finally did IT the other day. I finally dusted off my running shoes and went for a run! I mean sure, maybe I got dressed for my run at 9am and anxiously dawdled around my apartment for a bit, postponing the much dreaded "exercise" for as long as I could. I was thinking of every excuse not to go through with this run. "Hm, my bathtub needs to be cleaned…RIGHT NOW. Then I have to load the dirty dish towels in the washer…RIGHT AFTER. Oh and then I should probably organize my closet RIGHT AWAY because I've been meaning to for weeks now….." 4 hours later the run happened. 33 minutes later I was back in my home….baby steps, people. As suspected, I felt crappy and tired before and during the run, but fantastic after! I plan on going for another run this weekend and hope it doesn't take me another half day to get myself motivated and moving around. We'll see. :)
Anyway, today we have another rhubarb recipe…in sauce form! We've paired this rhubarb and sour cherry gastrique (a sweet and sour type sauce) with a tasty roasted rack of lamb and some simple fixins' (parsnip mash….my current obsession, and sauteed broccolini….so simple and tasty). This sauce is also really great with roasted duck, if any of you are into that….I totally am! We've put together a full dinner for you all today; this Roasted Rack of Lamb & Rhubarb Sour Cherry Gastrique is great for a dinner party, a nice family dinner or even a lovely little date night! Enjoy!
xx Jenny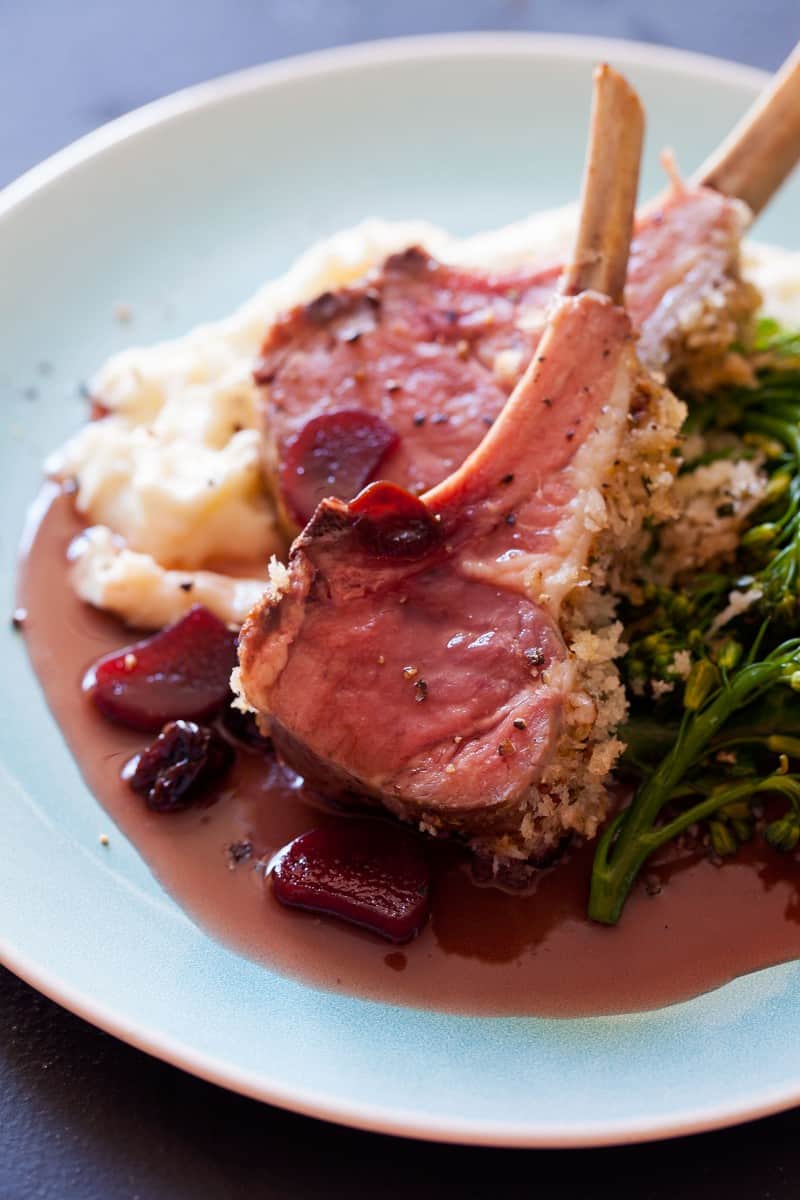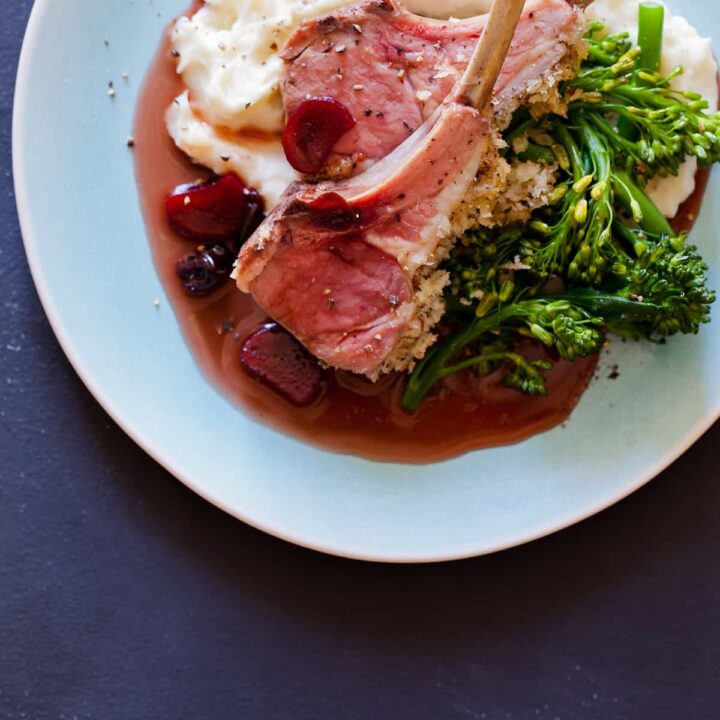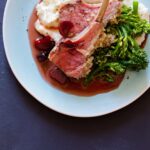 ---
Roasted Rack of Lamb & Rhubard Cherry Gastrique
INGREDIENTS
lamb
1 ½

tablespoons

extra virgin olive oil

1

(1-1.5 lb) rack of lamb, cleaned and frenched

2

tablespoons

Dijon or whole grain mustard

¼

cup

panko breadcrumbs

2

tablespoons

fresh tarragon, minced

1 ½

tablespoons

unsalted butter, melted

salt and pepper to taste
Rhubarb and Sour Cherry Gastrique
1

tablespoon

unsalted butter, softened an divided

1

shallot, minced

¼

cup

thinly sliced rhubarb

3

tablespoons

freshly squeezed orange juice

3

tablespoons

red wine vinegar

⅓

cup

port wine

1 ½

tablespoon

granulated sugar

2 ½

tablespoons

chopped dried sour cherries

1

star anise

1

bay leaf

⅓

cup

chicken stock
parsnip mash
2

medium

parsnips, peeled and cut into chunks

1

small

russet potato, peeled and cut into chunks

3 to 4

tablespoons

heavy cream

can replace with whole milk or 2% milk

2

tablespoons

unsalted butter, softened

1

green onion, thinly sliced (optional)

salt and pepper to taste
sautéed broccolini
1

pound

broccolini, cut into 1 inch pieces and lightly blanched

*dunked in boiling water,then transferred to an ice bath

2

garlic clove, minced

2

tablespoons

extra virgin olive oil

salt and pepper to taste
INSTRUCTIONS
For the lamb
Preheat oven to 375°F. Place oil into a large sauté pan over medium-high heat. Season rack on both sides with salt and pepper. Sear lamb (fat side down, first) for 3 to 4 minutes on each side. Remove from heat and allow to rest, about 5 minutes. While the lamb rests place the panko, tarragon and melted butter into a small bowl and mix together. Brush the mustard over the lamb and top with a layer of the panko mixture, gently pressing to ensure the crust sticks to the lamb. Place lamb back into sauté pan, crust side up and roast for about 15 minutes [for medium-rare] and about 20 minutes [for medium]. Allow rack to rest for 5 to 7 minutes before slicing and serving.
For the Gastrique
Melt ½ tablespoon butter in a small saucepan and sauté shallot over medium heat, about 2 minutes. Add rhubarb and continue to sauté for an additional 2 minutes. Stir in orange juice, vinegar, port, and sugar and simmer until the mixture has reduced by ⅓. Add the remaining ingredients and stir. Simmer until the mixture is just thick enough to coat the back of a spoon. Discard the star anise and bay leaf. Stir in the remaining 1/2 tablespoon of butter and spoon over roasted lamb.
For the Parsnip Mash
Place parsnip and potato chinks into a medium pot and fill with water. Place over medium-high heat and bring to a boil. Boil parsnips and potato for about 25 minutes or until fork tender then drain. When the mixture is still hot add the butter and begin mashing the mixture with a potato masher. As the mixture begins to breakdown, begin adding the cream or milk until fully incorporated. Generously season with salt and pepper. Fold in green onion, if using. Serve warm.

For the broccolini

Pour oil into a large sauté pan and place over medium-high heat. Add broccolini and sauté for about 4 minutes. Add garlic and continue to sauté for an additional 2 minutes. Season with salt and pepper. Serve warm.
Calories:
1327
kcal
Carbohydrates:
71
g
Protein:
37
g
Fat:
98
g
Saturated Fat:
42
g
Cholesterol:
192
mg
Sodium:
358
mg
Potassium:
1237
mg
Fiber:
10
g
Sugar:
27
g
Vitamin A:
4127
IU
Vitamin C:
173
mg
Calcium:
278
mg
Iron:
7
mg