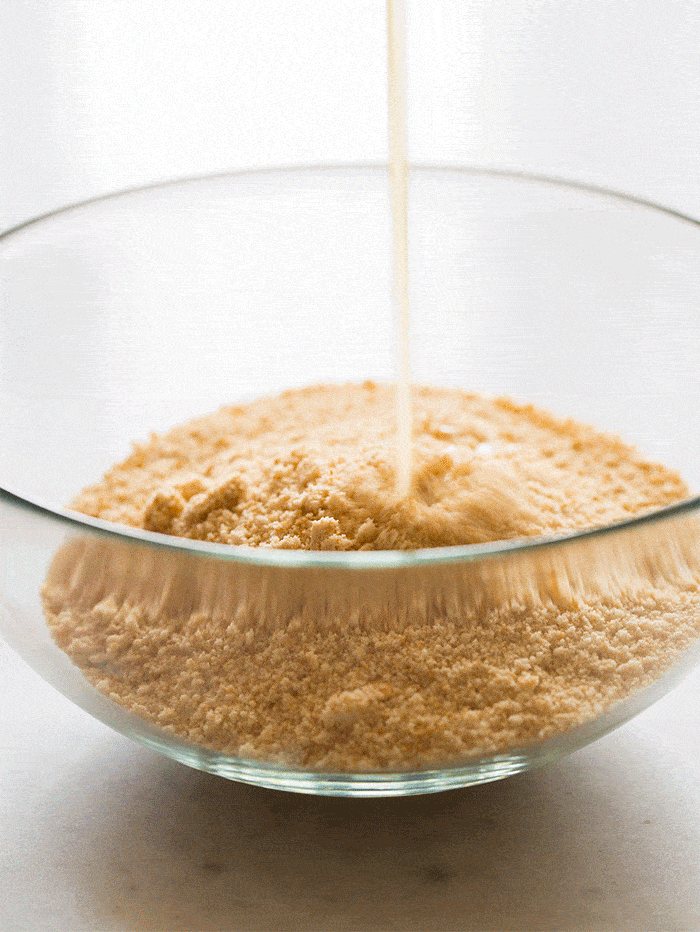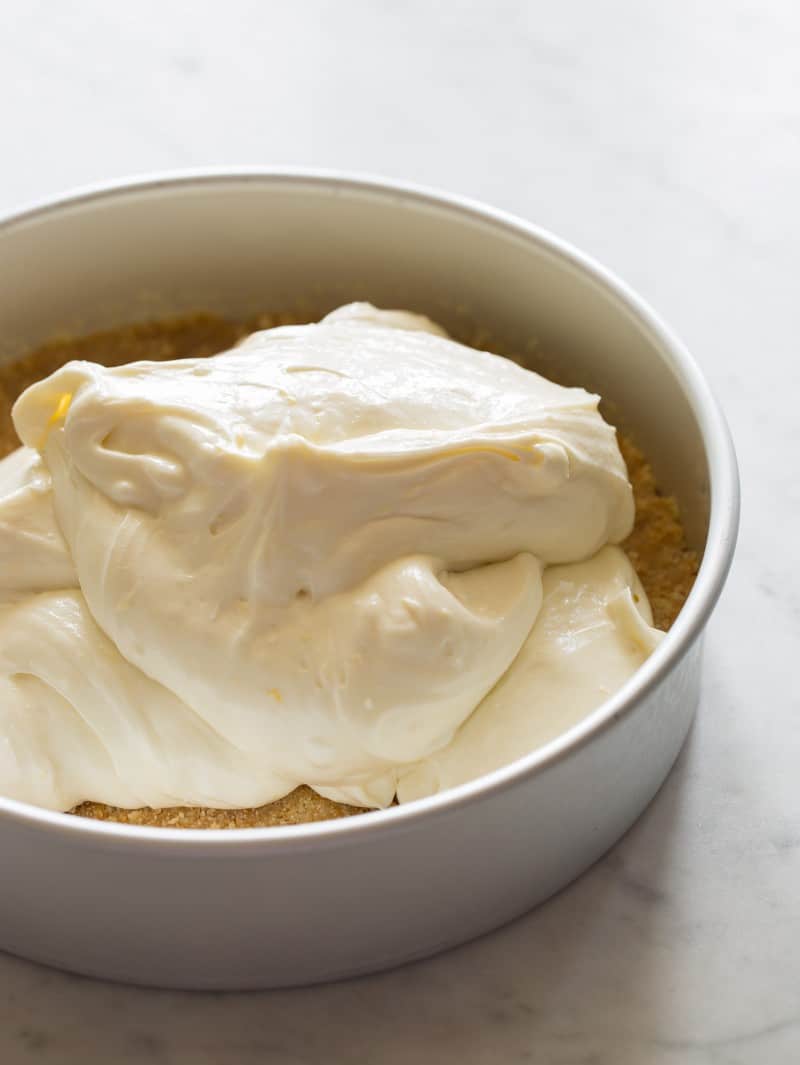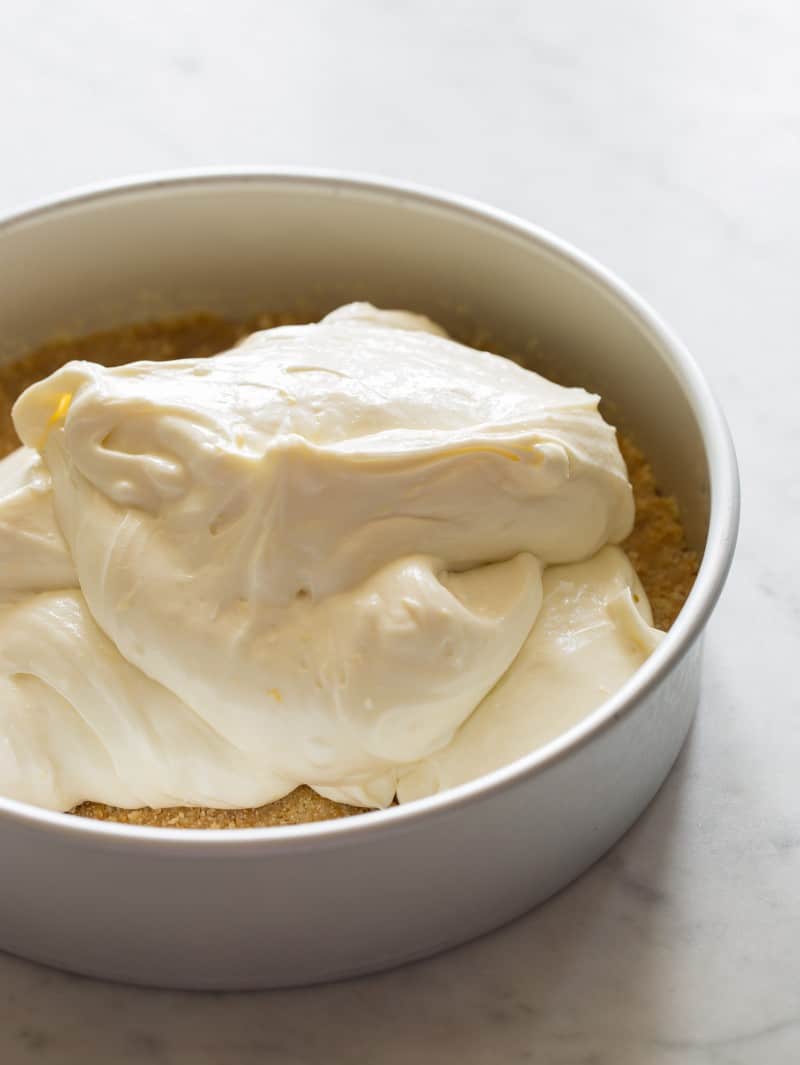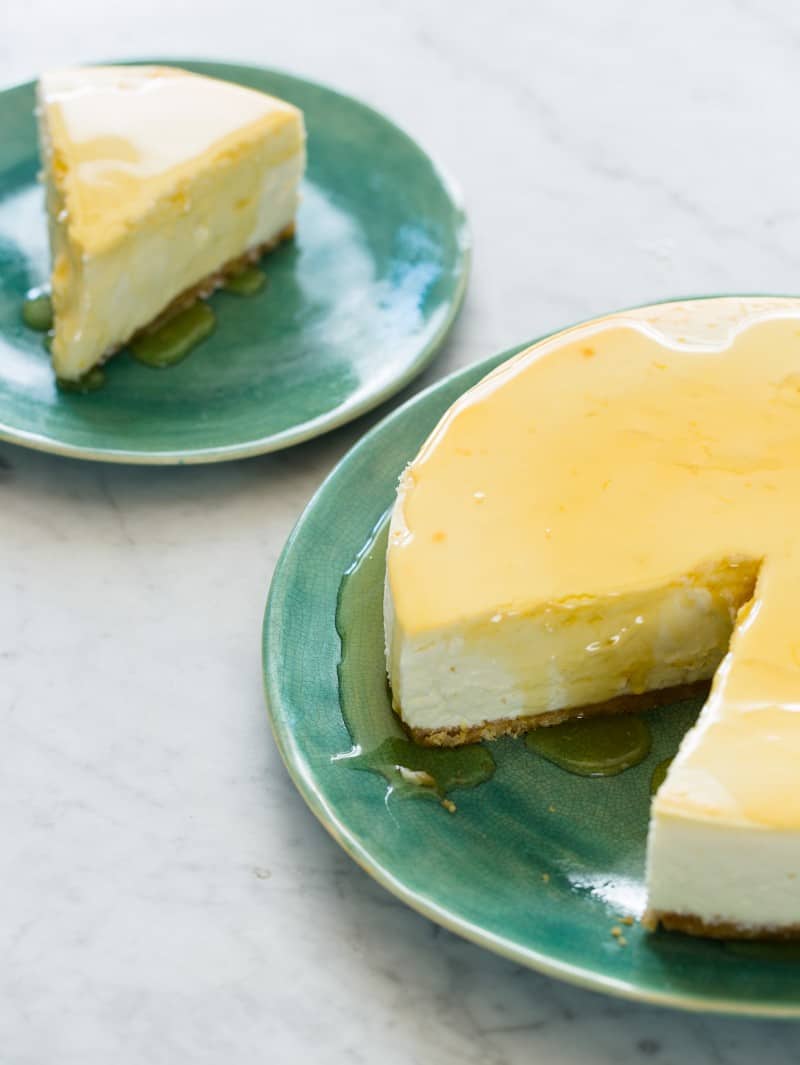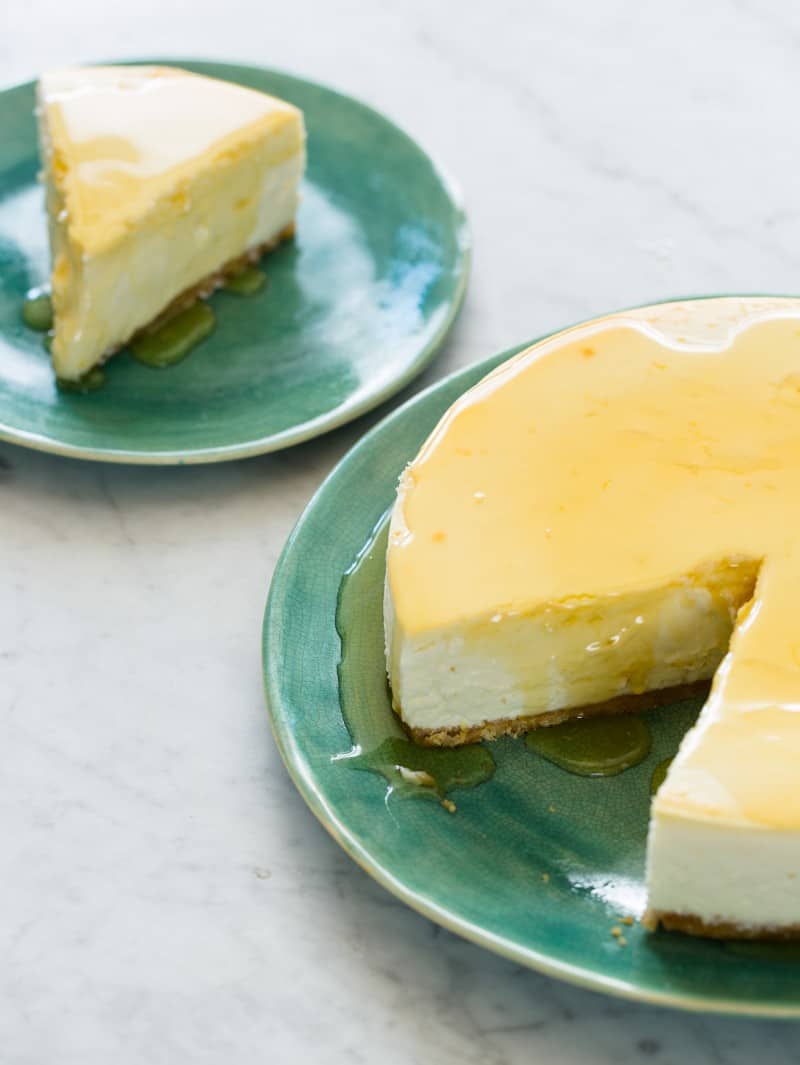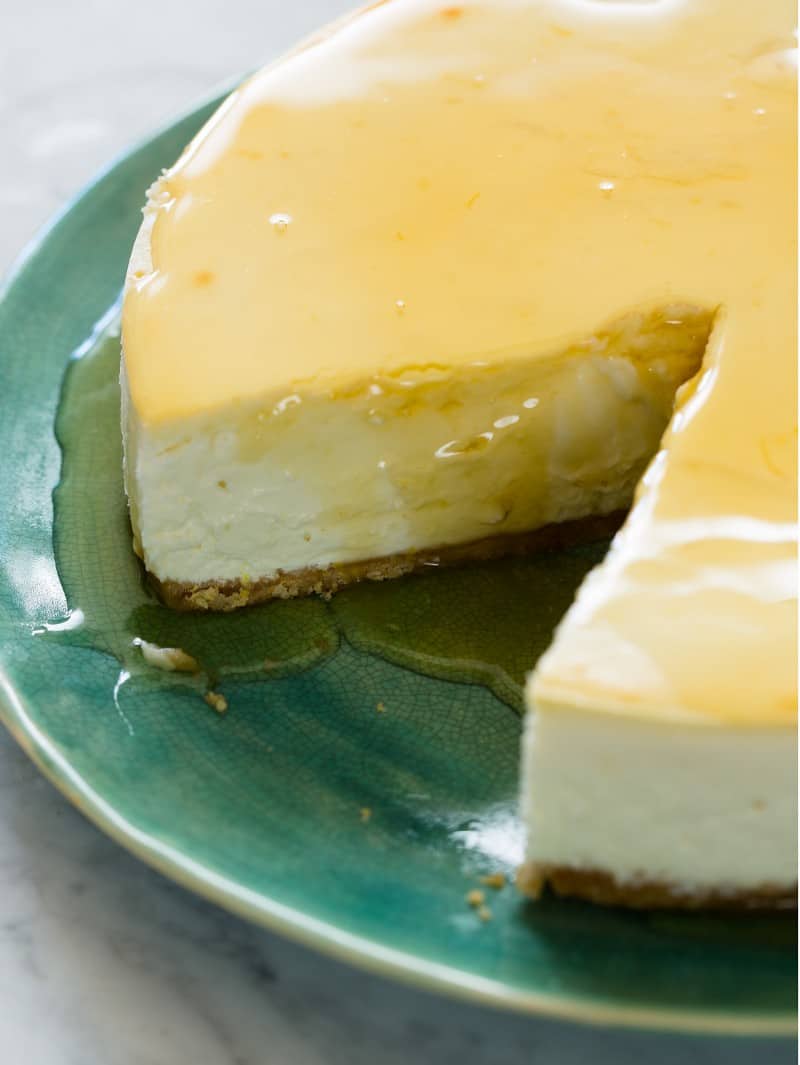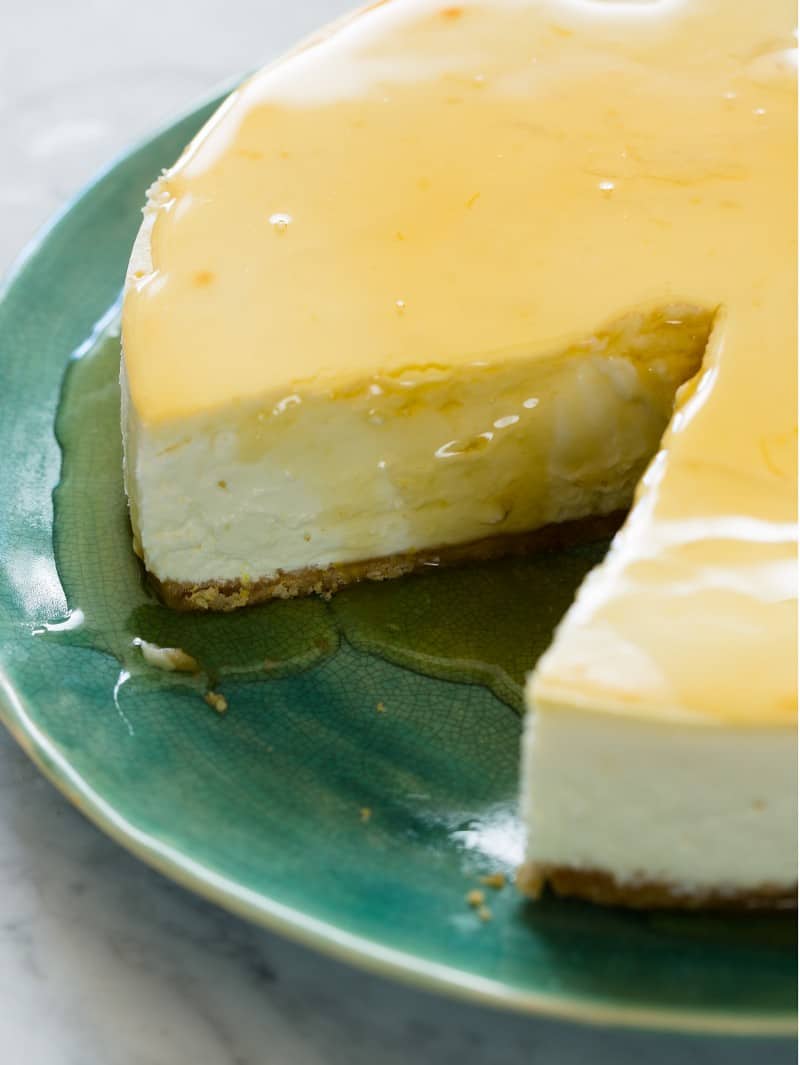 Hi Guys! Today we have cheesecake for you….but not any kind of cheesecake; one made with goat cheese and Greek yogurt! I'm not going to lie, I'm not the biggest cheesecake fan. I started making cheesecakes when I was younger because it's my sister's favorite dessert and she was always requesting it for her birthday. (and if you know my sister, you know she's just like me, not a sweets person)
Anyway, I got really used to making one cracked and deflated cheesecake after another, wondering how places like the Cheesecake Factory got their cheesecakes so tall and perfect every time. Did they use some sort of special springform pan?As far as I was concerned, the springform pan was the most heinous tool in the kitchen. I get it..you can release the sides of the pan from the cake with ease…but what about the bottom? You're pretty much stuck serving your cheesecake with the bottom of the pan still attached. (this became a bigger issue for me once I became a food stylist…clients don't normally like to photograph cheesecakes with a big shiny piece of metal stuck to the bottom) Also, if you have one teeny tiny hold in your pain in the ass aluminum wrap contraption you've basically signed up for a waterlogged dessert.
Anyway, this brings me to today's recipe and what I believe to be the most valuable piece of info I took away from culinary school. NO SPRINGFORM PAN NEEDED. For realz. Once my instructors helped me to see the light, I went home, threw all my springform pans away and set out to buy cake pans in all sizes. Really, all you need is a good quality cake pan, patience and a xanax (j/k on the last one). The cake board method I've explained in the instructions below is perhaps the best way to bake and release a perfect cheesecake. You don't have to worry about weird, invisible foil tears that will prevent your cheesecake from rising perfectly, crack-free, nor do you have to worry about serving your cheesecake with a disc of pan still attached! A couple things that are important to this process is patience (the cheesecake really needs to be chilled thoroughly before being inverted to ensure you don't have a big mess on your hands) and fearlessness (you really need to be confident in your flipping and tapping to ensure success!) Worse comes to worse, you make a bit of a mess and you're still left with delicious cake! One last thing, please don't over bake this sucker. You really want the center to wobble for a second of two before pulling it from the oven so you know you'll have a super creamy cheesecake, which is the best!
This recipe and especially process might seem a little intimidating, but it's really not! I promise!…and if you're totally comfortable around your springform pan like I never was, go for it! Enjoy! xx, Jenny
[print]
Goat Cheese and Yogurt Cheesecake
Makes 1 8" cake
Ingredients:
crust:
1 1/2 cups vanilla wafer crumbs (18-22 vanilla wafers)
6 tablespoons unsalted butter, melted
filling:
20 ounces goat cheese, softened
8 ounces cream cheese, softened
2/3cup superfine sugar (granulated is fine)
8 ounces (nonfat) Greek yogurt
2 tablespoons buttermilk, optional
3 eggs
1 1/2 teaspoons vanilla extract
garnish:
honey
Directions:
1. Preheat oven to 350˚.F<
2. In a mixing bowl, combine crumbs and butter and stir until fully incorporated.
3. Line an 8" cake pan with parchment paper and very lightly grease pan. Add crust mixture and press evenly into the bottom of the pan. Set aside.
4. Place goat cheese, cream cheese and sugar into a mixing bowl and beat with an electric mixer until well combined (you can also use a stand mixer).
5. Scrape down sides of bowl an add yogurt until just combined. With motor running add eggs, one at a time, until fully incorporated. Stir in vanilla and beat until no lumps remain.
6. Pour filling over crust and smooth top (filling should reach the top of the pan).
7. Carefully place mixture into a roasting pan and place in the oven. Carefully pour warm/hot water into the side of the roasting pan until the water reaches halfway up the side of the cake pan.
8. Bake cheesecake for 45 to 55 minutes r until center is still slightly wobbly.
9. Remove from oven and water bath and allow cheesecake to cool for 10 to 15 minutes. Run a knife along the edge of the pan to ensure cheesecake doesn't stick to sides when removing from pan.
10. Allow cheesecake to cool for an hour. Place cheesecake in the refrigerator and allow to chill for at least 6 hours.
11. Once cheesecake has completely chilled, run a knife along the edge again.
12. With a platter ready, place a clean cake board over the top of the cheesecake and pan and quickly invert it onto the cake board. Tap the bottom of the pan to ensure nothing is sticking. Remove pan and replace with a platter before quickly, but carefully turning the cheesecake onto the platter and removing the cake board from the surface. (the removal process should take no more than 30 seconds)
13. Drizzle the top with honey, slice and serve.
[/print]