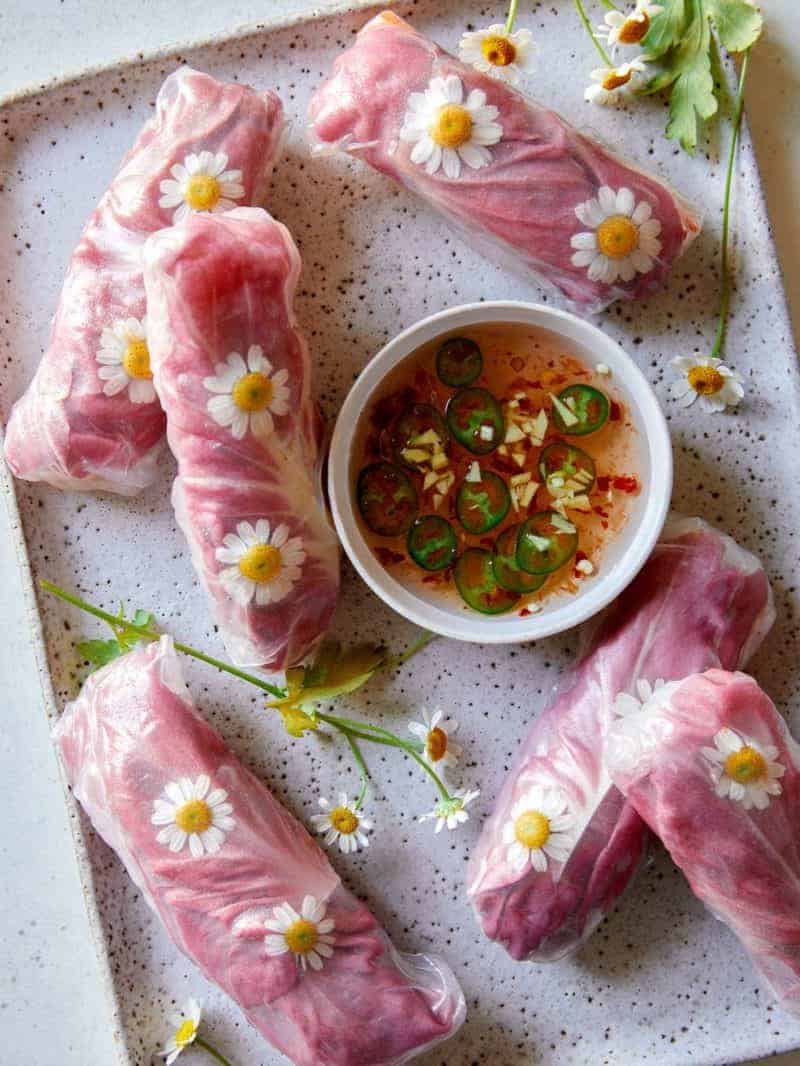 We made these really beautiful and simple Fresh Shiitake Spring Rolls. Sometimes we can find those beautiful chamomile flowers at Trader Joes, but sometimes they have other edible flowers at your local grocery store by all the fresh herbs. I love this idea as a really nice appetizer for get togethers, you can definitely make these in advance. You also definitely don't have to use any edible flowers, or specifically pink radicchio either. These will be just as tasty without them, just not as cute. :) Enjoy!
♥ Teri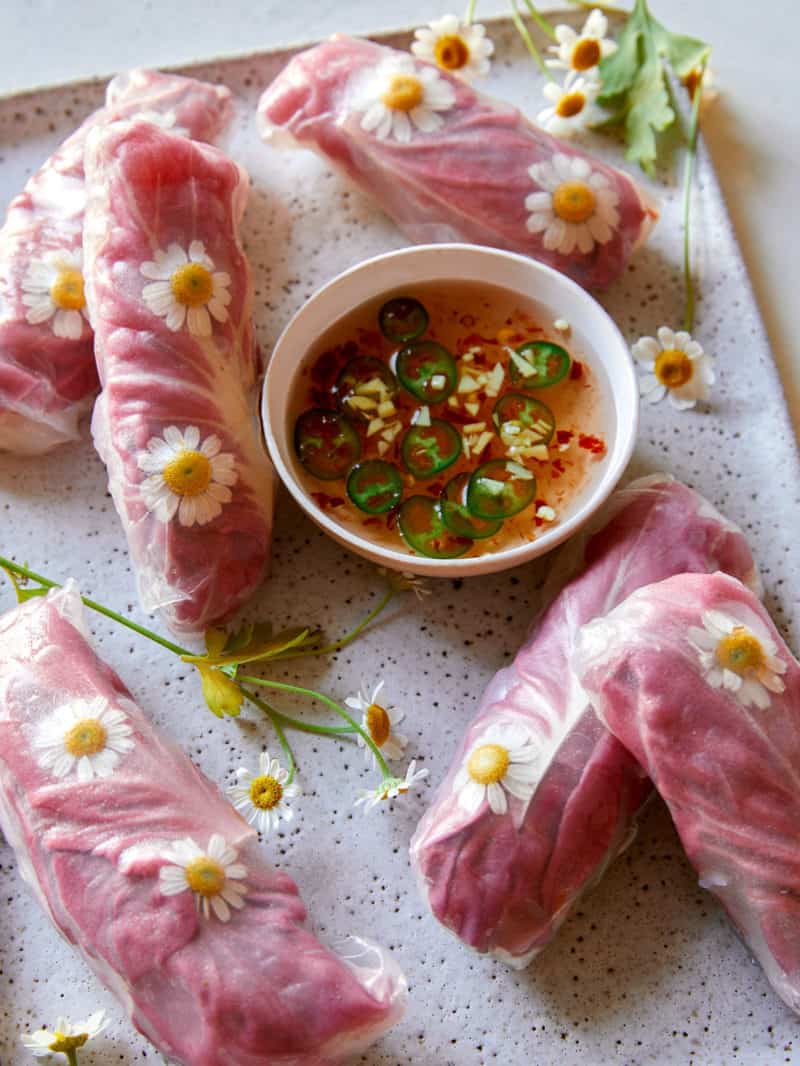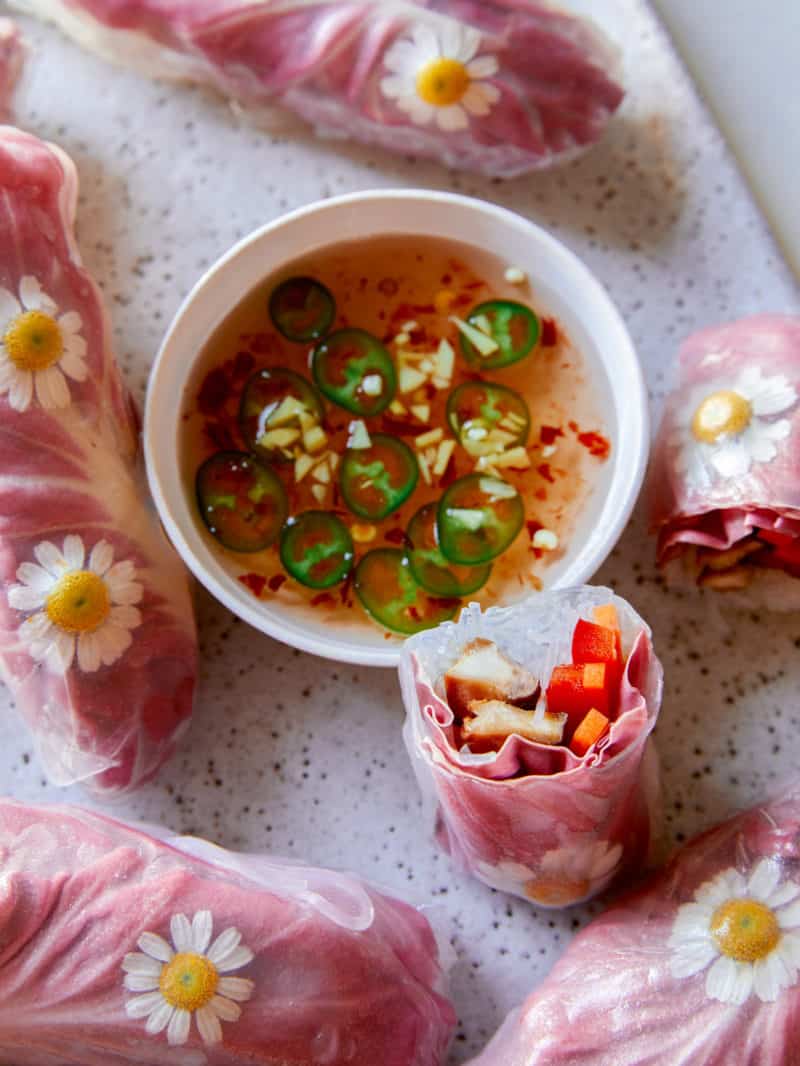 Fresh Shiitake Spring Rolls

Makes 12

Ingredients:
dipping sauce:
1 cup rice wine vinegar
2/3 cup granulated sugar
2 teaspoons sambal chile paste
1/2 serrano pepper, seeded and minced
1 garlic clove, minced
1/4 teaspoon peeled and minced ginger
spring rolls:
2 tablespoons vegetable oil
8 ounces shiitake mushrooms, cleaned, stemmed and thinly sliced
2 1/2 tablespoons tamari
1 teaspoon light brown sugar
24 Chamomile flowers
1 head of pink radicchio, leaves pulled apart
1 cup cooked cellophane noodles
1 carrot, peeled and thinly sliced
1 red bell pepper, thinly sliced
1/2 bunch mint leaves
12 (5") rice paper wrappers

Directions:
1. For dipping sauce: Place vinegar and sugar in a small pot and simmer until sugar dissolves. Remove from heat and allow to cool completely. Stir in remaining ingredients and set aside.
2. For spring rolls: Place a skillet over medium-high heat and add oil. Sauté mushrooms for 3 to 4 minutes. Add tamari and sugar and stir together until most of the liquid evaporates. Remove from heat.
3. To assemble: Dip rice paper wrappers in hot water for 1 to 2 minutes until soft and pliable. Lay wrapper flat onto a very lightly oiled surface. Tuck each side in by about 1/2 inch so you have two straight sides. Lay 2 chamomile flowers, back side up in the center of the rice wrapper and lay a leaf of radicchio over the flowers. Place a small amount of the remaining ingredients into the wrapper and tightly roll until sealed. Repeat until all wrappers and filling ingredients have been used. Serve with dipping sauce.