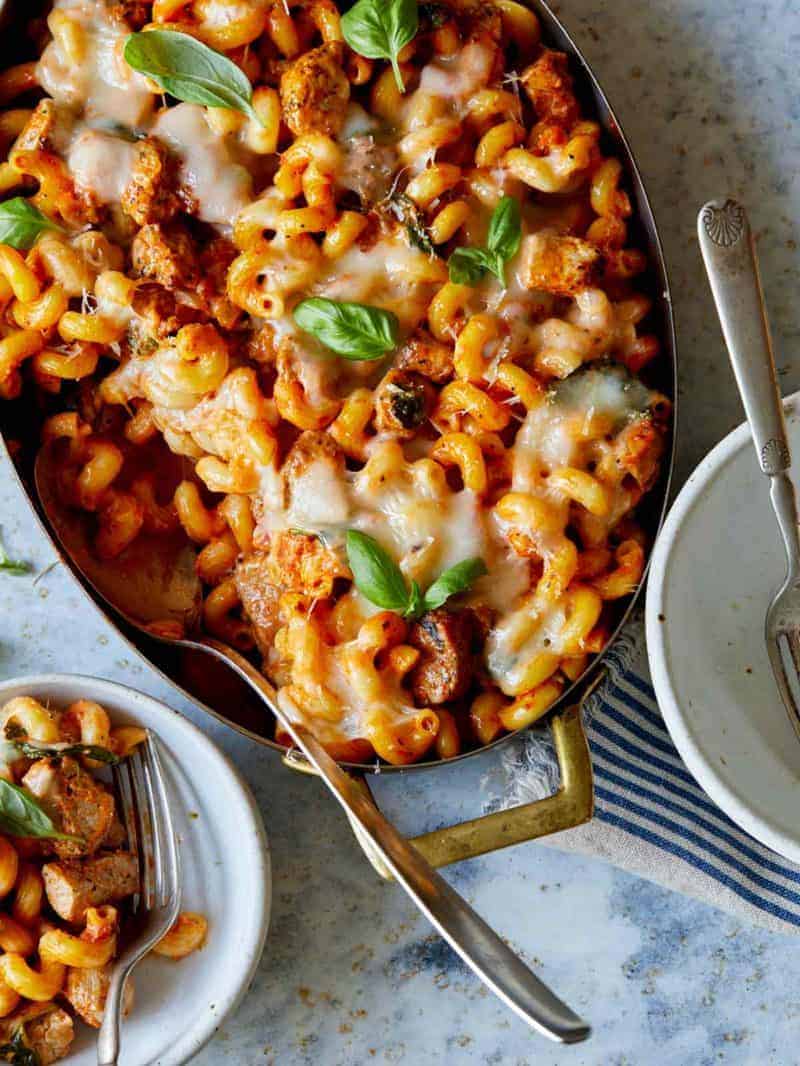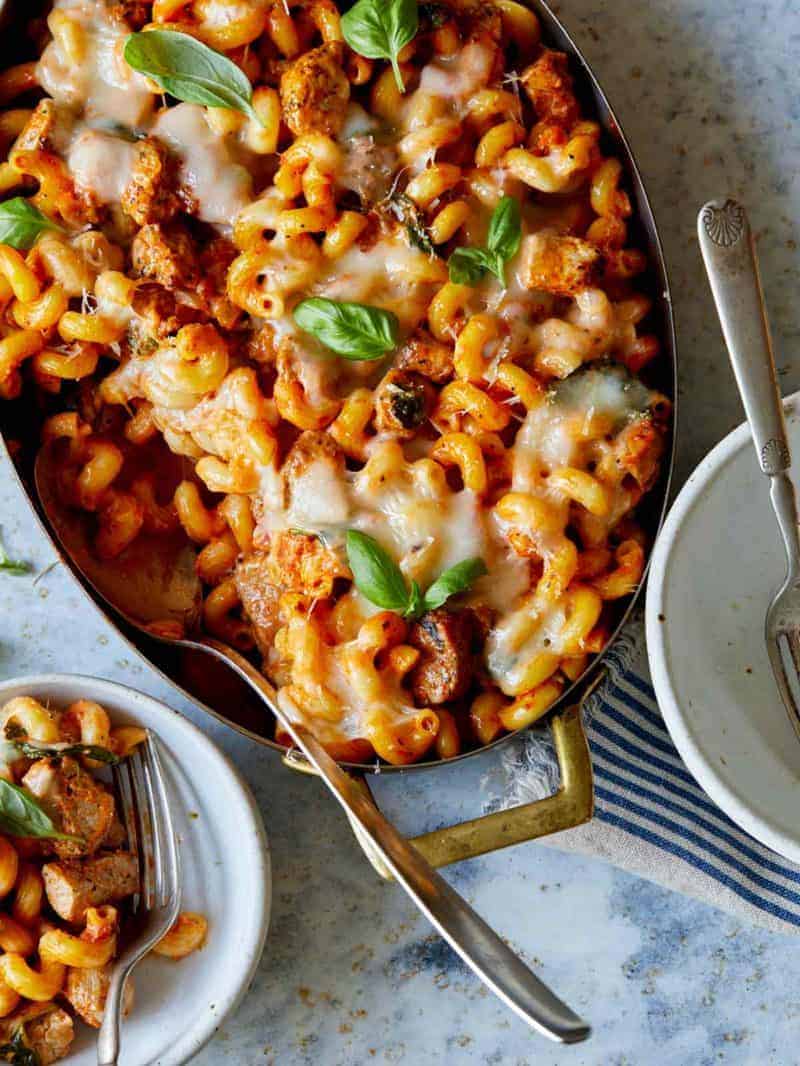 During the cold weather, all we crave are comforting cheesy pastas that are as hearty as they are delicious. This recipe for Creamy Pork and Tomato Baked Pasta has been on repeat. It's super easy to throw together thanks to the Smithfield Roasted Garlic and Cracked Black Pepper Marinated Fresh Pork Tenderloin because it's already been seasoned and ready to be cooked right out of the package. You can easily use any variety of Smithfield's Marinated Fresh Pork cuts to roast, grill, sauté, or slow cook – they are super versatile and come in a bunch of different flavors like Sweet Teriyaki, Applewood Smoked Bacon, Slow Roasted Golden Rotisserie, and Roasted Garlic & Herb. We love utilizing as many shortcuts as we can around the holidays to save time. Another reason I love this recipe! The leftovers are also really yummy, and I love how melty the cheese gets when it's baked. Hope you guys are will enjoy a big bowl of this pasta! Stay warm!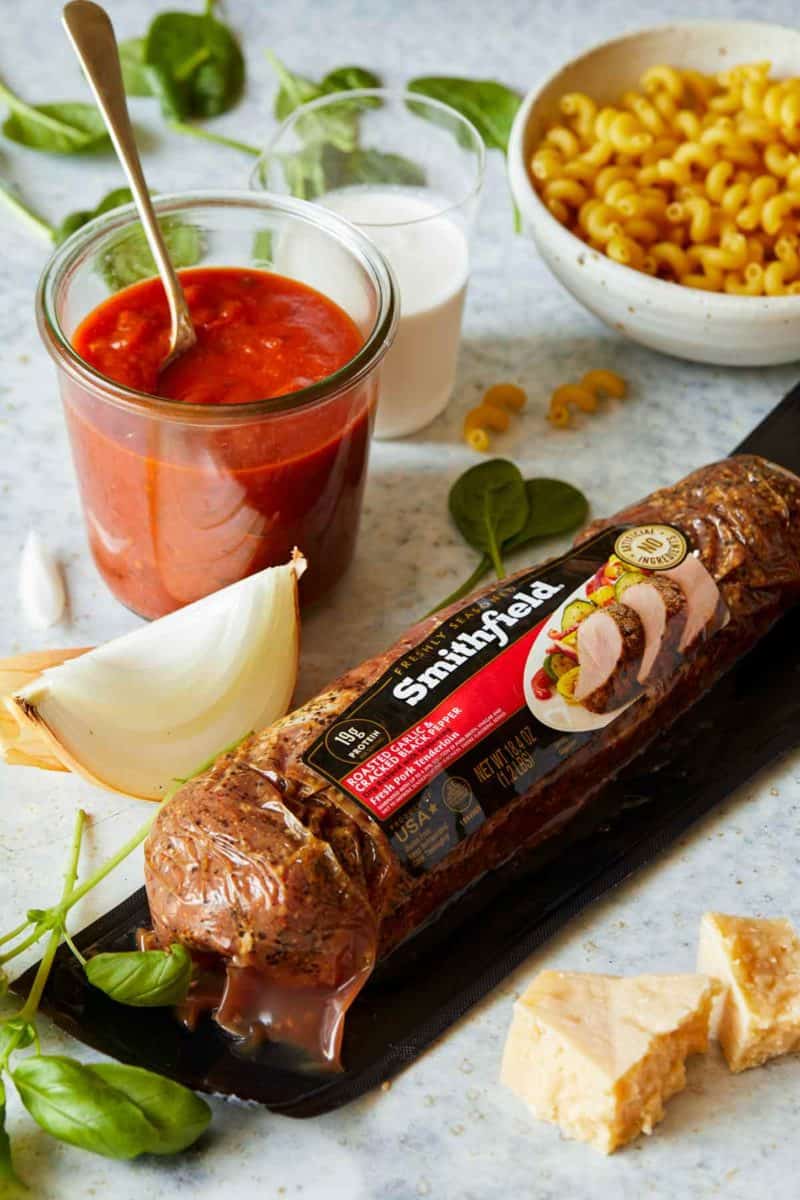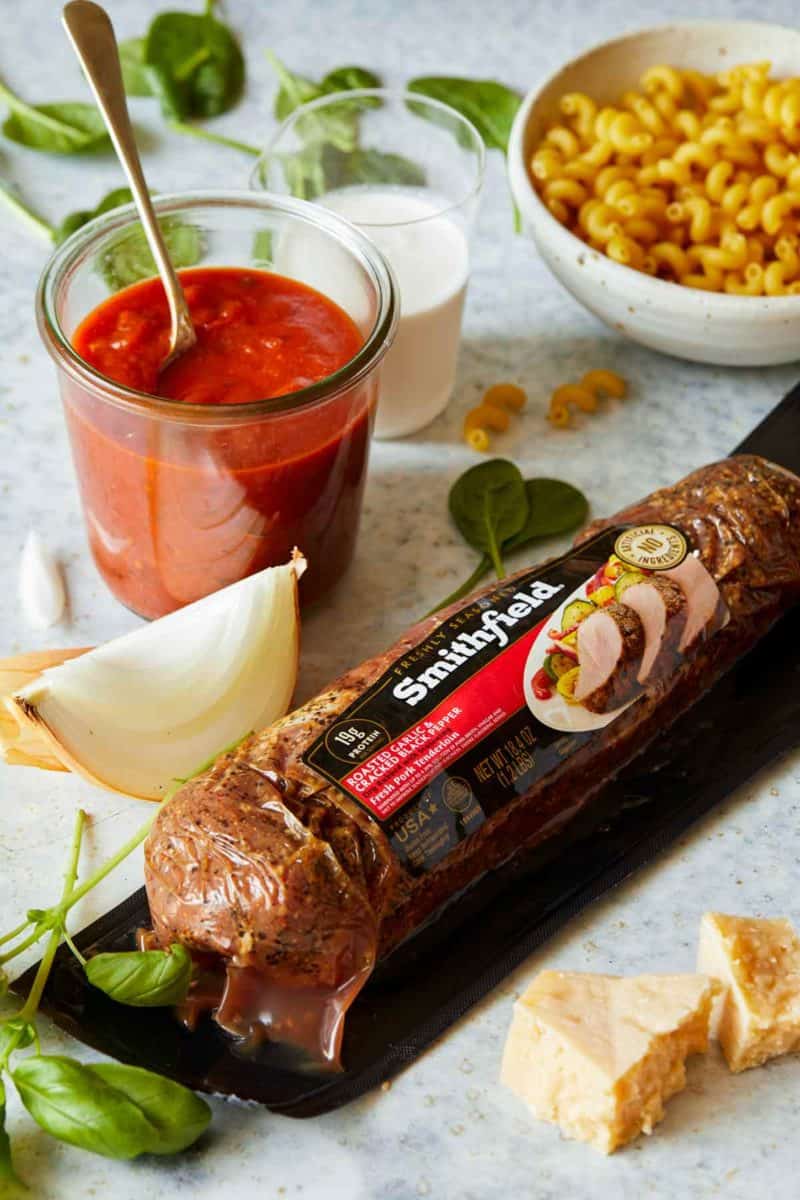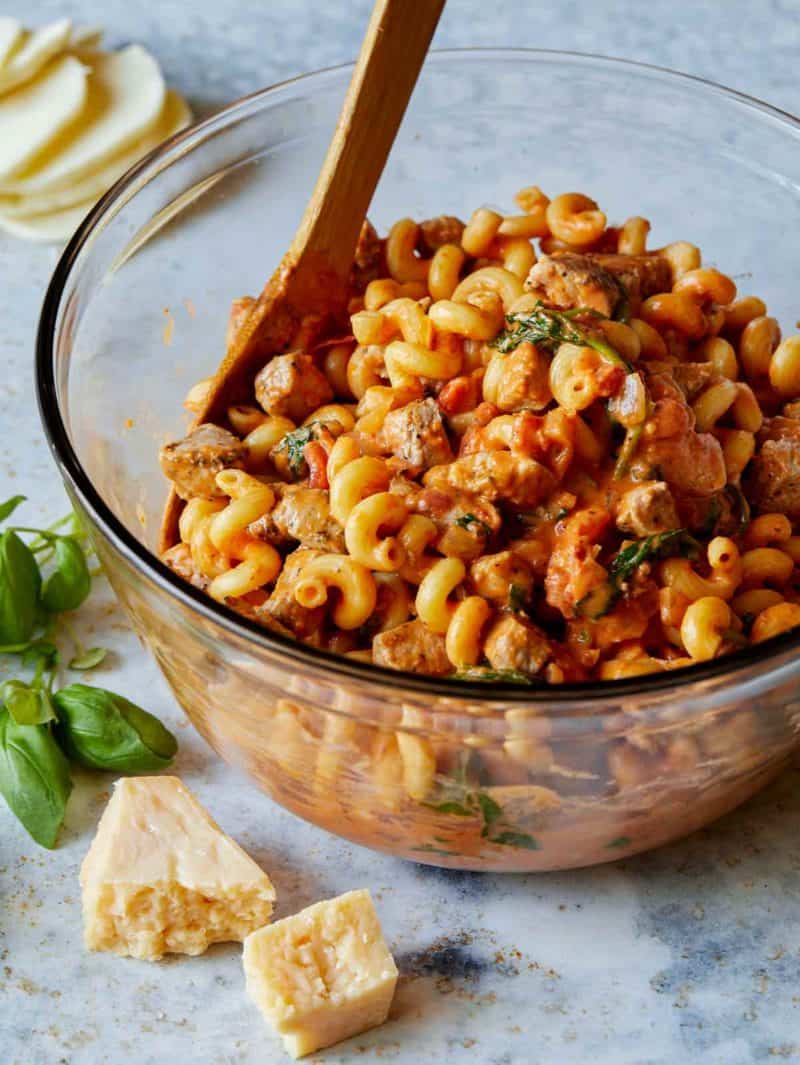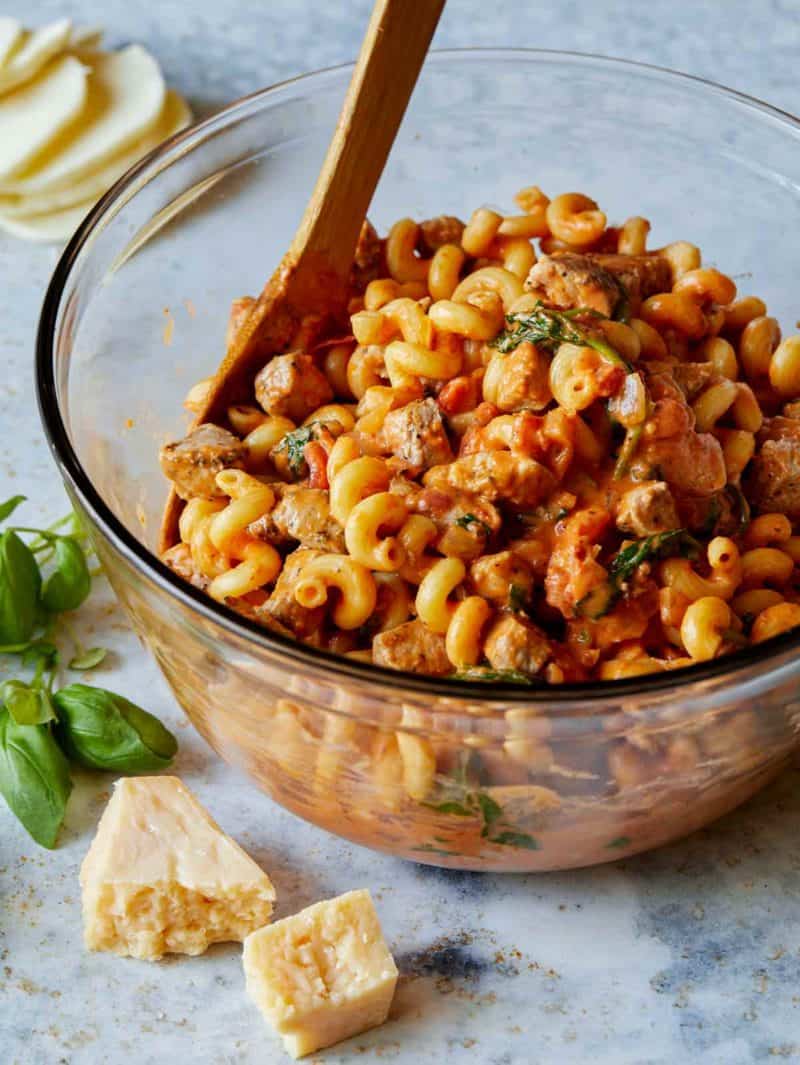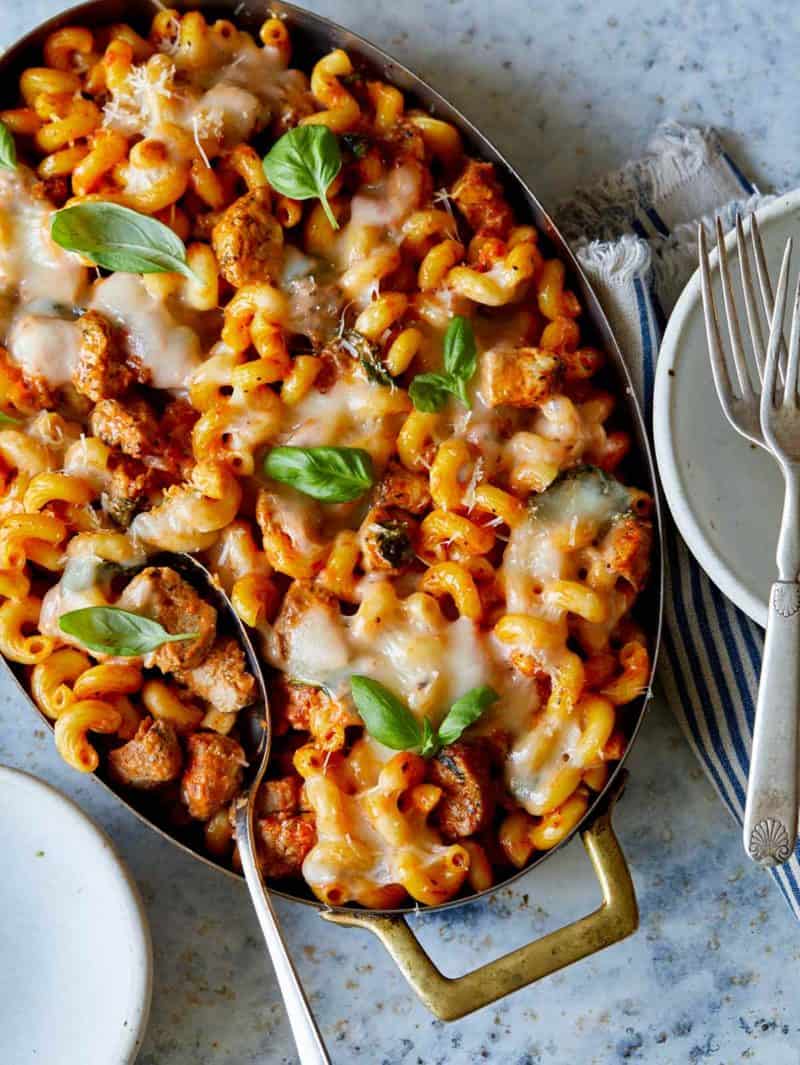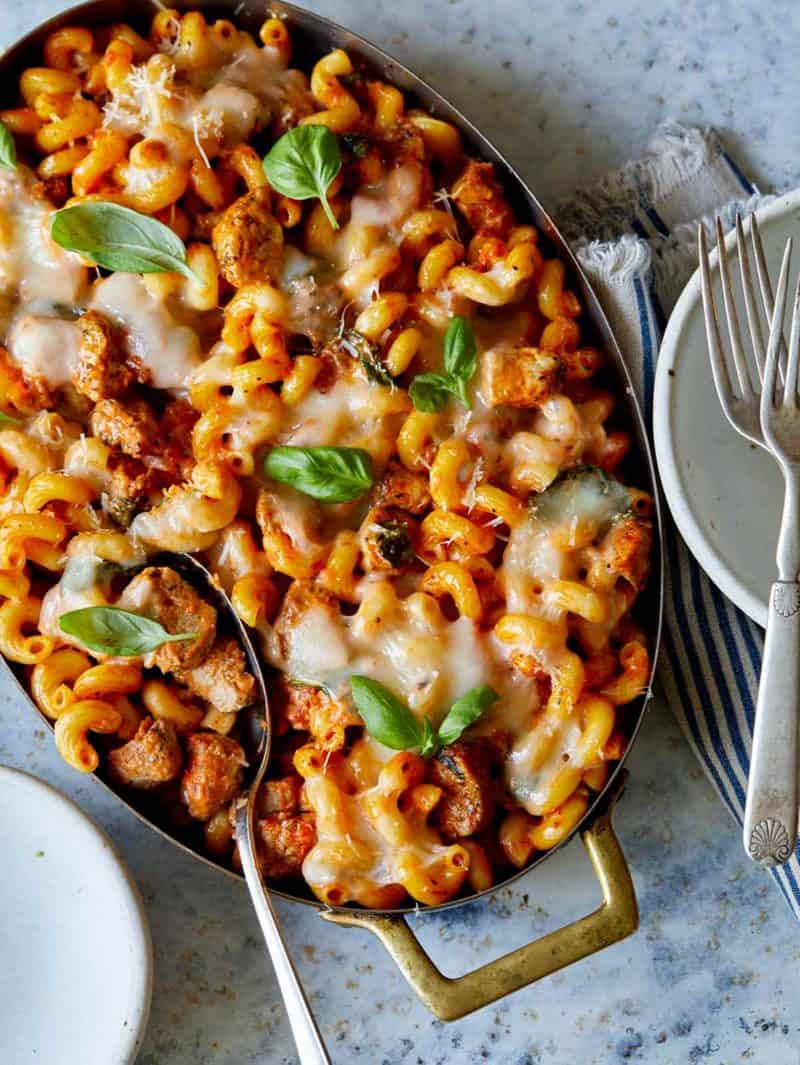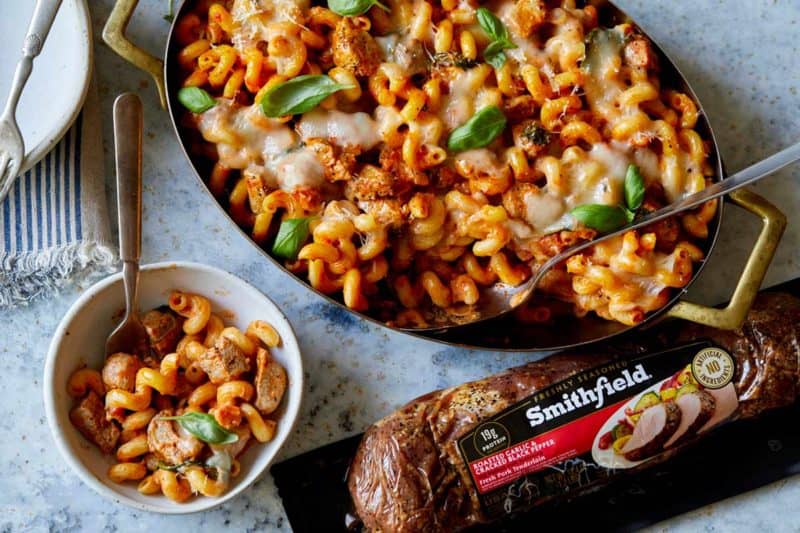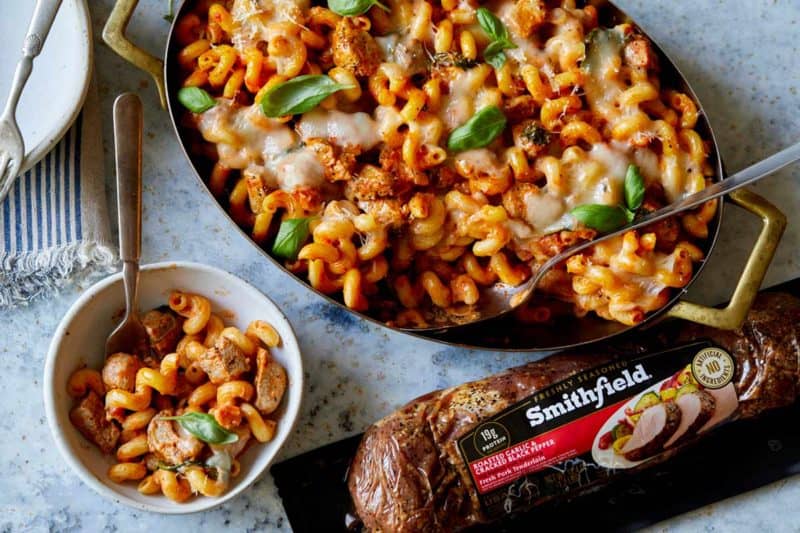 Creamy Pork and Tomato Baked Pasta
Makes 1 (9"x 13")
Ingredients:
1/2 pack Smithfield Roasted Garlic and Cracked Black Pepper Fresh Pork Tenderloin, chopped into bite sized pieces
1/2 pound cavatappi pasta, boiled until al dente and drained
2 tablespoons unsalted butter, softened
2 1/2 tablespoons extra virgin olive oil
1/2 onion, finely diced
3 heaping cups baby spinach
3 cups marinara sauce of choice
1/2 cup heavy cream
salt and pepper to taste
2 ounces grated Parmesan
8 ounces thinly sliced (part-skim) mozzarella
Basil leaves, for garnish
1. Pour cavatappi pasta into a large mixing bowl and set aside.
2. Preheat oven to 350˚F. Lightly grease a 9"x13" baking dish with butter and set aside.
3. Place a large skillet over medium-high heat and add 1 1/2 tablespoons oil. Add pork tenderloin pieces and sauté for 2 to 3 minutes, until browned on all sides. Remove from heat and transfer into bowl with pasta.
4. Return skillet back over heat and add remaining oil. Add onion and sauté for 4 to 5 minutes. Reduce heat to medium and stir in spinach. Cook mixture until spinach has just wilted.
5. Pour marinara sauce into onion and spinach mixture and stir together. Simmer for 4 to 5 minutes until sauce has heated through. Season with salt and pepper and stir in cream.
6. Pour sauce over pork and pasta mixture and fold together until combined.
7. Stir in Parmesan and pour mixture into prepared baking dish.
8. Top pasta mixture with sliced mozzarella and bake for about 20 minutes, or until mozzarella is bubbling and has browned.
9. Remove from oven and cool. Top pasta with fresh basil leaves and serve.