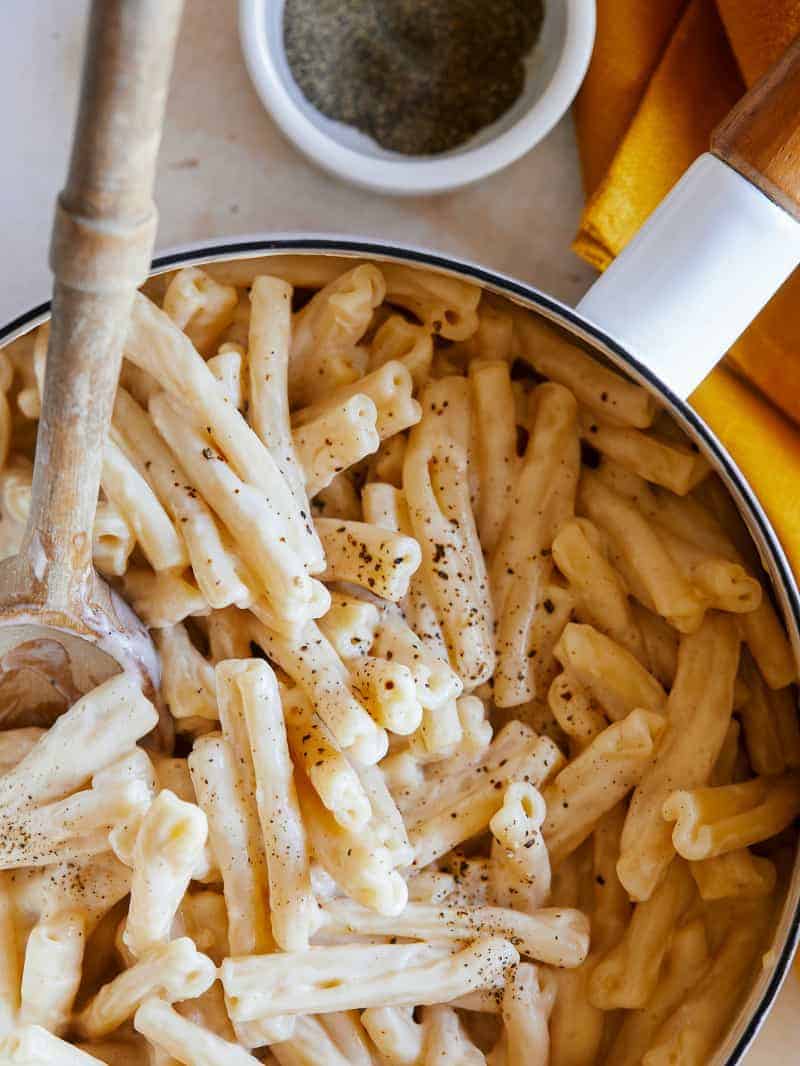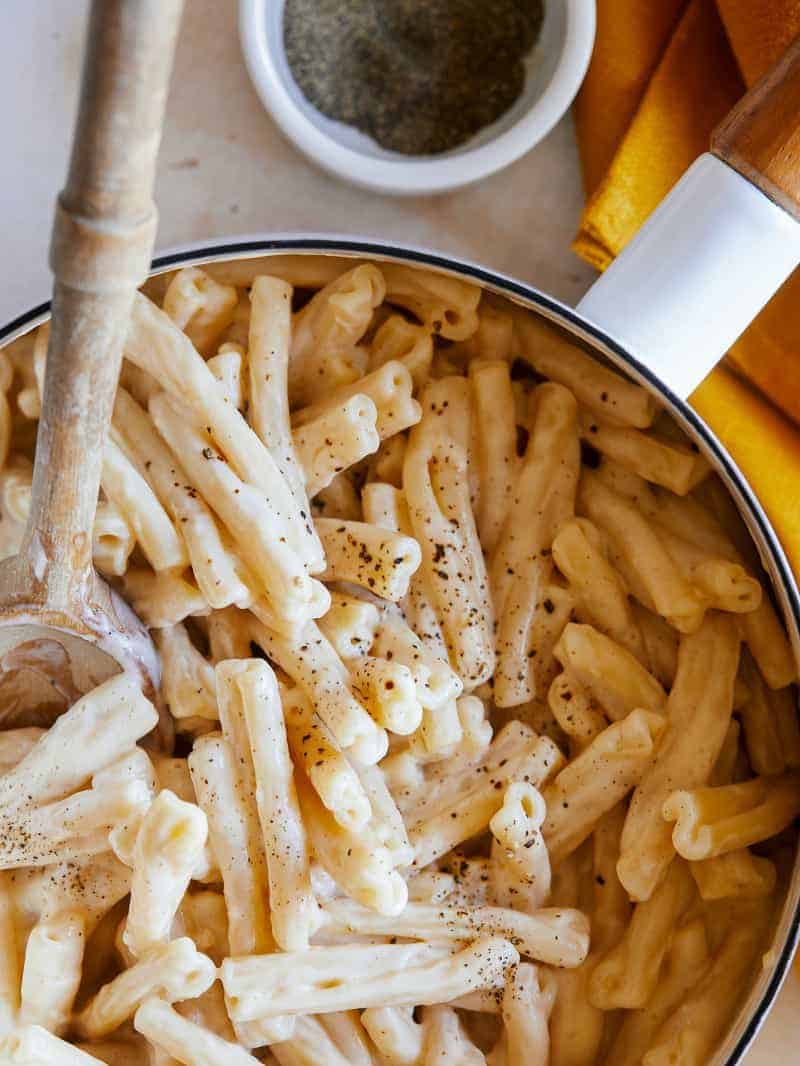 I really love vegan dishes (done right, lol). My husband and I are far from vegan, but we do enjoy and incorporate a lot of plant based dished into our overall diet. I will say though that two things I can't quite get on board with is vegan cheese + veganaise. I'm sorry. I just can't. BUT I can definitely get on board with homemade vegan cheese sauces, especially if they're made of simple and delicious things like raw nuts or potatoes, or in today's case cauliflower!
That's right. We have a very simple, Creamy Stovetop Vegan Mac and Cheese for you guys today, with seriously the most silky 'cheese sauce'! A couple things really gives this sauce that appropriately 'cheesy' taste and consistency. The first is nutritional yeast. If you've heard of it, you know how great it can be, if not it probably sounds very unappetizing, but it really gives the sauce that 'cheesy' and umami sort of flavor to it. If you don't have any and can't get a hold of any easily you can omit it, but the flavor of the sauce will seem less 'cheese sauce' like and a tad bit more like creamy puree, if that makes sense. The other ingredient that I think is important is the oil blended into the sauce at the end. The oil gives the sauce the extra boost to make is truly 'silky' and creamy.
This recipe is really easy and worth a try, plus the sauce works as a 'cheese sauce' replacement for other things too, like nachos, just as a queso dip, etc. Enjoy! xx, Jenny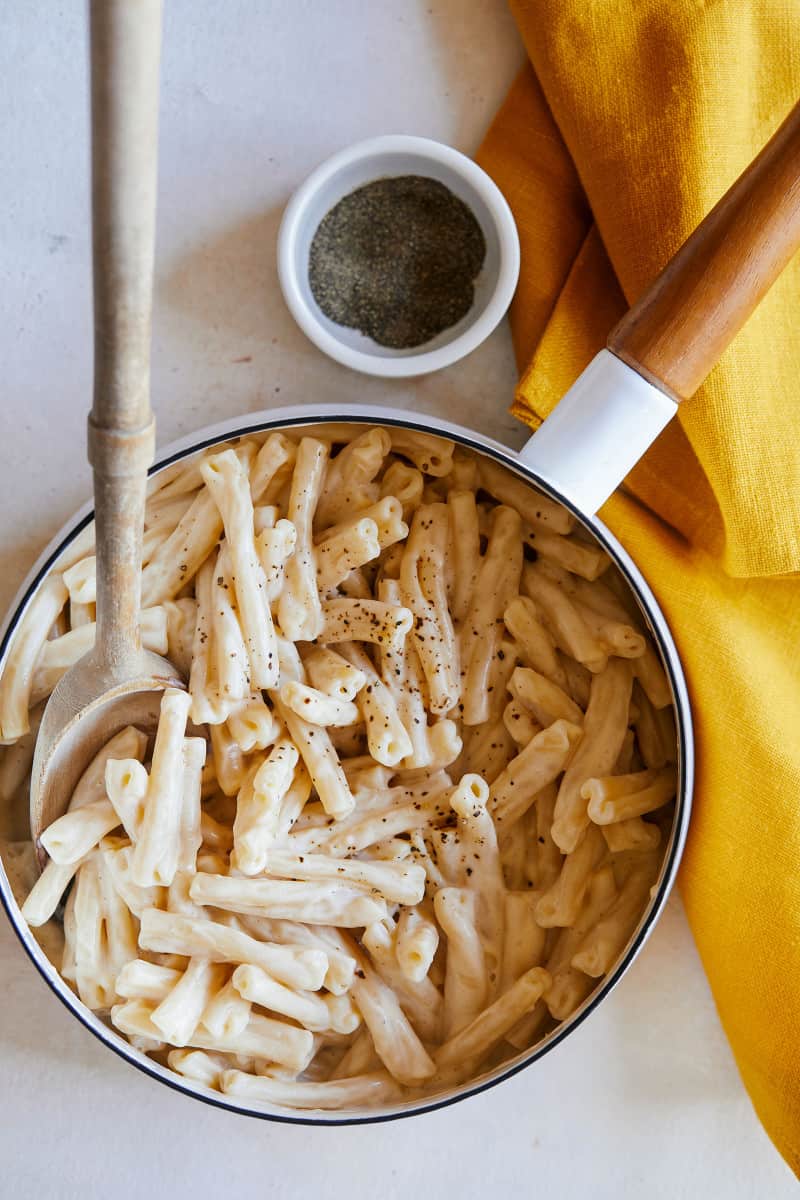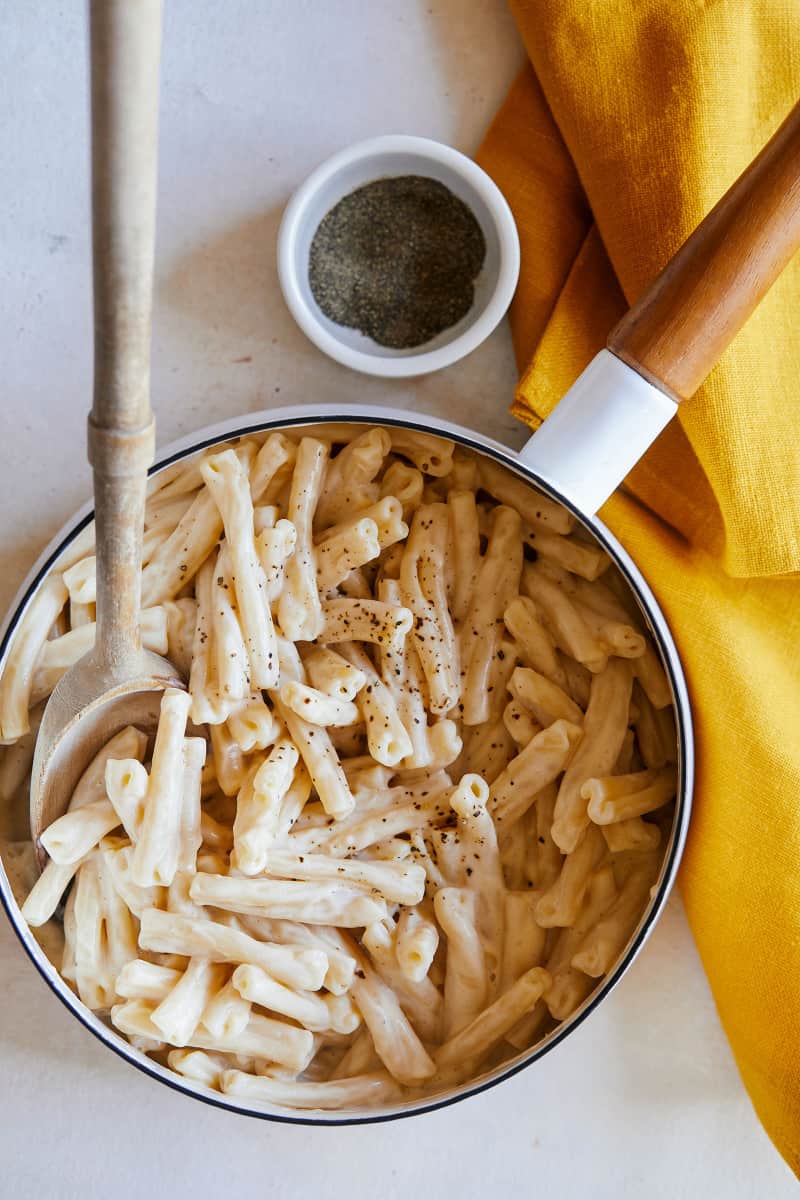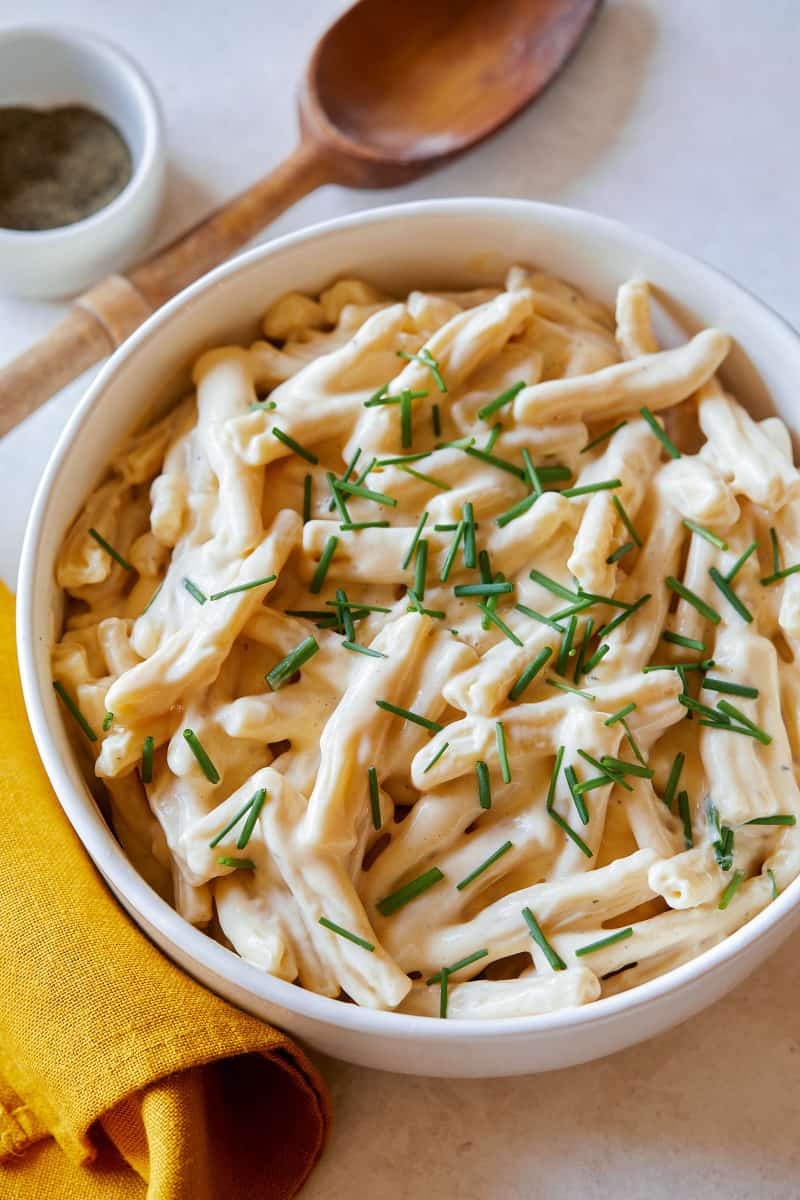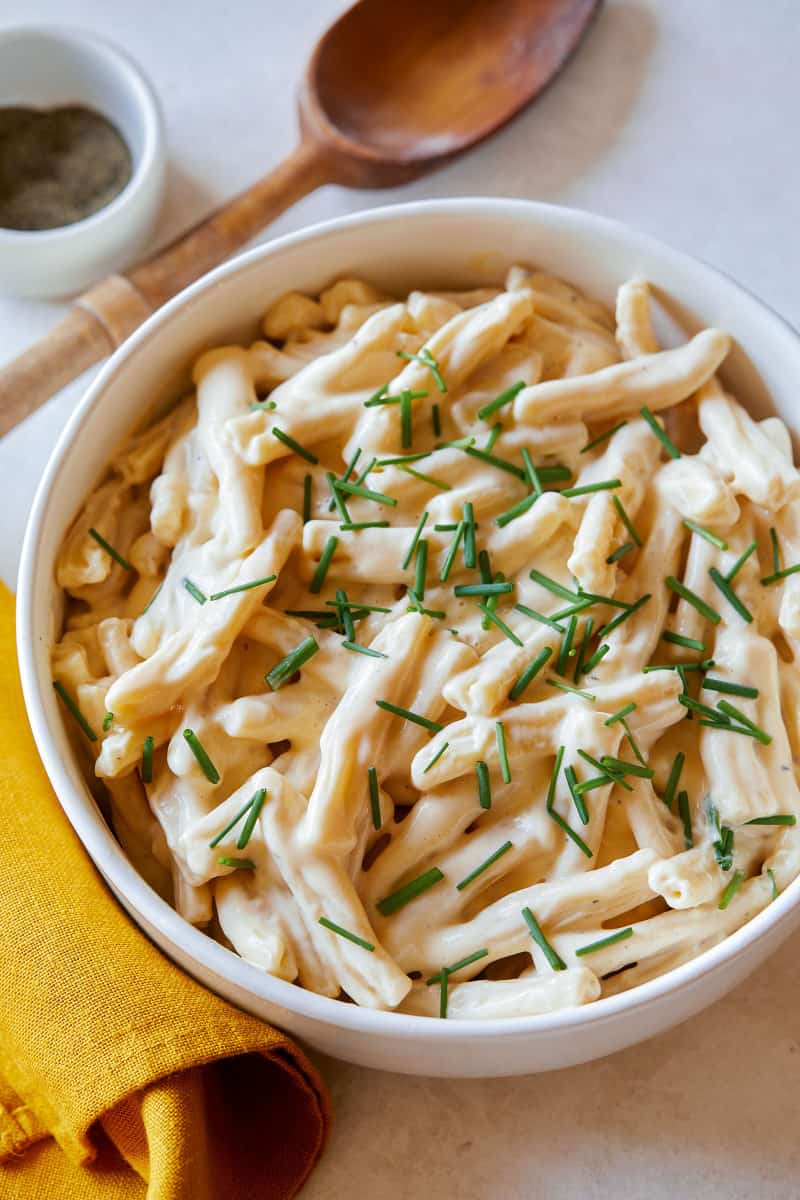 Hungry for more?
Subscribe to never miss a recipe.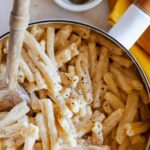 ---
Vegan Stovetop Mac and Cheese
INGREDIENTS
1

pound

dry casarecce pasta 

or shaped pasta of choice
cauliflower "cheese" sauce
3

tablespoons

extra virgin olive oil, divided

1

small shallot, diced

2

garlic cloves, minced

1

head cauliflower (about 1 1/2 pounds), cut into bite sized pieces

1

teaspoon

dry mustard

¼

teaspoon

turmeric, optional

¼

cup

plus 1 tablespoon nutritional yeast

salt and pepper to taste
INSTRUCTIONS
Fill a large pot with water, place over high heat and bring to a boil.

Add a handful of salt and the pasta and stir. Bring back up to a boil and occasionally stir.

Cook pasta until al dente, about 6 to 8 minutes. Remove from heat and drain, reserving about 3 cups pasta water. Set aside.

Pour 1 ½ tablespoons oil into the pot and place back over medium-high heat.

Add shallot and garlic and sauté for 2 to 3 minutes.

Add cauliflower and continue to sauté for 2 to 3 minutes. Season with salt and pepper.

Stir in mustard and turmeric and continue to sauté for 2 to 3 minutes.

Pour reserved pasta water into the pot and simmer until cauliflower becomes fork tender, 6 to 8 minutes.

Using a slotted spoon, scoop cauliflower, shallots and garlic out of the pot and into the well of a blender.

Add nutritional yeast and 1 ½ cups of the reserved pasta water.

Blend on high, adding more water as needed.

With the motor running, add remaining 1 ½ tablespoons oil and season with salt and pepper.

Blend until a smooth, glossy and creamy sauce forms.

Pour mixture back into the pot and place over medium low heat.

Fold reserved pasta into the 'cheese' sauce until completely combined and evenly coated.

Adjust seasonings and serve.
Calories:
384
kcal
Carbohydrates:
64
g
Protein:
13
g
Fat:
9
g
Saturated Fat:
1
g
Sodium:
39
mg
Potassium:
558
mg
Fiber:
5
g
Sugar:
5
g
Vitamin C:
55
mg
Calcium:
43
mg
Iron:
2
mg