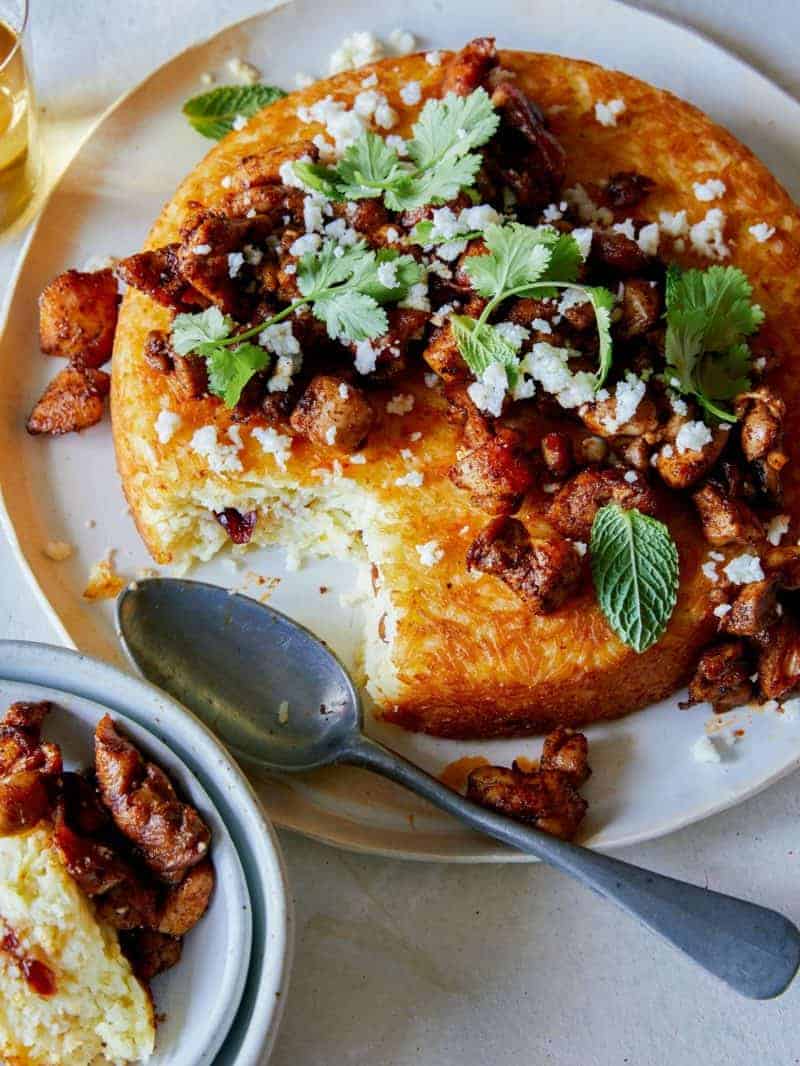 This recipe for Spiced Chicken Topped Tahchin is simple, really delicious and mainly all about the tahchin, or the savory baked saffron, yogurt rice with an addicting crisp crust. I seriously love this rice dish so much and it makes for a really easy and lazy meal to throw together. The tahchin only requires a few ingredients and it's a great reason to break out that expensive saffron you have tucked away at the back of your cabinet for special occasions; trust me, this super fragrant, baked rice is a special occasion in itself.
What is tahchin?
Tahchin is a Persian crispy edged rice cake casserole dish consisting of primarily rice, yogurt, eggs, and saffron. It's typically stuffed with chicken, but can also be stuffed with a layer of vegetables or other meats. There are also versions that omit the protein and vegetables and instead add a thin layer of dried fruit in the center.
Difference between tahchin and tahdig?
Tahchin is the Persian rice casserole as a whole and the tahdig is the crispy rice portion that develops at the bottom of the dish.
How to make tahchin?
First make parboiled rice by boiling rice in water for 5 minutes before draining and cooling.
Preheat your oven to 400˚F.
Steep your saffron in some warm water then add melted butter, yogurt, eggs, egg yolk, and salt.
Stir mixture together with rice until evenly combined.
Grease baking dish, pour half rice mixture into the dish and firmly press into the baking dish.
Add layer of chicken (or other meat), vegetables or dried fruit and top with remaining rice mixture.
Press mixture evenly into the baking dish and cover with foil.
Bake until bottom of the rice has browned and crisped.
Remove tahchin from oven, remove foil and invert onto a plate.
I stuffed my version with dried cranberries and decided to top it with spiced chicken. My favorite part is the extra fragrant, crispy baked edges of rice and how it balances so well with the little pops of tangy dried cranberries hidden between the layers. I love how fragrant basmati rice is and this is my favorite brand to use. This recipe for Spiced Chicken Topped Tahchin is so simple and delicious and can feed a small crowd. If you love this cozy recipe, you'll also love our Indian Butter Chicken recipe that we top over basmati rice. It's super comforting and delicious too!  Enjoy! xx, Jenny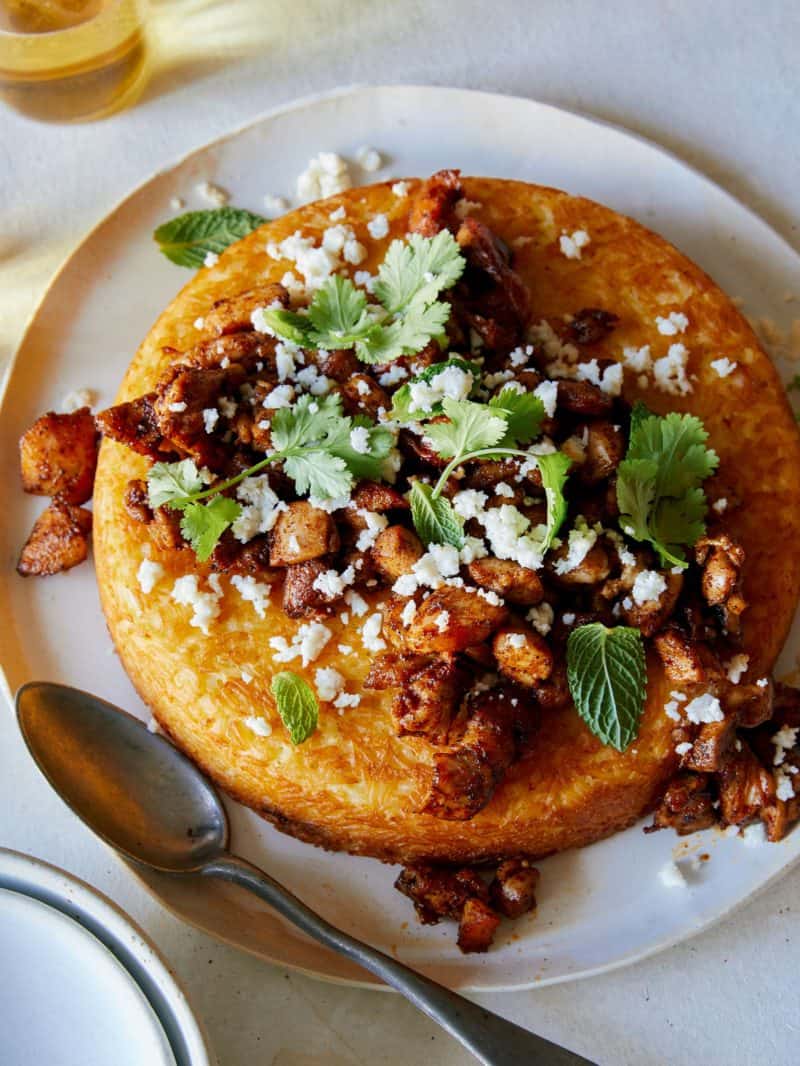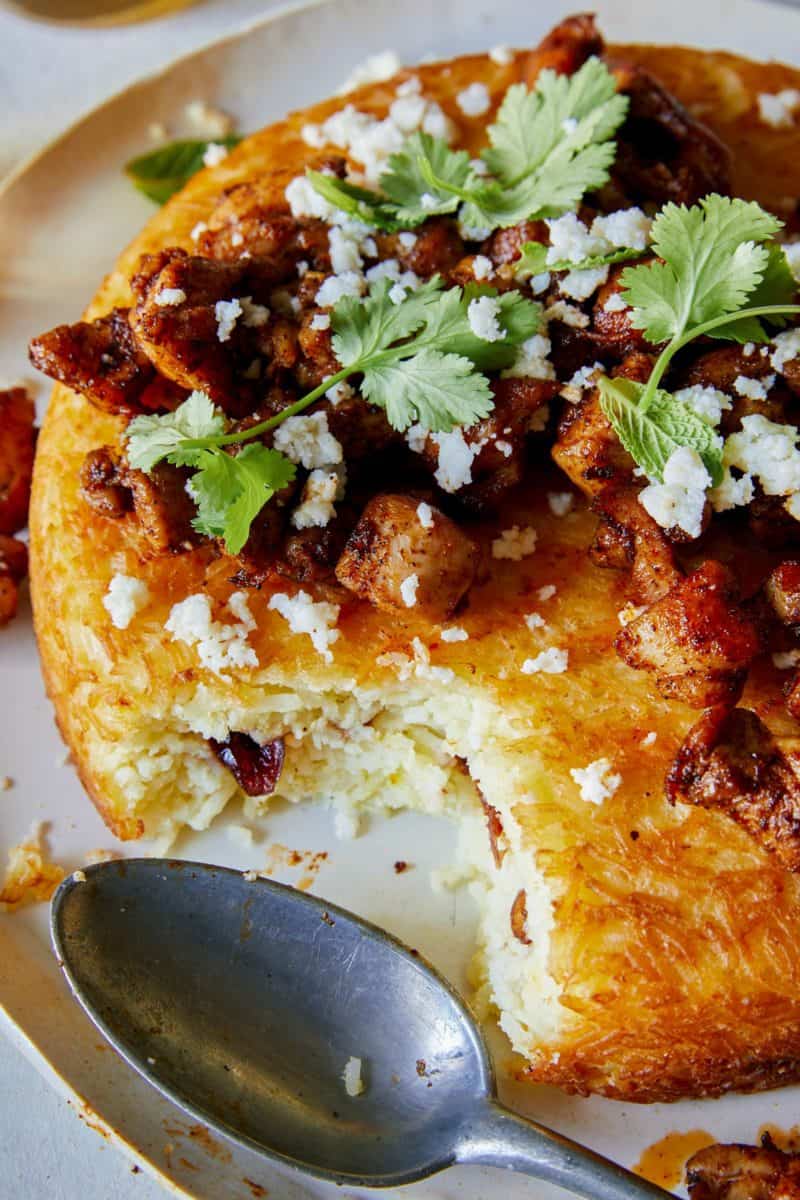 Hungry for more?
Subscribe to never miss a recipe.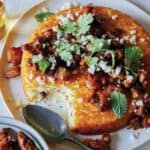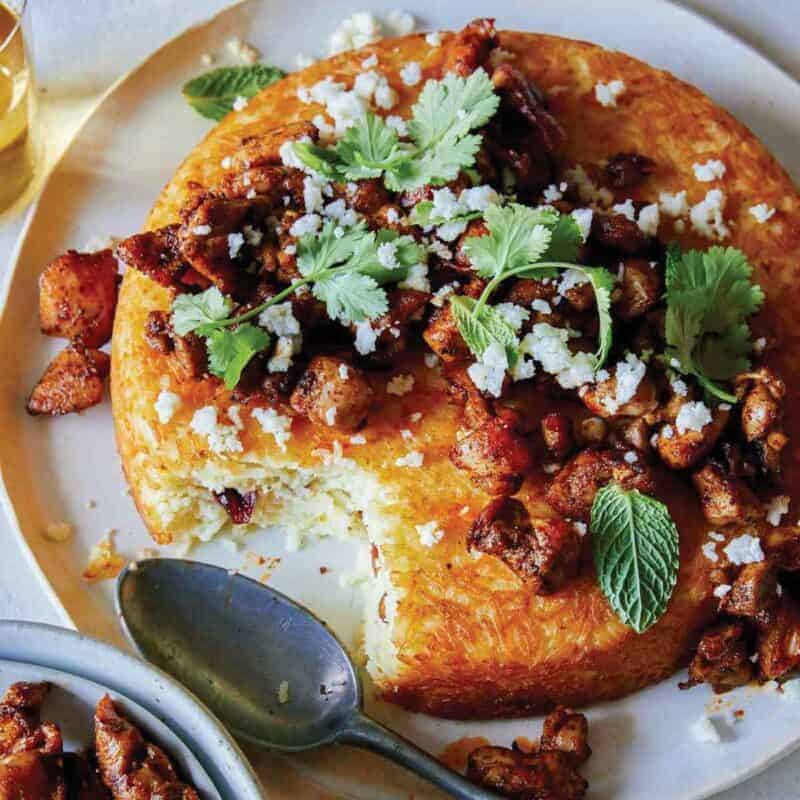 ---
Spiced Chicken Topped Tahchin
A recipe for Spiced Chicken Topped Tahchin. Crispy rice mixed with some golden raisins, and topped with spiced chicken. A flavor packed recipe perfect if you're looking to mix things up for dinner!
INGREDIENTS
2

pounds

boneless, skinless chicken thighs, cubed into bite sized pieces

1

tablespoon

cumin

2

teaspoons

coriander

2

teaspoons

garlic powder

1 ½

teaspoons

salt

1

teaspoon

ground ginger

1

teaspoon

smoked paprika

½

teaspoon

black pepper

¼

teaspoon

cayenne pepper
parboiled rice
2

cups

basmati rice

1 ¼

teaspoon

salt

2

quarts

water
saffron rice
parboiled rice

1

teaspoon

saffron threads

1

tablespoon

warm water

1 ¼

cups

Greek yogurt

1

stick

unsalted butter, melted and divided

2

large eggs

1

large egg yolk

1 ¼

teaspoons

salt
assembly
⅔

cup

dried cranberries, soaked in warm water for 10 minutes and drained

2

tablespoons

olive oil

whole or chopped cilantro leaves, for serving
INSTRUCTIONS
Spiced chicken: Place chicken and a large mixing bowl and top with remaining ingredients. Thoroughly toss and mix together until fully and evenly combined.

Cover, refrigerate and marinate for about 1 hour.

Parboiled rice: Bring 2 quarts water to a boil. Add rice and salt and boil for 5 minutes. Completely drain and transfer to a large mixing bowl and cool, about 15 minutes.

Saffron Rice: Preheat oven to 400˚F.

In a mixing bowl combine saffron threads and warm water. Allow mixture to steep for 5 minutes. Stir in Greek yogurt, 7 tablespoons butter, eggs and egg yolk and salt. Stir to combine.

Pour mixture over parboiled rice and stir together until completely combined.

Brush 9" pie or cake dish (glass works best) with remaining tablespoon of melted butter and add half of the rice mixture, pressing down firmly, creating an even layer.

Sprinkle soaked cranberries evenly over rice and top with remaining rice mixture, pressing down firmly once again.

Cover dish with foil and bake for about 1 hour and 10 minutes or until rice has cooked through and created a golden crust against the baking dish.

While rice is baking, cook spiced chicken. Place a large skillet over medium-high heat. Once skillet is hot, add oil and chicken and brown chicken on all sides, 3 to 6 minutes.

Reduce heat to medium and continue to cook chicken until just cooked through, 10 to 12 minutes. Remove from heat and adjust seasoning with salt and pepper as needed.

Once tachin has baked through, remove from oven and allow it to rest, about 10 minutes.

Remove foil and carefully invert tachin onto a large platter to unmold.

Top tachin with some of the chicken, serving more on the side and top with whole or chopped cilantro leaves. Serve.
Serving:
8
g
Calories:
516
kcal
Carbohydrates:
48
g
Protein:
31
g
Fat:
22
g
Saturated Fat:
10
g
Cholesterol:
205
mg
Sodium:
1310
mg
Potassium:
418
mg
Fiber:
1
g
Sugar:
8
g
Vitamin A:
631
IU
Vitamin C:
1
mg
Calcium:
84
mg
Iron:
2
mg
KEYWORD:
chicken, grain, rice