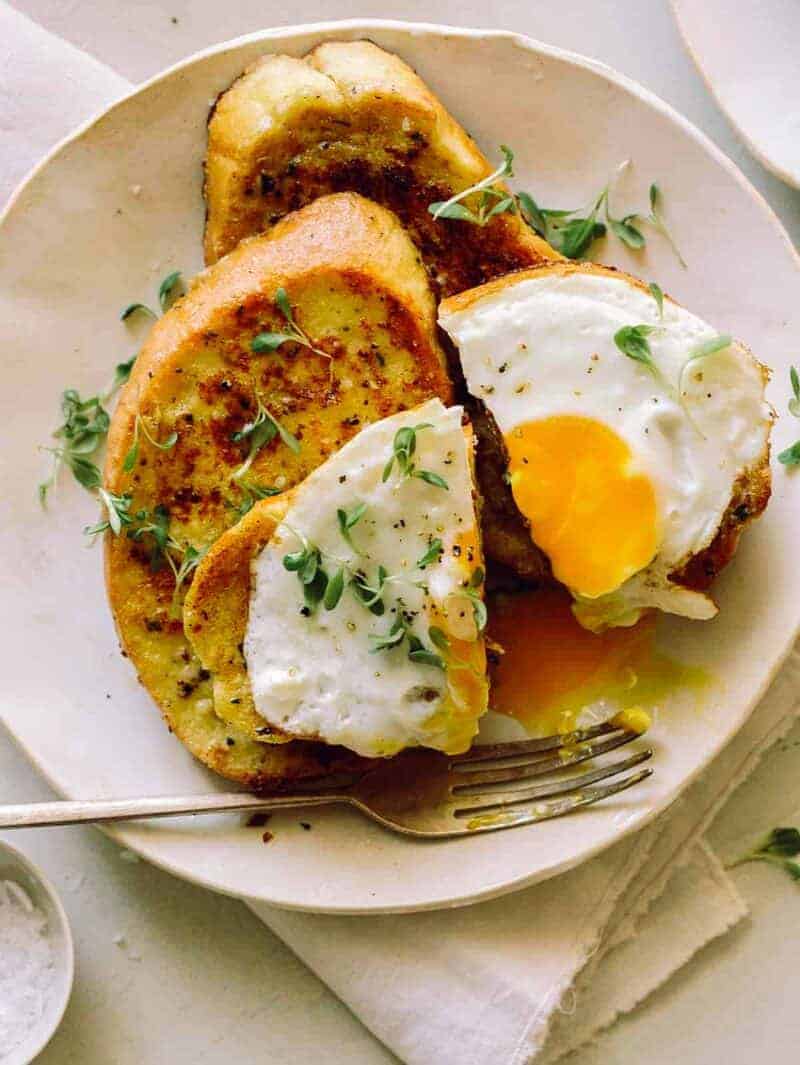 Our Savory Herb French Toast recipe is a twist on the classic sweet version. Growing up, savory French toast was the norm. My mom first came to the US, from South Korea when she was about 24 years old, and didn't really know much about American food at the time. She has seen people make French toast on tv, but to her it just looked like people were dipping slices of bread into beaten eggs and calling it French toast; so that's just what she did. She would beat eggs and a little milk together, dip in a couple slices of white bread and pan fry them. Then we would eat them with….wait for it…..KETCHUP! lol! My sister and I gobbled that stuff UP! We loved it!
Today we have a little throwback to my mama's French Toast with our Savory Herb French Toast. This recipe is a tad bit more sophisticated with more flavors involved, like whole grain mustard and fresh herbs. We added a fried egg on top to the runny yolk can pour over everything like maple syrup. This recipe is easy to make, super delicious and comforting. While this would typically be served for breakfast or brunch, I love eating this for dinner with lightly dressed mixed greens; so simple, so satisfying. :) Enjoy! xx, Jenny
Tips for making our Savory French Toast recipe
It is best for the bread to be stale, that way it sops up more of the egg mixture. If your bread is fresh, you can bake it in the oven at 300 degrees until it is dried out a bit, maybe 15 minutes.
Make sure you fully mix the egg mixture. That way you won't have pockets of egg whites on your bread.
We call for French bread in this recipe, but Challah bread is also a good choice. Any bread will do! I also love making this with the seedy wheat bread we buy.
Variations:
Add crumbled bacon on top
Add crumbled breakfast sausage on top
Top with confit tomatoes
Top with sautéd mushrooms
Top with a lot of parmesan cheese (you can never have enough cheese)
Top with smashed avocado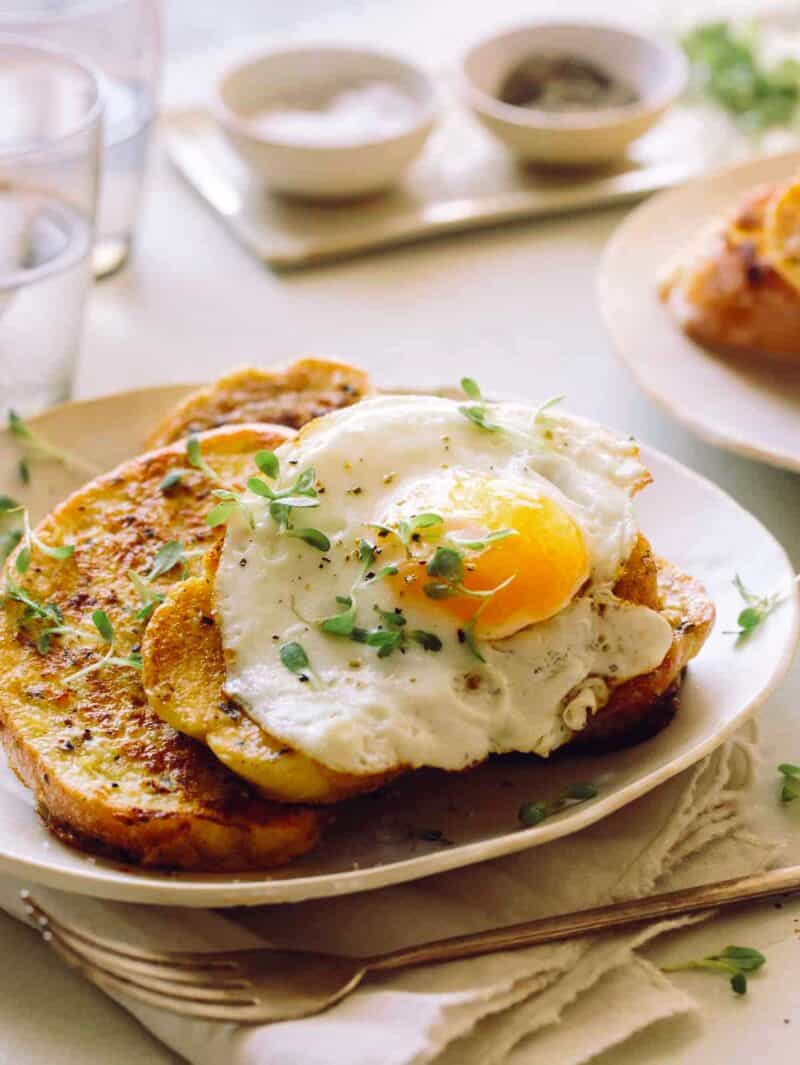 Hungry for more?
Subscribe to never miss a recipe.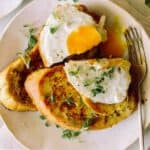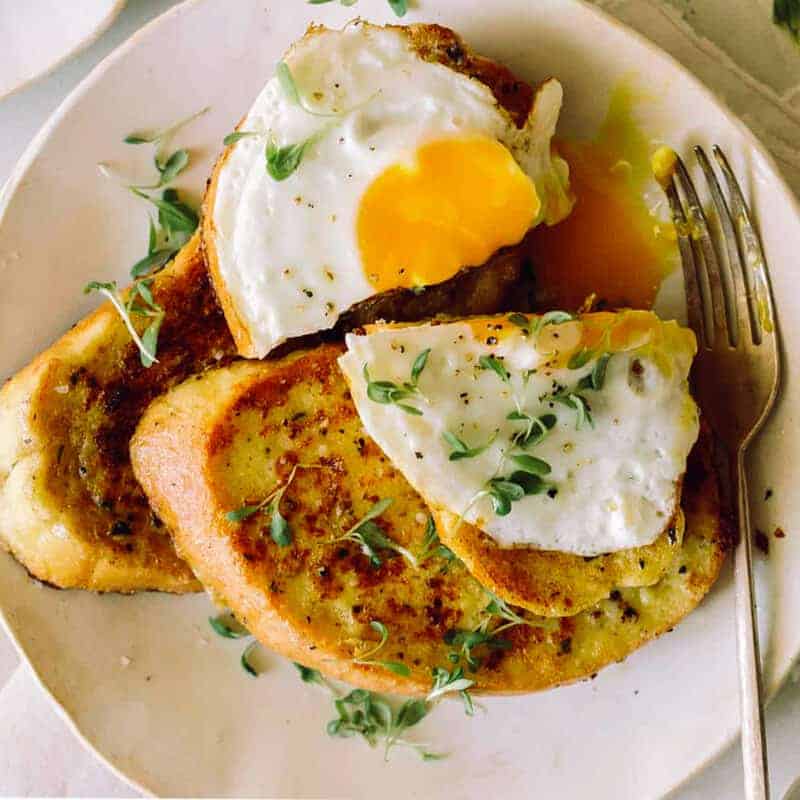 ---
Savory Herb French Toast
A savory twist on the classic french toast. We added some fresh herbs and other flavorful savory ingredients to our batter. The result is a delicious breakfast or brunch dish, topped with a perfectly fried egg with a runny yolk. This is the perfect savory breakfast dish!
INGREDIENTS
5

large

eggs

1

cup

whole milk

2

tablespoons

whole grain mustard

2

teaspoons

thinly sliced chives

2

teaspoons

minced thyme

1

teaspoon

minced oregano

1

garlic clove, minced

1

teaspoon

ground coriander

1

teaspoon

dry mustard

1 ½

teaspoons

salt

½

teaspoon

cracked black pepper

6

slices

French bread, sliced on a bias

into 1 inch thick pieces

½

cup

(1 stick) unsalted butter, divided

fried eggs

cooked to your liking

microgreens
INSTRUCTIONS
Place eggs, milk, mustard, herbs, garlic, spices, salt, and pepper into a shallow baking dish and whisk together.

Place a large skillet over medium heat, add 4 tablespoons butter and melt. Press 3 slices of bread into the egg mixture to soak. Flip each slice and soak for about 1 minute.

Carefully transfer soaked bread slices to the hot skillet and sear for 3 to 4 minutes or until nicely browned. Flip each slice and continue to cook until browned and French toast has cooked through, an additional 3 to 4 minutes.

Remove the French toast slices from the pan and repeat steps 2 and 3 with the remaining bread slices.

Top each serving of French toast with a fried egg, sprinkle of salt and pepper and fresh microgreens. Serve.
Serving:
1
g
Calories:
414
kcal
Carbohydrates:
40
g
Protein:
15
g
Fat:
22
g
Saturated Fat:
12
g
Cholesterol:
200
mg
Sodium:
1046
mg
Potassium:
200
mg
Fiber:
2
g
Sugar:
4
g
Vitamin A:
810
IU
Vitamin C:
1
mg
Calcium:
115
mg
Iron:
3
mg