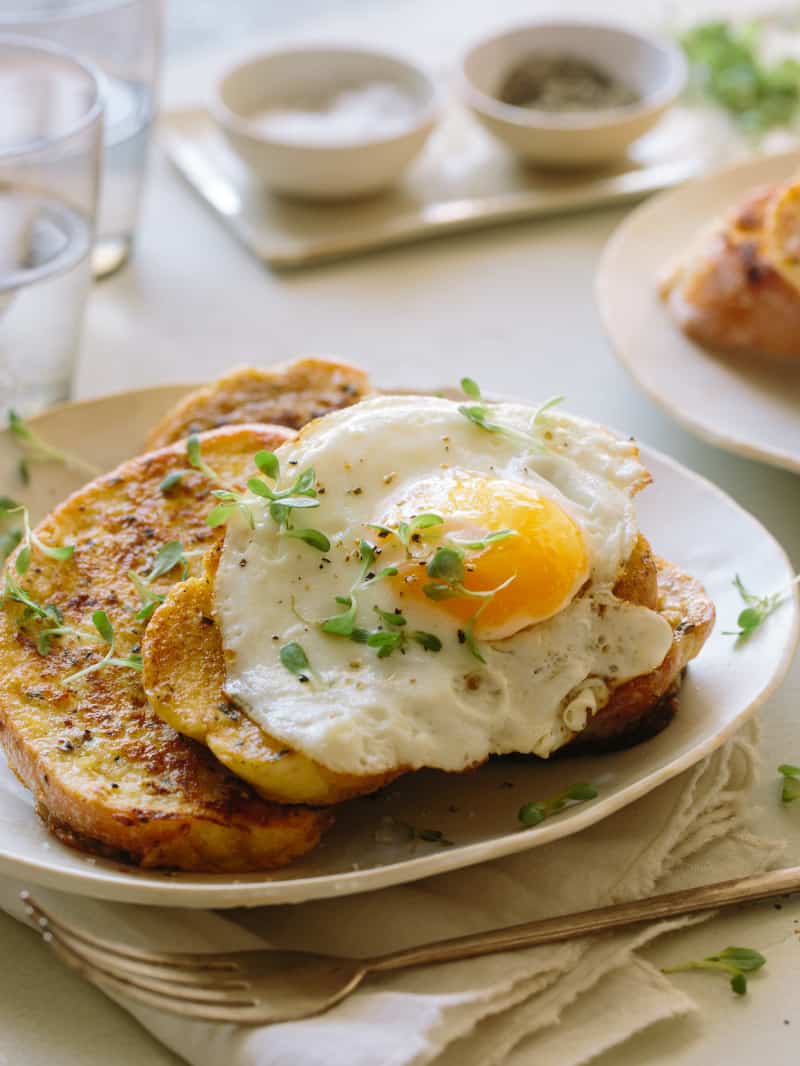 Growing up, savory French toast was the norm. I didn't even know sweet French toast existed until I had my first diner experience at the age of 12. I was out to breakfast with my friend and her mom and my friend ordered something that looked like dessert to me, not breakfast. Her dish looked like big pieces of fried bread covered in powdered sugar, sliced strawberries and bananas, and finished with huge mounds of piped whipped cream. Whaaaa???
Okay, so here's the thing. My mom is a fantastic cook! Although she first came to the US, from S. Korea when she was about 24 years old, and didn't really know much about American food at the time. She has seen people make French toast on tv, but to her it just looked like people were dipping slices of bread into beaten eggs and calling it French toast; so that's just what she did. She would beat eggs and a little milk together, dip in a couple slices of white bread and pan fry them. Then we would eat them with….wait for it…..KETCHUP! lol! My sister and I gobbled that stuff UP! We loved it!
Today we have a little throwback to my mama's French Toast with our Savory Herb French Toast. This recipe is a tad bit more sophisticated with more flavors involved, like whole grain mustard and fresh herbs. Then we just went ahead and doubled it up by throwing a fried egg on top, because why not? This recipe is easy to make, super delicious and comforting. While this would typically be served for breakfast or brunch, I love eating this for dinner with lightly dressed mixed greens; so simple, so satisfying. :) Enjoy! xx, Jenny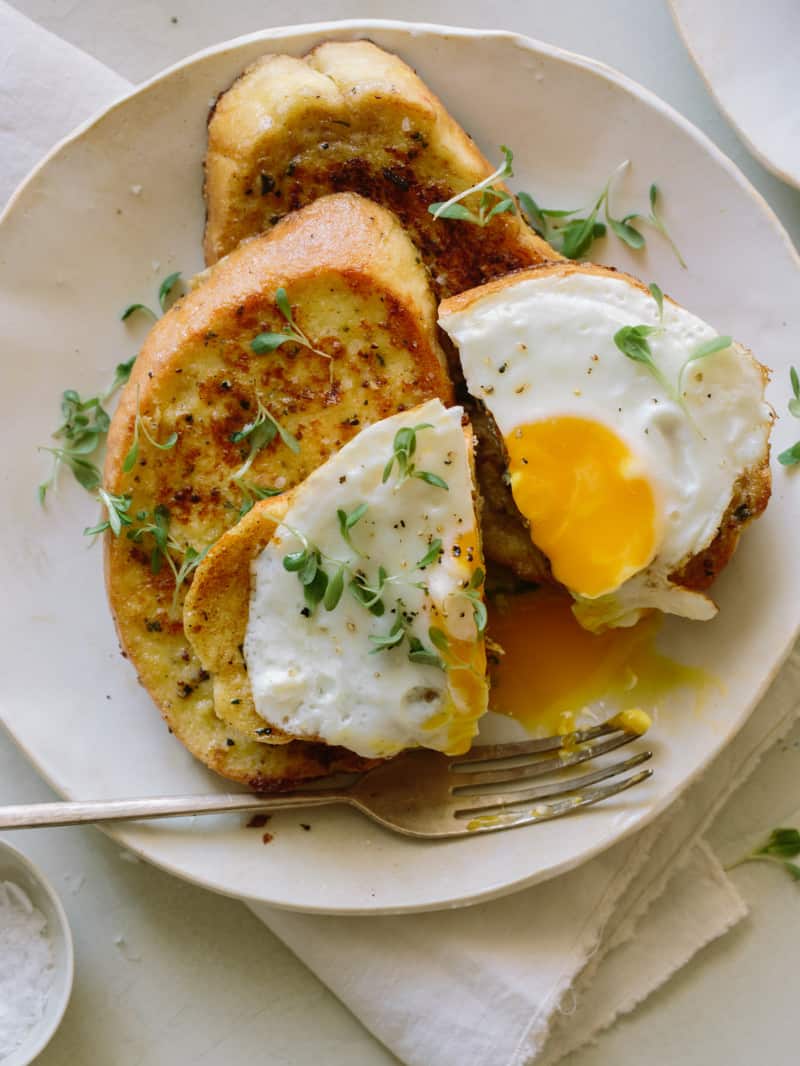 Savory Herb French Toast

Makes 6 pieces

Ingredients:
5 large eggs
1 cup whole milk
2 tablespoons whole grain mustard
2 teaspoons thinly sliced chives
2 teaspoons minced thyme
1 teaspoon minced oregano
1 garlic clove, minced
1 teaspoon ground coriander
1 teaspoon dry mustard
1 1/2 teaspoons salt
1/2 teaspoon cracked black pepper
6 slices French bread, sliced on a bias (into 1 inch thick pieces)
1/2 cup (1 stick) unsalted butter, divided

fried eggs (cooked to your liking)
microgreens

Directions:
1. Place eggs, milk, mustard, herbs, garlic, spices, salt, and pepper into a shallow baking dish and whisk together.
2. Place a large skillet over medium heat, add 4 tablespoons butter and melt. Press 3 slices bread into the egg mixture to soak. Flip each slice and soak for about 1 minute.
3. Carefully transfer soaked bread slices to the hot skillet and sear for 3 to 4 minutes or until nicely browned. Flip each slice and continue to cook until browned and French toast has cooked through, an additional 3 to 4 minutes.
4. Remove the French toast slices from the pan and repeat steps 2 and 3 with the remaining bread slices.
5. Top each serving of French toast with a fried egg, sprinkle of salt and pepper and fresh micro greens. Serve.