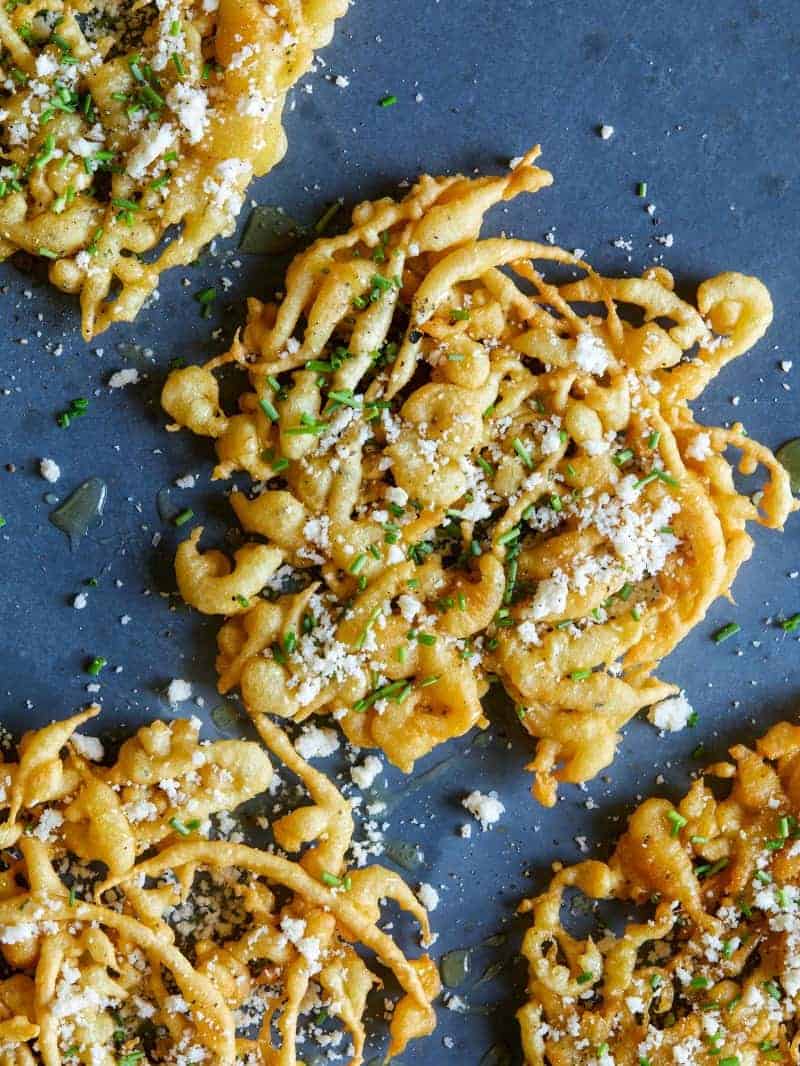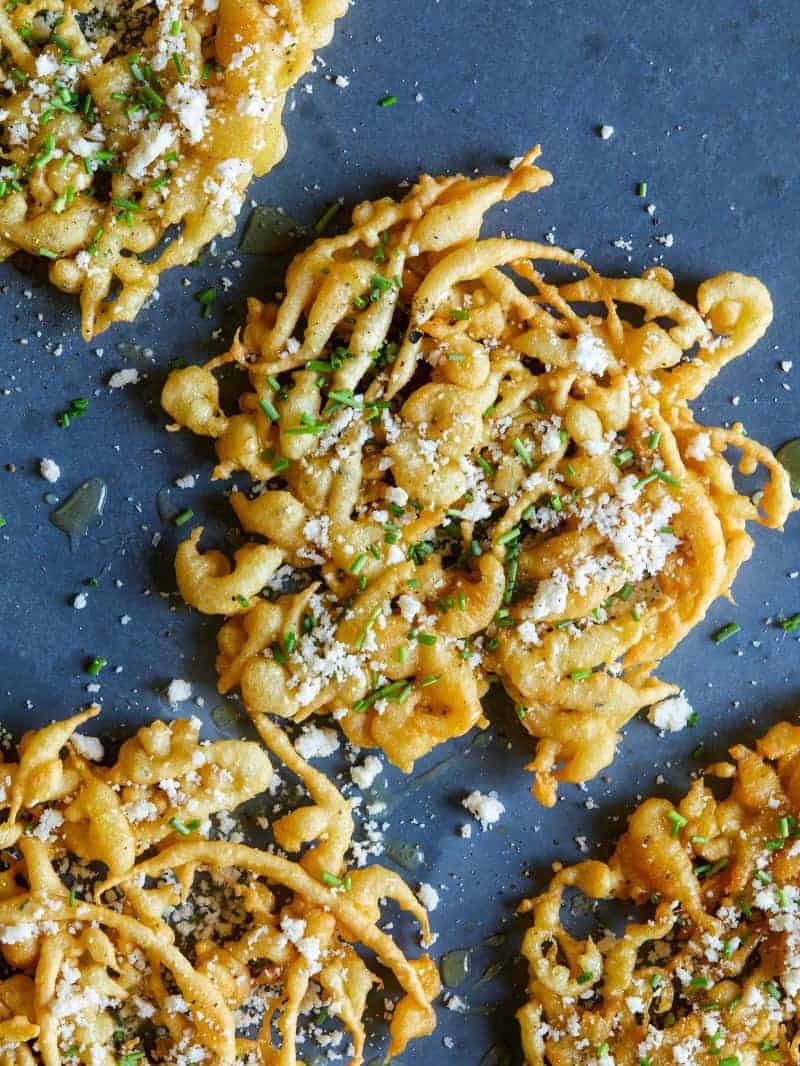 It's that time of year again, where we're all willing to go out in the sweltering heat for our chance at some of the craziest fried food developments like fried oreos, fried bacon and even fried sticks of butter. That's right, summer county fairs are in full effect and people are going out in herds to eat one of those fried delights.
Funnel cakes have always been my favorite fair-type food. I like how you can top them with about 5 pounds of ice cream, whipped cream, etc, but my personal favorite has always been keeping them nice and simple with a dusting of powdered sugar. I love the light airy batter so much. Since I'm more of a savory toothed type of gal, I thought simple, Savory Funnel Cakes would be fun and delicious…and they are!
I took the sugar out of the batter and added some herbs. Then I drizzled the freshly fried cakes with honey and finished them with some crumbly cheese, sliced chives, and sea salt flakes! These guys are SO good. My waist probably hates the fact that I ate like 2 or 3 of these during the creation process but….oh well, lol :) Enjoy! xx, Jenny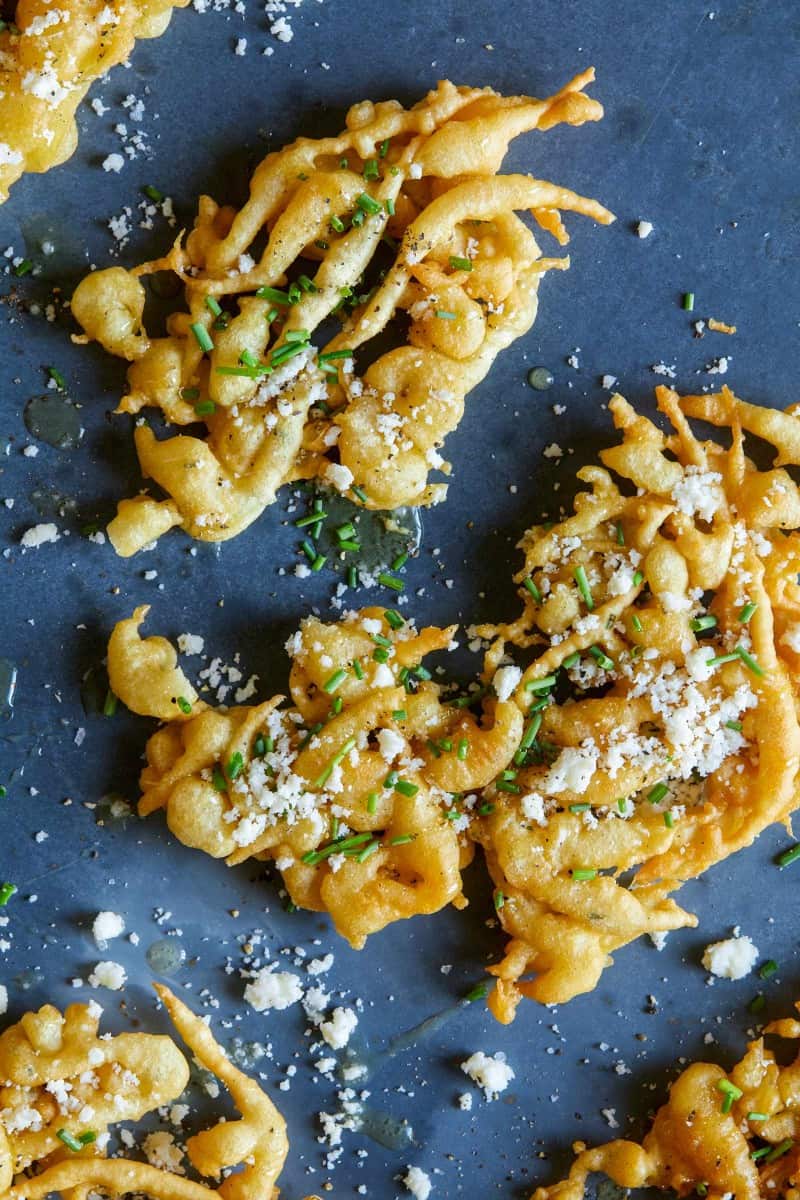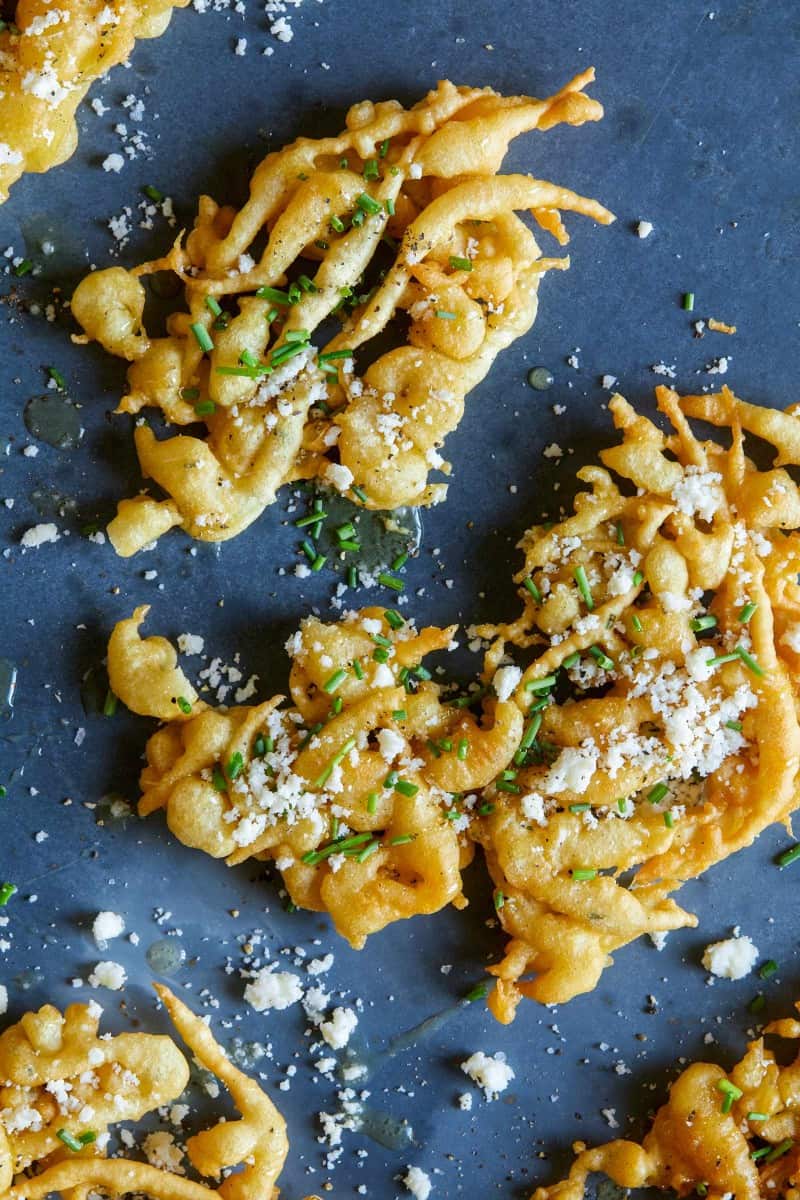 Hungry for more?
Subscribe to never miss a recipe.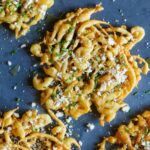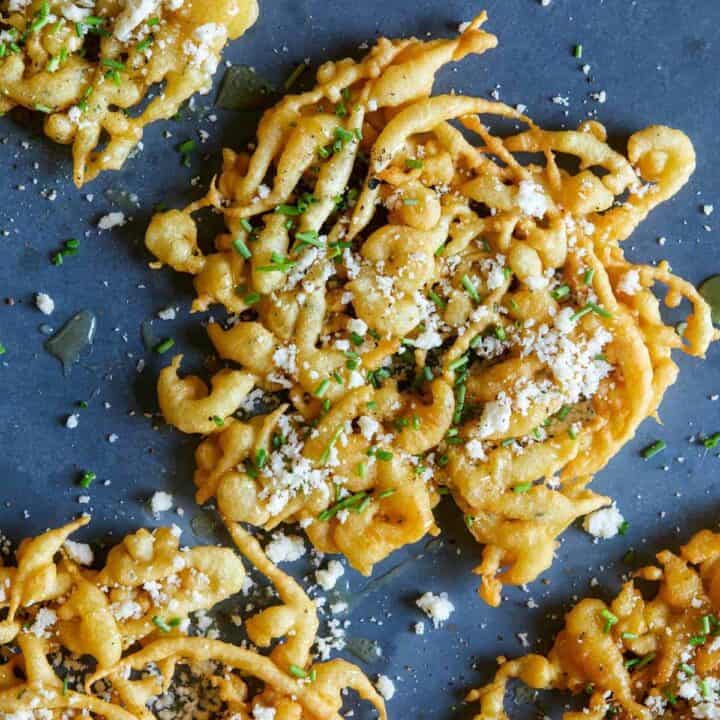 ---
Savory Funnel Cakes
INGREDIENTS
funnel cake batter
1

large

egg, lightly beaten

½

cup

whole milk

½

cup

water

1 ½

cups

all purpose flour

1

tablespoon

thinly sliced chives

2

teaspoons

minced thyme

1 ½

teaspoons

baking powder

½

teaspoon

salt

¼

teaspoon

cracked black pepper

oil for frying
garnish
honey for drizzling

crumbled cotija cheese

or another crumbly cheese of your choice

thinly sliced chives

sea salt flakes
INSTRUCTIONS
Pour 2 inches oil into a deep skillet and preheat to 375˚F.

Pour egg, milk and water into a mixing bowl and whisk together.

Combine flour, chives, thyme, baking powder, salt, and pepper into another mixing bowl and whisk together.

Add dry mixture to wet mixture and whisk together until a thick and smooth batter forms.

Holding the hole of a funnel shut with your finger, scoop 1/3 cup of the mixture into the top of the funnel.

Holding the funnel about 2 inches over the hot oil, release your finger from the bottom hole and move the funne around so the batter creates a string of overlapping and intertwining circles.

Fry the funnel cake for about 2 to 3 minutes on each side or until each side of lightly golden brown and carefully transfer to drain on paper towels.

Repeat until all of the batter has been used.

Drizzle each funnel cake with honey and top with a generous sprinkle of cheese and chives. Finish each funnel cake with a dash of crushed sea salt flakes and serve immediately.
Calories:
106
kcal
Carbohydrates:
19
g
Protein:
4
g
Fat:
1
g
Saturated Fat:
1
g
Cholesterol:
28
mg
Sodium:
243
mg
Potassium:
55
mg
Fiber:
1
g
Sugar:
1
g
Vitamin A:
103
IU
Vitamin C:
1
mg
Calcium:
71
mg
Iron:
1
mg