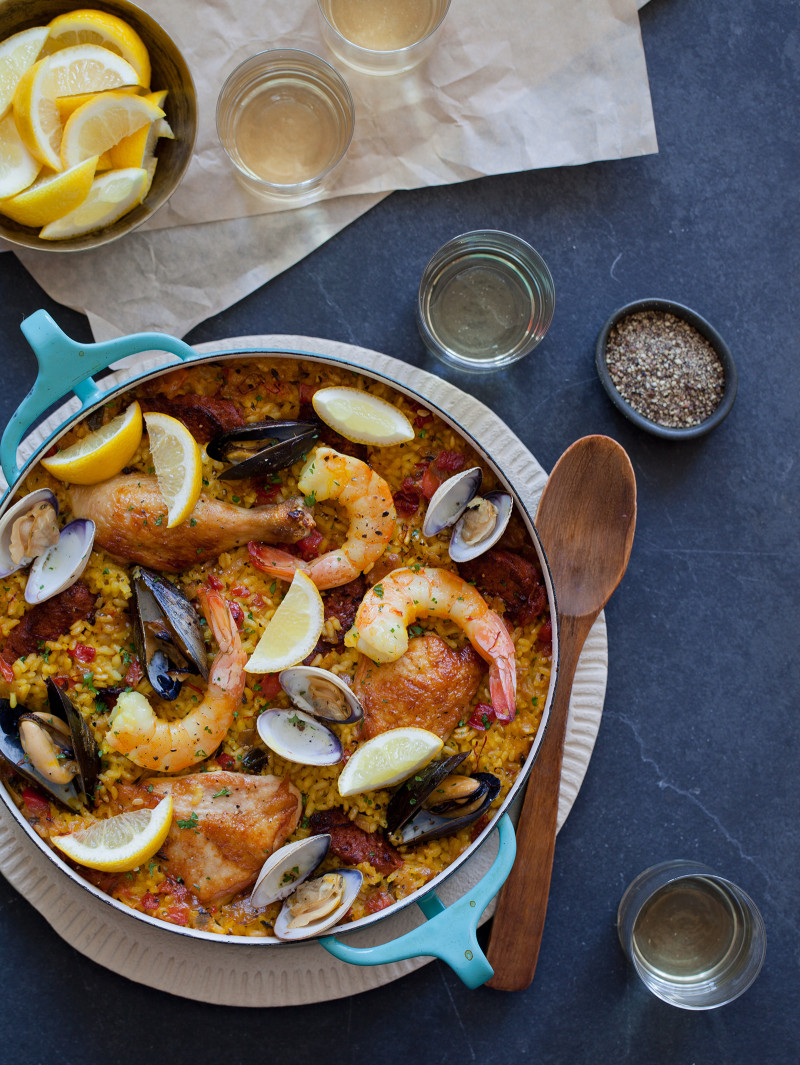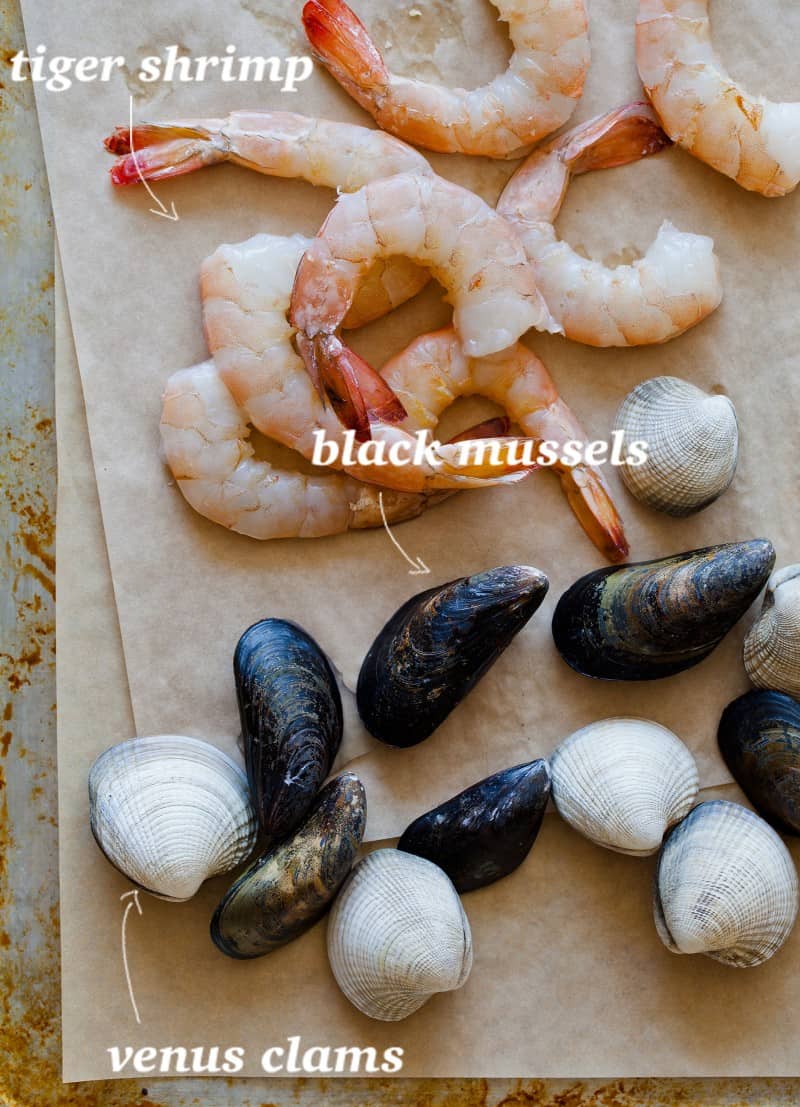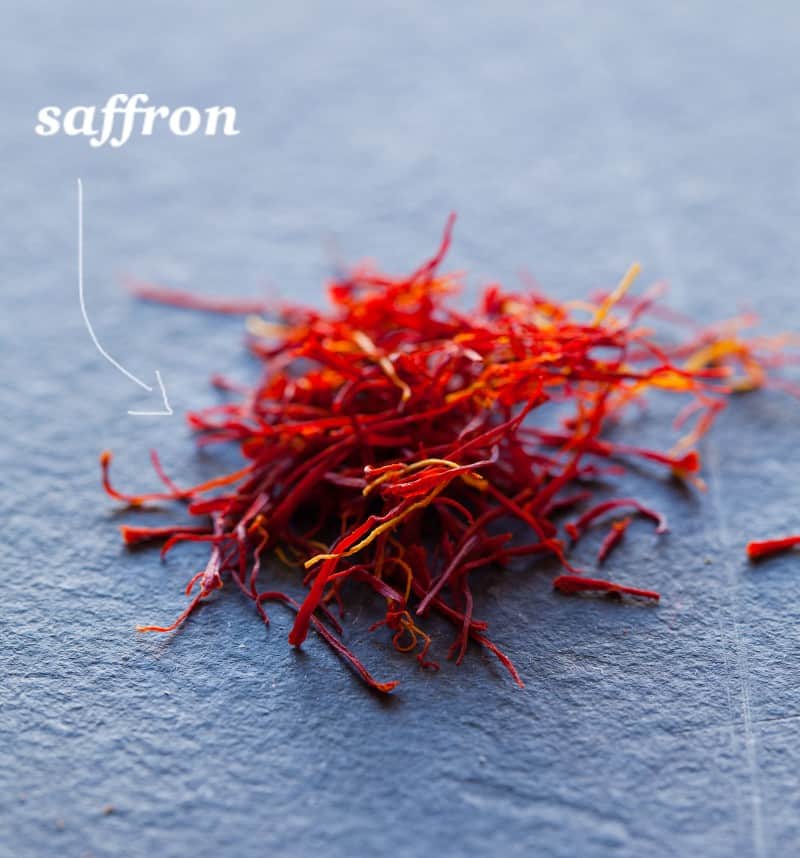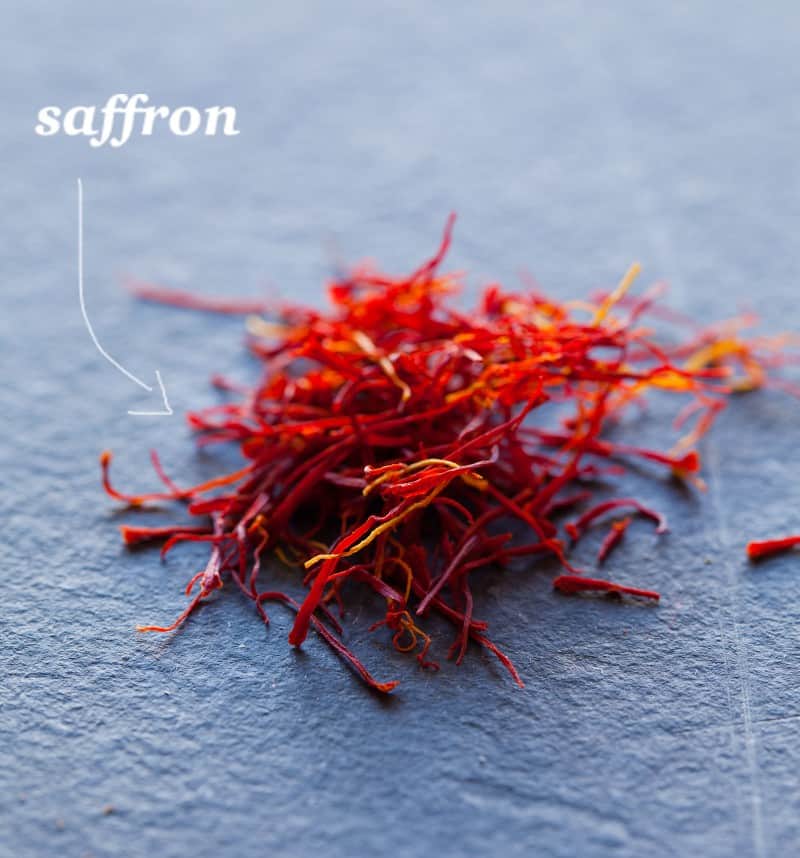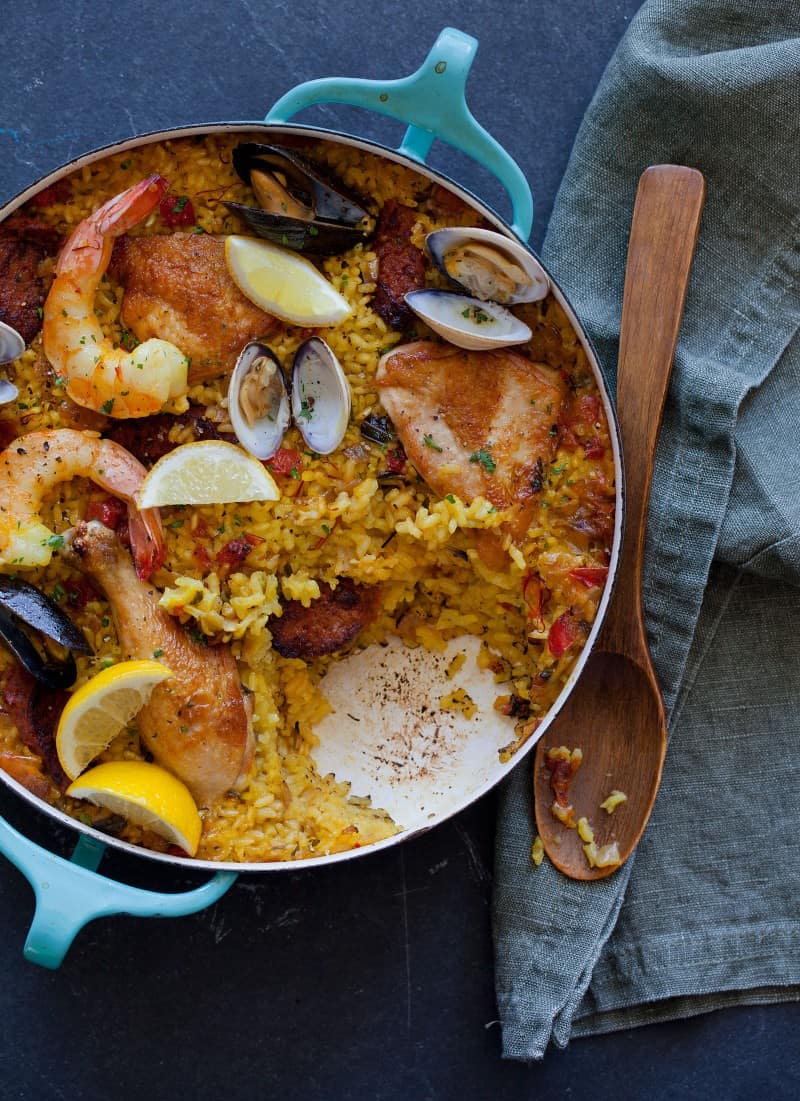 Hi All! Today we have Paella for you; our version of a classic family-style dish from Spain! It's filled with not just chicken and Spanish chorizo, but loads of shellfish too! Best of all, this entire dish is infused with saffron! I like to call this fragrant and perfume-like spice, "culinary gold". It's super expensive, but well worth the price and you only need very little each time you use it. Fun fact: Saffron is so expensive because of the way it's cultivated. All the saffron in the world is HAND PICKED strain by strain…yep, not an easy task. The first time I heard this little fact was years ago and that's also the same time I stopped complaining about the price …aloud, at least. :)
The key to a great paella starts from the backbone of the dish, the soffrito. A soffrito (in Spain) is generally a mixture of onions, garlic and tomatoes that are cooked down and caramelized for hours until you're left with almost a thick "paste". This stuff is SO good and really sets a great base flavor for this dish. I generally make more than I need for the dish and use rest for things like, mixing into my morning eggs, spreading onto a piece of toast…or eating it by the spoonful right out of the jar, SO GOOD. This dish is a little time consuming, but really not as intimidating to make as it may seem. Plus it's always a great crowd pleaser, all the way from the gorgeous presentation to the robust flavors…this dish is a total keeper! We hope you all enjoy this awesome dish!….jeez, could I possibly use the word "dish" more???
Other recipes you might like: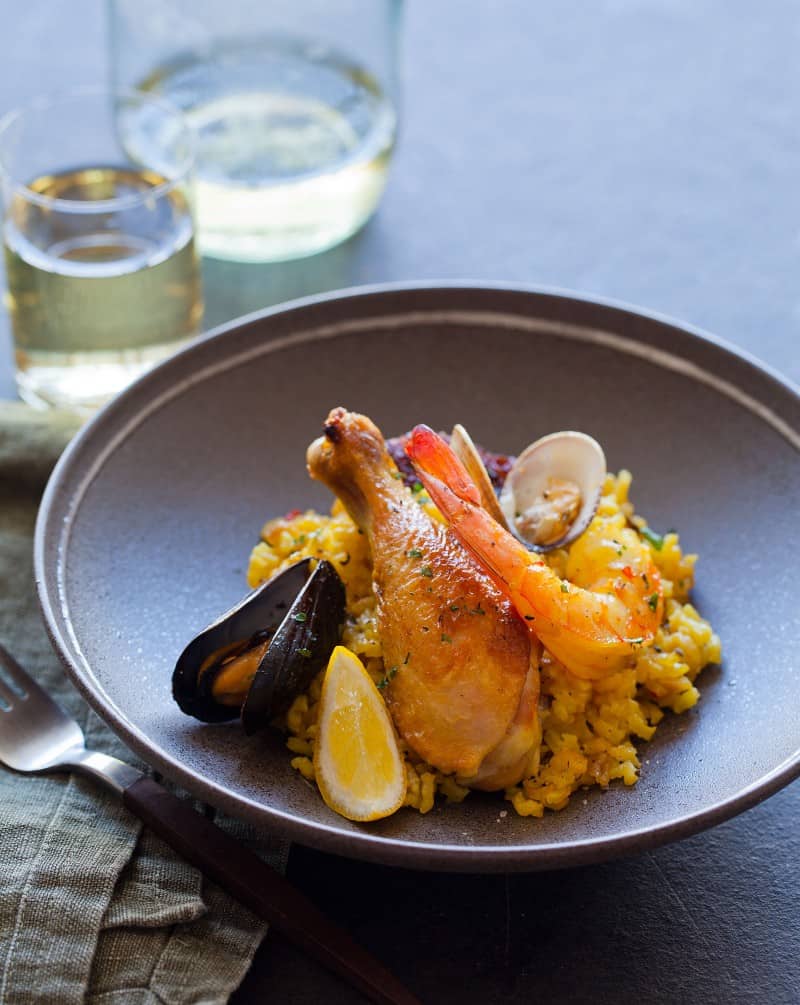 Hungry for more?
Subscribe to never miss a recipe.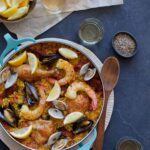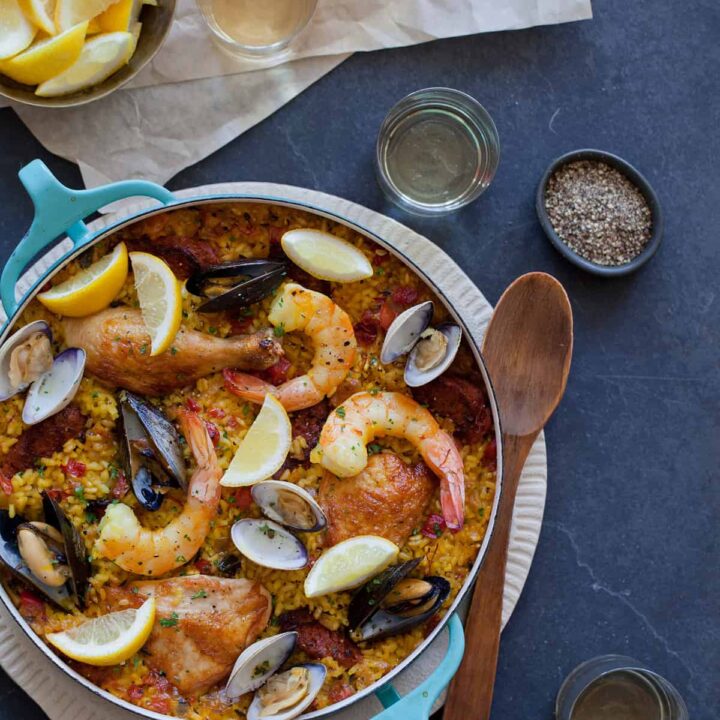 ---
Paella
INGREDIENTS
soffrito
2

tablespoons

extra virgin olive oil

3

onions, thinly sliced

1

red bell pepper, diced

1

poblano pepper, diced

5

garlic cloves, minced

3

tablespoons

minced fresh thyme

3

roma tomatoes, diced (seeds and all)
paella
5 ½

cups

chicken stock/broth

½

teaspoon

saffron

12

tiger shrimp, peeled and cleaned

12

Venus clams, scrubbed clean

12

black mussels, beards removed and scrubbed clean

3

tablespoons

extra virgin olive oil

4

(each) chicken legs and thighs

2

chicken breasts, each cut in half

1

Spanish chorizo, thinly sliced on a bias

2

cups

(Spanish) short grain rice

salt and pepper to taste
garnish
fresh parsley, minced

lemon wedges

sweet peas, blanched (optional)
INSTRUCTIONS
Pour oil into a heavy bottom skillet, over medium-low heat.

Add all soffrito ingredients into skillet, except tomatoes, and stir. Season with salt and pepper.

Allow mixture to caramelize for about 1 hour, stirring occasionally.

Stir in tomatoes and cook down an additional 20 minutes or until the mixture becomes thick. Season with salt and pepper.

Remove from heat an allow to cool completely.

Pour stock and saffron into a medium saucepan, place over medium heat and bring to a simmer.

Poach seafood in the saffron infused stock, one type at a time, until shrimp has just cooked through and the clams and mussels have just opened. Remove from stock and set aside covered.

Pour oil into a 14-16" paella pan (or heavy bottom skillet) and place over medium-high heat.

Season chicken piece with salt and pepper and sear on each side for about 3 minutes. Remove from heat and set aside.

Brown chorizo for about 1 to 2 minutes and remove from pan. Set aside.

Drain all but 2 tablespoons grease from pan and add rice, chorizo and 1 cup soffrito to pan and season with salt and pepper. Stir together and sauté for about 2 minutes.

Pour hot stock over rice mixture and bring to a boil. Once mixture has come to a boil add chicken pieces back into the pan (gently tucking each piece down into the rice mixture). Place paella pan into the oven, covered with foil, and baked for about 10 to 15 minutes. Remove cover and continue to bake for an additional 10 to 15 minutes or until all the liquid has evaporated and the rice has cooked through.

Remove from oven and top with poached seafood (slightly warm seafood, if needed).

Finish with a sprinkle of parsley, lemon wedges and sweet peas, if using. Serve.
Calories:
954
kcal
Carbohydrates:
73
g
Protein:
66
g
Fat:
42
g
Saturated Fat:
10
g
Cholesterol:
317
mg
Sodium:
1584
mg
Potassium:
1198
mg
Fiber:
4
g
Sugar:
8
g
Vitamin A:
1575
IU
Vitamin C:
59
mg
Calcium:
121
mg
Iron:
7
mg