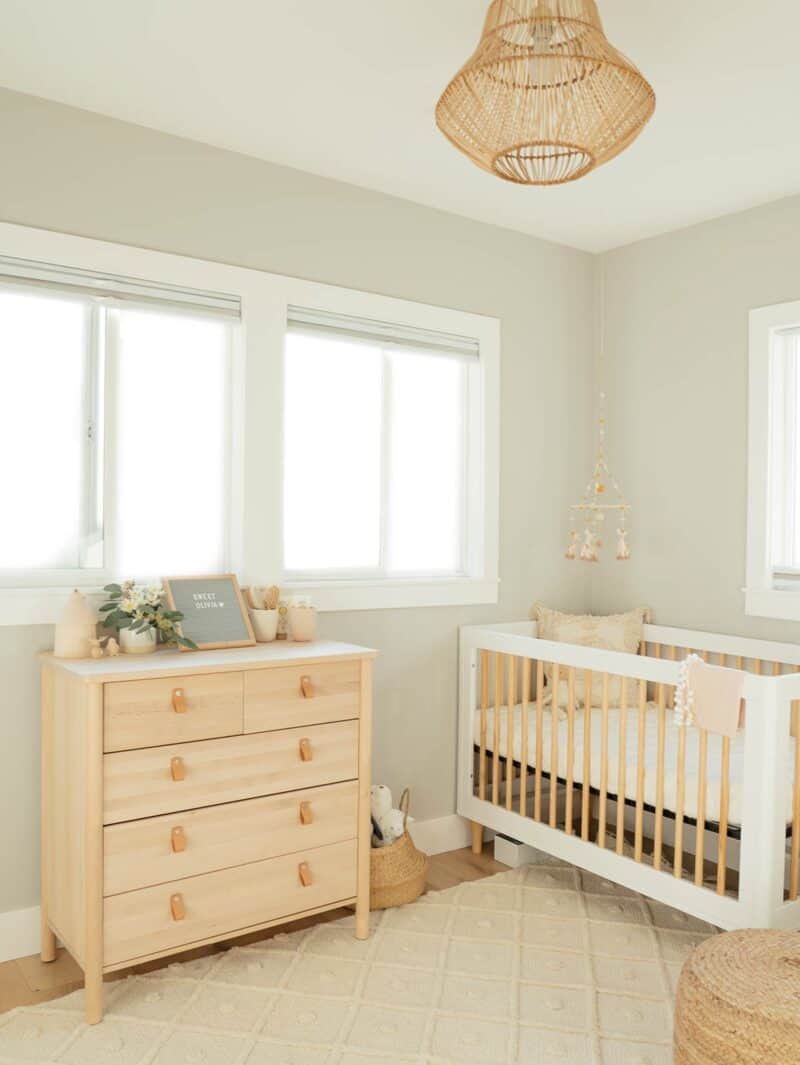 My baby girl just turned 3 months old last week and life since she arrived has definitely been a whirlwind. So many people had told me that the first year with a baby is the fastest-slowest time of your life and it's totally true! Olivia's growing so fast and changing every day. I can't wait until she's a little older and spending more time in her room. Decorating rooms can be such a daunting task and I'm notoriously indecisive and slow at doing so. I've been in my house for almost 3 years now and I still have yet to decorate the other two bedrooms, one of the bathrooms, and am constantly adding to the communal space of our home. I really wanted to make sure I finished the nursery before Olivia arrived, mostly because I knew it would be really difficult to complete once she was actually here and also because it would light a fire under my ass to actually get it done!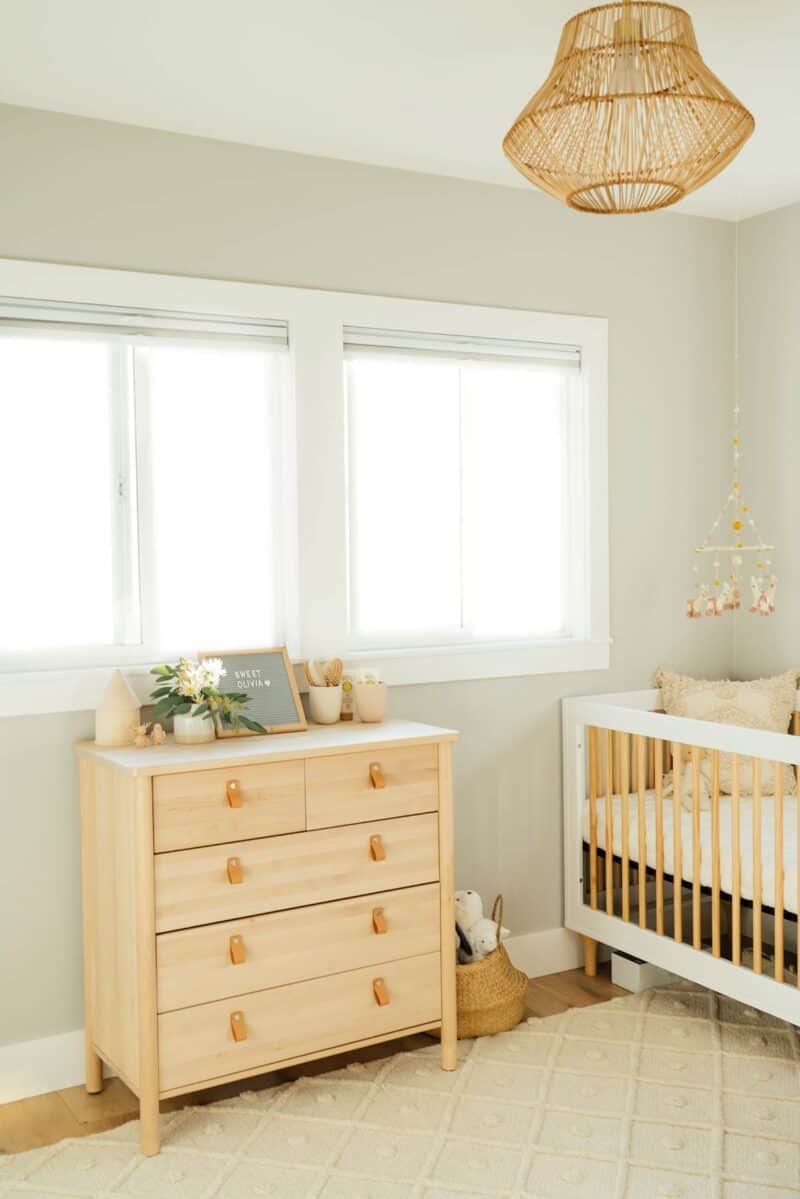 The space we have for the nursery is really small, so I made sure I measured EVERYTHING out and then double and triple checked all the specs to make everything I wanted would fit. I started with the basics first. I knew I wanted a neutral nursery overall because that's just my style and I thought it would leave things a little more open for when Olivia gets older and wants to add her own touches to the room. I started with the crib and landed on this Babyletto Lolly 3-in-1 Convertible Crib. I love the simple style, the natural wood texture paired with white and that it's a convertible crib so it'll grow with Olivia as she gets older. I paired it with the Nook Organic Pure Crib Mattress in the color 'cloud' and love it. I love that it's organic, made with non-toxic chemicals, uses natural materials and is super soft. I also love that it comes with a removable and washable cover for easy cleaning. I looked everywhere for a dresser that fit into the overall esthetic, but was also long enough to fit a changing pad on top, since it would work as both a dresser and changing station. I landed on this model from Ikea. I love it because it's compact but the drawers are spacious, it looks great and is made of real birch wood so it's nice and sturdy. Plus, it's just long enough to comfortably hold our Skip Hop changing pad (not pictured above), which I also love because it's so easy to wipe down and clean! It's also SUPER affordable, so a big plus there! We also had one of those dreaded "ceiling boob lights" in this room that I swapped out for this cute one from Crate and Kids.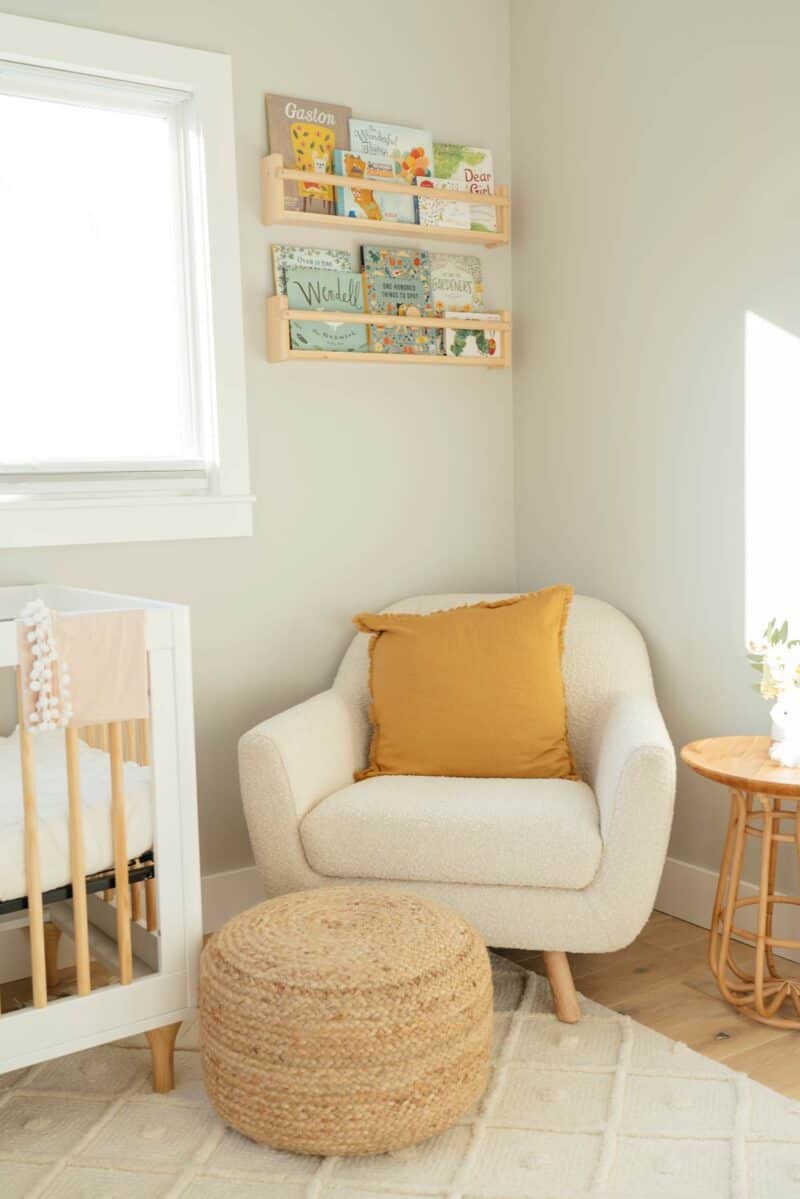 I wanted a comfortable lounge chair for breastfeeding, and just in general, but had to be conscious of space. I landed on this one from Article. I love it! It's nice, spacious, super comfortable, and fits perfectly into the corner of the little nursery. The ottoman is from CB2 and I like it because it's sturdy and the perfect height for the lounge chair. The pillow cover is from Ebb and Thread. I love the color and how soft the linen material feels. They have really great pillows (and inserts), including nursing pillows and is definitely worth checking out for a decorative pillow situation. The side table is from Urban Outfitters and it's perfect because it's not very big, looks really nice and adds a fun texture to the room.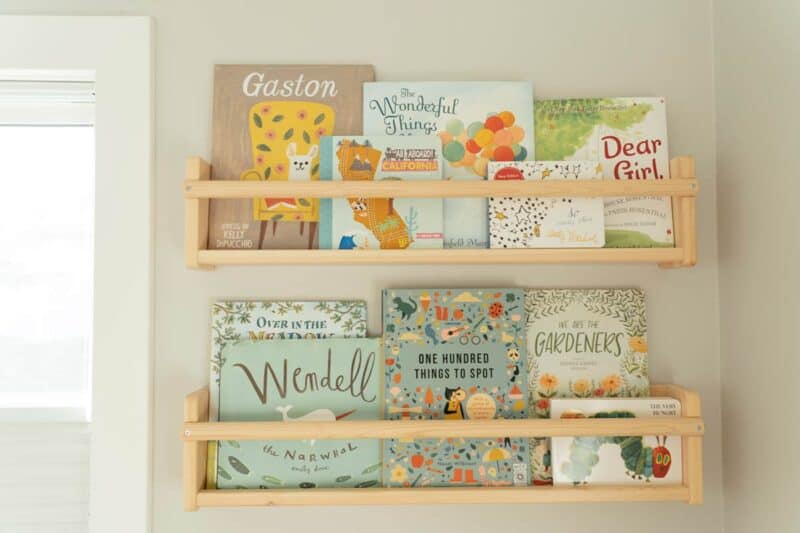 The floating bookshelves are from IKEA. Not only do I love how they look, but they're  incredibly inexpensive and very sturdy.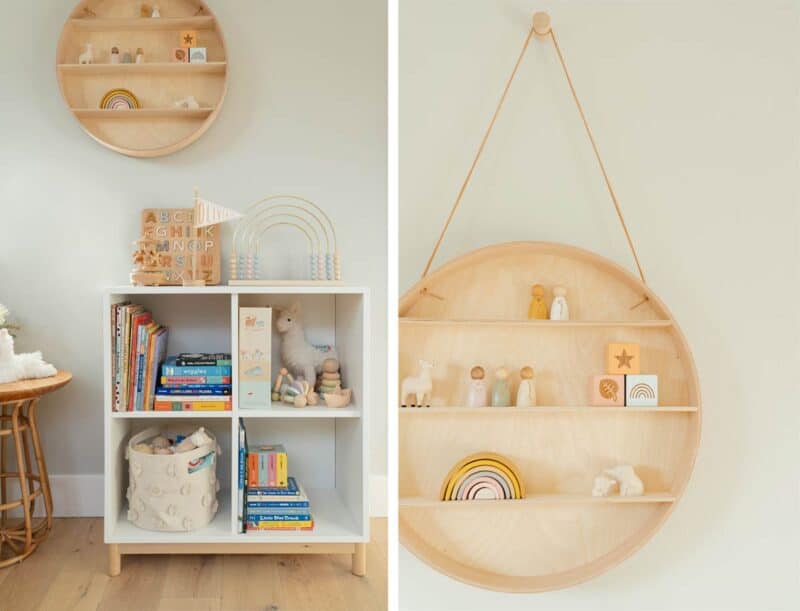 The small bookshelf I also found at IKEA and it was nice that this model comes with a lot of mix and match options so you can make it as big or small as you want to fit your space. I was able to use it as a bookshelf as well as a little storage space for some toys and this super cute canvas pom pom bin from Pehr. They have a really cute collection of storage bins, baby blankets, pillows, playmats, crib mobiles, clothing, etc. The round, hanging shelf is by Ferm living, but I purchased mine from Scandiborn.com. It has a pretty shallow depth, so it's really just meant for cute little trinkets. I purchased some of the cute trinkets seen on the round shelf from Odin Parker, This Paper Book and Shop Bitte. I love Odin Parker not only because they have such cute, wooden toys in their shop, but also because they give back by providing meals back to children in need around the world with every purchase and you can also see how many meals each item gives back. I love This Paper Book because much of what they create is hand painted, adding a very beautiful and personal touch to their items. Shop Bitte is also a really sweet shop that has SO many wonderful items to peruse from toys to mealtime things to clothes. All three of those companies are definitely worth checking out and a couple of my favorite shops for babies and toddlers.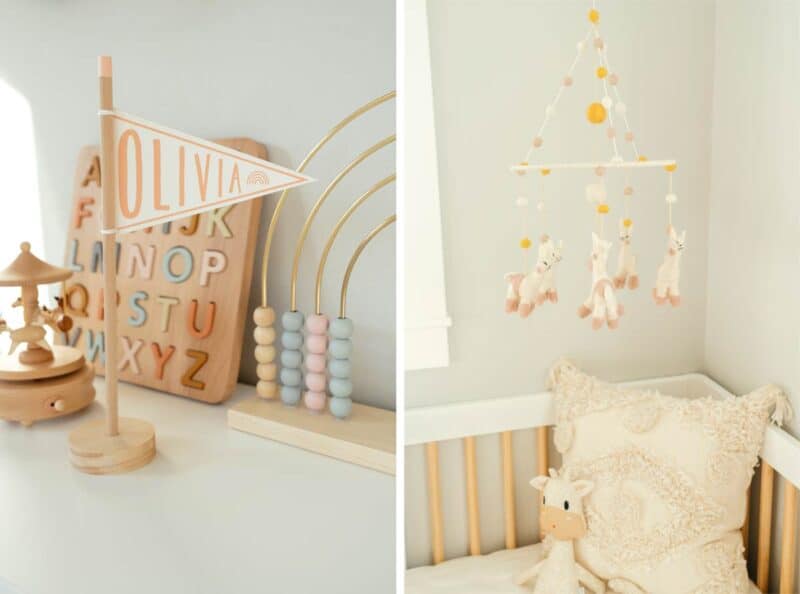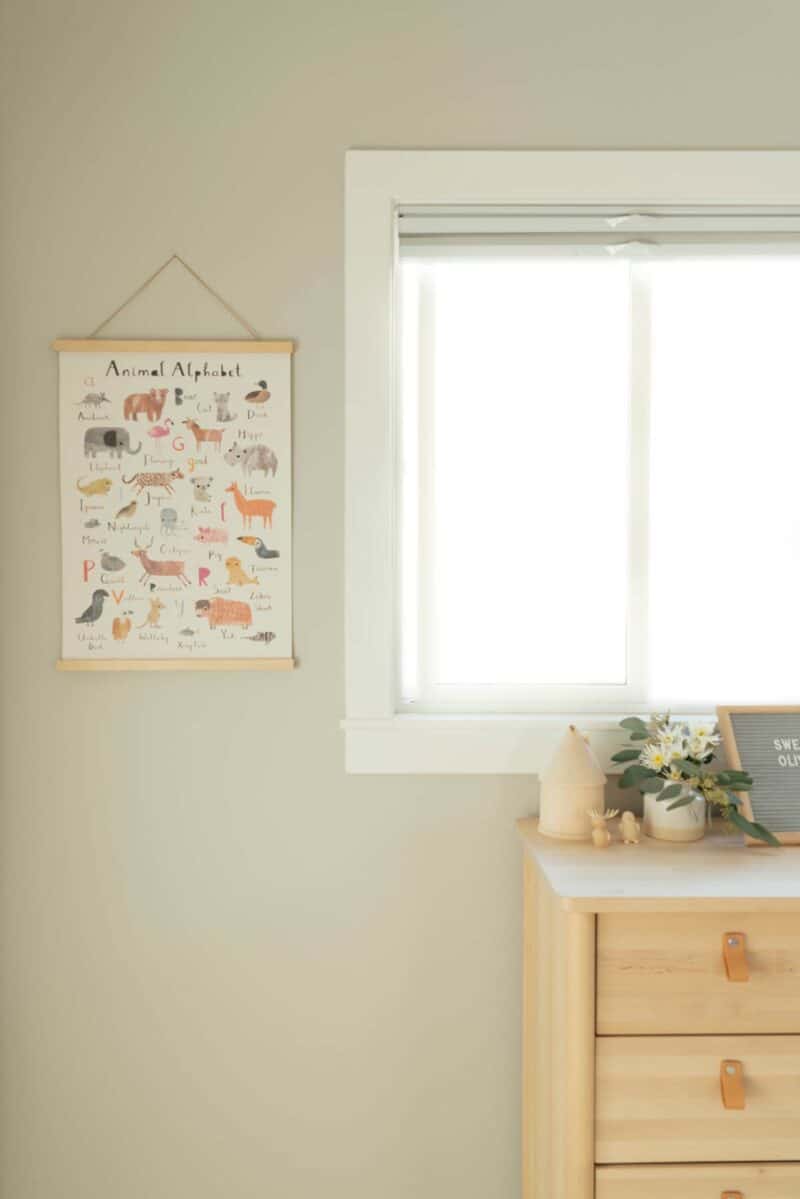 The cute toys sitting on top of her bookshelf also came from some of the shops from above! The pretty rainbow abacus and adorable carousel music box are from Odin Parker. The personalized pendant is from This Paper Book and they come in a bunch of different colors you can choose from. The rainbow alphabet puzzle is from Scandiborn and the sweet, but sort of hilarious angry llama crib mobile is from Pehr. I don't think they have this specific mobile anymore, but they have so many other really cute options. The animal alphabet poster is also from Odin Parker and they have a numbers one too that isn't photographed, but I have that too and it's also very precious. I love the original illustrations on the posters, so so cute.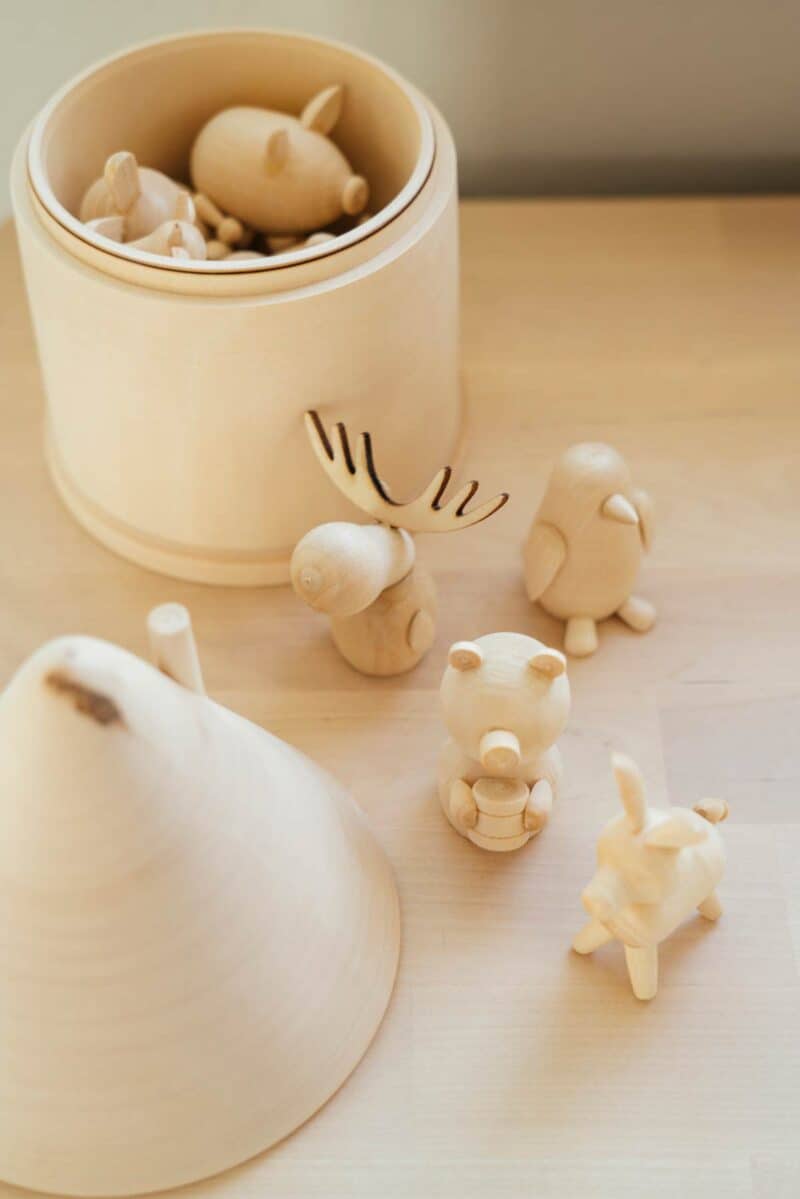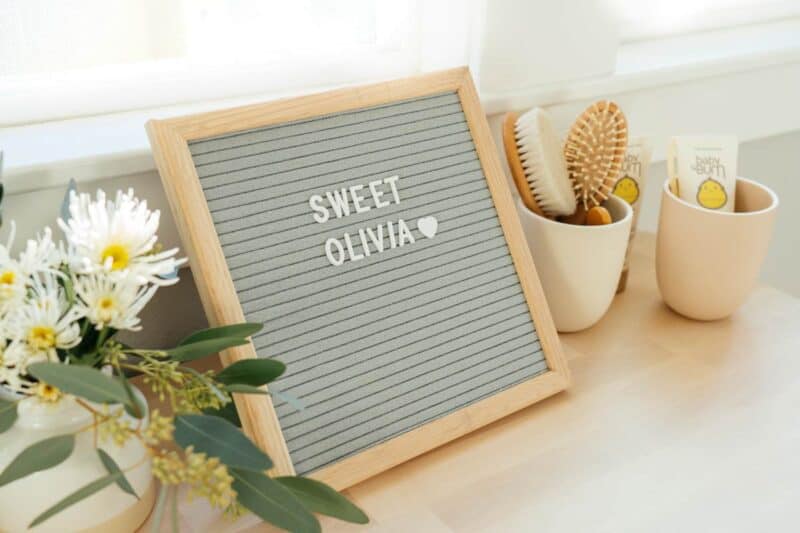 The tiny wooden animals on top of the dresser are from an etsy shop that I absolutely love called ROSTOKtoys. They have a bunch of fun and adorable Montessori toys and little wooden trinkets. I love how the animals come with their own little gnome looking home for cute and compact storing. The brush and rash cream cups are actually tumblers and from one of my favorite ceramicists, Pigeon Toe. I wanted something simple to store small items in and they were perfect.
The neutral nursery was such a labor of love for my husband and I to put together, and we couldn't be happier with how it turned out. While she's still sleeping in her bassinet in our room, we try to spend a lot of time reading to her and doing some tummy time with her in there so she gets used to it. I hope Olivia loves this special, little space we've created for her. xx, Jenny