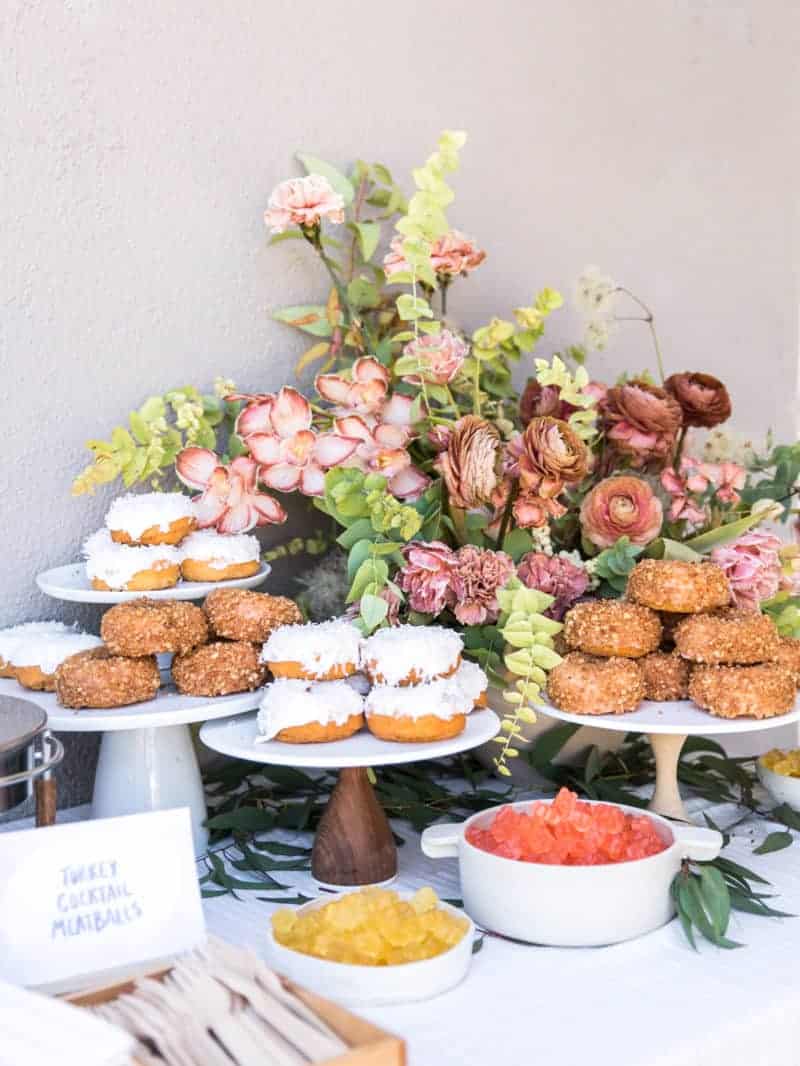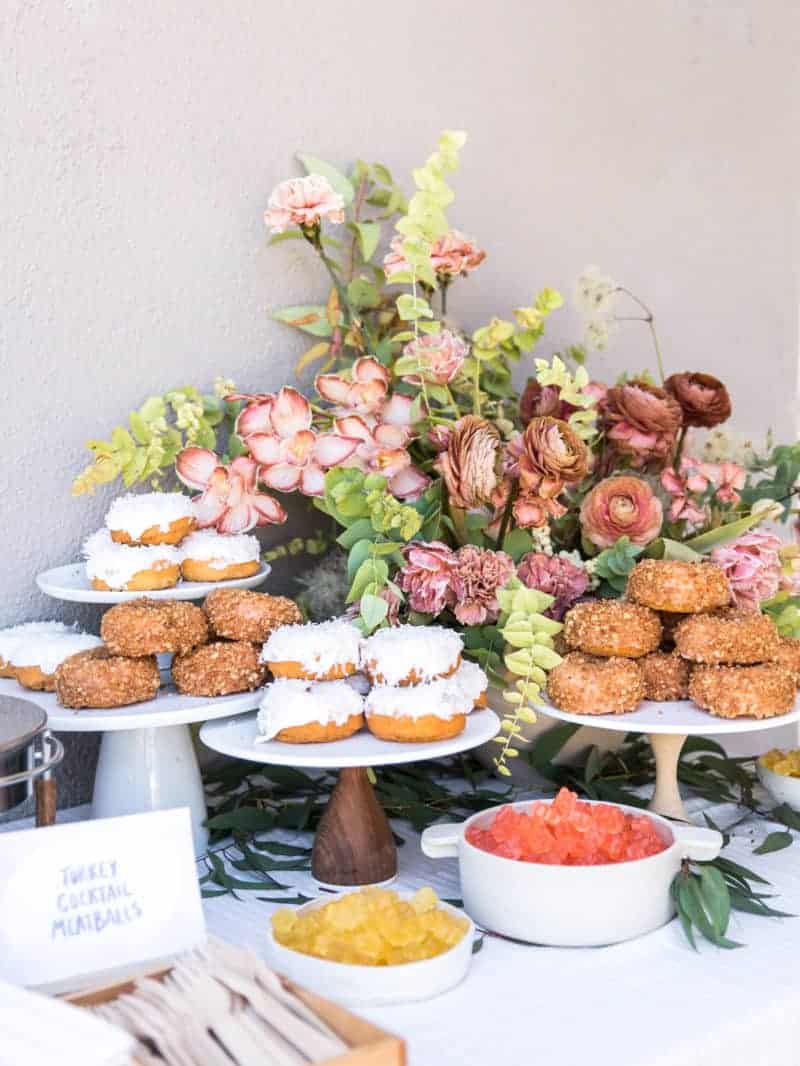 About a month ago I had the best baby shower I could've asked for, and wanted to share details of the special day with you all. There are so many weird "rules" about this kind of stuff, like whether it's appropriate to throw your own shower, etc. and I'm so not here for that. I was really lucky to have had several friends and family members offer to throw me a baby shower and equally as lucky those loved ones know me well enough that it didn't surprise them when I told them Jordan and I just wanted to throw our own casual (co-ed) shower at our home. I know there are so many opinions about this, but really throwing a shower for someone is A LOT of work, both physically and mentally, plus it can get really expensive for the host! My husband and I really just wanted to have friends and family over for a casual afternoon to celebrate our babe-to-be with drinks and snacks and no shower games (just not my thing!). We also opted not to open gifts during the shower, because it's always such a tedious thing that I don't think anyone really enjoys.
Anyway, back to fun shower details!  Teri offered to help plan the shower with me (because lets be serious, my husband wasn't really going to be an active participant in the planning process) which I'm super grateful for, not only is she so good at this kind of stuff, she knows my taste really well and I knew we could put something really nice together. Details below! All photos by the lovely Marisa Vitale!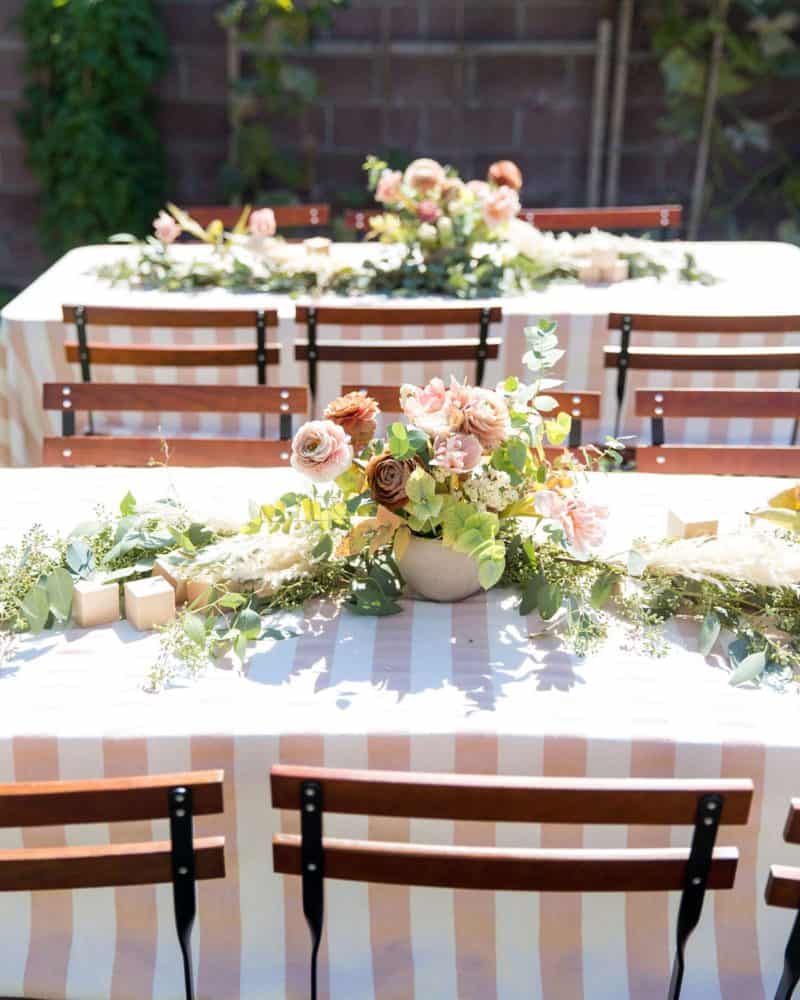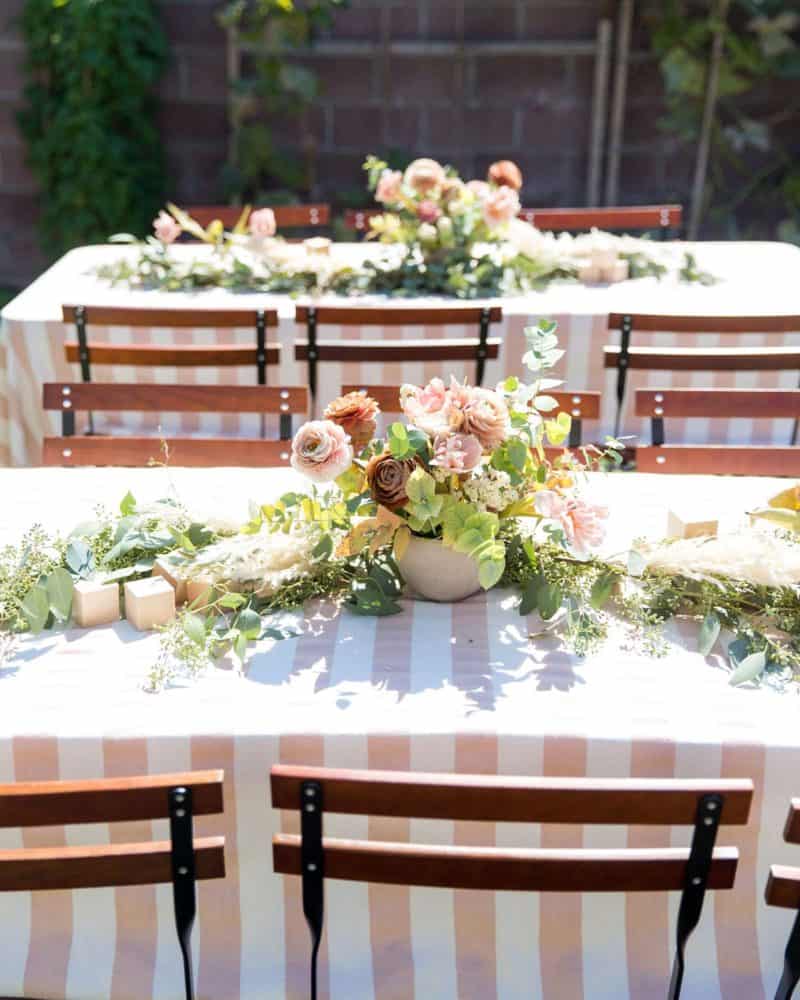 My house isn't very big, but our backyard is pretty spacious, so I knew I wanted to have it outside. I was able to rent tables, chairs and glassware from Signature Party Rentals which is the same rental company I used for my wedding. Not only are their rental prices reasonable, but they're a well-oiled machine and made the whole rentals process really easy, including delivery and pickup.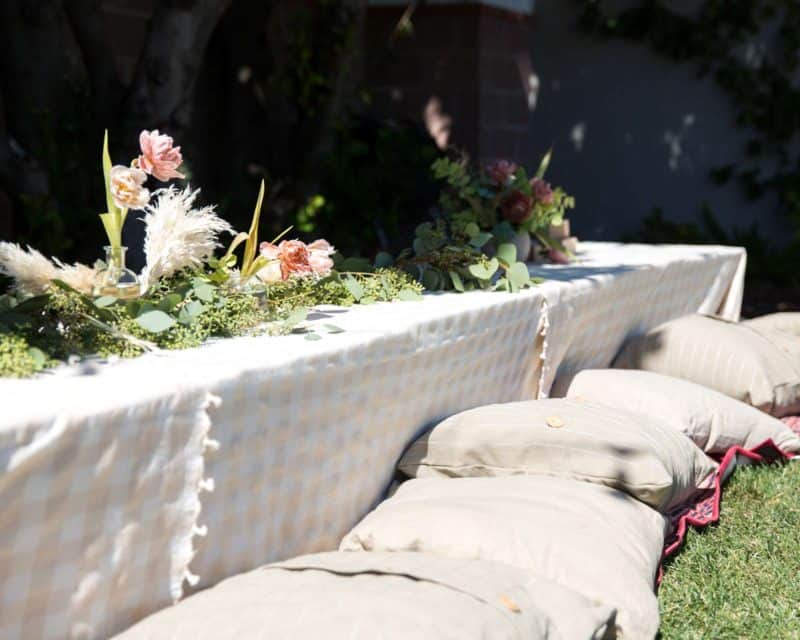 We also rented picnic table/rug/pillow sets, to give guests more seating options, from a company called Joymode. This company is awesome! You can literally rent anything from pots and pans, to yard games, to picnic sets from them. They're rental fees are super affordable, they're organized and efficient and you can hold onto your rentals for an entire week! You do need a monthly membership to purchase from them, but it's not expensive and a great deal if you plan on renting from them often.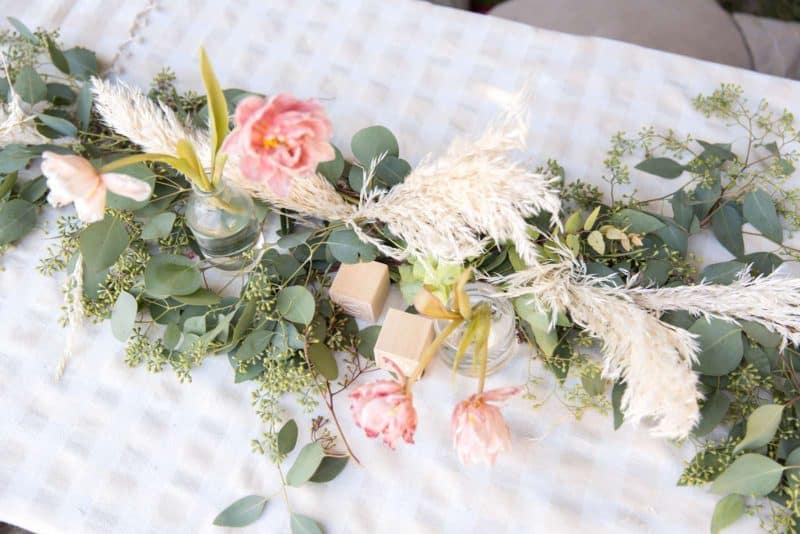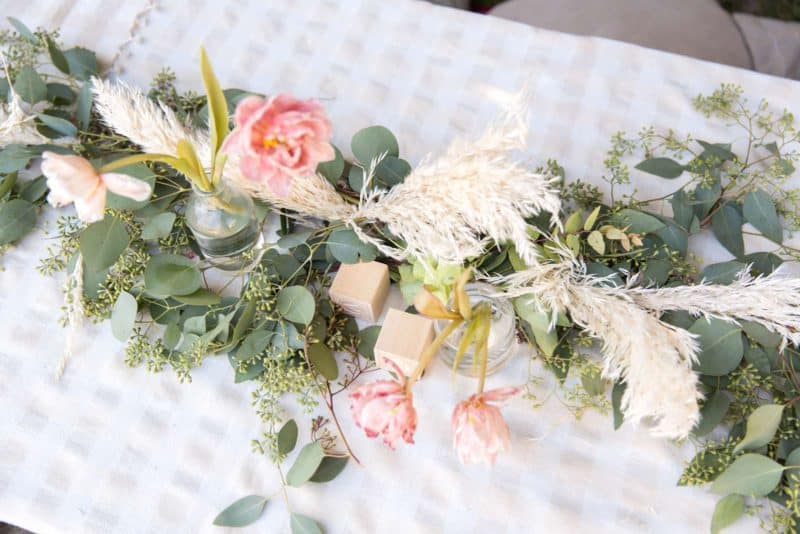 Teri had a great idea to order table linens from a place called Heather Taylor Home. They have a wide selection of beautiful linens that you can both rent and buy. The linens are high quality and beautiful!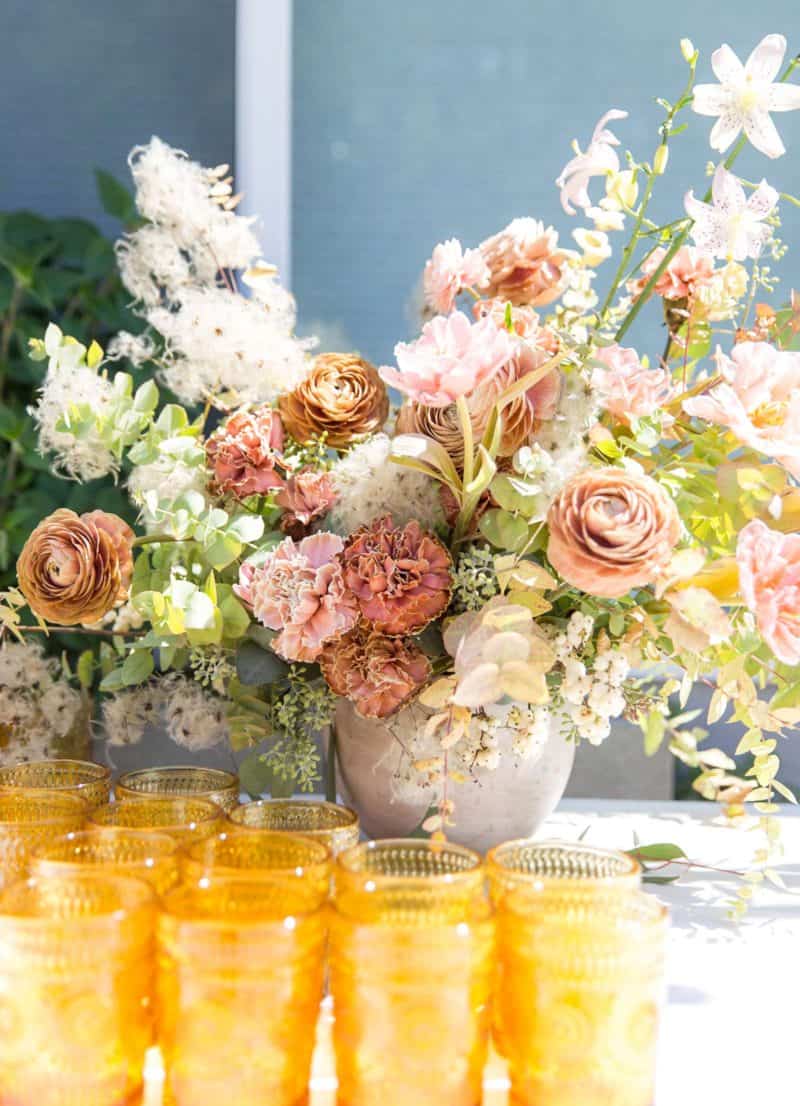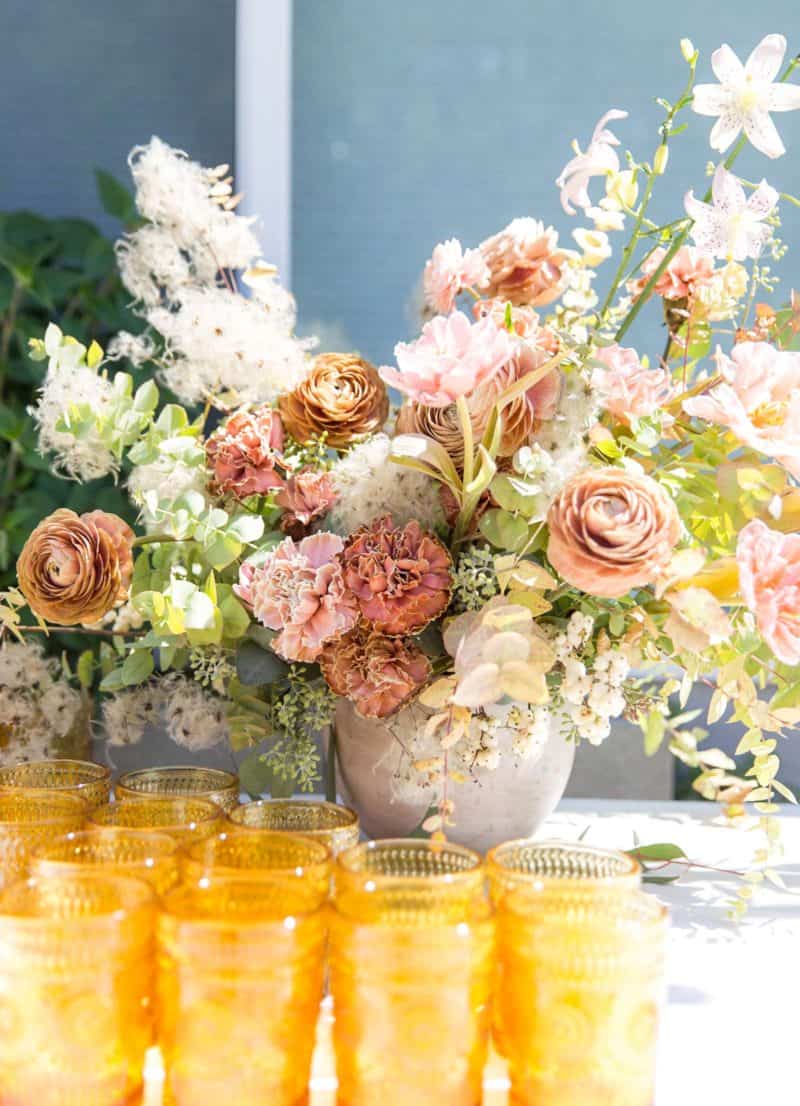 For florals, I had been eyeballing Felisa Funes from Of The Flowers on IG for a while and was thrilled when she was available and agreed to create some really beautiful flower arrangements for the shower. Her floral designs are absolutely gorgeous, she's extremely easy to work with, super accommodating to your individual needs, and I can't recommend her enough if you're in the need for stunning arrangements.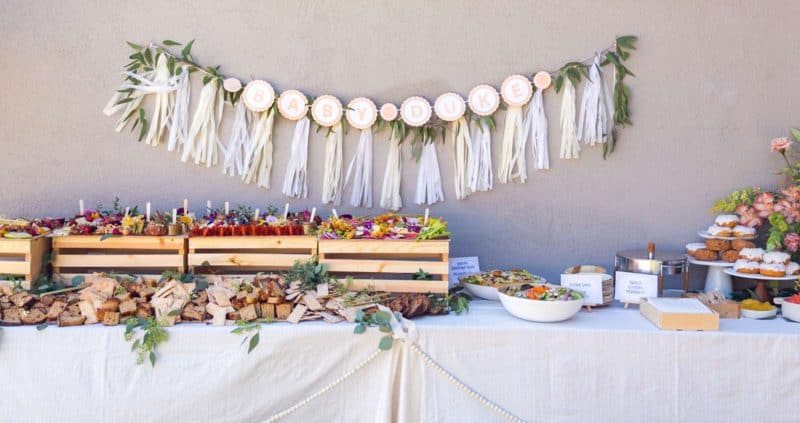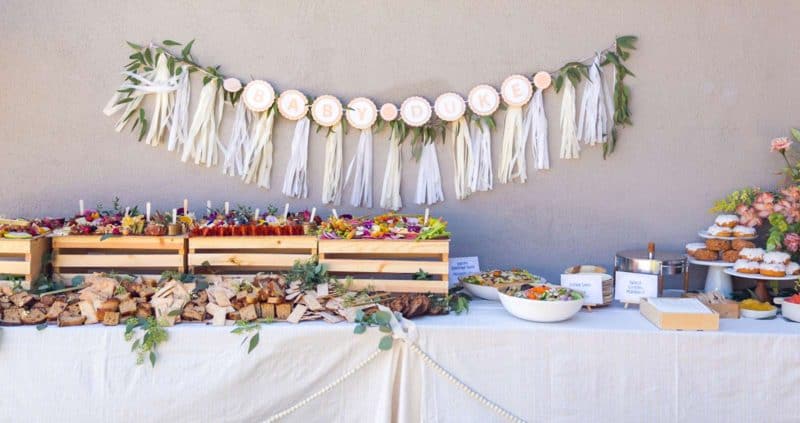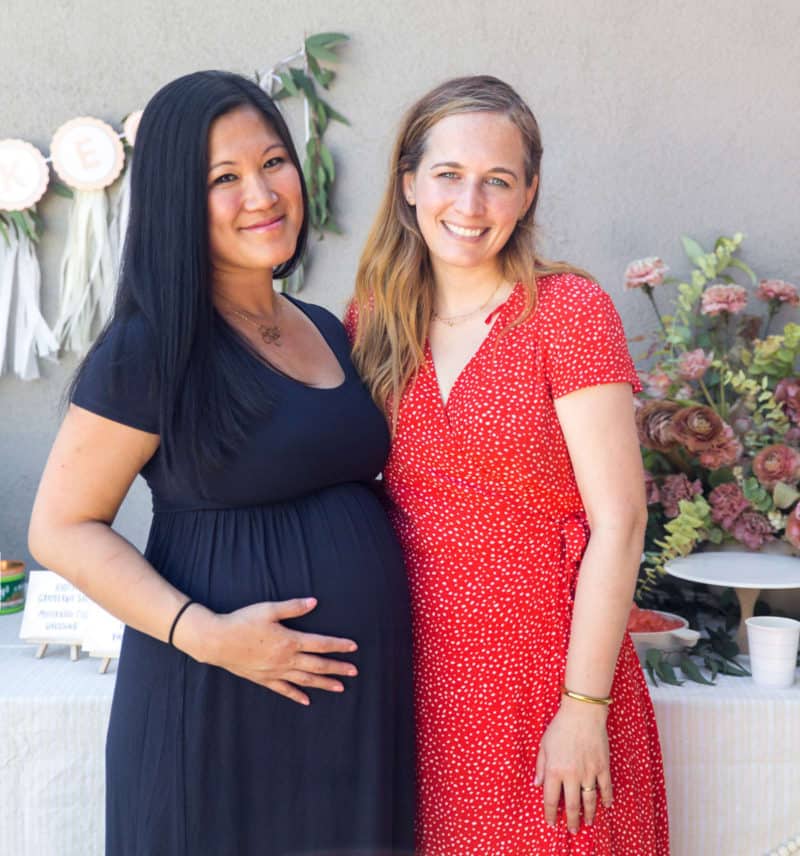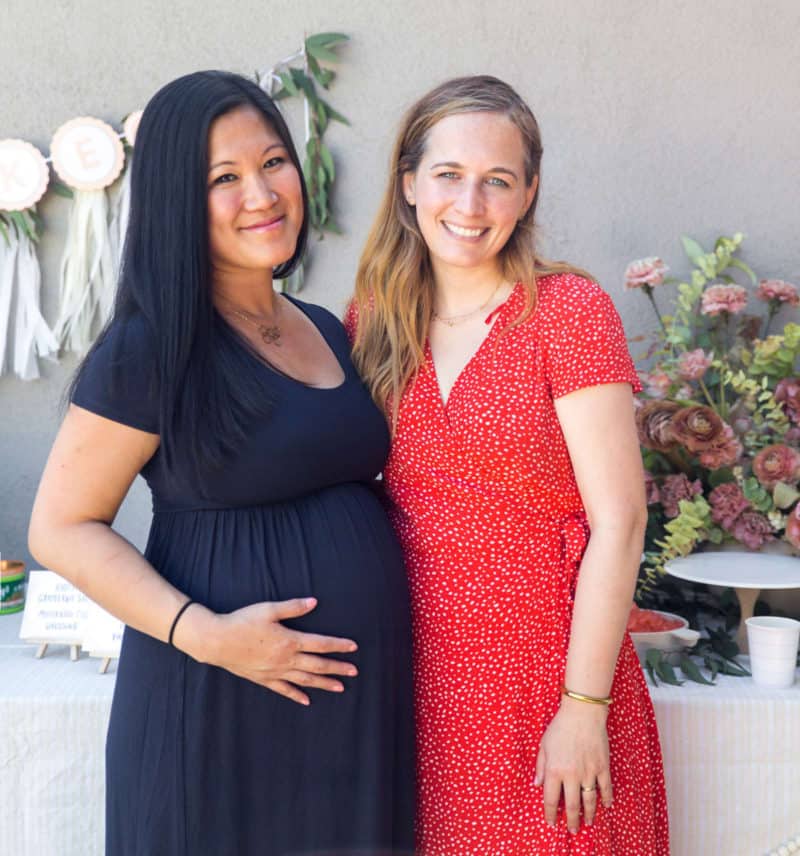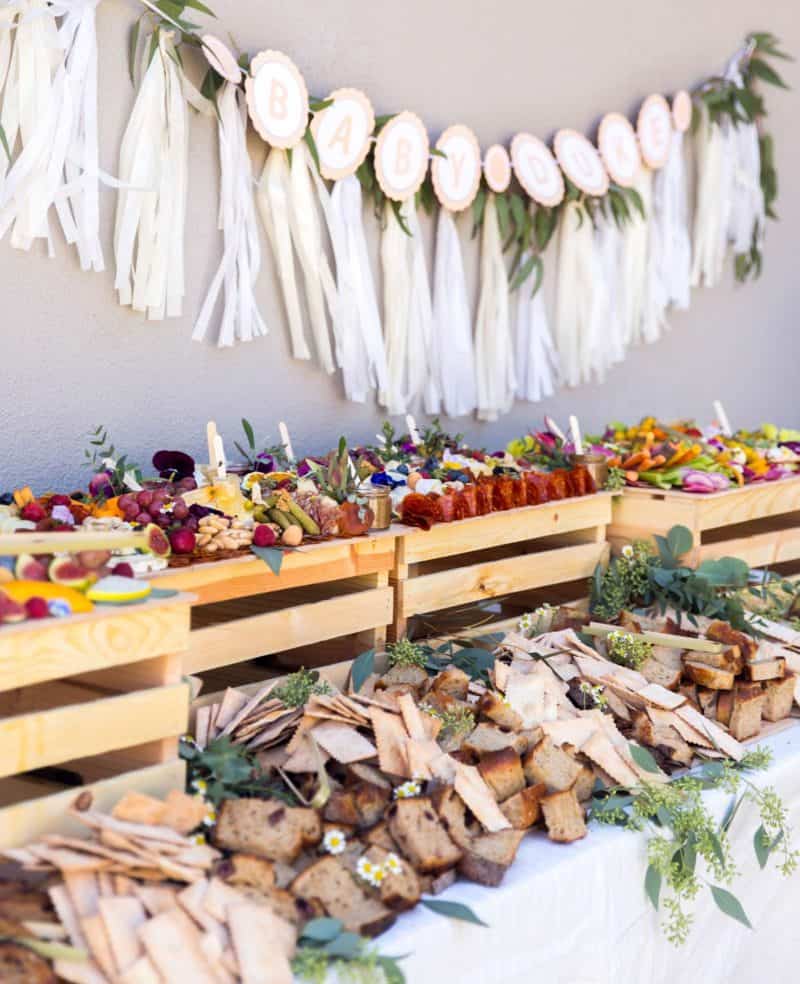 I mentioned earlier that I just wanted a grazing situation for the food, so we ordered charcuterie + cheese boards, a fruit platter and a crudité board from Lady and Larder. Not only are the boards they prepare incredibly delicious and absolutely beautiful, they hand select all of their ingredients and items they use from local farmers (and markets) and small batch cheese makers to curate very thoughtful and high quality boards. They also deliver and do very fast, efficient and beautiful setups of their food, making your life way easier the day of your event.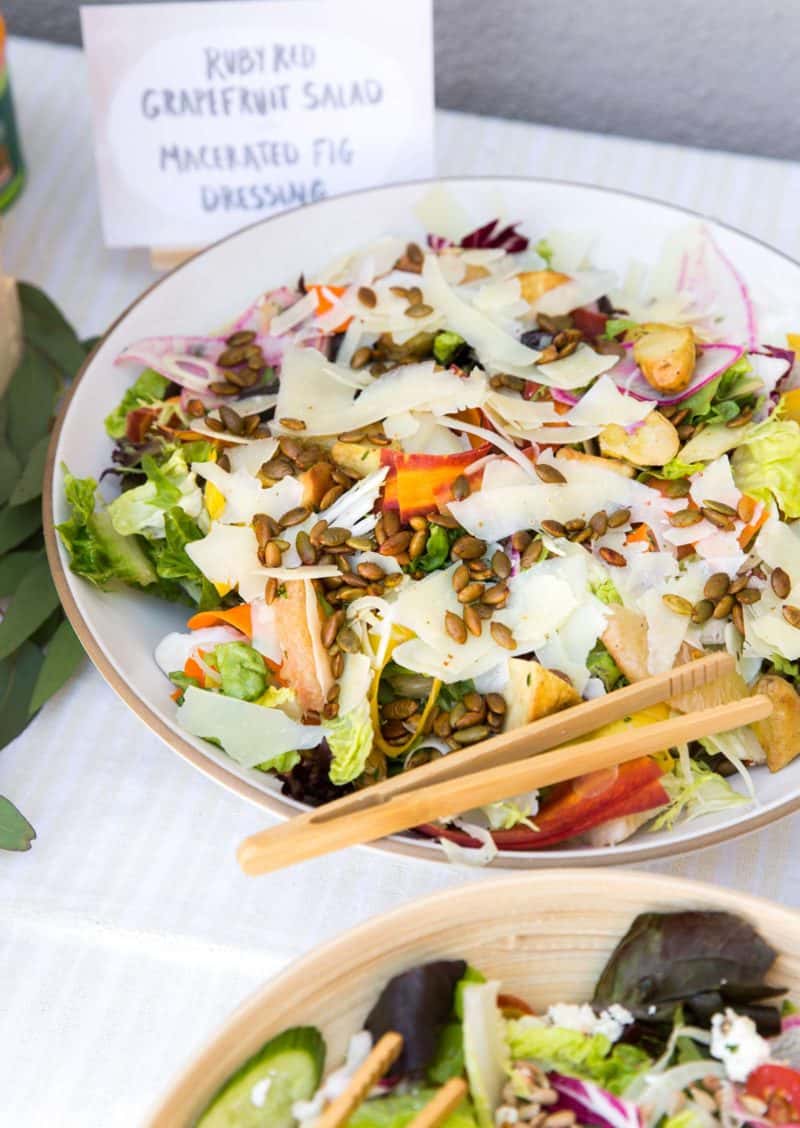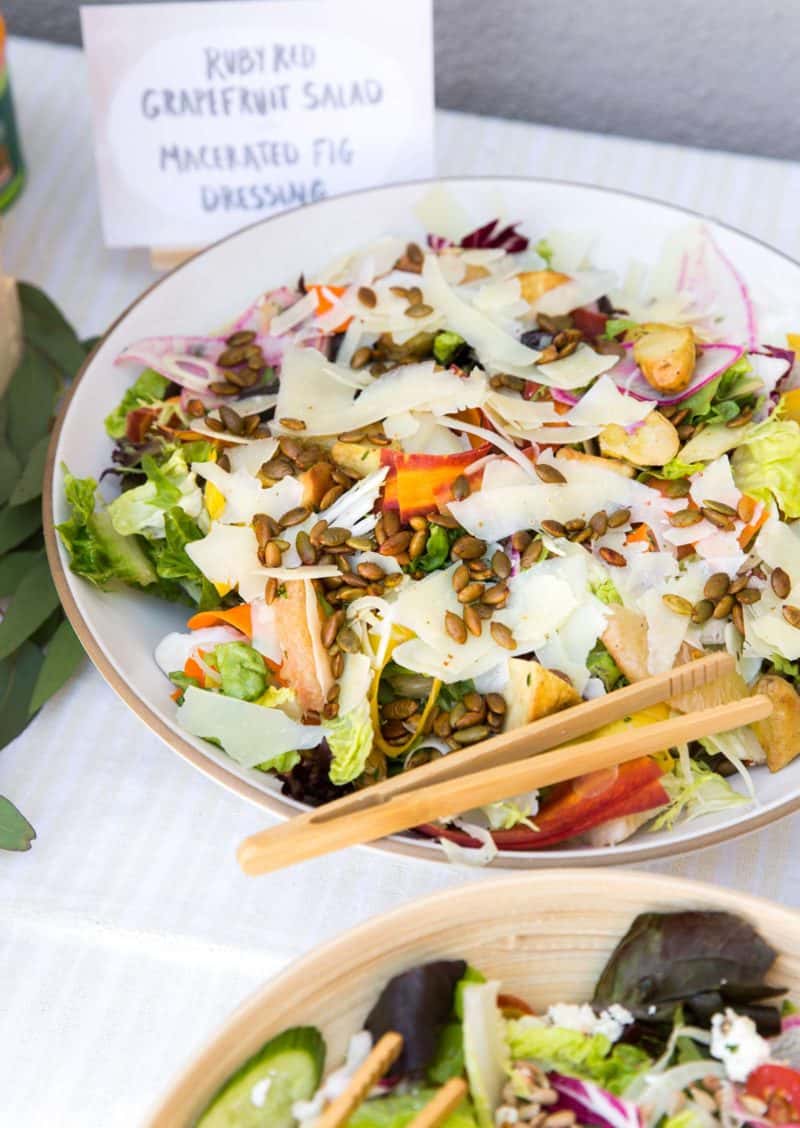 We also picked a couple of beautiful and delicious salads up from Heirloom LA. They're a well-known, full service catering company in Los Angeles that pride themselves on the highest quality ingredients that really do make a difference in their stunning and delicious dishes. They offer a wide selection of food options that they will deliver and setup for you for convenience, or you can opt to do what we did and pick the food up from their kitchen location.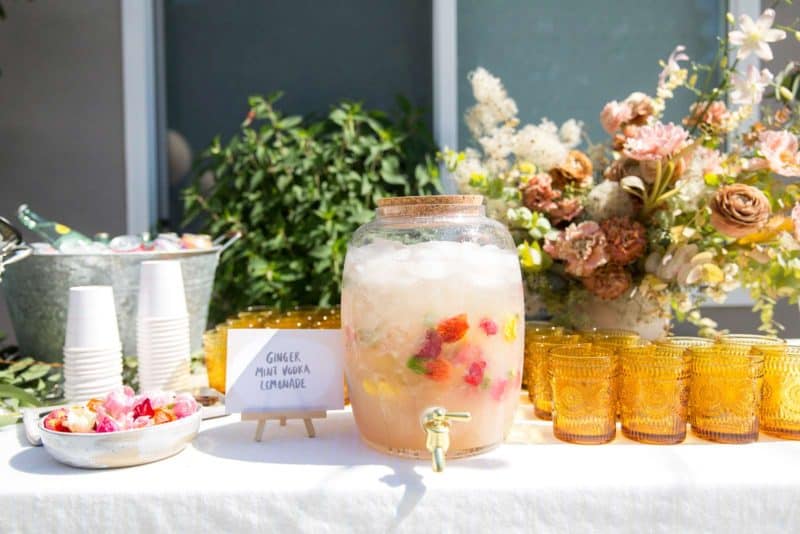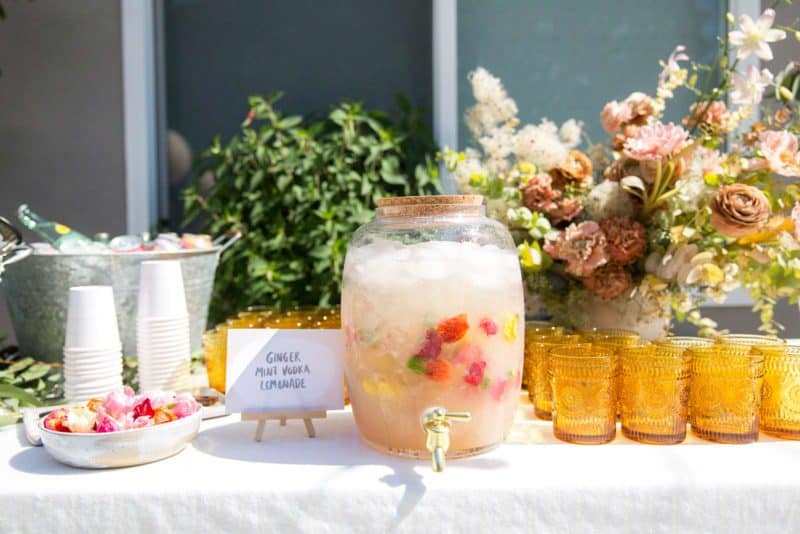 We also ordered some cute napkins, extra paper cups, and oversized balloons from Oh Happy Day! They're a super cute and amazing party supply website that you MUST check out if you're ever in need of party supplies. Not only is everything on their site super cute and festive, but they ship at lightning speed, if you end up ordering something last minute!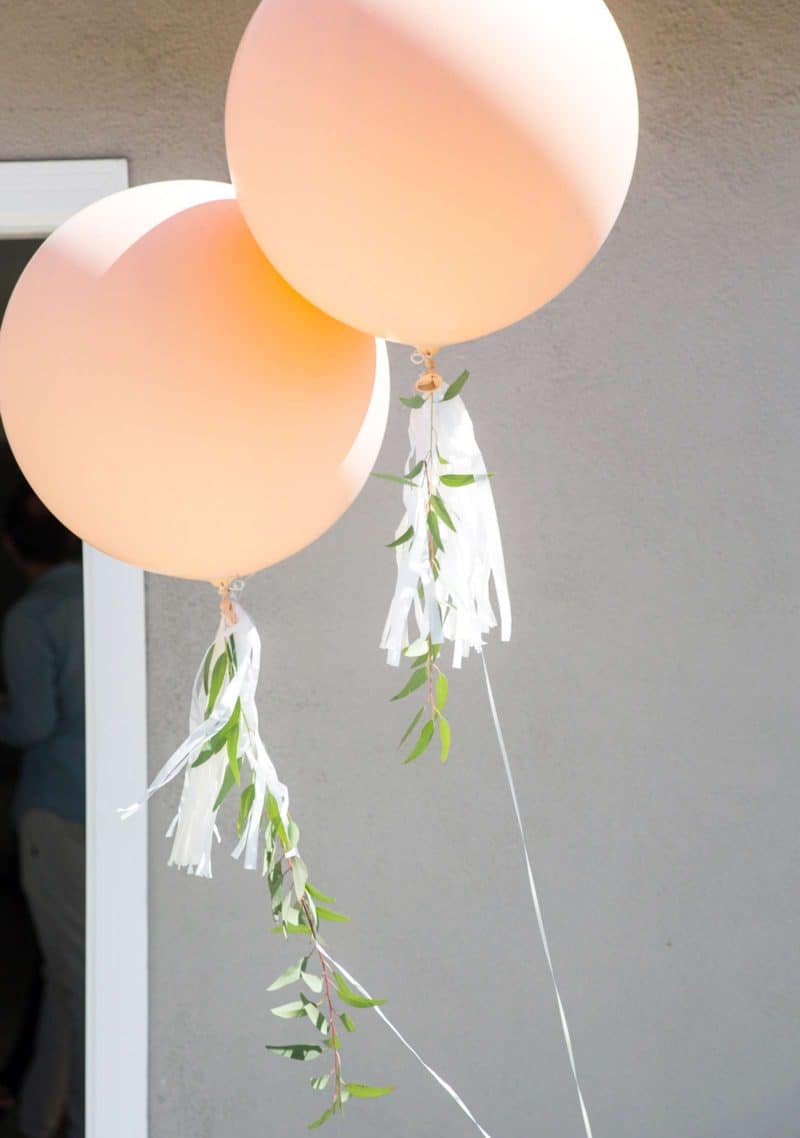 All the balloons were ordered from Oh Happy Day! (above), but Teri made really cute greenery garland and pom tassels for them that made them super cute, plus she made small gift boxes filled with rocks (from her yard, lol!) as cute balloon weights after realizing that cute balloon weights don't really exist?!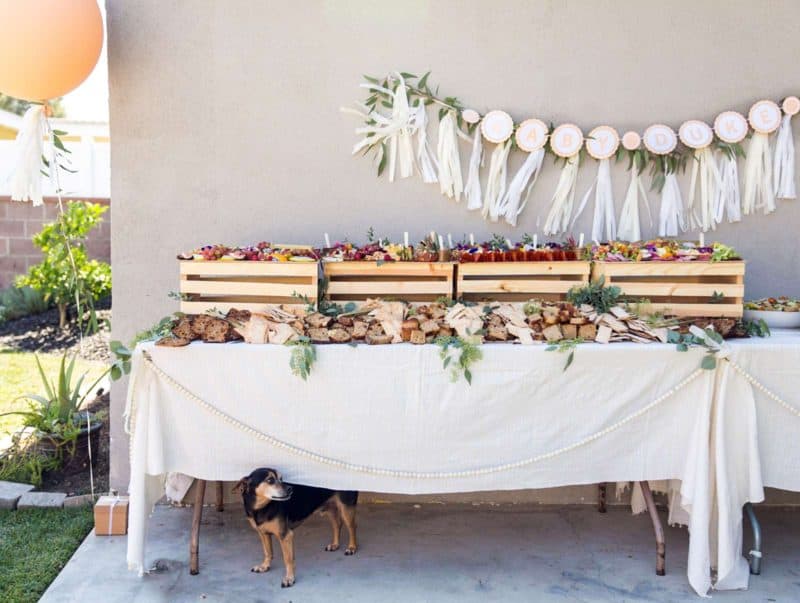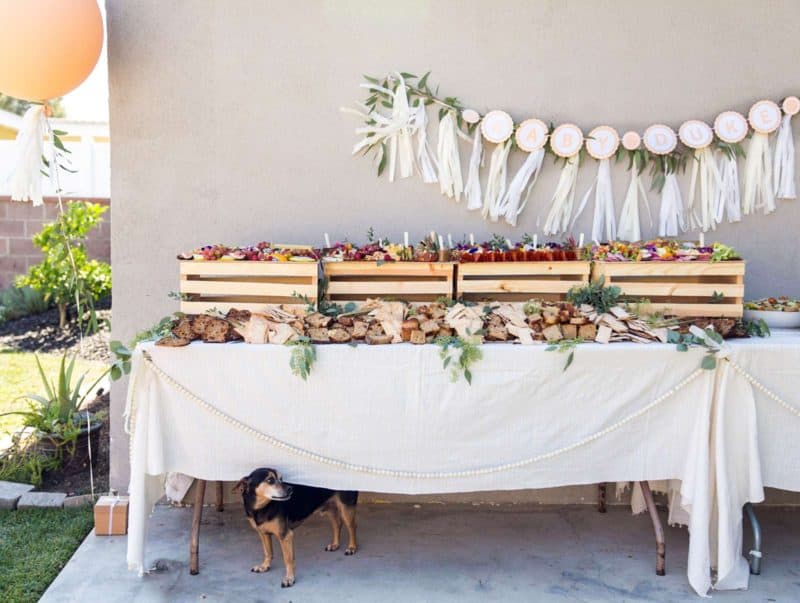 Teri (and her ridiculously creative talent) also ordered these simple, but super cute wood bead garlands to hang across the front of the food and beverage table, small signs for all the food and drinks, ordered these adorable wooden alphabet blocks to dress the tables with, as well as the freaking adorable "Baby Duke" banner to hang over the buffet table from Etsy. I know, she really is THE BEST!!!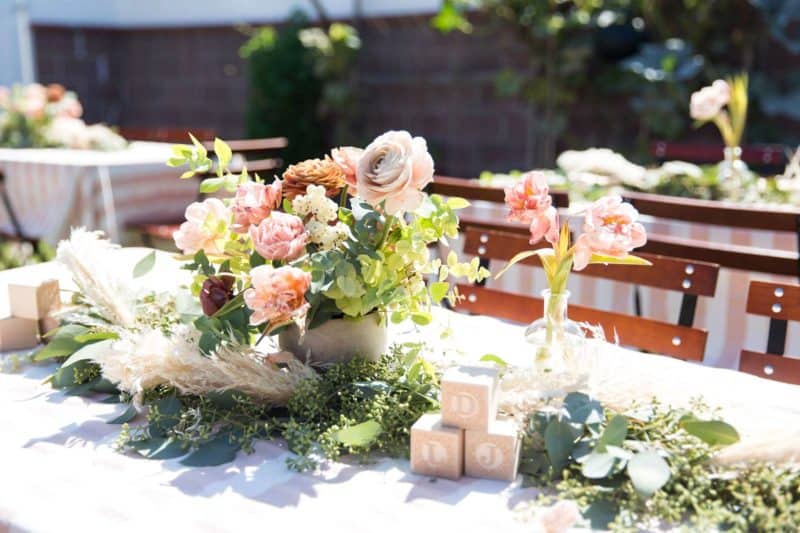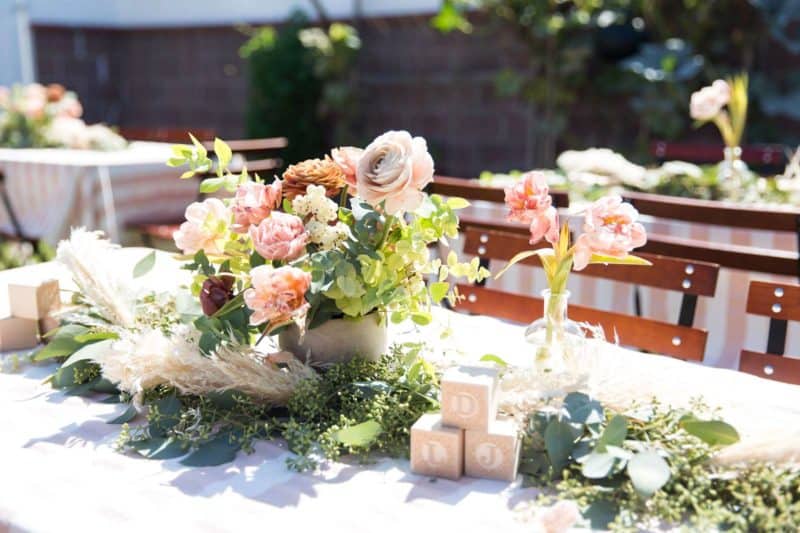 I mentioned that I wasn't really into 'shower' type games, so inspired by Almost Makes Perfect's baby shower, we did a  "Who Will Baby Duke Look Like?" sort of thing instead…which ended up being both hilarious and terrifying. Teri of course designed that entire situation and guests had a lot of fun with it! It's a great alternative to typical shower games if that's also not really your thing.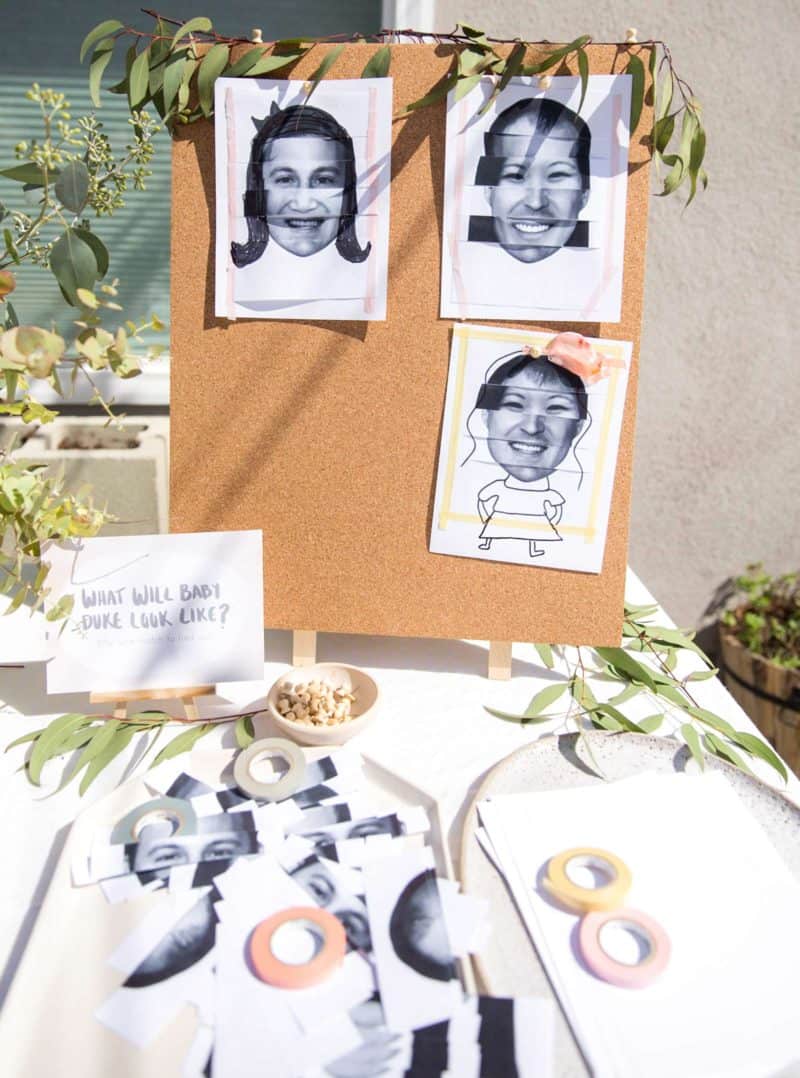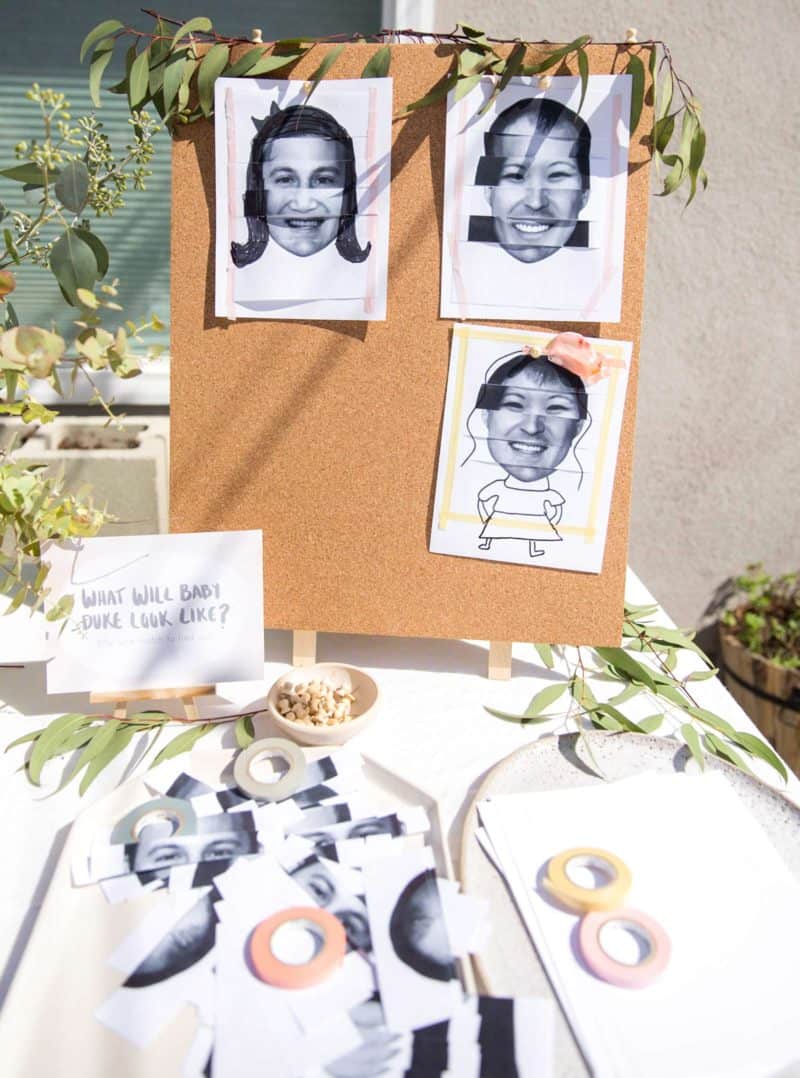 Other small things I did to prepare for the shower was order doughnuts from a local doughnut shop, because doughnuts are my favorite and I wanted something simple for dessert in lieu of a cake. I also ordered some gummy bears for people to snack on…I don't know why I was so obsessed with the idea of gummy bears but I was and got them in pineapple and grapefruit flavors, which weirdly ended up being a huge hit! I also wanted a "hot food" item on the buffet table, so I made turkey cocktail meatballs. These were easy because I made them several weeks before the shower and froze them and on the day of I just stuck them into a slow cooker with a very simple sauce then transferred them into one of my chaffing dishes. We had a 'signature cocktail' of a ginger-mint vodka lemonade that was made extra pretty by these edible hibiscus flowers Teri had ordered from Gourmet Sweet Botanicals.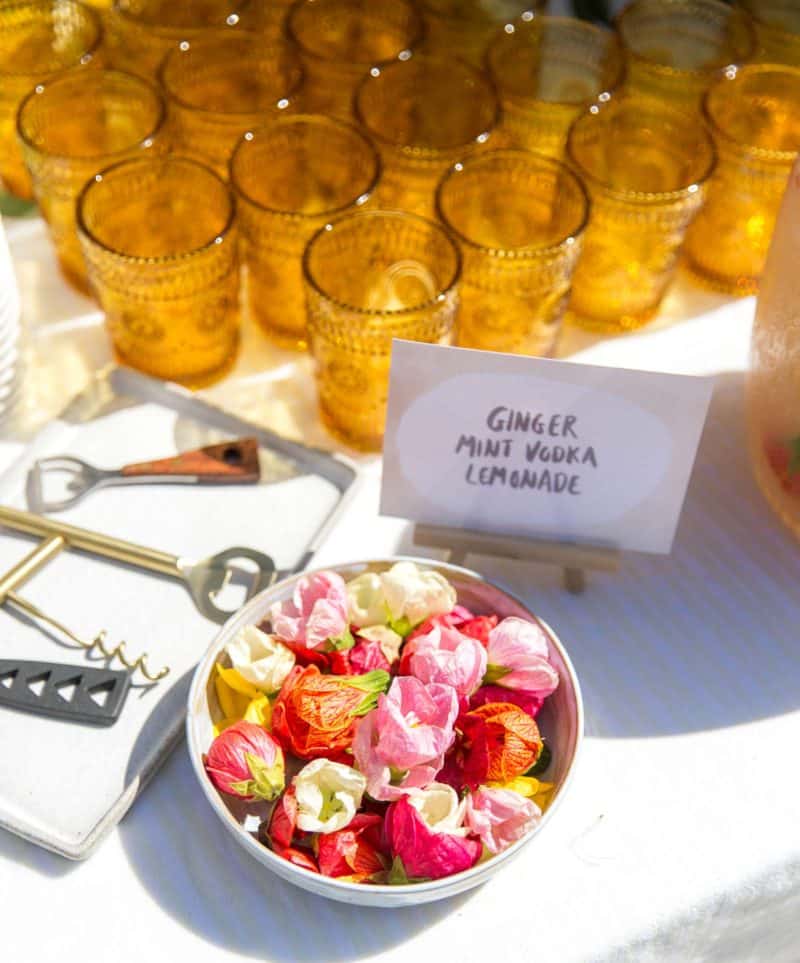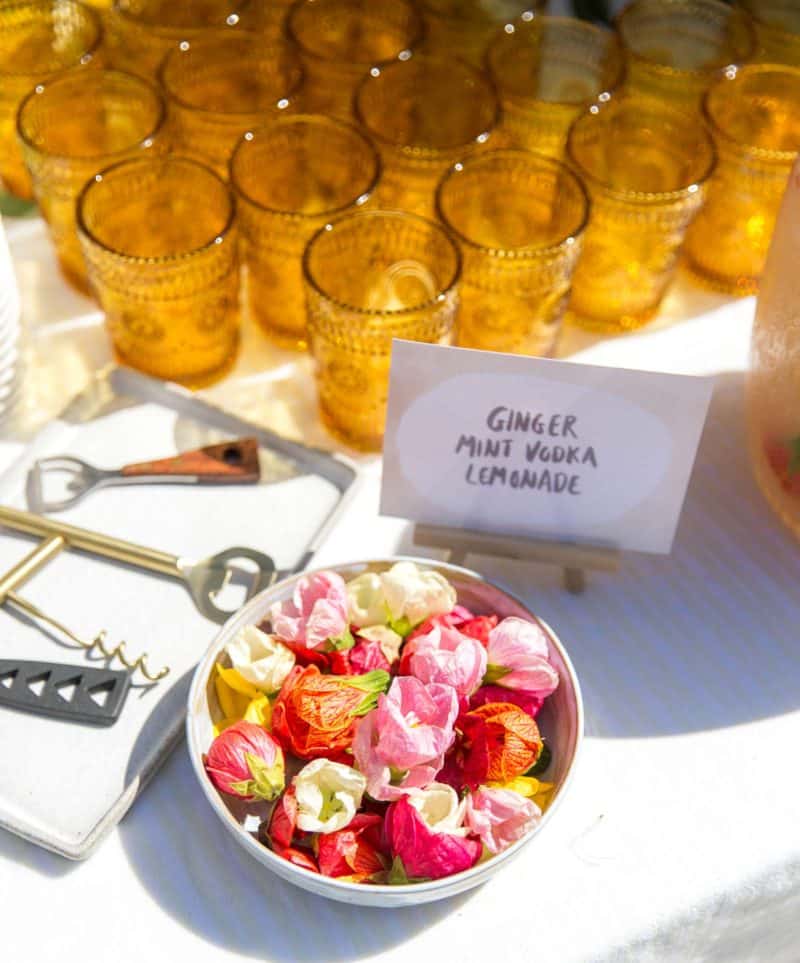 All in all I couldn't have been happier at how everything turned out. It was so nice for my husband and I to see so many of our loved ones together celebrating our baby girl. I'm beyond grateful for everyone who took the time out of their busy schedules to come and hang out!
xx, Jenny