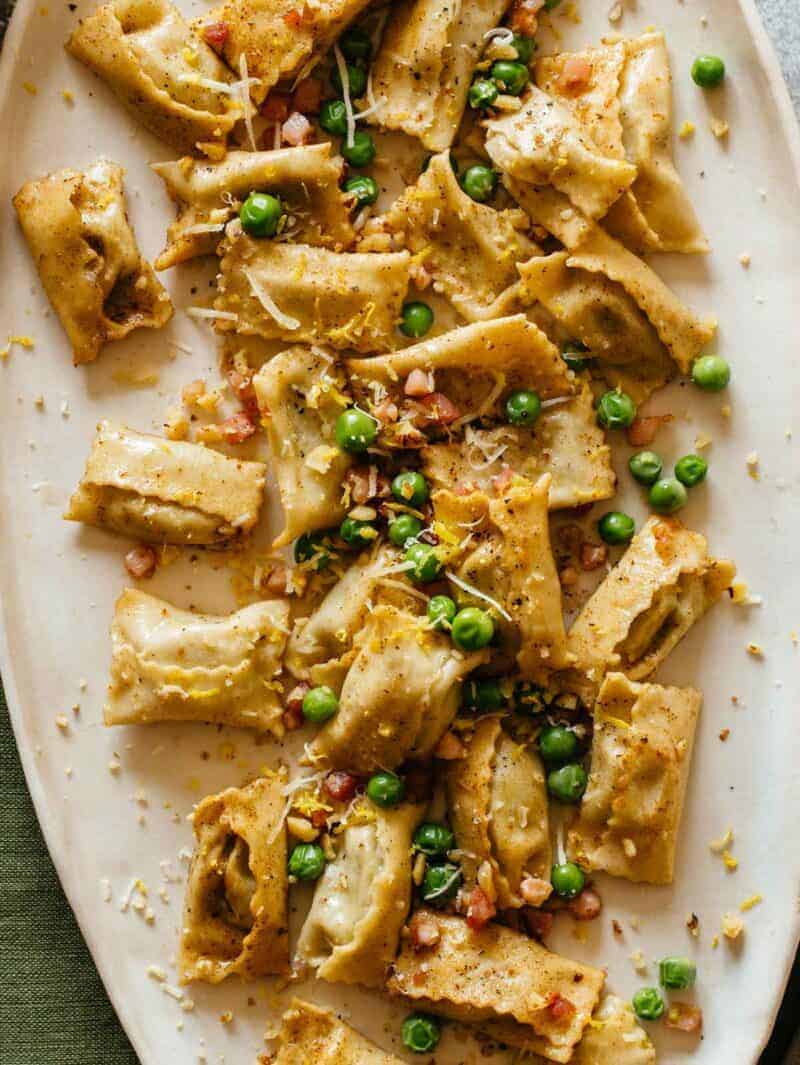 I'm so excited it's English pea season again! Fresh peas are so vibrant and sweet and I always try to buy them up as much as I can during their short season. This was a favorite recipe of mine from last year. I love a good stuffed pasta and the addition of the sweet peas really brighten the dish up. This recipe is definitely a bit time consuming with the pasta making and filling, but it's such a pretty pasta and worth the work, especially for special occasions. These little pillows of goodness are also really tasty served cold, tossed in a lemon vinaigrette with some fresh arugula and shaved Parmesan, so they're pretty versatile. Enjoy!
It's officially spring and I've just started to see fresh English peas pop up around my farmer's markets! English peas are one of the things that have a fairly short season (like figs) and I really try to take advantage of them while they're available. I know frozen peas are great and delicious, but there's something about fresh peas that just scream springtime and I dig that. I also really enjoy taking them out of the pods; a tedious process sure, but there's something slightly therapeutic about planting your butt down and shelling peas for an hr….preferably in front of some trashy television, a great Netflix series or a crime related podcast.
Anyway, we have our first Sweet Pea recipe of the year up, a Creamy Sweet Pea Pesto Agnolotti and it makes me really happy. I promised myself that this year I would "branch off" into new hobbies, like weaving and knitting, during my spare time, but alas all I've been doing is obsessing over different homemade pasta doughs and shapes and floral buttercream piping…for the last 2 months.
Agnolotti is a shape I've been seeing a lot of lately and it's been my new favorite. It's such a pretty shape and I love that it's basically another variation of ravioli with what I like to call an extra "sauce catching pouch". This might seem difficult to put together, but I promise it's not as bad as it seems. Seriously, we have a variety of step by step photos to help you along the way, but if you're still scratching your head, I'd o what I always do in these situations…head on over to youtube. Seriously, there's a tutorial for EVERYTHING on youtube these days and it's such a great way to learn most DIY projects, especially since you can watch them over and over again which I do and find the most helpful.
This dish is so bright and tasty and the browned butter sauce merely coats each agnolotti perfectly so it's not like they're swimming in sauce, which I think would be a little much in this case. You can definitely scale the recipe down, or just make the full recipe and freeze some of the filled pasta (they freeze VERY well!) and just cut the sauce recipe portion down, as this recipe makes quite a bit of pasta. Also you'll notice that I cut my pasta sheets down so I'm working with shorter sheets of pasta, I like to do this for a couple reasons: I don't have a huge amount of counter space at home and the short sheets are easier to handle and work with, but if you're not worried about either you can forgo cutting the pasta down into 5-6 strips and handle 1 or 2 long sheets.
This is such a crowd pleasing recipe that just takes a little bit of time to put together, but it's totally worth it, especially for a special occasion like Mother or Father's Day! Enjoy! xx, Jenny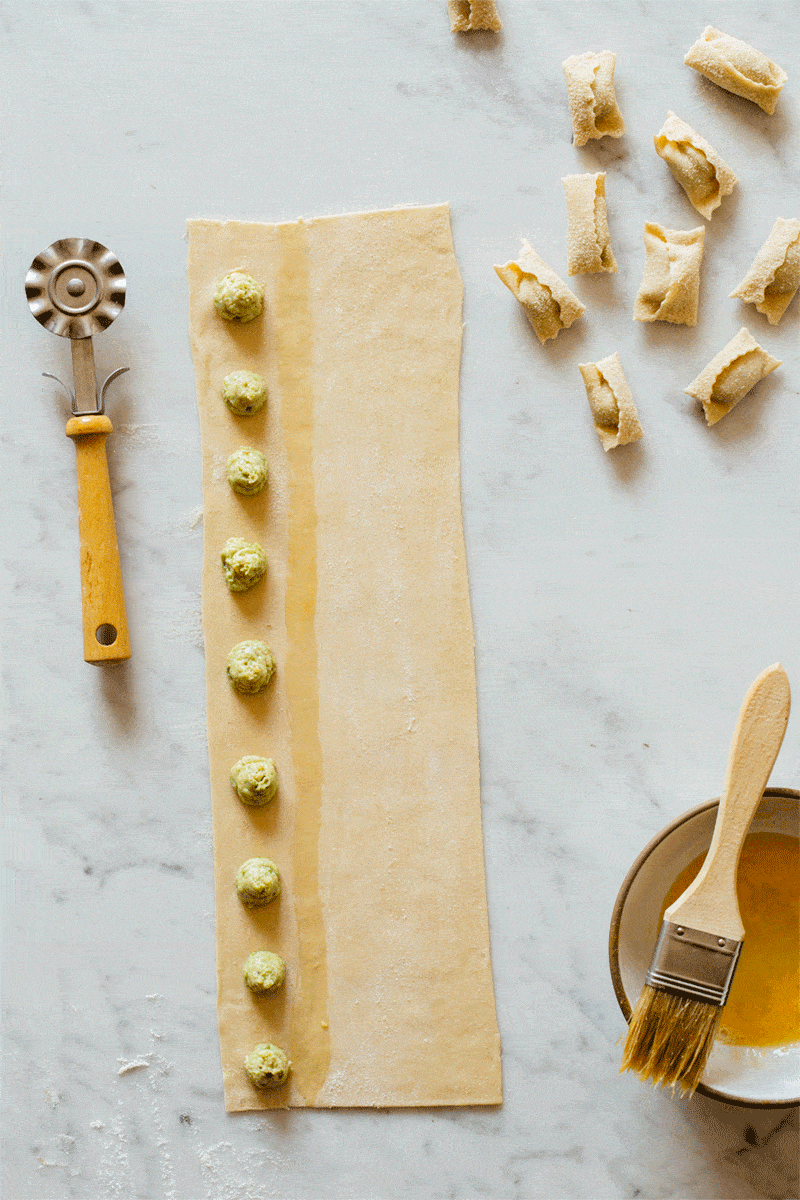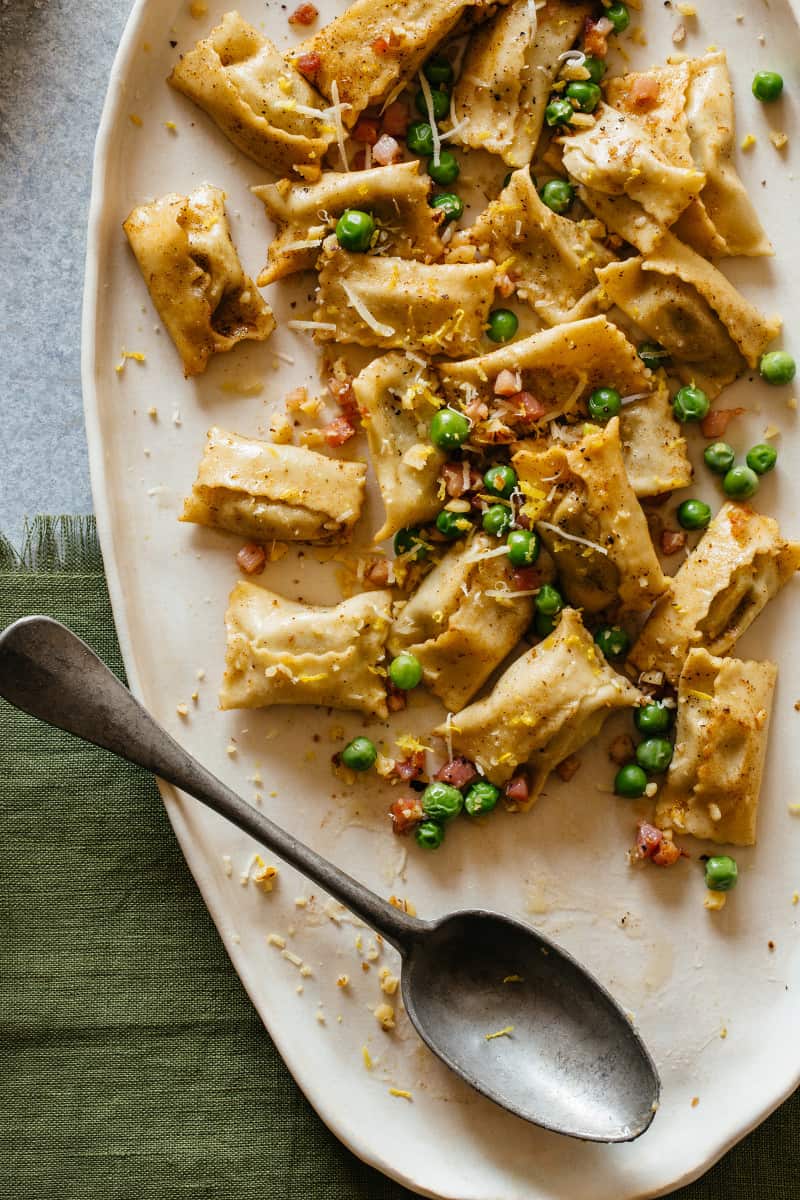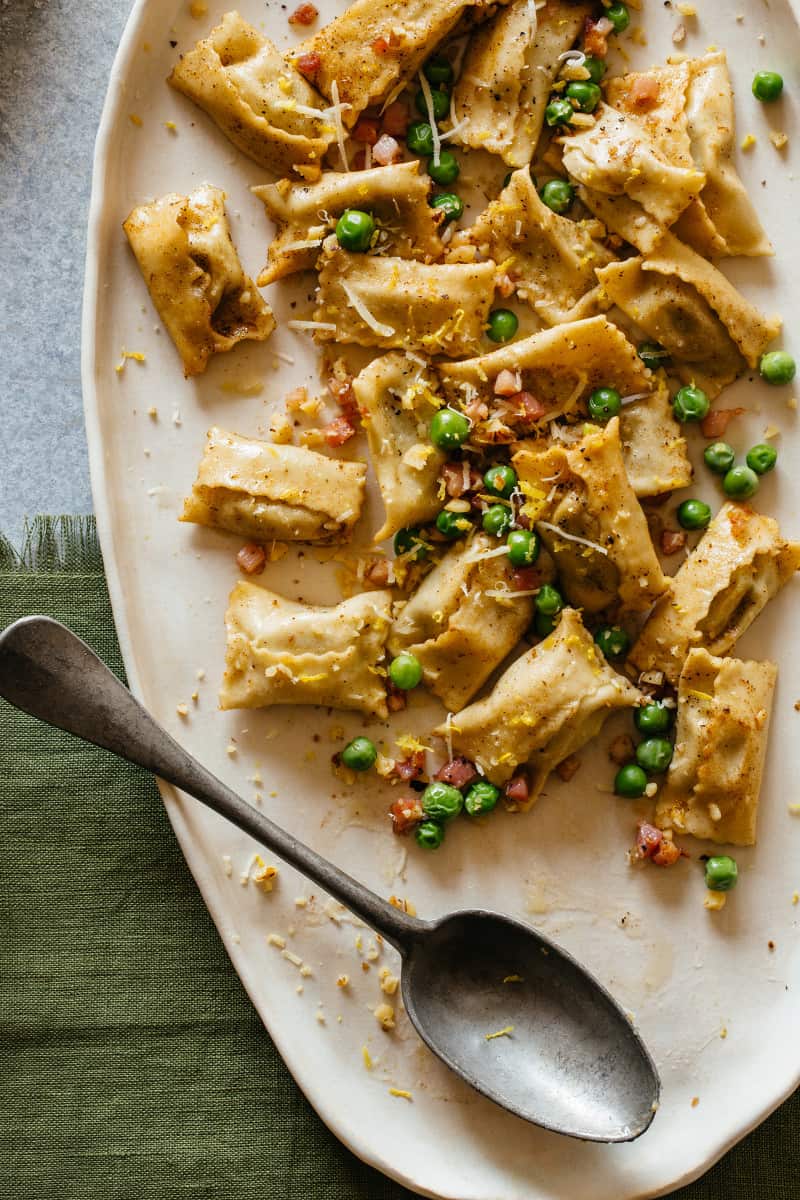 Hungry for more?
Subscribe to never miss a recipe.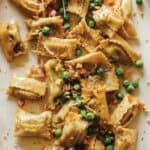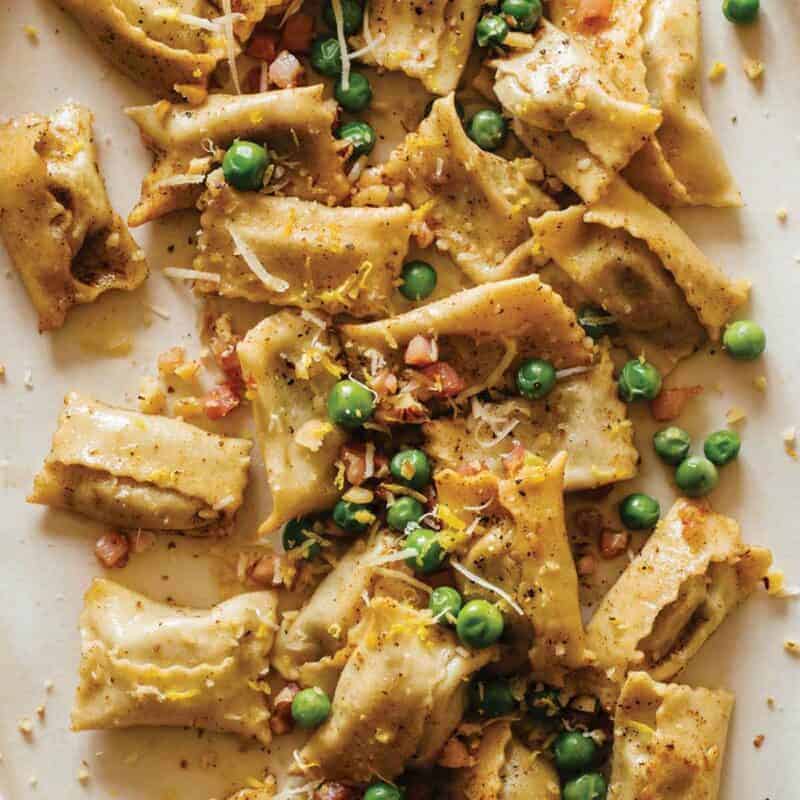 ---
Creamy Sweet Pea Pesto Agnolotti
INGREDIENTS
creamy sweet pea pesto filling
1

garlic clove, chopped

1 ⅔

cups

fresh English peas, boiled and drained (if using frozen, thaw), divided

2 ½

tablespoons

chopped walnuts

⅓

cup

extra virgin olive oil

2

tablespoons

grated Parmesan

⅔

cup

mascarpone, softened

1

large egg yolk, room temperature

zest of 2 lemons

salt and pepper to taste
ravioli dough
2

cups

all purpose flour, plus more for dusting

½

cup

semolina flour, plus more for dusting

½

teaspoon

salt

2

large eggs, room temperature

¼ to ⅓

cup

water

1

large egg plus 2 tablespoons water, lightly beaten
lemon-browned butter sauce
½

cup

finely diced pancetta

¾

cup

(1 ½ sticks) unsalted butter

1

large shallot, diced

3

garlic cloves, minced

1

lemon, zested and juiced

4

ounces

grated Parmesan

salt and pepper to taste
INSTRUCTIONS
Filling: Place garlic and ⅔ cup peas in a food processor and pulse 5 to 6 times. Add walnuts and continue to pulse until a coarse grain consistency has formed. With the motor running drizzle the oil into the mixture in a slow and steady stream until completely combined. Fold in Parmesan and season with salt and pepper. In a small mixing bowl, combine the mascarpone, egg yolk and lemon zest until completely mixed together. Fold the pea pesto into the mascarpone mixture until fully combined. Season with salt and pepper. Cover and refrigerate until ready to use.

Ravioli dough: In a mixing bowl combine flours and salt and whisk together. On a clean work surface or in a bowl place flour mixture in a mound. Make a well in the center of flour and crack eggs and ¼ cup water into the well.

Using a fork gently whisk eggs and water together while slowly incorporating flour. Once flour and eggs are combined, add more flour little by little to form a ball that is no longer sticky to touch.

If dough is dry add more water, 1 teaspoon at a time. Knead dough for 8-10 minutes (dough should feel very tight and should bounce back when gently pressed), wrap in plastic and let sit for about 20 minutes before using.

Sprinkle flour onto a clean surface and roll pasta dough until ⅛ inch thick. Cut pasta into a 12"x24" rectangle and cut rectangle down into 6, 12"x4" strips. Lightly dust a large baking sheet with semolina flour and line strips of pasta side by side. Lightly cover with plastic wrap.

To assemble: Lightly dust a clean surface with semolina flour. Place a pasta sheet onto the clean surface and brush with egg wash. Fill a piping bag with the filling and pipe 1 teaspoon sized dot of filling onto the pasta sheet, about 1" from the bottom of the pasta sheet and about 1 inch apart. Gently fold the pasta sheet over the filling until there's about an inch of the pasta on the bottom still exposed, and gently press around each filling dot to remove any air bubbles. Using a pasta cutter/pizza cutter/knife, cut off the top 1 ¼" of the pasta sheet. Carefully stand the row of pasta covered filling upright (90˚) and firmly cut between each standing dot, beginning with the sealed end, to create a stuffed pasta with a small kangaroo-like pouch on one side of each agnolotti.

Repeat until all the pasta sheets and filling have been used. Place all agnolotti onto a baking sheet dusted with semolina flour and loosely cover with plastic wrap. Refrigerate for at least an hour and up to 1 day (agnolotti can be frozen for up to 3 months).

Fill a large pot with water and bring to a boil. Add a handful of salt and agnolotti and boil for 4 to 5 minutes or until agnolotti begin to rise to the top.

While water comes to a boil, place a large skillet over medium-high heat and sauté pancetta for 2 to 3 minutes. Drain pancetta with a slotted spoon and set aside.

Add butter to skillet and melt over medium heat. Once butter has melted, bubbled and turned light brown, with a nutty aroma, add shallot and garlic and sauté for 2 to 3 minutes.

Transfer agnolotti from the boiling water to the skillet, using a slotted spoon and sauté for 2 minutes. Add pancetta, peas, lemon zest and juice, and half of the Parmesan to the skillet and toss together. Generously season with salt and pepper.

Finish dish with remaining Parmesan and serve.
Calories:
907
kcal
Carbohydrates:
53
g
Protein:
25
g
Fat:
66
g
Saturated Fat:
31
g
Cholesterol:
232
mg
Sodium:
693
mg
Potassium:
332
mg
Fiber:
5
g
Sugar:
4
g
Vitamin A:
1707
IU
Vitamin C:
27
mg
Calcium:
316
mg
Iron:
4
mg