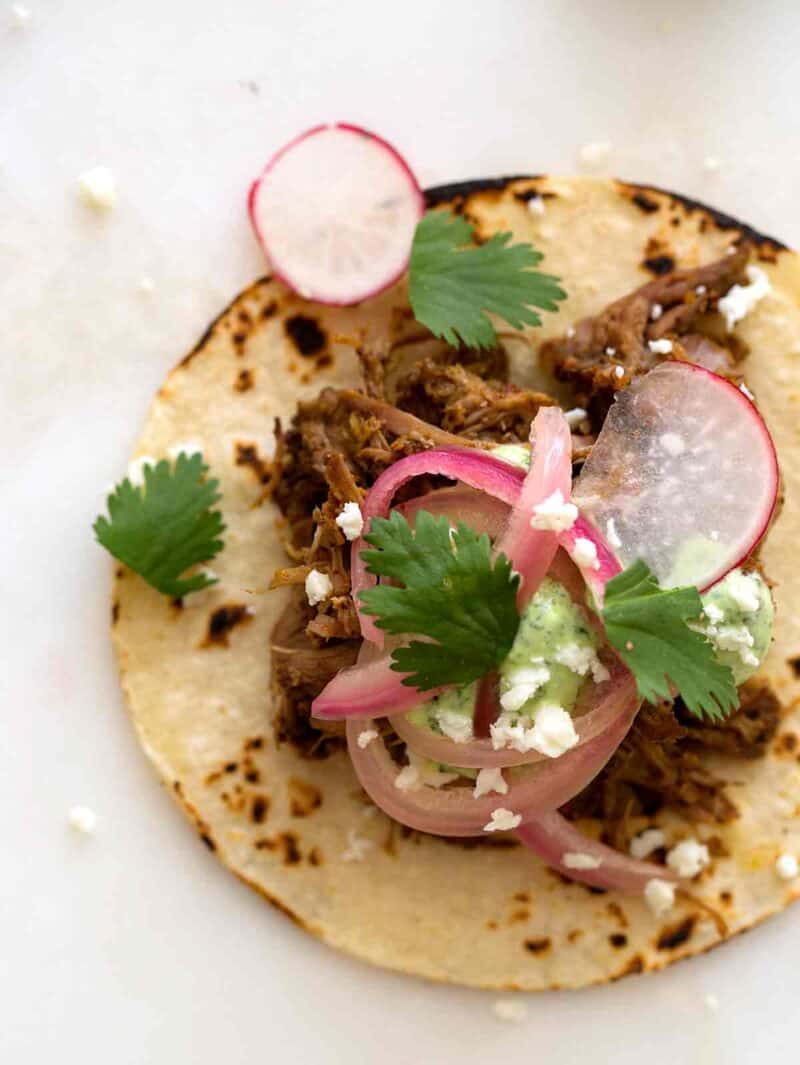 Hi Guys! Hope everyone had a great weekend! I was working on a big job Friday and Saturday so I pretty much crashed on the couch all day yesterday doing some writing, with 30 Rock on in the background, awaiting Game of Thrones. I'd say all in all, yesterday was a successful lazy day….equipped with In n Out and gummy bears. Great lil' day, indeed! Did anyone do any fun cooking? I really didn't have time, but this weekend I'm making this Cochinita Pibil dish again! It's pretty much a Yucatan-Style slow roasted pork dish, marinated in achiote and citrus juices and slow roasted in banana leaves. It's such a tasty dish! It's actually one of my guy's favorite things to eat and he gets it at least twice whenever we're in Mexico. Don't let the laundry list of ingredients intimidate you! This is a rather easy recipe to make and if you're feeling less than enthused about the spice mixture, go ahead and play around with your own flavors (the achiote paste or annatto seeds and citrus juice are a must…other than that, do you!) You're really just letting the meat marinate before throwing it into the oven for hours…easy!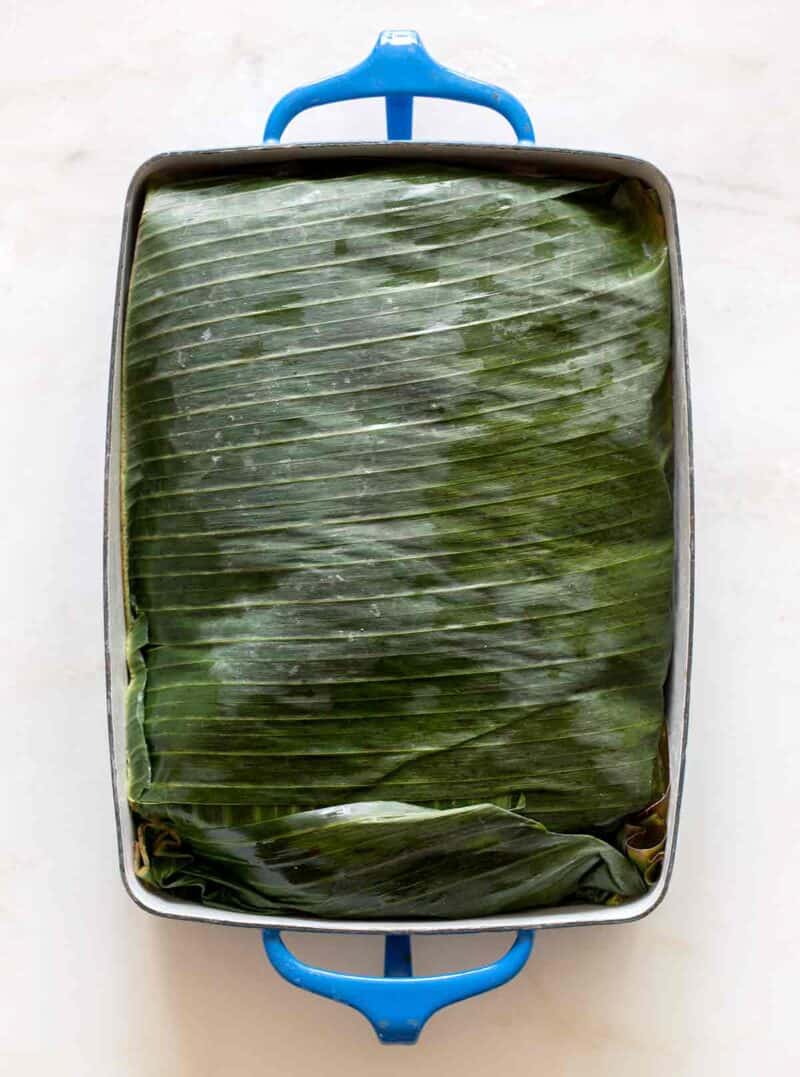 This particular pibil you see in the photos above is actually wild boar. I only used this because I was lucky enough to score some fresh wild boar meat from one of the cooks from Bestia, Erik Sun (p.s. if you live in LA and haven't been yet…it's a MUST…their pastas and pizzas…I.N.C.R.E.D.I.B.L.E.). When people say "food" people are some of the nicest, most generous people. I totally agree, and here's why. I actually met Erik through an old friend's brother. I haven't spoken to my friend in yrs., just little texts and facebook posts here and there. Her brother actually reached out to me via instagram saying that his friend is heavily into food, like me, and I should meet him. Not in a weird/creepy type of way, but more in a "you guys could probably pick each other's food-centric brains for hours" type of way. Long story short, I discovered this guy doesn't only work in restaurants, but he is also a great wild boar hunter, deep sea fisherman, sea urchin spear fisherman, etc. Whoa. My mind was blown. The most awesome part of Erik's passion for obtaining the freshest food available; he's a firm believer in using as much of his "kills" as possible and leaving little to no waste. It's really not a "just for sport" thing for him (which I'm really not into…because I think it's sad). He respects the animals and that's super important! It was really incredible and inspiring to meet Erik (Pursuit of Food is his instagram account…go check it out!!!) You're probably wondering why this weird rant came about, because clearly I went on a tangent. The point of this story was that he had an abundance of freshly hunted wild boar a couple months back and was looking to give it away. I told him I wanted it and the next thing I know I'm meeting a generous stranger at the restaurant he works at so he could give me pounds upon pounds of wild boar meat. Pretty awesome, if you ask me!
I brought my almost 30 pounds of meat home and started to break it down, ribs and all. The boyfriend and I were pretty much eating wild boar for weeks. (no complaints here) I think if I use wild boar for this dish again I won't trim the fat as much as I would regular pork. The meat is much more lean and my results were slightly dry. I've since made it again with pork with nice, moist shredded results. I love turning dishes like this into tacos, but you totally don't have to. I've added instructions for my quick pickled red onions and super simple cilantro crèma. It's a great dish to make for a crowd. You can set up a taco bar with fixin' and let people go to town. Taco bars are the best. Enjoy! xx, Jenny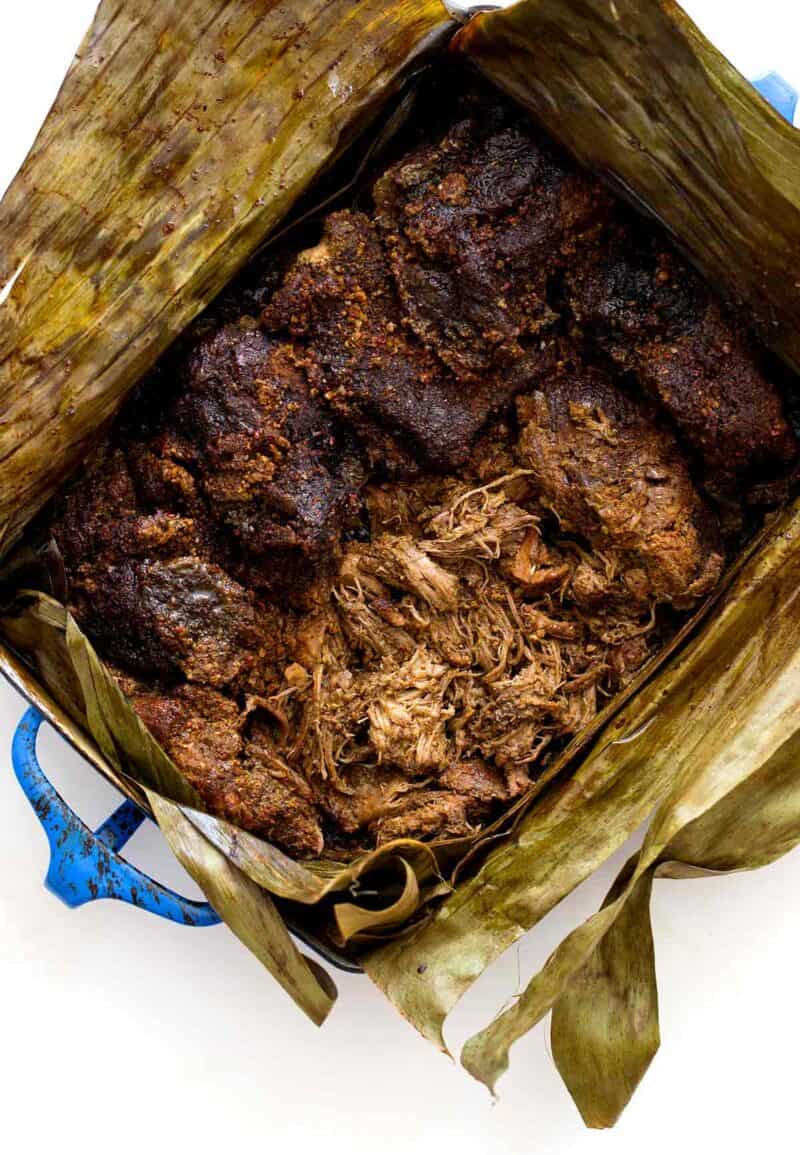 More recipes you might like: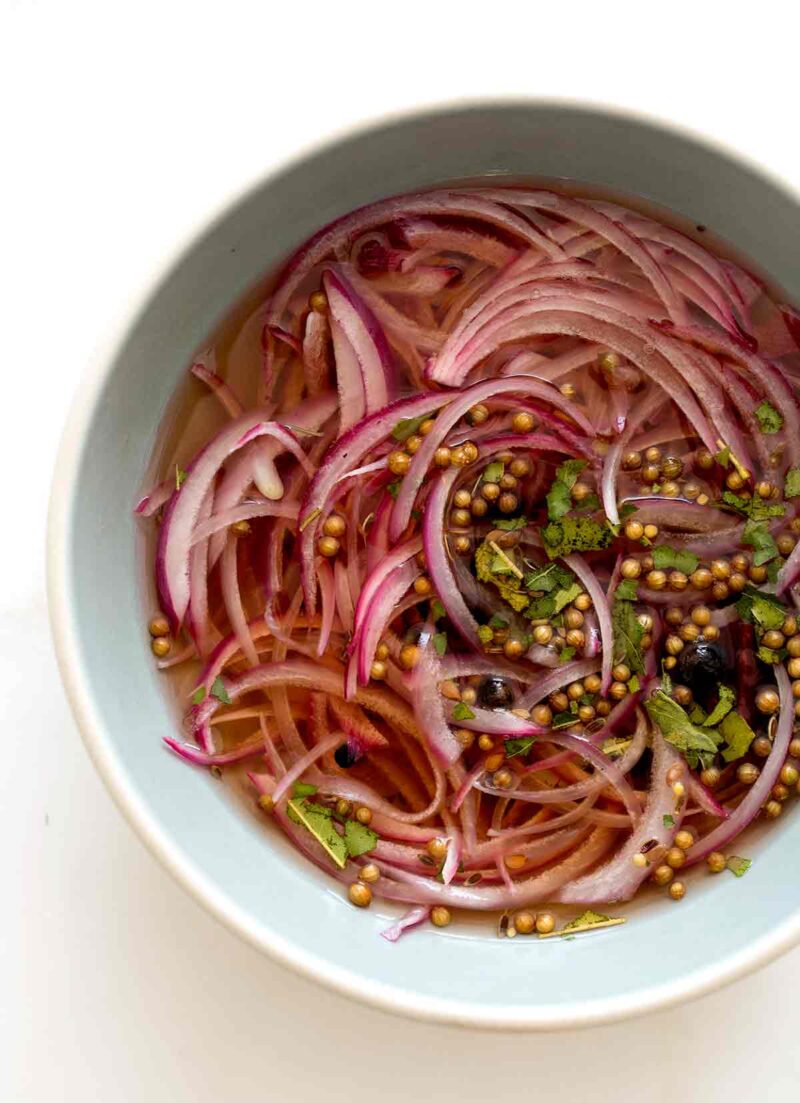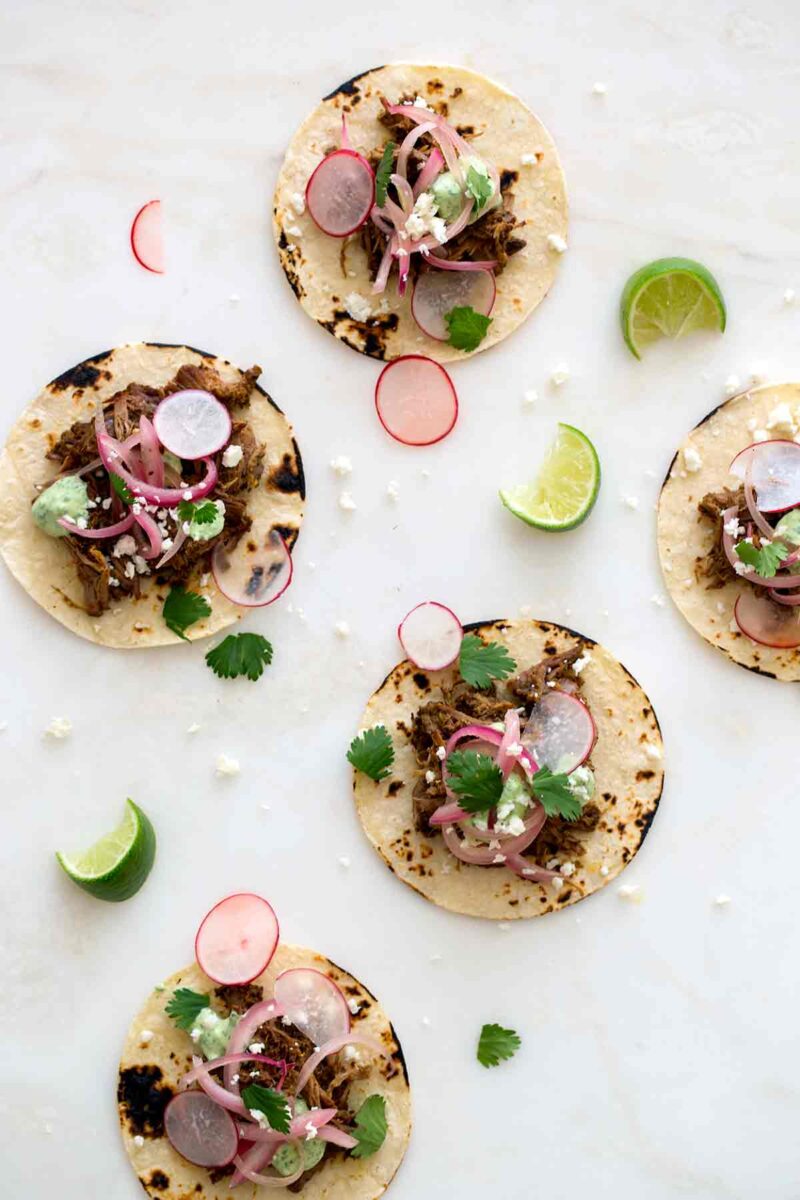 Hungry for more?
Subscribe to never miss a recipe.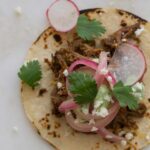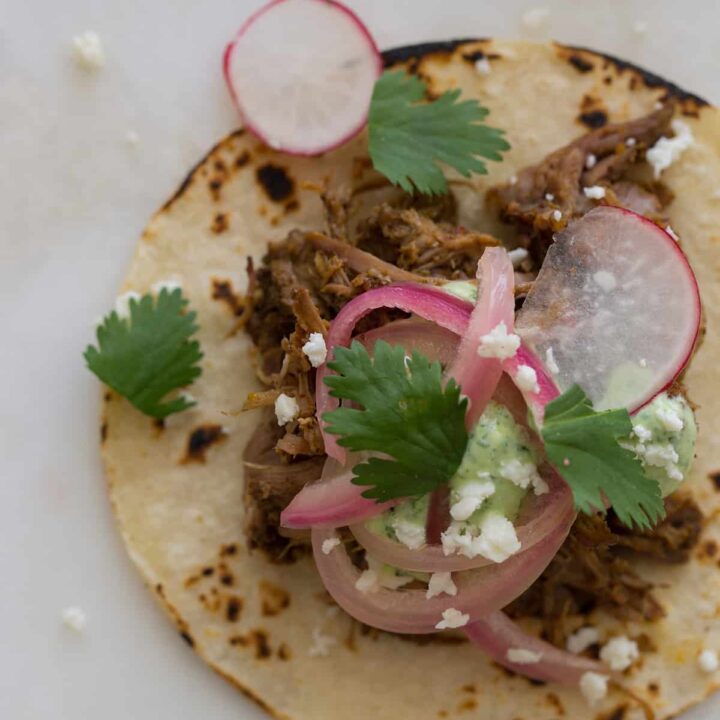 ---
Cochinita Pibil
INGREDIENTS
pibil
2

tablespoons

annatto seeds

1

tablespoon

cumin seeds

2 ½

teaspoons

coriander seeds

2 ½

teaspoons

Mexican Oregano

can sub. Italian oregano

1 ½

teaspoons

black peppercorns

6

whole cloves

1

(2 inch) piece cinnamon stick

1

shallot, minced

6

garlic cloves, minced

¾

cup

lime juice (6-8 limes)

½

cup

orange juice (2 medium oranges)

2

tablespoon

extra virgin olive oil

3

pound

boneless pork shoulder, trimmed and cut into large chunks

½

teaspoon

salt

1

pound

banana leaves, thawed (unless fresh)
pickled red onions
¾

cup

white vinegar

3

tablespoons

sugar

2

teaspoons

yellow mustard seeds

¼

teaspoon

salt

1

bay leaf, lightly crushed

4

allspice berries

3

whole cloves

1

large red onion, peeled, and thinly sliced
cilantro-crema
½

bunch

cilantro

⅔

cup

Mexican crema

can use sour cream plus 1 1/2 tablespoons milk
assembly
16 to 25

small corn tortillas, grilled

queso fresco

radishes, thinly sliced

cilantro leaves

lime wedges
INSTRUCTIONS
Place first 7 ingredients into a spice grinder or mortar and finely grind. Place spice mixture into a mixing bowl and add shallots, garlic, lime juice, orange juice, and oil. Whisk together.

Season pork shoulder with salt and place into a roasting pan or large baking dish lined with layers of banana leaves. Pour marinade over pork shoulder and generously rub all over meat.

Cover pork with remaining banana leaves and top with a damp towel. Place in refrigerator and allow pork to marinate for 12 hours (overnight).

Remove towel from pork and allow pork to sit out at room temperature for 1 hour. Add 1 cup water to the baking dish and place in oven. Slow roast for about 3 hours or until tender enough to pull apart with two forks.

Remove from oven and allow pibil to sit for 15 minutes. Uncover pork from banana leaves and shred. Adjust seasonings if needed and serve with beans and rice or in tacos.

pickled onions: Place all ingredients, except onions, into a small saucepan and simmer until sugar dissolves. Place onions into a mixing bowl and top with pickling mixture. Cover and allow mixture to sit for at least 1 hour. Serve.

cilantro crema: Place ingredients into a food processor and process until smooth. Serve.

To assemble: Top grilled tortillas with pibil and finish with pickled onions, crema, radishes and cilantro. Serve.
Calories:
392
kcal
Carbohydrates:
37
g
Protein:
25
g
Fat:
16
g
Saturated Fat:
3
g
Cholesterol:
80
mg
Sodium:
407
mg
Potassium:
593
mg
Fiber:
5
g
Sugar:
8
g
Vitamin A:
185
IU
Vitamin C:
18
mg
Calcium:
133
mg
Iron:
3
mg