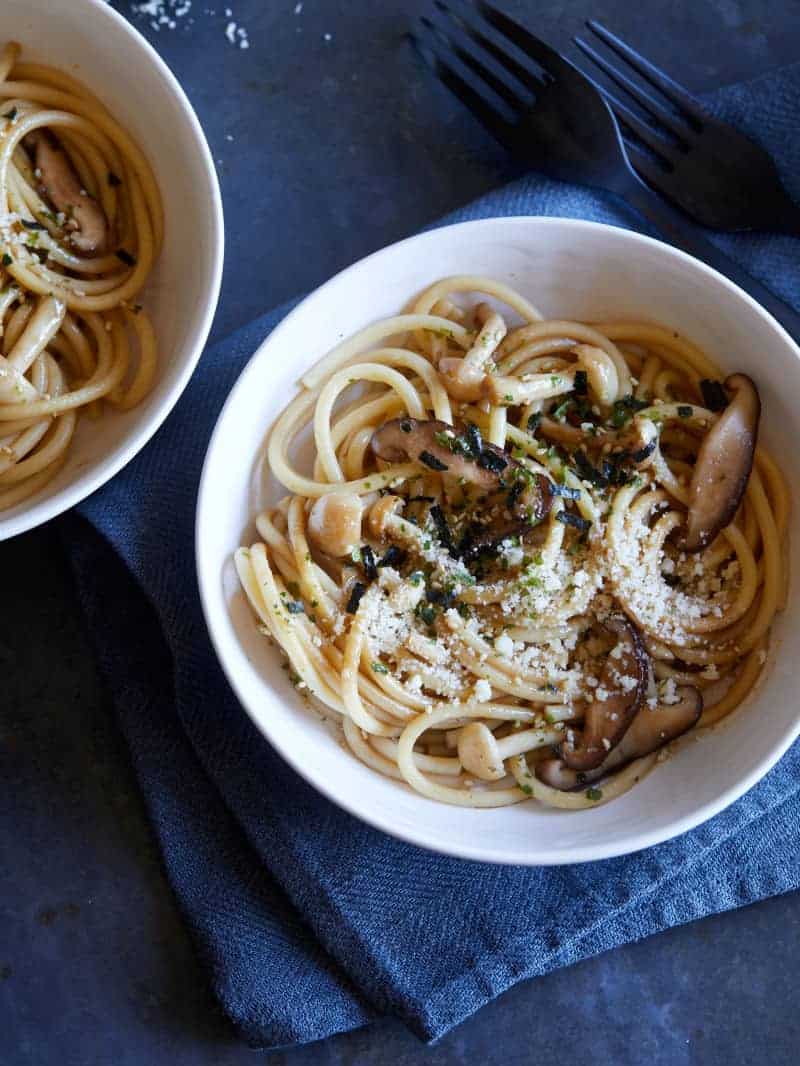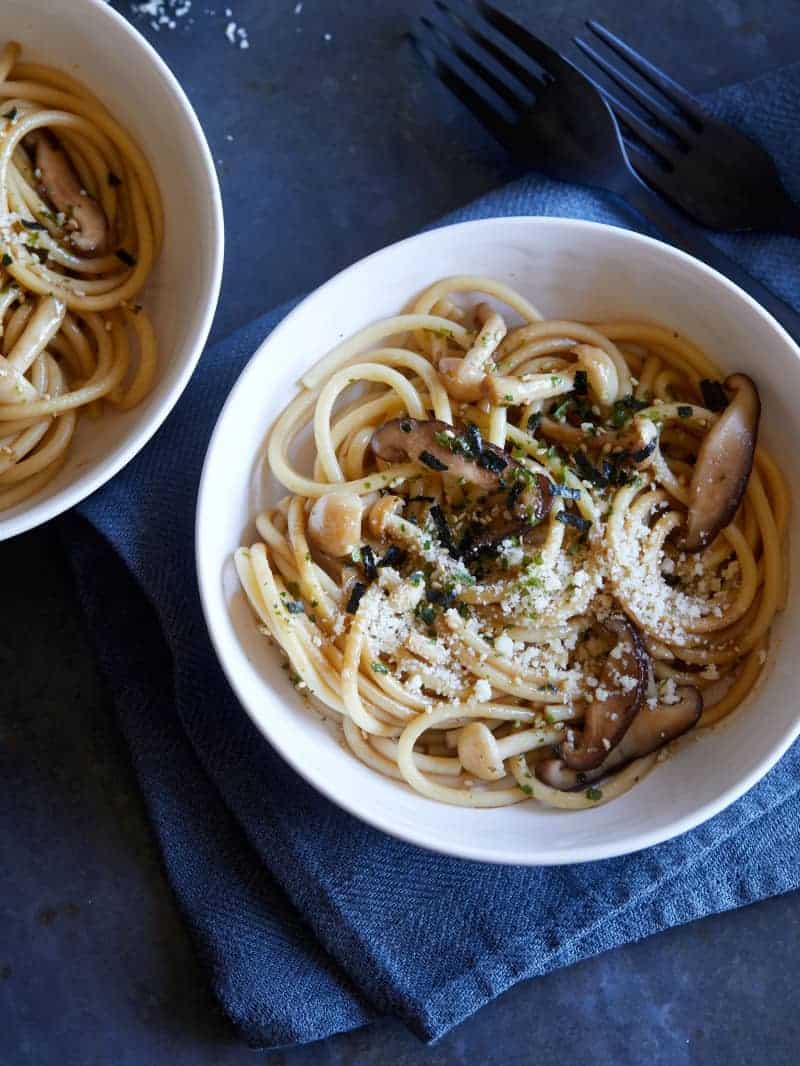 Week one of the new year is almost behind us and we've made it four whole days of clean eating. Today we're balancing that out with a little pasta dish filled with glorious carby goodness, lol. We have our Wild Mushroom Wafu Pasta with a Soy Butter Sauce, aka Japanese-style spaghetti. Are you guys familiar with Japanese-style spaghetti???…bc it's a 'thing'…a very good thing at that.
Yep, you can find Japanese style pasta shops dotted through LA and orange county and usually in other neighborhoods with a strong Japanese population. Wafu pastas are gooooood stuff. They give you the carb-loading goodness you crave with pasta, but add an asian twist on it with umami-like sauces and ingredients. One of the more popular japanese-style spaghetti's is the uni spaghetti, which is absolutely delicious, but wafu pasta goes way beyond that!
Today our version uses dashi, mirin, soy, and butter to create a really delicious sauce. If you've never tried the combination of butter and soy sauce, you're missing out! Seriously. It's so good! Growing up, I used to eat bowls of rice doused in melted butter and soy sauce and remember how yummy the salty sauce was next to the warm, rich buttery flavor. SO GOOD. Anyway, this pasta dish is totally worth a try, especially if you're new to wafu pastas. The flavors are unique, but not intimidating at all and this dish takes about 30 minutes total to throw together. So simple, so delicious! Enjoy! xx, Jenny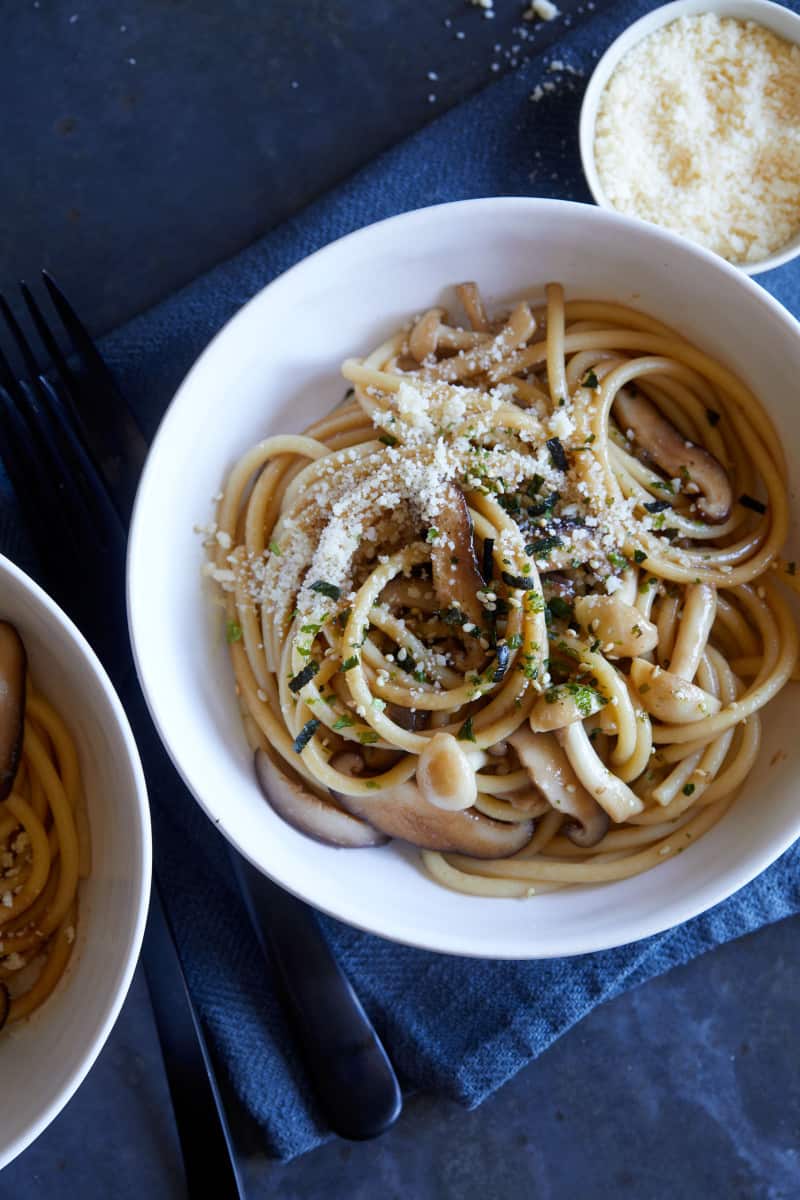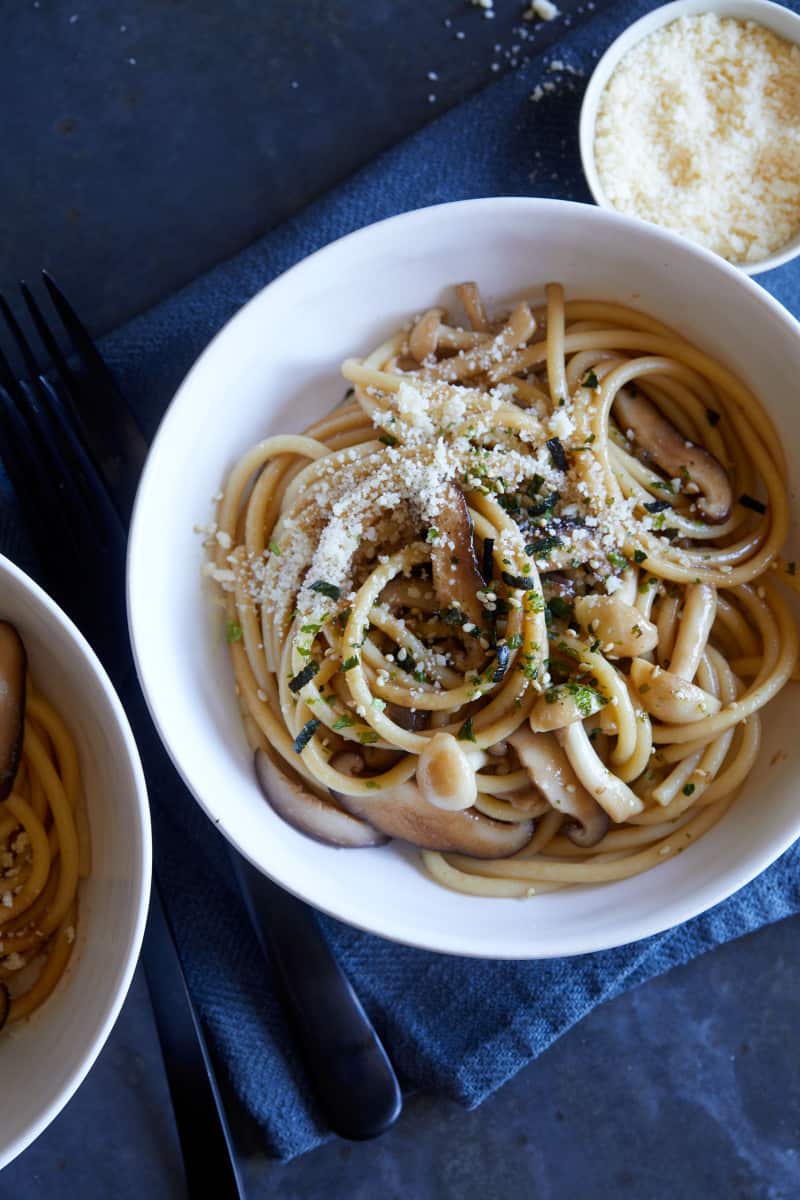 Hungry for more?
Subscribe to never miss a recipe.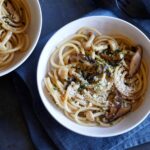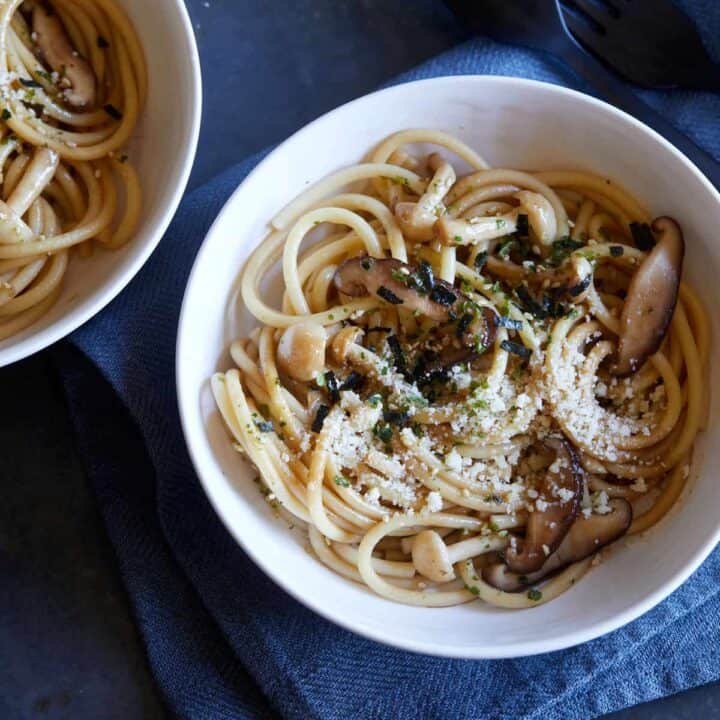 ---
Wild Mushroom Wafu Pasta with a Soy Butter Sauce (Japanese-Style Spaghetti)
INGREDIENTS
8

ounces

dry spaghetti

2

tablespoons

extra virgin olive oil

4

ounces

shitake mushrooms, cleaned stemmed and thinly sliced

4

ounces

king oyster mushrooms, cleaned and thinly sliced or chopped

4

ounces

beech mushrooms, cleaned and cut from the 'base'
soy-butter sauce
3

tablespoons

unsalted butter, divided

1

tablespoon

minced shallots

1

garlic clove, minced

¼

cup

mirin

¼

cup

dashi (Japanese stock)

or fish/vegetable stock

2

tablespoons

low sodium soy sauce

salt and white pepper to taste

furikake

garnish

grated Parmesan

garnish
INSTRUCTIONS
Fill a large pot with water and bring to a boil over high heat. Add a small handful of salt to the water and add spaghetti. Cook spaghetti until al dente, 6 to 7 minutes, stirring occasionally. Drain pasta and set aside.

Place a skillet over medium heat and heat oil. Once skillet is hot add mushrooms and sauté until brown, 2 to 3 minutes. Lightly season with salt and pepper and continue to sauté for an additional 1 to 2 minutes. Transfer mushrooms to a plate and set aside.

Place skillet back onto the stove and add 1 tablespoon butter.

Saute shallots and garlic for 2 minutes. Deglaze with mirin and cook until skillet is almost dry.

Add dashi and soy sauce to the skillet and boil until mixture has been reduced by ½.

Stir remaining butter into the skillet. Add mushroom mixture and pasta to the skillet and toss together until fully and well coated. Adjust seasonings if needed and finish wit a sprinkle of furikake and grated Parmesan. Serve.