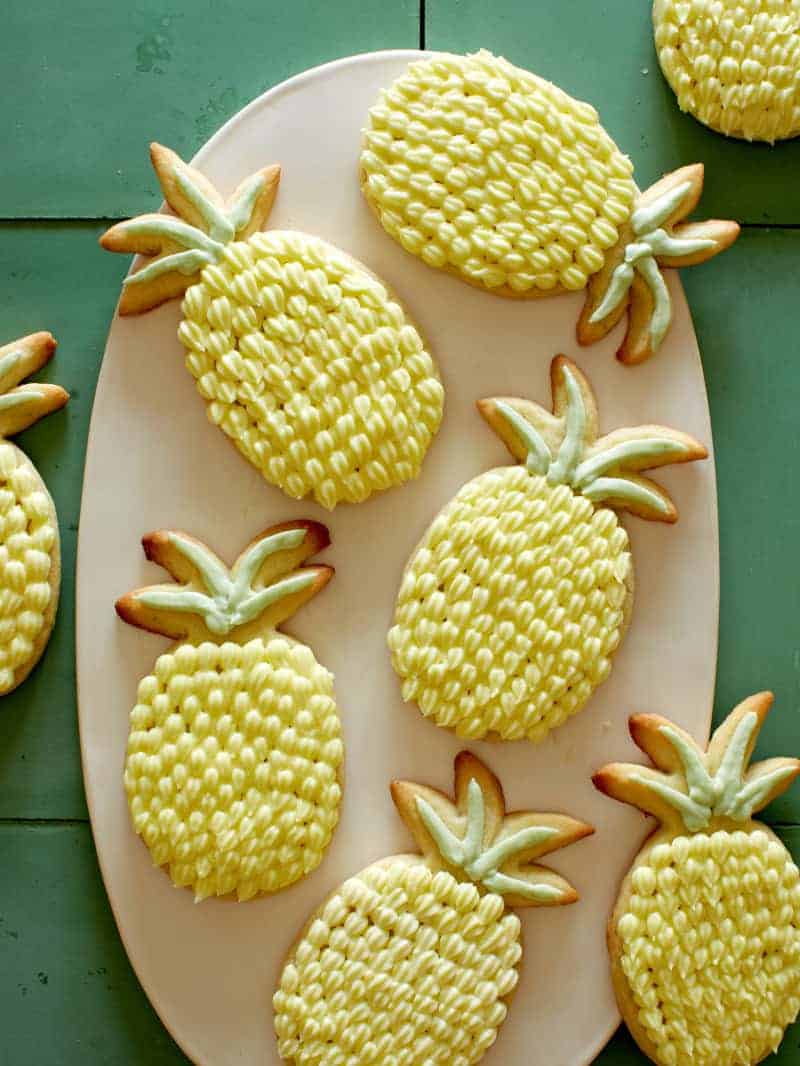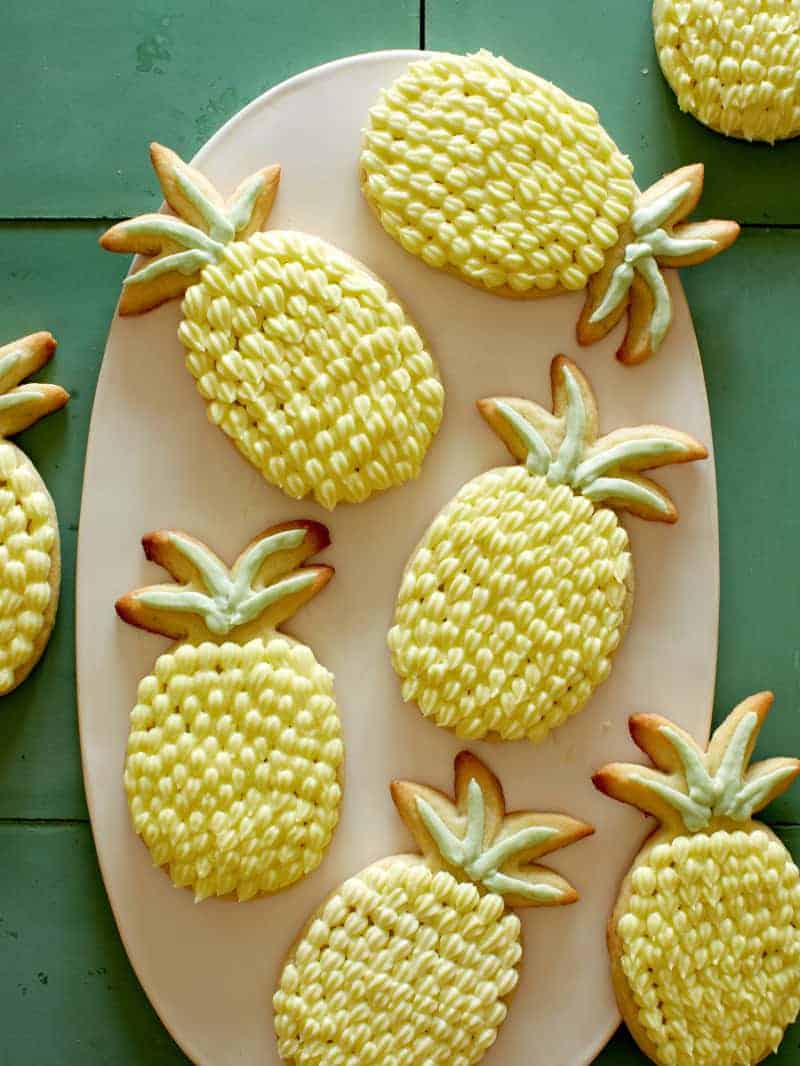 My husband and I just got central a/c installed in our home and we're sort of freaking out about it. I haven't had air conditioning in my home since I moved out of my parents house…14 years ago! We also had it installed at the perfect time, because a heat wave basically hit LA right after we had it put in, so success!
In a really nerdy way, I'm most excited to have central air at home so I can cook and bake during the summer months, without having to open all my doors and windows, turn on 5 fans and stand in front of the opened freezer door every 10 minutes! Something I'm definitely making this Fourth of July are these Lime Sugar Cookies with a Pineapple Buttercream! I love these cookies so much. They can be a bit time consuming to make, but are so tasty and they're always a hit with friends and family.
We're reposting this recipe for you today because it's one of our favorite ones from 2016, so naturally we'r bringing it back this summer! Enjoy! xx, Jenny
RECIPE REPOST! This recipe was originally posted on July 23rd, 2016.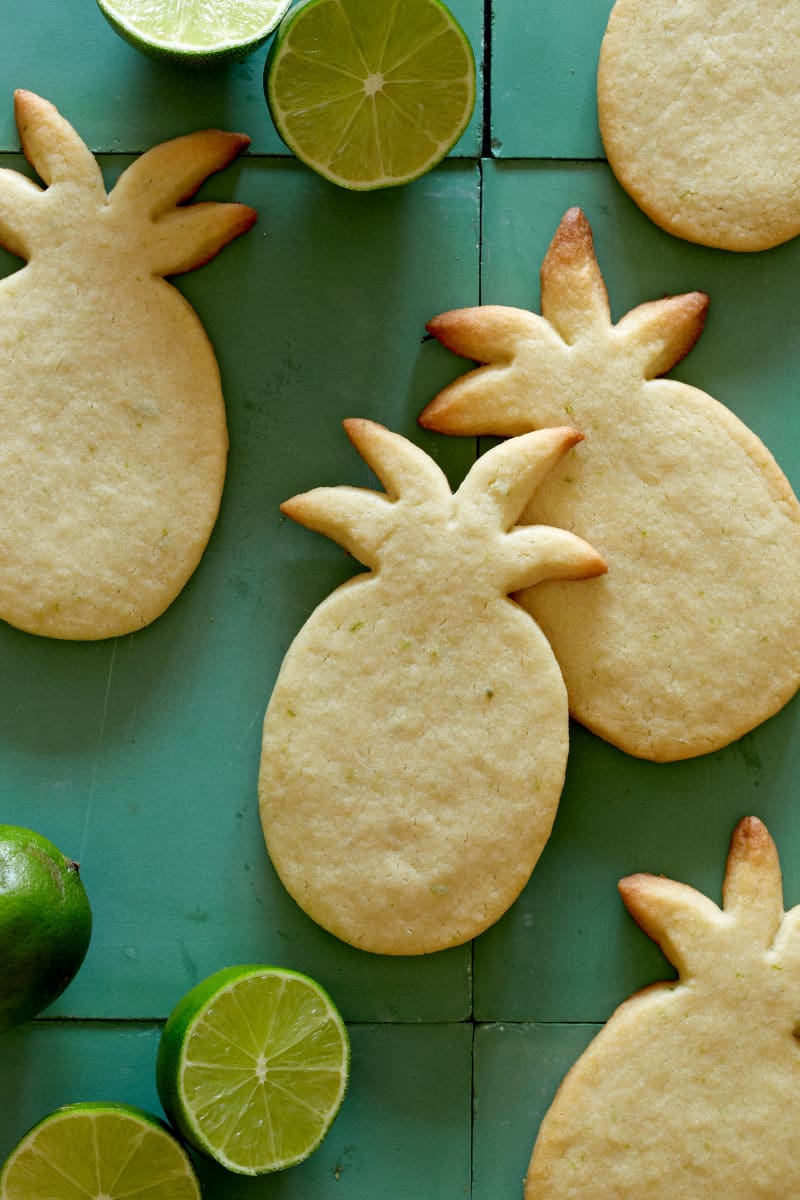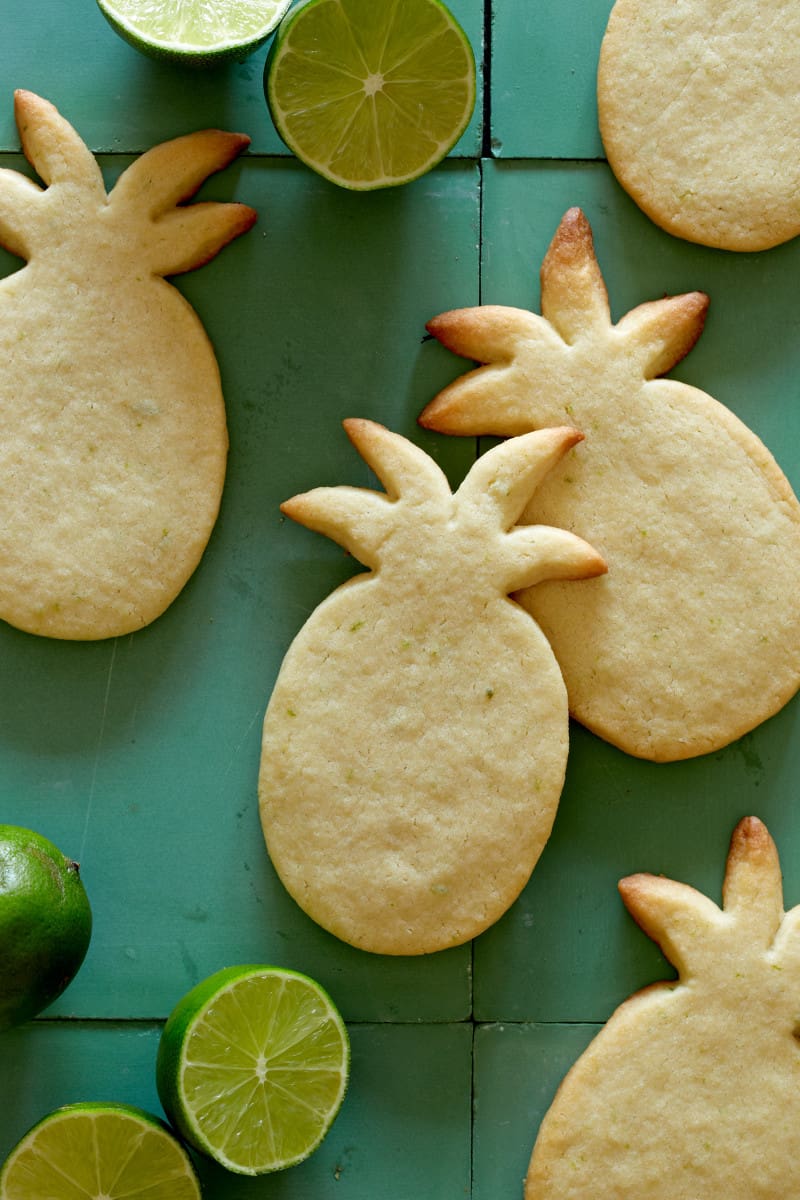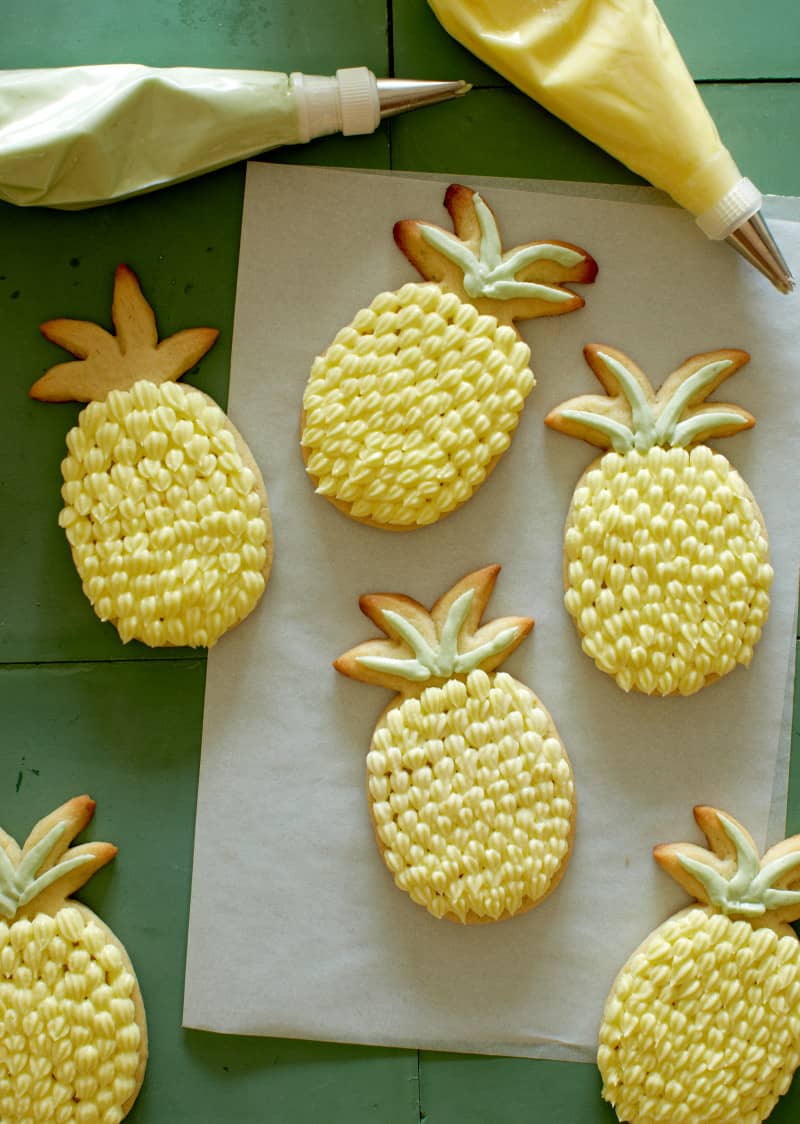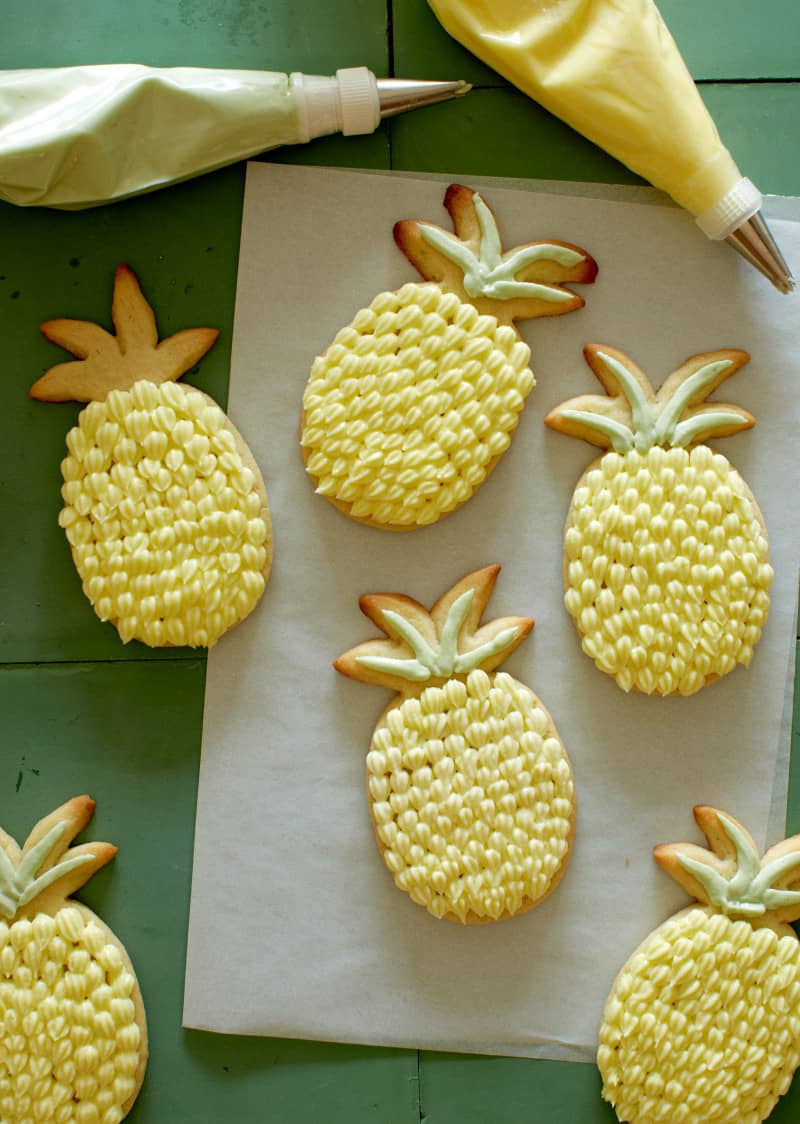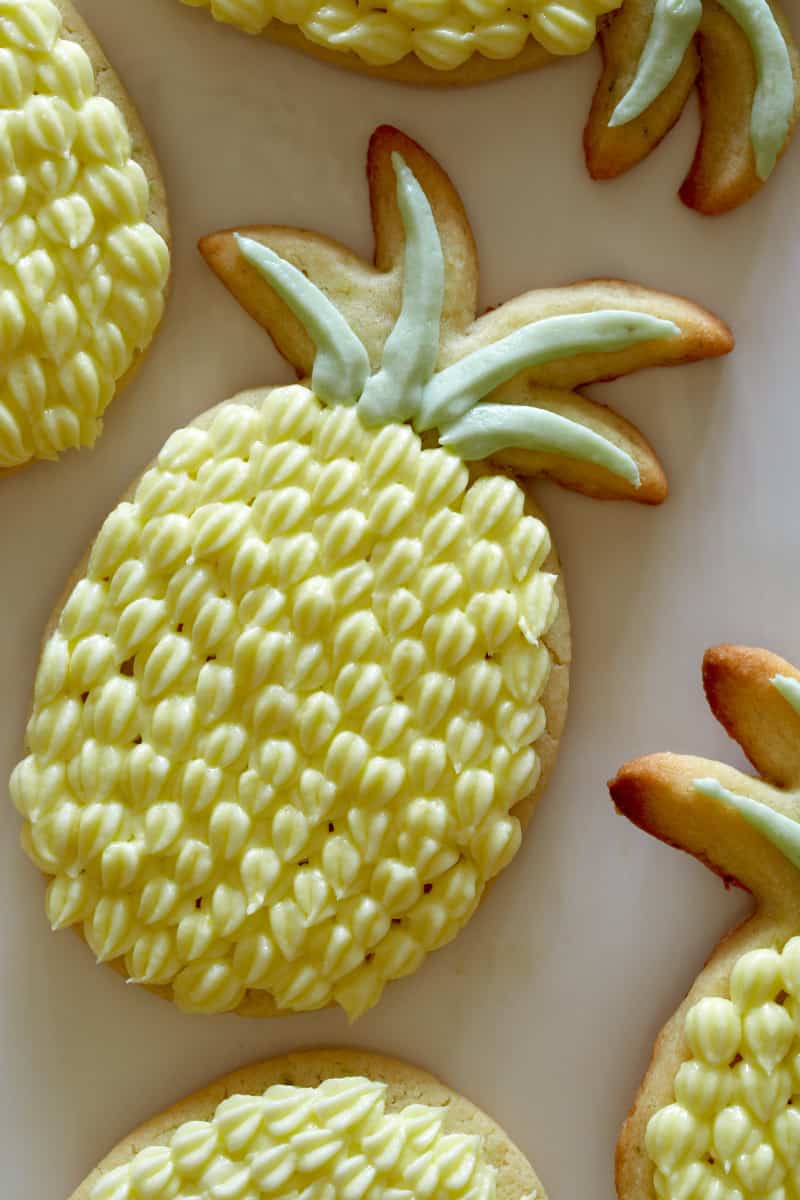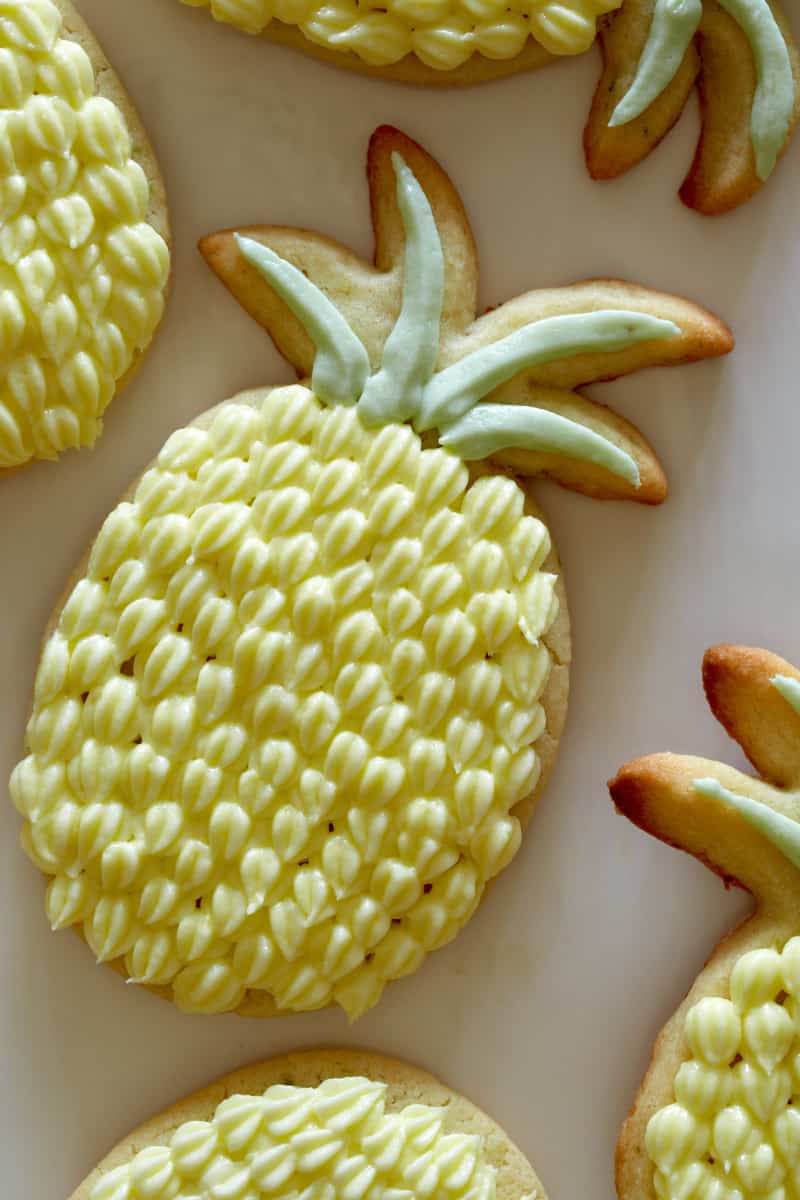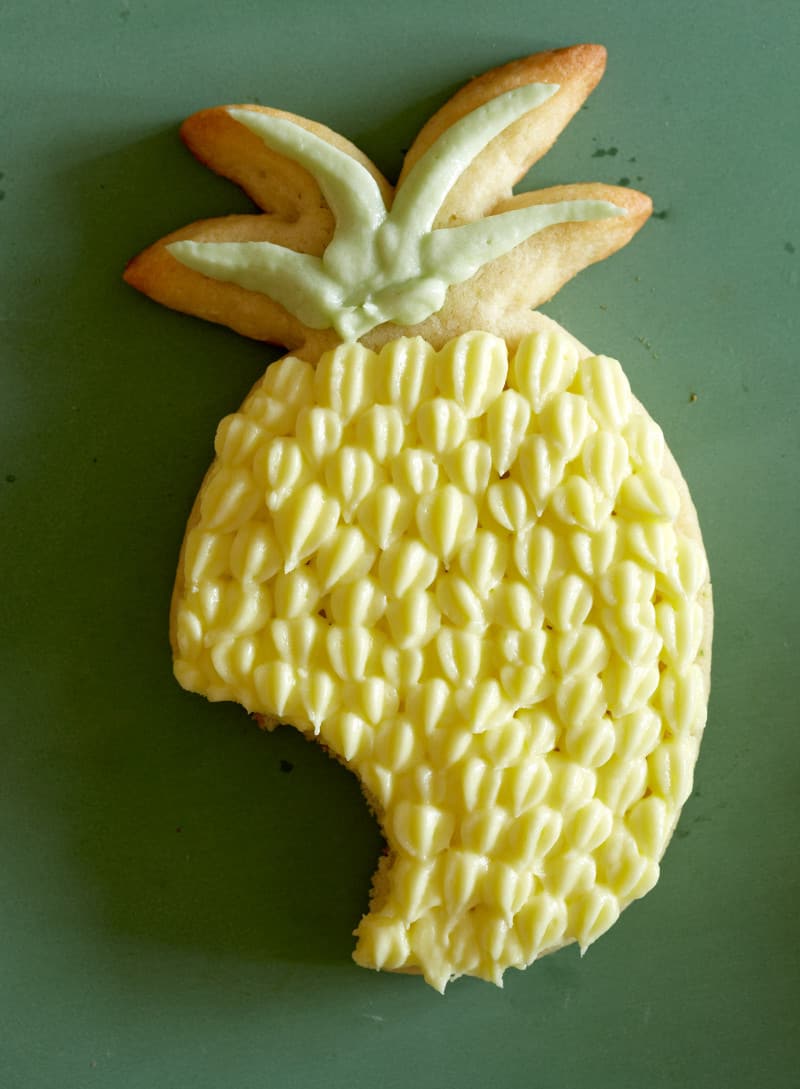 Hungry for more?
Subscribe to never miss a recipe.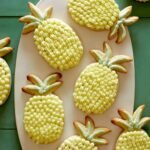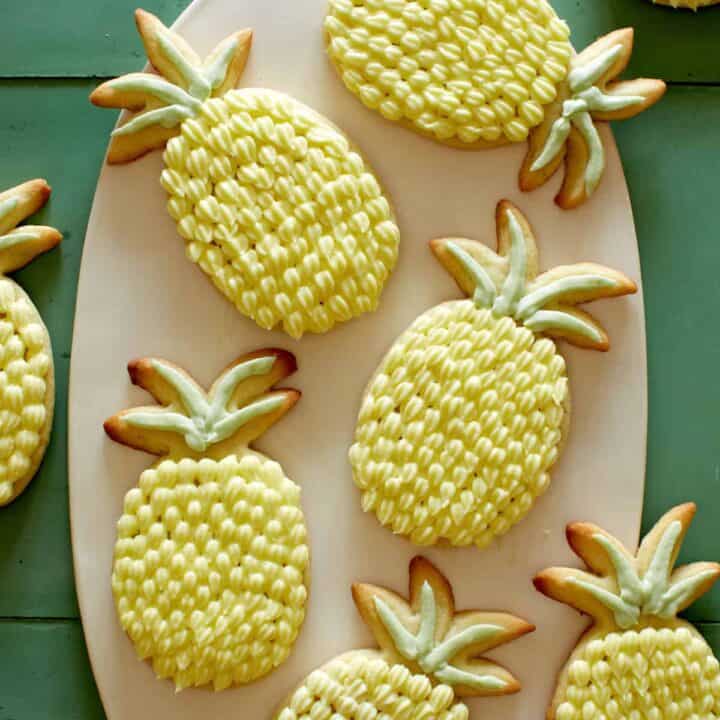 ---
Lime Sugar Cookies with Pineapple Buttercream
EQUIPMENT
1 (2"x3.5") pineapple shaped cookie cutter
INGREDIENTS
lime cutout cookies
2 ¾

cups

all purpose flour, plus more for dusting

2

teaspoons

baking powder

1

tablespoon

fresh lime zest

1

cup

(2 sticks) unsalted butter, softened

1

cup

superfine sugar

1

large egg, room temperature and lightly beaten

1 ½

teaspoons

vanilla extract
pineapple buttercream
1

cup

(2 sticks) unsalted butter, softened

1

pound

powdered sugar, sifted

⅓

cup

fresh pineapple juice

pinch salt

yellow food coloring

green food coloring
INSTRUCTIONS
For cookies: Preheat oven to 400˚F.

In a mixing bowl, combine flour, baking powder and lime zest. Whisk together and set aside.

In a stand mixer, fitted with a paddle attachment (or with a hand mixer), cream together butter and sugar. Until light and fluffy.

Add egg and vanilla to the butter mixture and continue to mix together.

Stir the dry mixture into the wet mixture and beat together until smooth dough forms, scraping down the sides of the bowl as needed.

Lightly dust a clan surface and roll the dough out until about ¼" thick.

Using your pineapple cookie cutter, cut out as many cookies as possible, rerolling the dough scraps as needed.

Transfer cookies onto a parchment lined baking sheet, about 1 ½" apart and bake for 7-9 minutes or until the cookies have just baked through and are barely brown around the edges.

Allow cookies to cool completely before frosting.

Pineapple buttercream: In a mixing bowl beat butter until light and fluffy. Add sugar, 1 cup at a time, until fully incorporated (the mixture will be extra stiff and thick at this point). Beat in pineapple juice, 1-2 tablespoons at a time until fully incorporated and the buttercream is light and fluffy.

To assemble: Divide the buttercream into 2 mixing bowls. The first bowl should have ¾ of the buttercream mixture with the remaining buttercream in the second bowl. Add a couple drops of yellow food coloring into the first batch and a couple drops of green into the second (if using professional grade, you'll only need a drop or two the size of a pinhead) and mix together until smooth and each buttercream batch is uniformly one color.

Fill a piping bag, fitted with a small star tip, with the yellow buttercream. Pipe small beads of buttercream, at a 45˚angle, in straight rows, over the rounded base of the cookie.

Once all the bodies of the cookies have been frosted, fill another piping bag, fitted with a small circle tip, with the green colored buttercream.

Pipe the green buttercream over the leafy tops of the pineapple cookies to finish decorating.

Set cookies aside and allow buttercream to slightly hardened. Serve.
NOTES
*Makes 30 cookies (using 2"x3.5" cookie cutter)
**These finished cookies can be stored in an airtight container and refrigerated for up to a week or frozen for up to 2 months. (if freezing, do not frost cookies until defrosted and ready to use)**
Calories:
239
kcal
Carbohydrates:
31
g
Protein:
2
g
Fat:
13
g
Saturated Fat:
8
g
Cholesterol:
38
mg
Sodium:
33
mg
Potassium:
21
mg
Fiber:
1
g
Sugar:
22
g
Vitamin A:
386
IU
Vitamin C:
1
mg
Calcium:
22
mg
Iron:
1
mg