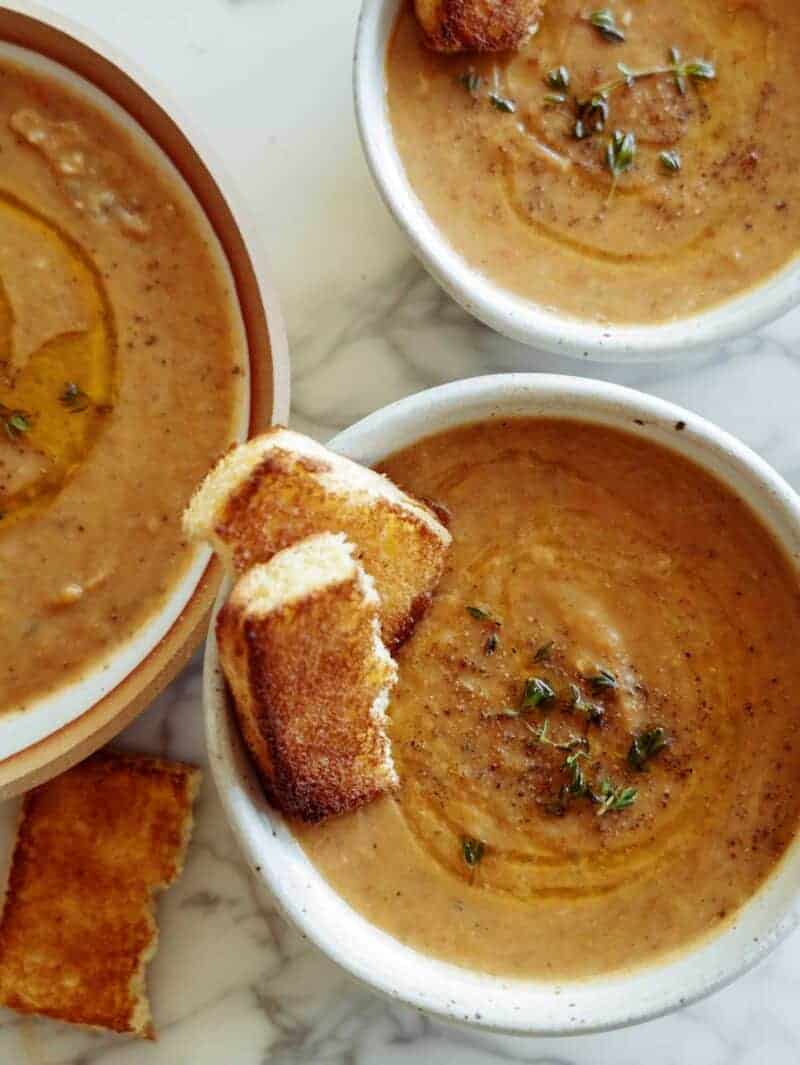 Since I have been making almost every meal at home during the pandemic, I always have leftover bits and pieces of produce. A quarter of an onion here, one carrot or part of a potato. I used to just roast them all and throw them on the side of some chicken which works pretty well, but lately I have been trying to figure out a different way to use up all my extra produce. Enter my new favorite recipe: Leftover Vegetable Soup.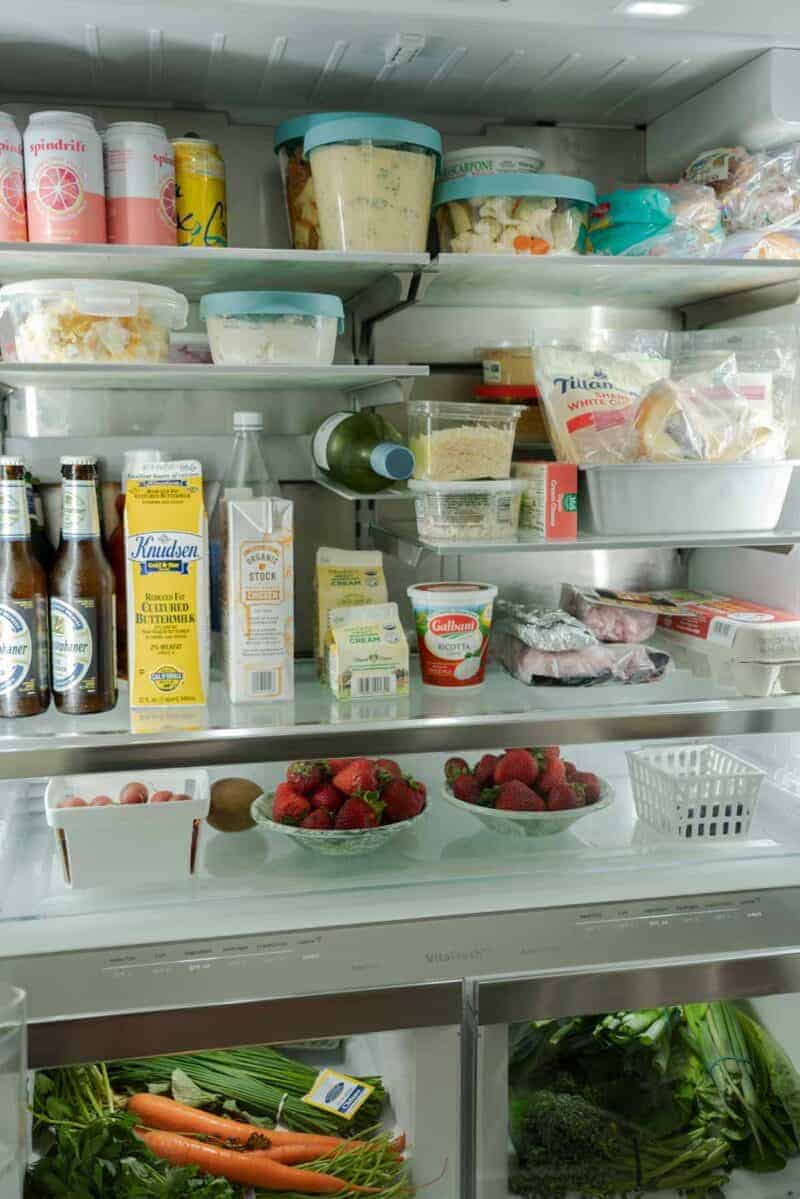 Mondays are our grocery day. It's usually less busy, and we find we can get in and out pretty quick if we stick to our list. It also helps that we know where everything is located in our grocery store, so we try and order our list based on the way the store is organized. This also means we don't have to keep walking back and forth to the same section of the store multiple times. Once we get home (and wipe everything down) we start to organize the refrigerator. Check out my refrigerator organization post if you haven't yet! I refer to it a lot myself.

I find the best way to keep everything as fresh as possible for as long as possible is to make sure you are storing your produce in the correct place, and ensuring the temperature and humidity are correct. For produce and vegetables, the best place is usually the bins at the bottom. My Bosch refrigerator uses a four-point FarmFresh System, including two VitaFreshPro bins with pre-programmed freshness settings that make my job super easy – I just select what I'm storing and it balances both temperature AND humidity. The system also uses MultiAirFlow and an AirFresh Filter to maintain consistent temperatures and air flow, while removing any unwanted odors, which really helps everything stay fresh. And, a FreshProtect Filter slows down the ripening process by absorbing naturally occurring Ethylene gas emitted from certain fruits and vegetables to help me to waste less.


In addition to these assists from my new refrigerator, I try to come up with recipes that center around frequently discarded ingredients. One new trick that really helps is when I have a recipe that calls for four carrots, but the bunch I bought comes with six, I cut up the extra two and toss them into a big glass container. Thus, the secret to my Leftover Vegetable Soup: I store all the extra bits of produce here that I accumulate over the week so I can make this tasty soup!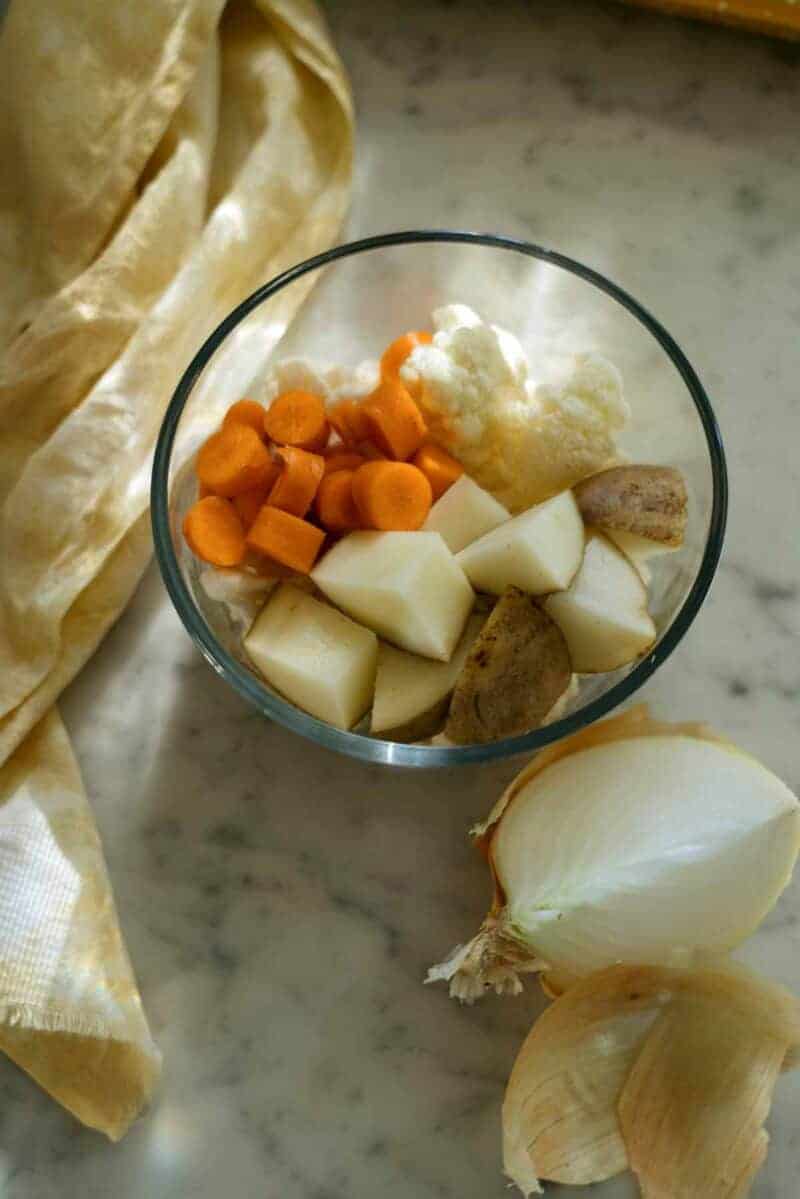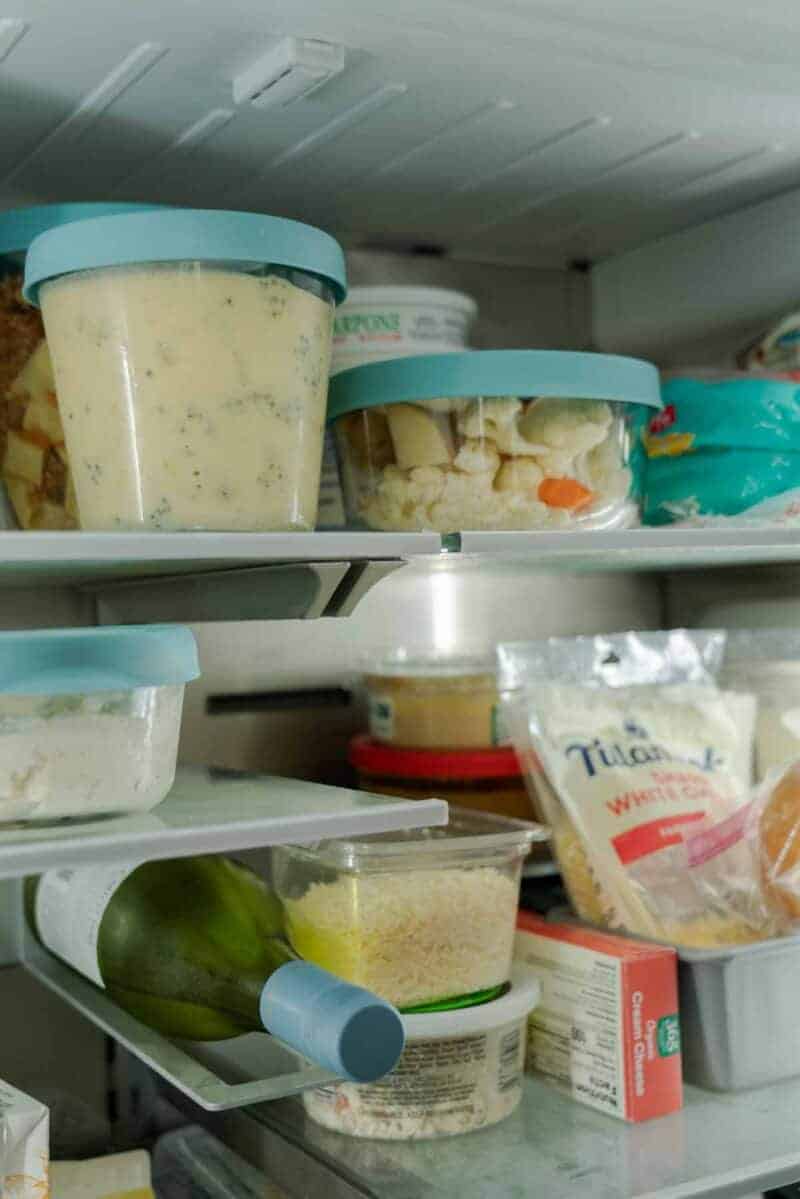 This soup is really easy to make, and the recipe is super flexible. The only thing you really need is two pounds of vegetables. If you don't have enough vegetables, you can either cut the recipe in half or freeze your vegetables until you have enough to make the whole recipe. This route is further simplified by my three-tiered Bosch freezer—I can pop this bowl into the top drawer of the freezer where it's easy to see, and add to it over time so it's ready for cooking up when I am!

You start out by roasting all your vegetables, making sure they get nice and toasty! I am roasting in my Bosch 800 Series wall oven. With the remote start feature activated via the Home Connect app, I can preheat my oven from almost anywhere, which usually happens while I'm rummaging through the refrigerator, rounding up all my veggies. After the vegetables are roasted, add them to a pot with your sautéed garlic and onions or shallots. Then add the stock to simmer for a bit. Next, transfer that mixture to a blender to blend until smooth, or use an immersion blender if you have it. Once it's blended, you can add a splash of cream if you want. It's that simple!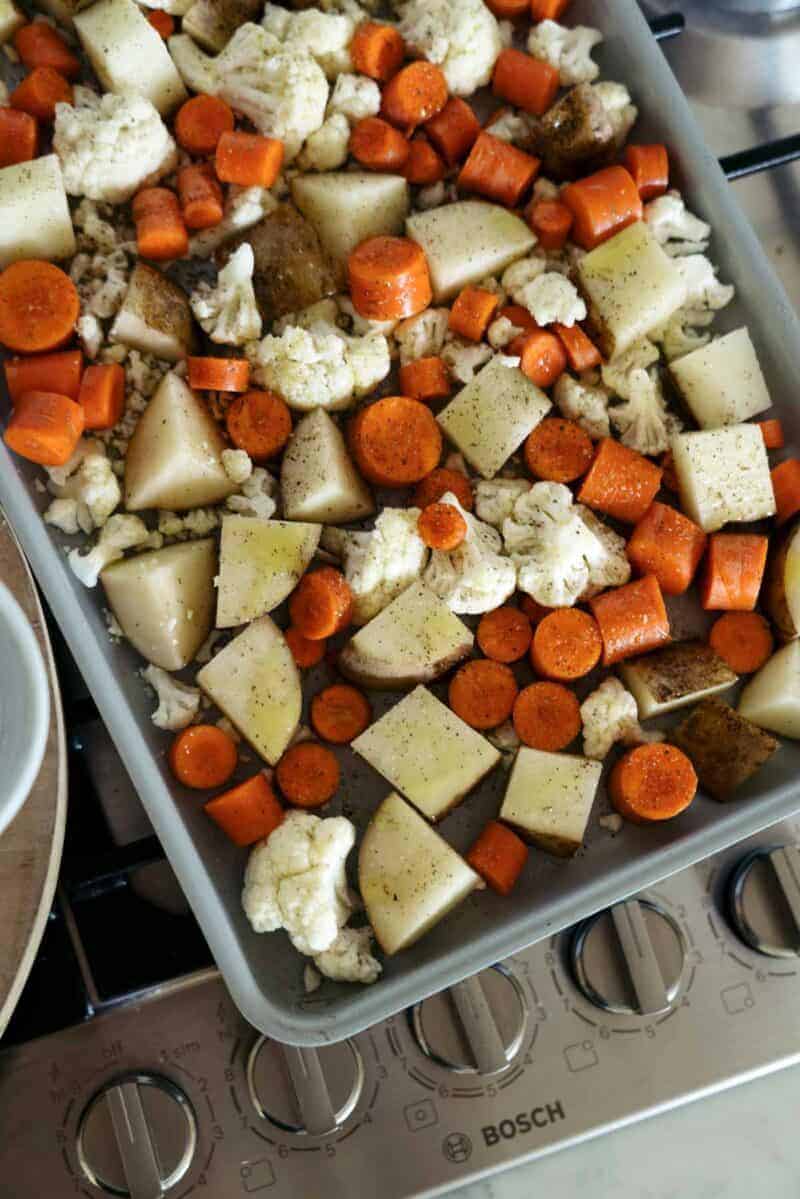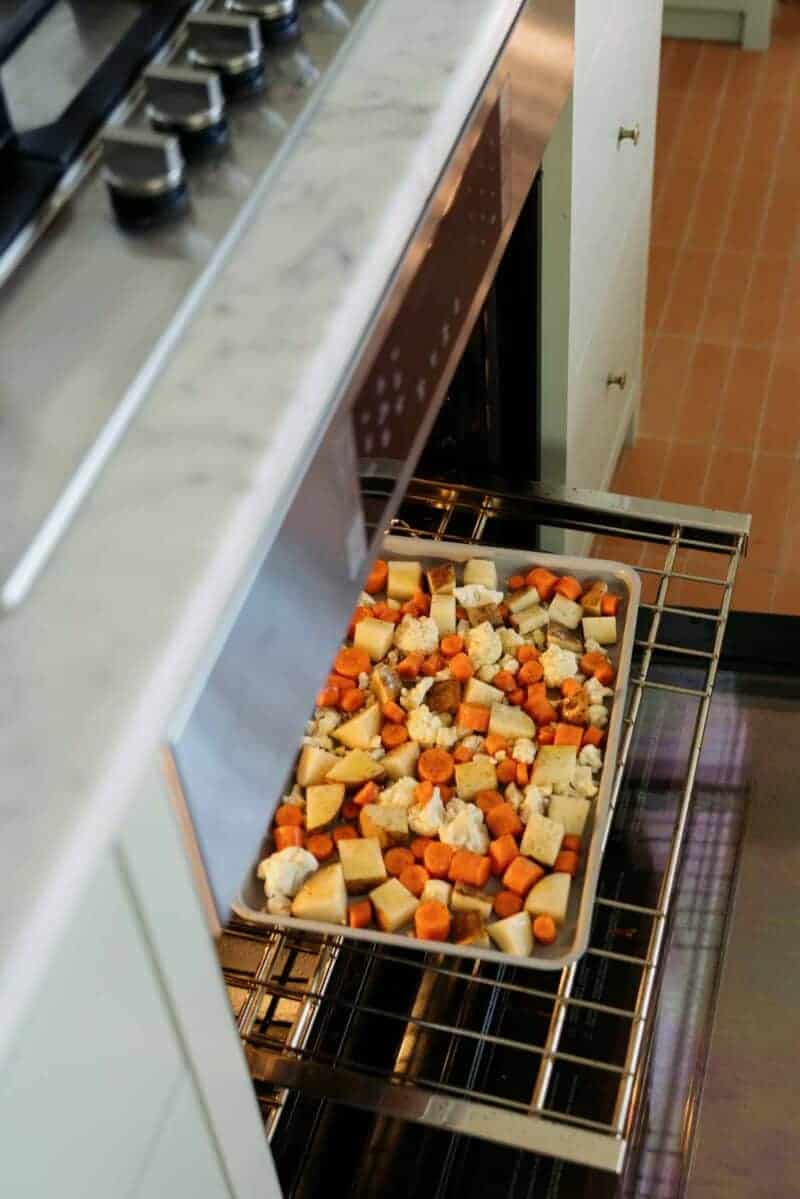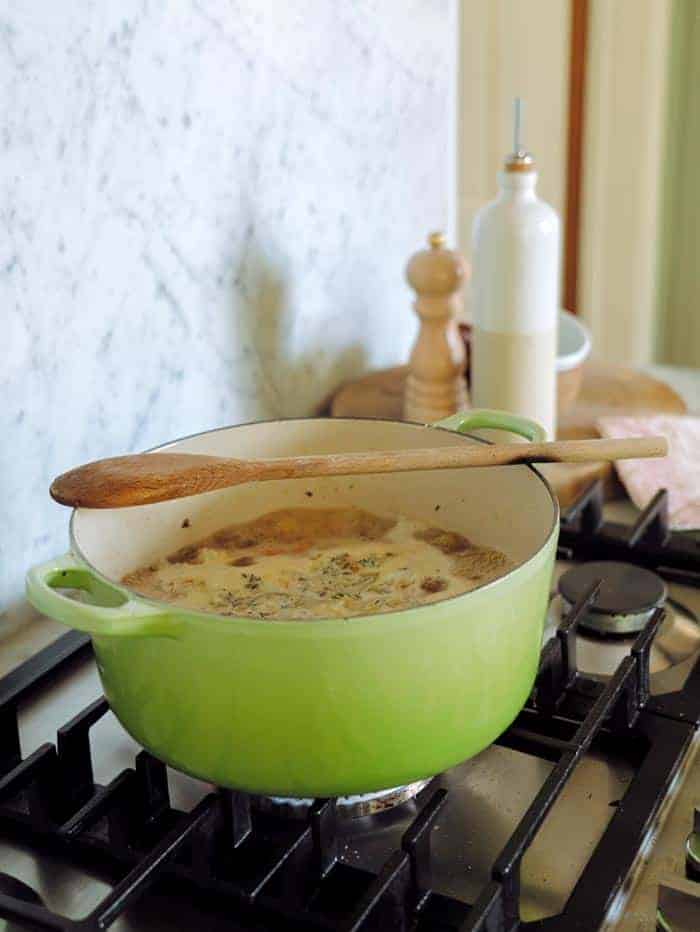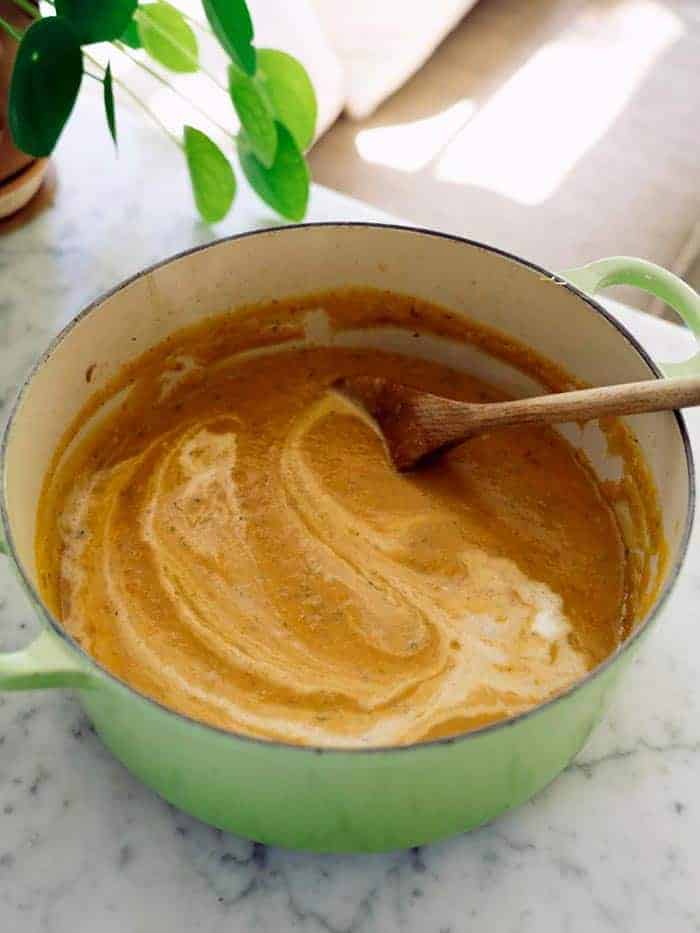 I love keeping this soup in the fridge for an easy lunch with some toasty bread or adding in some left-over chicken if I have it! This recipe is the perfect way to make a delicious meal while using every bit of my groceries. Try it out with whatever you have at home and let me know what you think or what some of your favorite veggie combos are!
Hungry for more?
Subscribe to never miss a recipe.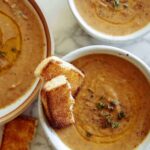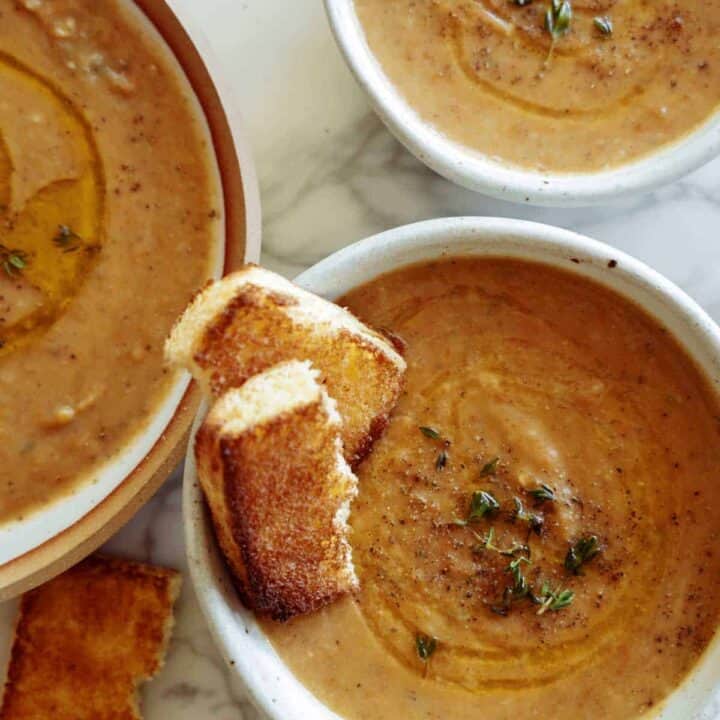 ---
Leftover Vegetable Soup
This Leftover Vegetable Soup recipe is designed to use any leftover vegetables you may have on hand, bits and pieces of recipes throughout the week. It's a great way to utilize all your food, and helps reduce your food waste!
INGREDIENTS
2

pounds

vegetables

like carrots, potatoes, parsnips – anything really! peeled and roughly chopped

3

tbsp

olive oil

plus more for garnish

3

shallots

chopped, or half a yellow onion chopped

3

garlic cloves

minced

2

tbsp

thyme

minced, plus more for garnish

2

tsp

cumin

5

cups

vegetable stock

plus a little extra as needed

2

tbsp

unsalted butter

salt and pepper to taste

¼

cup

cream

optional
INSTRUCTIONS
Spread vegetable of choice onto a baking sheet and toss in 2 tablespoons oil. Season with salt and pepper and spread into a single layer.

Roast carrots for 25-35 minutes or until fork tender, tossing around 15 minutes into the roasting process. Remove from oven.

Place Dutch oven onto stove over medium heat. Add remaining oil to pot.

Add shallots (or onions) and garlic to pot and sauté for 3 to 4 minutes.

Add thyme and cumin and continue to sauté for 3 to 4 minutes.

Add carrots and stock to pot, simmer for 15 minutes.

Allow mixture to slightly cool.

Carefully pour mixture into a blender (this can be done in batches), add butter, salt and pepper and puree until smooth.

Add more stock if mixture is too thick and continue to puree until smooth.

Pour mixture back into the pot and adjust seasonings. Simmer for about 5 minutes.

Ladle into bowls and drizzle with extra virgin olive oil and fresh thyme leaves. Serve.
Serving:
1
serving
Calories:
379
kcal
Carbohydrates:
40
g
Protein:
9
g
Fat:
23
g
Saturated Fat:
9
g
Cholesterol:
36
mg
Sodium:
1293
mg
Potassium:
603
mg
Fiber:
10
g
Sugar:
4
g
Vitamin A:
12717
IU
Vitamin C:
31
mg
Calcium:
101
mg
Iron:
4
mg
KEYWORD:
vegetable soup, vegetables
(A special thanks to Bosch for collaborating with me on this post.)