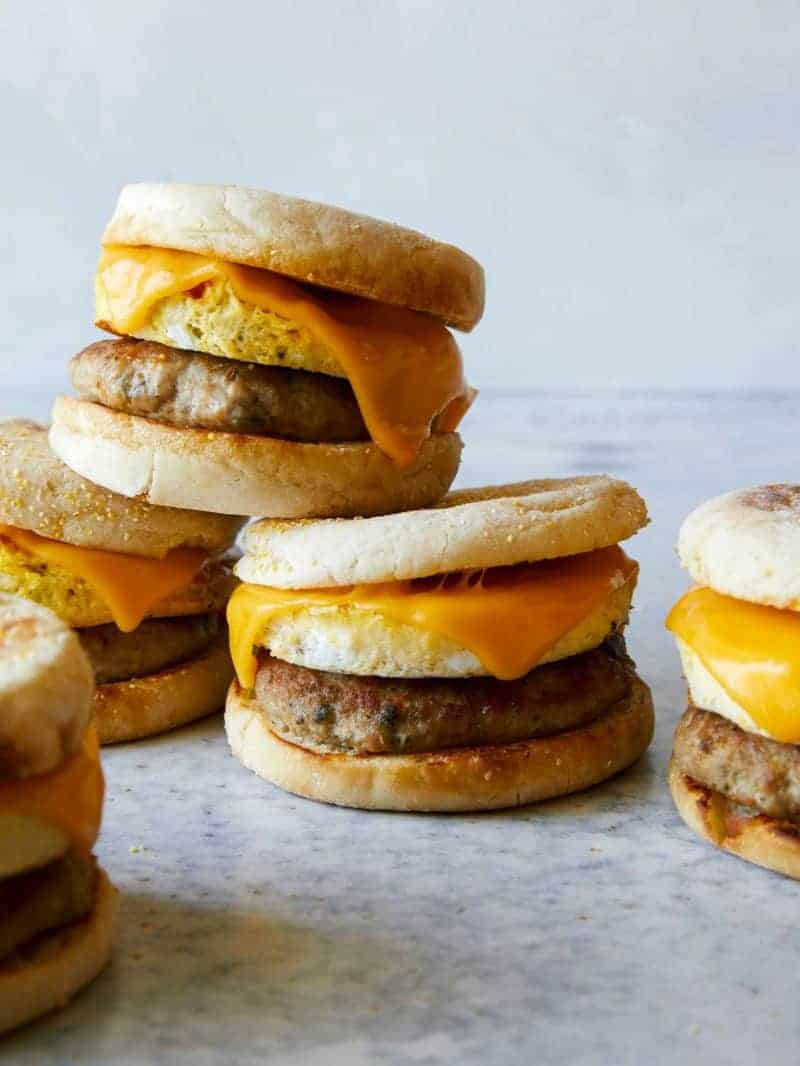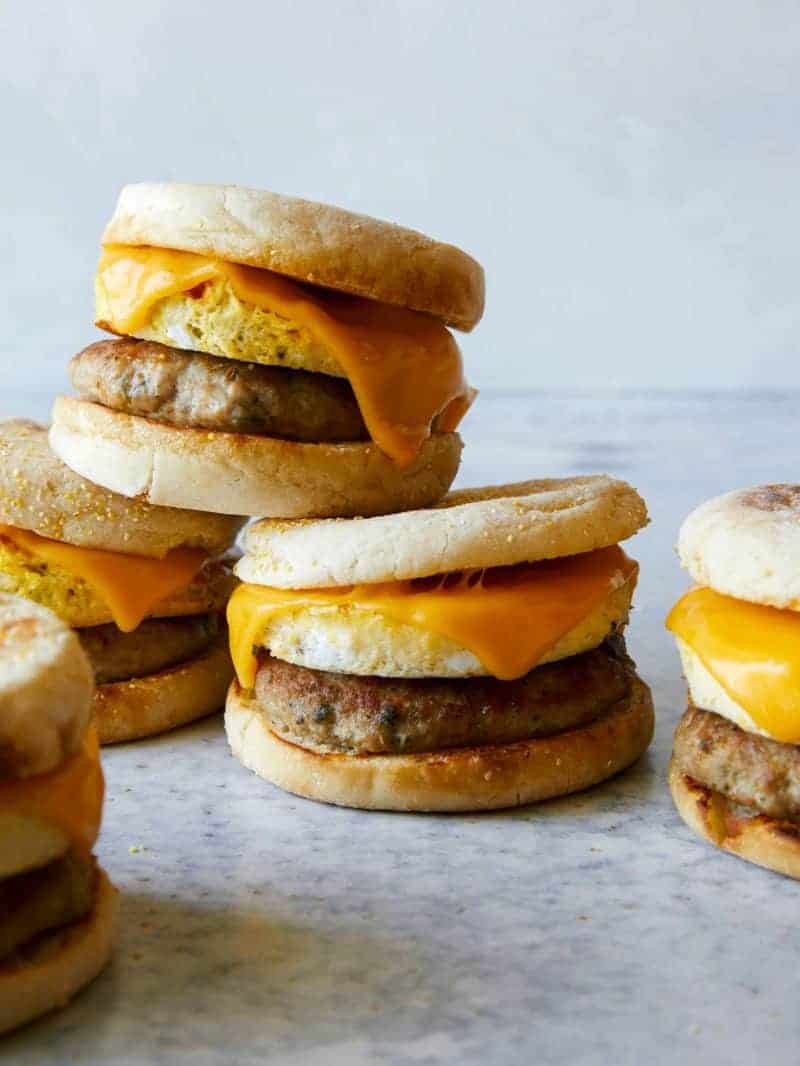 I'm officially in my 28th week of pregnancy and aside from freaking out a little (lol), I'm just starting to fill my freezer up with pre-made meals. I know life is going to change in a couple months and things are going to get a little more hectic in my and my husband's life, so I think having some pre-made meals, that we can just pull out of the freezer and stick in the oven, will make things just a little bit easier for us. One of the things I've been making are these Freeze Ahead Turkey Sausage Breakfast Sandwiches!
I love these easy to make and super delicious freeze ahead turkey sausage breakfast sandwiches. The homemade turkey patties ensures that they're healthier and that they're chocked full of flavor! You can make a bunch of these sandwiches at a time and they freeze really well! I love using these resealable gallon sized silicone freezer bags to store them in. They do a great job keeping things neat and tidy in the freezer, they don't take up a lot of excess space, they do a great job preventing freezer burn, and best of all they help to reduce a little more plastic waste!
Whether or not you're expecting a new addition in your family, everyone needs to make (and freeze!) these sandwiches. They're perfect for busy mornings or even lazy mornings and keep you nice and full of energy all morning long! If you're a fan of freeze ahead meals we also have these pork and shrimp dumplings.  One recipe make a bunch and they freeze really well for a quick and easy dinner option! Enjoy! xx, Jenny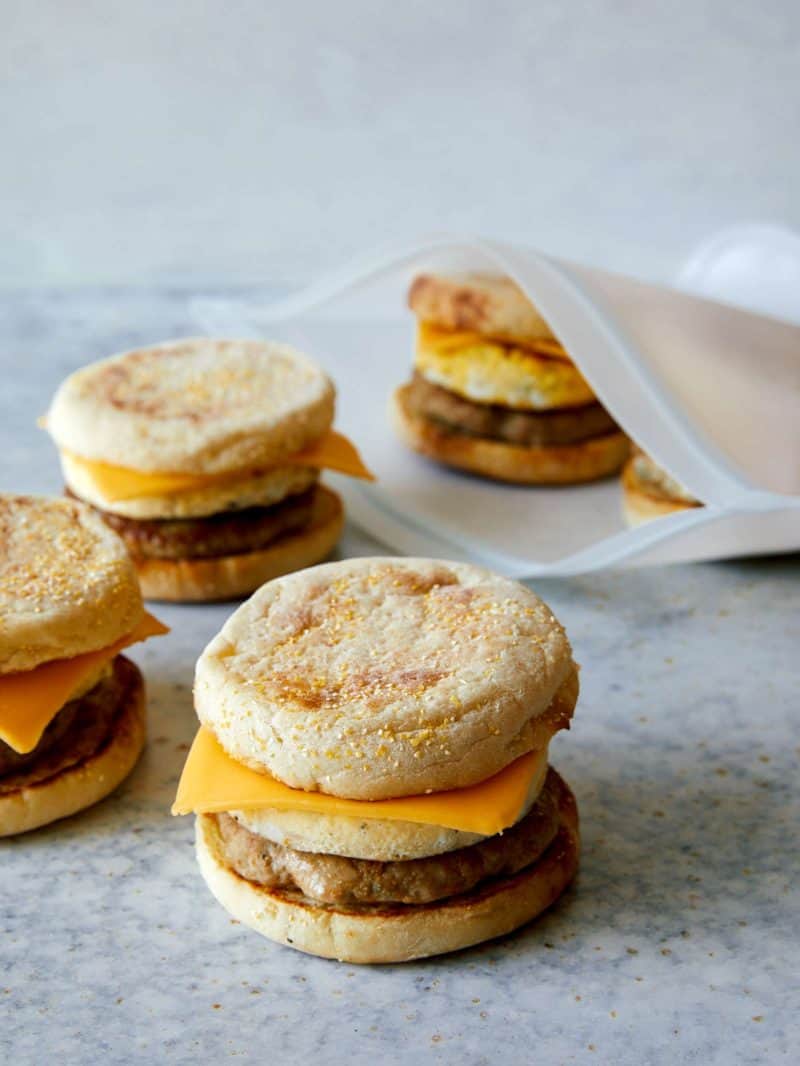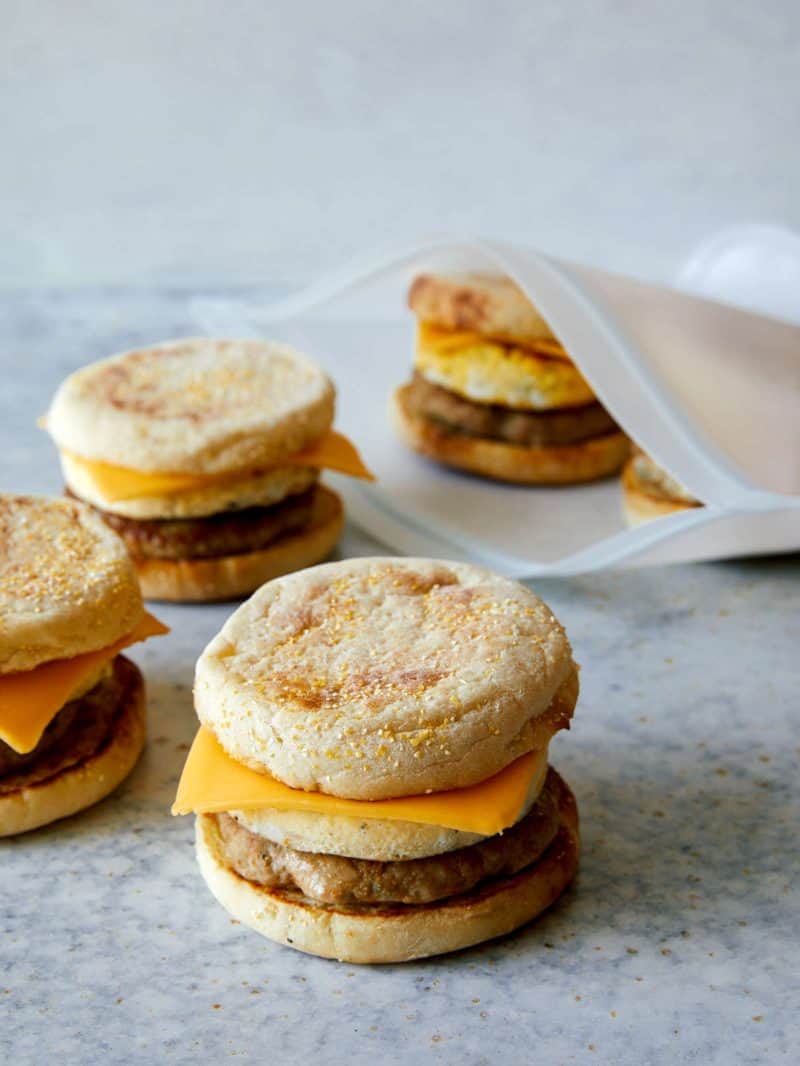 Hungry for more?
Subscribe to never miss a recipe.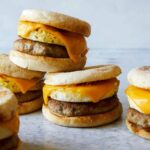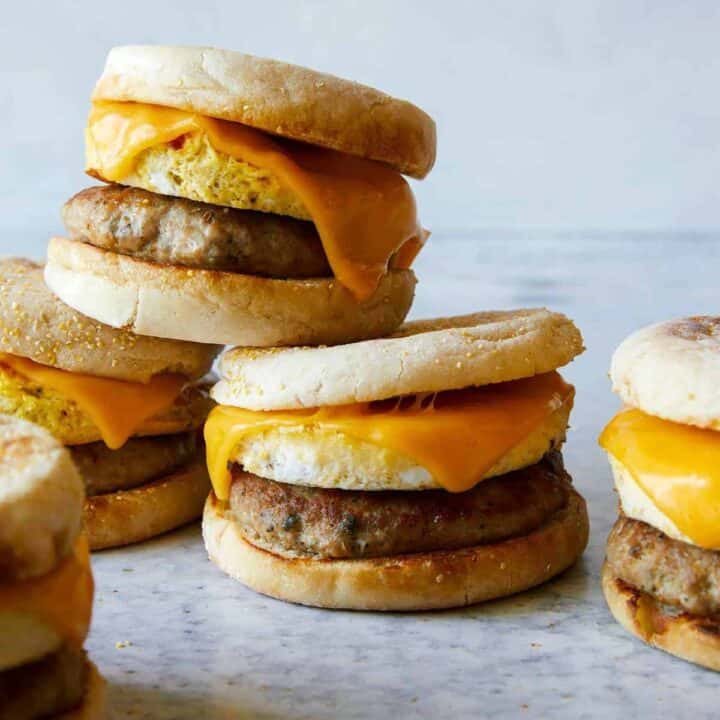 ---
Freeze Ahead Turkey Sausage Breakfast Sandwiches
INGREDIENTS
turkey breakfast sausage
1 ½

pounds

ground turkey

1

tablespoon

minced sage

2

teaspoons

minced marjoram

2

teaspoons

crushed fennel seeds

1 ½

teaspoons

salt

1

teaspoon

garlic powder

½

teaspoon

cracked black pepper

2

tablespoons

vegetable oil, divided

6

slices

American cheese

6

English muffins, split
INSTRUCTIONS
Lightly grease a 9"x13" baking dish and pour in beaten eggs.

Bake eggs for 20 to 25 minutes or until set. Remove from oven and cool.

Using a 4 inch circle cutter, cut out 6 egg rounds and set aside.

Place all turkey sausage ingredients into a mixing bowl and mix together until completely combined.

Divide mixture into 6 balls and flatten each ball into 4 inch wide patties, about 1/2 inch thick.

Place a large skillet over medium-high heat. Add 1 tablespoon oil and swirl around skillet to cover.

Add half of the patties to skillet and sear on each side for 3 to 4 minutes. Lower heat to medium and continue to cook until all patties have cooked through, another 3 to 4 minutes.

Transfer patties to a plate and set aside.

Pour remaining tablespoon of oil into the skillet. Raise heat back up to medium-high, add remaining patties and repeat step 8.

Transfer remaining cooked patties to plate with other turkey patties and cool.

To assemble: Once egg rounds and sausage patties are completely cooled, place a sausage patty over each split English muffin and top with an egg omelet round, followed by a slice of cheese and the English muffin tops.

Transfer English muffins to a gallon-sized silicone or plastic resealable bag, remove as much air from bag and seal. Place bag in freezer and freeze all the sandwiches, for up to 3 months, until ready to eat.

To serve: Preheat oven to 375˚F. Remove frozen sandwiches from freezer bag and transfer onto a baking sheet, 1 inch apart.

Toast sandwiches in oven for 12 to 15 minutes or until sandwiches have heated through and cheese has melted.
Calories:
511
kcal
Carbohydrates:
29
g
Protein:
46
g
Fat:
23
g
Saturated Fat:
11
g
Cholesterol:
411
mg
Sodium:
1381
mg
Potassium:
576
mg
Fiber:
2
g
Sugar:
1
g
Vitamin A:
702
IU
Vitamin C:
1
mg
Calcium:
316
mg
Iron:
3
mg