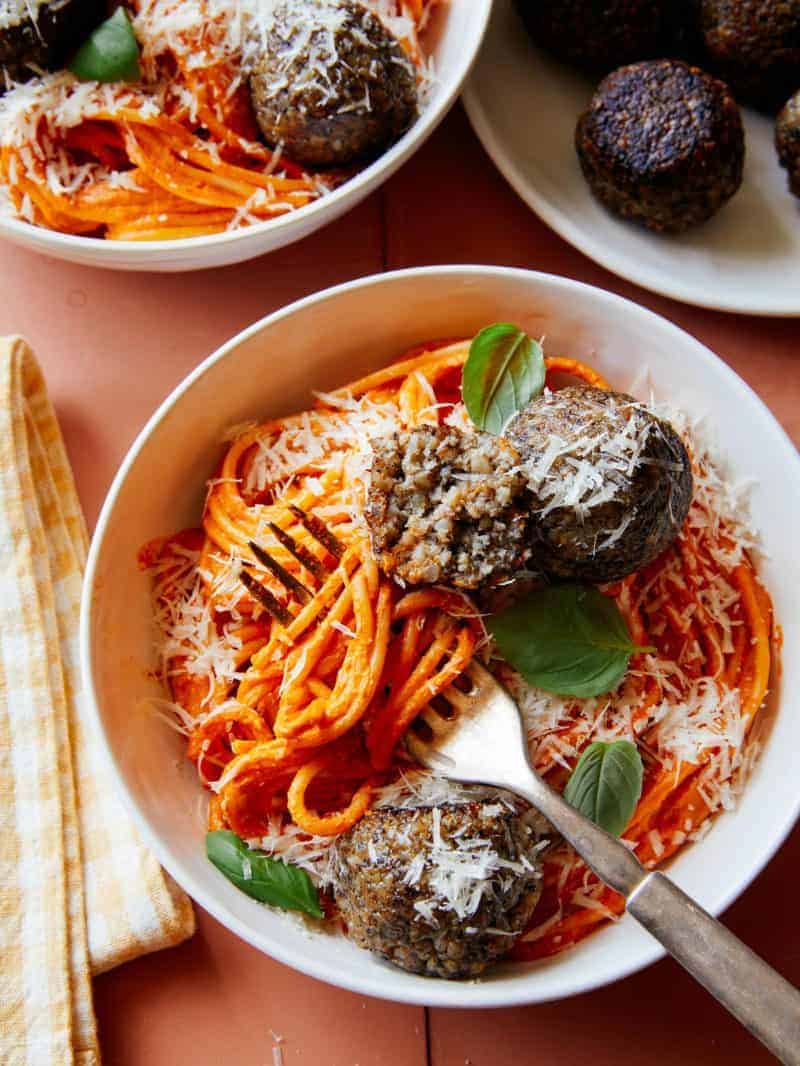 I love this entire recipe. From the mushroom and brown rice meatballs to the super creamy roasted red pepper sauce. It's so freaking good. All vegan! And super filling! A perfect meatless Monday dish for sure. I also think this sauce is pretty amazing in general. After we made this I took the leftovers home and put this sauce over roasted chicken and it was delicious. YUM. Enjoy! ♥ Teri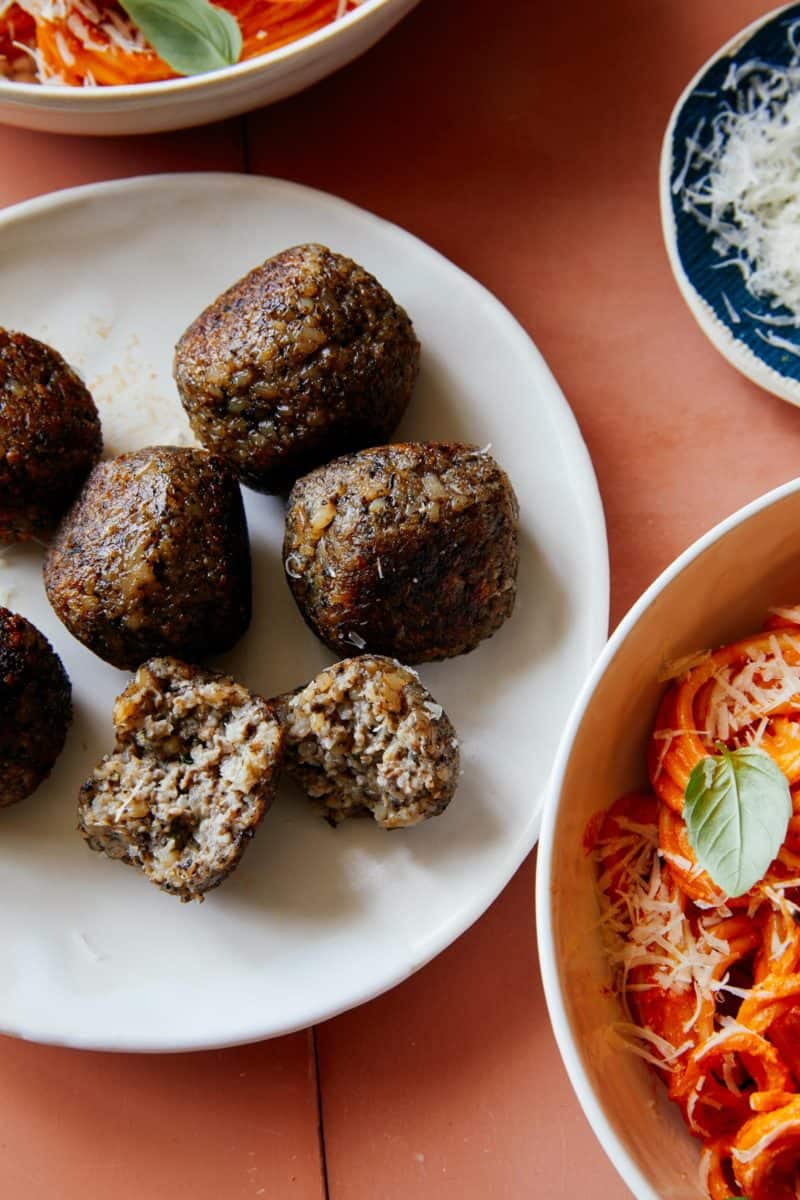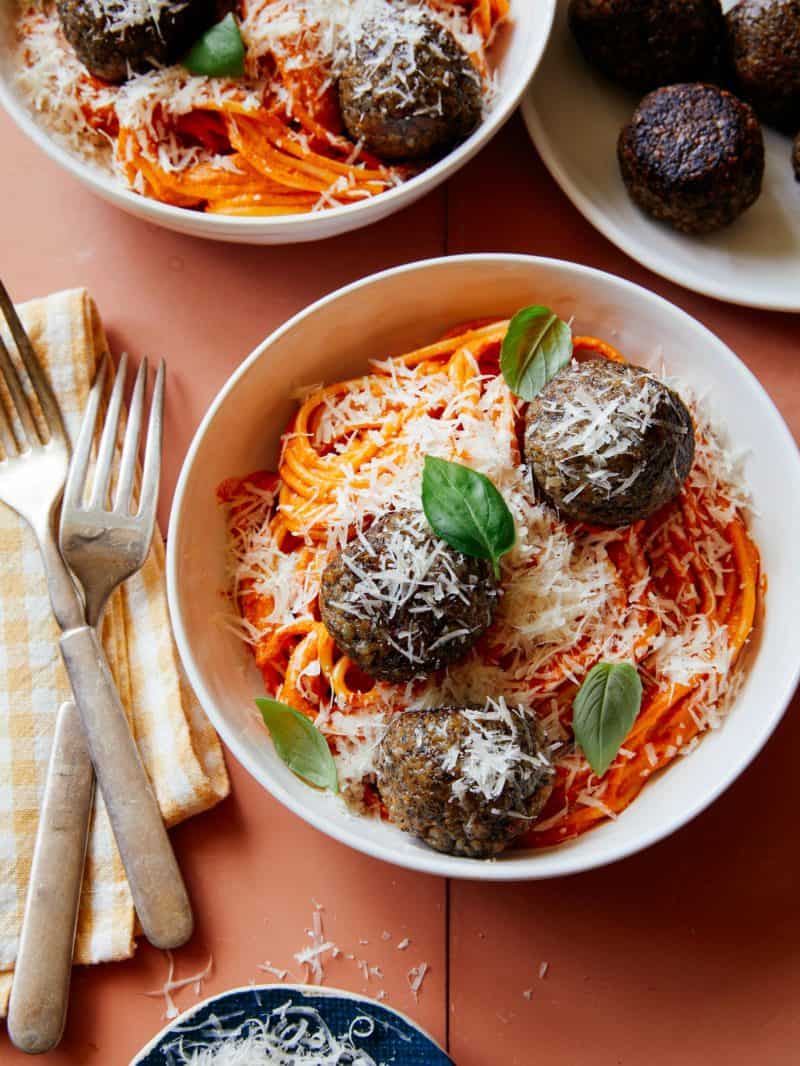 Creamy Vegan Roasted Red Pepper Spaghetti and Meatballs

Serves 4 to 5

Ingredients:
12 ounces bucatini
vegan meatballs:
2 1/2 teaspoons extra virgin olive oil, divided
8 ounces sliced cremini mushrooms
2 garlic cloves, minced
1/2 shallot, minced
1 cup cooked and cooled brown rice
1/4 cup panko breadcrumbs
1/4 cup flour
2 teaspoons minced basil
1 teaspoon minced oregano
1 teaspoon salt
1/2 teaspoon cracked black pepper
roasted red pepper sauce:
1 (16 ounce) jar roasted red bell peppers, drained
1/3 cup slivered almonds
1 1/2 tablespoons tomato paste
1 tablespoon extra-virgin olive oil
2 garlic cloves
1/2 lemon, juiced
3 1/2 tablespoons minced basil leaves
salt and pepper to taste
vegan shredded parmesan, optional
fresh basil leaves, optional

Directions:
1. Fill a pot with water, place over high heat and bring to a boil. Add a small handful of salt and bucatini and boil, stirring occasionally, until al dente, 6 to 7 minutes.
2. Drain pasta into a colander, reserving 2/3 cup pasta water. Set aside.
1. Vegan Meatballs: Place a large skillet over high heat. Once skillet is hot add oil. Add mushrooms and saute for 3 to 4 minutes. Add garlic and shallot and continue to saute for an additional 2 to 3 minutes. Lightly season with salt and pepper.
2. Stir in basil and oregano and remove mixture from heat. Set aside and allow mixture to cool, about 10 minutes.
3. Pour mushroom mixture and remaining meatball ingredients into a food processor and pulse until mixture comes together (8 to 12 pulses).
4. Form 1 to 1 1/2 tablespoon sized balls with the mixture and set onto a parchment lined baking sheet. Refrigerate meatballs for about 30 minutes.
5. Remove meatball from refrigerator. Place large skillet over medium heat and add remaining oil. Add meatballs to skillet and sear on each side for 2 to 3 minutes. Remove from heat and lightly season, if needed.

3. Roasted Red Pepper Sauce: Place all ingredients into a blender and puree until smooth. Pour mixture into skillet and place over medium-low heat. Stir in reserved pasta water and simmer for 2 to 3 minutes.
4. Add pasta and reserved pasta water into sauce and toss together until pasta is fully coated.
1. Top pasta with meatballs, Parmesan and basil leaves. Serve.