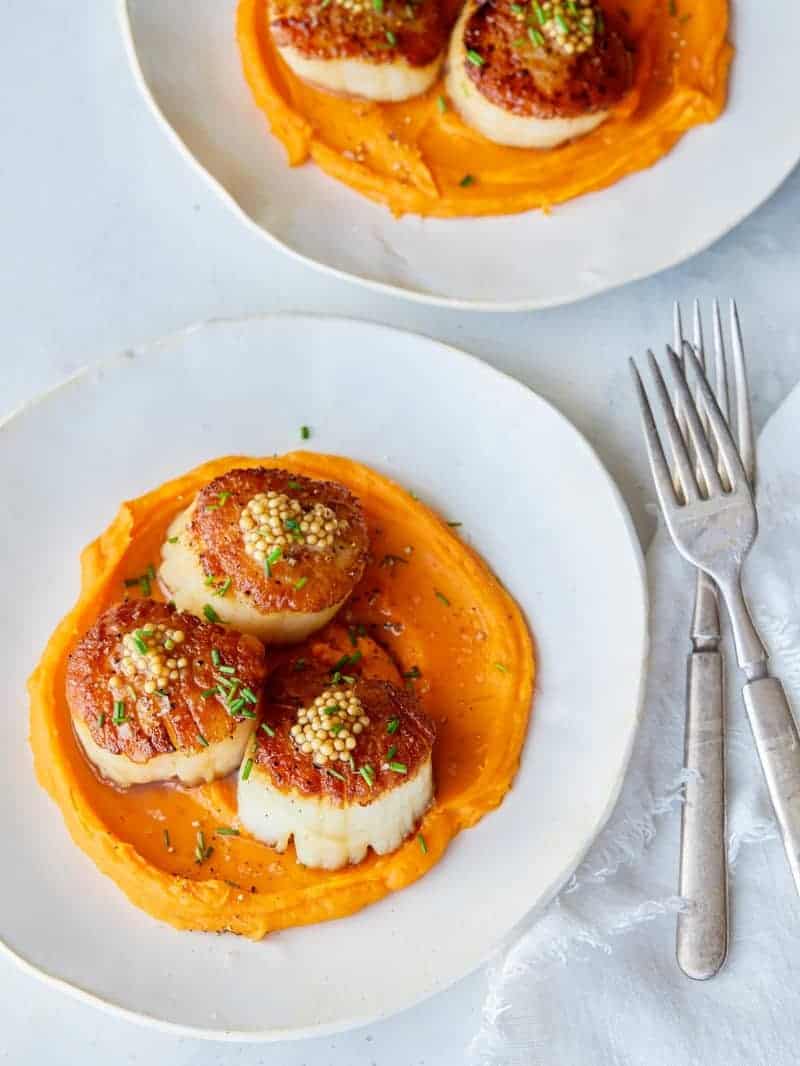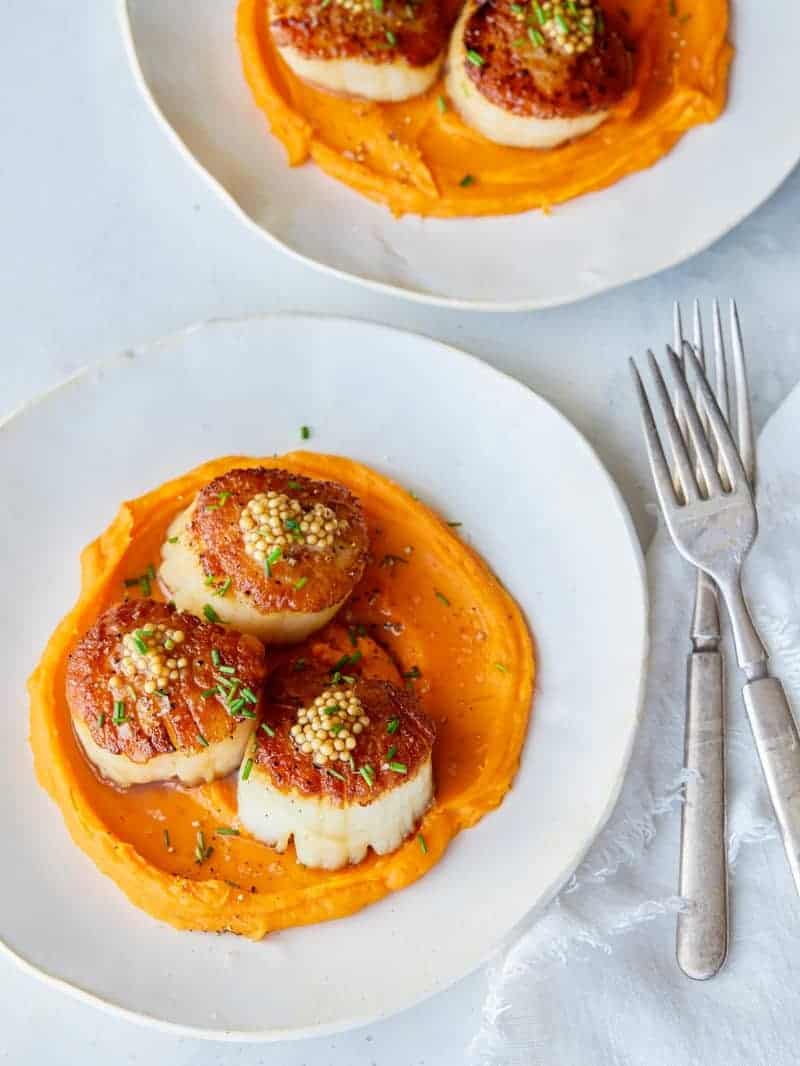 Today we have one of my favorite dinners, our Seared Scallops over Roasted Sweet Potato Puree with Pickled Mustard Seeds! Scallops are probably one of my favorite proteins and I think they're really underrated! I love them so much because they're sweet, mild and meaty, especially if you get 'jumbo' or 'U10' (which just means under 10 scallops within 1 pound) sea scallops. They're incredibly easy to prepare, as the hardest thing about cooking scallops is leaving them alone to do their thing. Seriously though, once scallops hit a hot skillet, all you have to do is wait until they're ready to be flipped, which is when they pull up easily from the skillet. If they dont, just wait another minute or so, or turn your heat up higher and they should be ready to go! Aside from not touching the scallops while they cook, high heat is very important. You really want to get a nice, brown 'crust' onto the scallops. The heat will also help the scallops lift from the skillet easily.
The sweet potato puree in this dish is silky smooth and goes really well with the scallops. Now the pickled mustard seeds are a total game changer for this dish AND in general! They're incredibly easy to make, store for a long time in the fridge and are delicious on a variety things! If you're not too into scallops, you should definitely still make these mustard seed. They're such a versatile condiment, thst really adds a nice pop of flavor to tons of dishes! Enjoy! xx, Jenny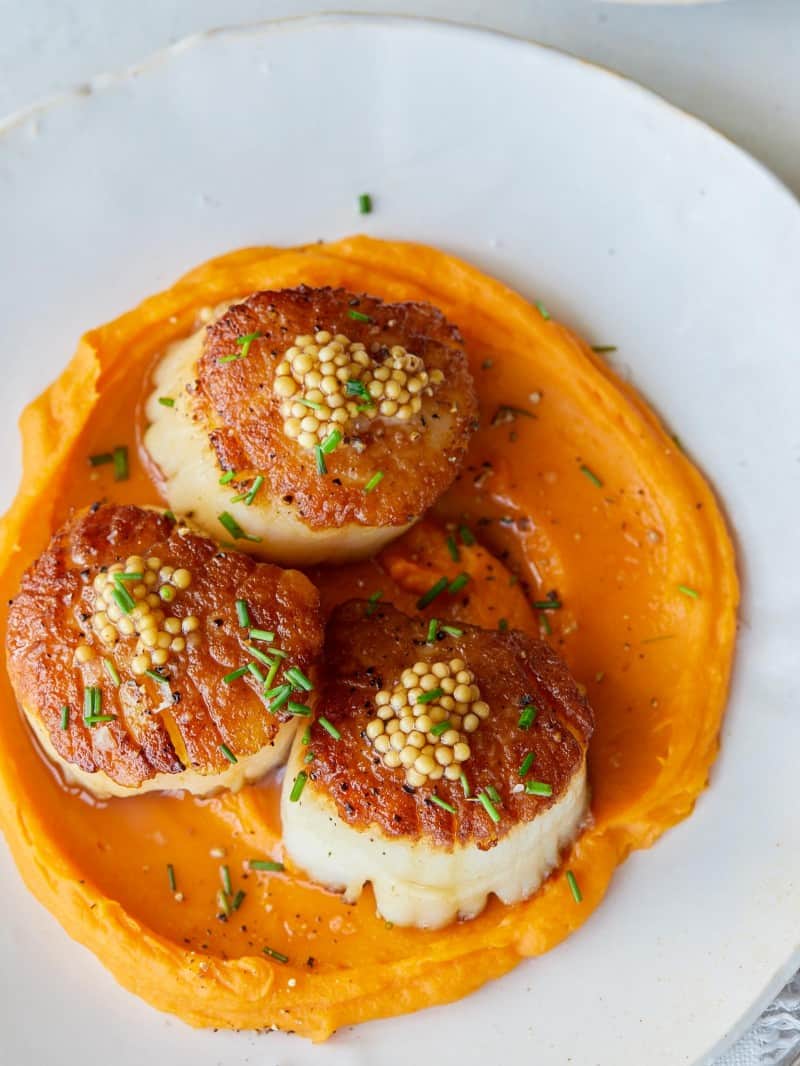 Hungry for more?
Subscribe to never miss a recipe.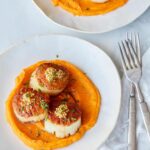 ---
Seared Scallops over Roasted Sweet Potato Puree with Pickled Mustard Seeds
INGREDIENTS
pickled mustard seeds
1

cup

yellow mustard seeds, rinsed and drained

1 ¾

cups

plus, 2 tablespoons apple cider vinegar, divided

1 ¼

teaspoons

salt

2

tablespoons

light brown sugar

2

tablespoons

honey

¼

teaspoon

turmeric
roasted sweet potato puree
6

tablespoons

unsalted butter, divided

1

large shallot, minced

1

large garlic clove, minced

2

large sweet potatoes, cleaned and pricked all over with a fork

½ to ⅔

cup

heavy cream

salt and pepper to taste
scallops
2

tablespoons

vegetable oil

2

tablespoons

unsalted butter, divided

6

(U10)

sea scallops, abductor muscles removed

crescent shaped muscle on the side of scallops, should come off easily

salt and pepper to taste
INSTRUCTIONS
Pickled mustard seeds: Pour mustard seeds, 1 1/2 cups vinegar and salt into a saucepan and allow mixture to sit for at least 1 hour and up to 12 hours.

Transfer mixture to the stove, add sugar, honey and turmeric and simmer over medium-low heat, for about 20 to 25 minutes, stirring frequently.

Remove mixture from heat and stir in remaining vinegar. Taste and adjust seasonings. Transfer to a jar and store until ready to use.

Roasted sweet potato puree: Preheat oven to 375˚F. Place sweet potatoes directly onto center rack and roast until fork tender, 30 to 40 minutes.

Remove sweet potatoes from oven and cool until able to handle.

While sweet potato cools, place a medium skillet over medium heat and add 2 tablespoons butter. Add shallots and garlic and sauté for 3 to 4 minutes.

Transfer mixture to well of blender.

Peel potatoes and add flesh into the well of a blender with shallots and garlic, discard skins.

Add heavy cream to blender and puree and season with salt and pepper. With the motor running, add remaining butter, 1 tablespoon at a time until fully incorporated and potatoes and silky smooth. Adjust seasonings.

Scallops: Pat scallops dry and season with salt and pepper. Place a large skillet over medium-high heat and add oil. Once oil is hot, add 1 tablespoons butter and scallops.

Allow scallops to sear, untouched to develop a nice, brown crust, 3 to 4 minutes.

Flip each scallop (they should pull away from the pan very easily or they are not ready yet) and sear the other side for an additional 3 to 4 minutes.

Add remaining tablespoon butter to skillet, tilt pan away from you and spoon melted butter over each scallop a few times. Remove from heat and adjust seasonings.

Serving: Spread sweet potato puree onto plates and top with scallops. Drizzle a small amount of pan juices over each scallop and top with a small spoonful of pickled mustard. Serve.