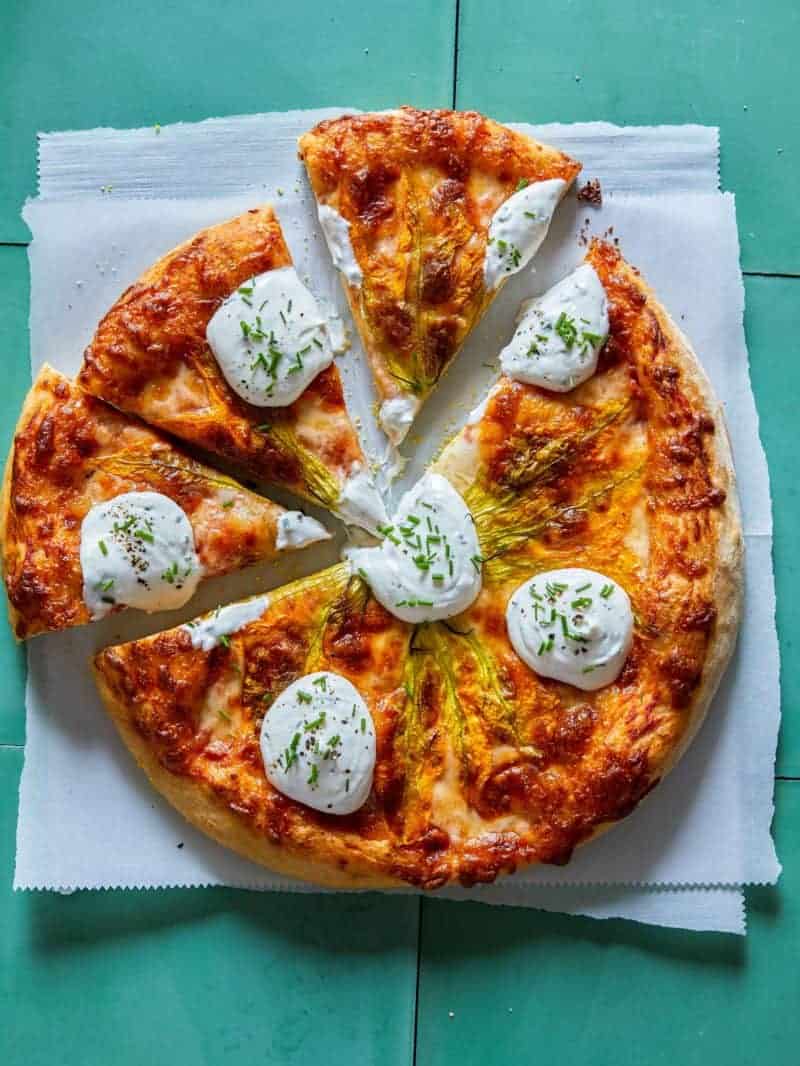 We made a pretty and yummy Zucchini Blossom Pizza for you! We love zucchini blossoms, and right now you can find them at farmers markets, Mexican markets and whole foods. So keep your eyes open when you go to the grocery store you might be able to snag some! We paired the squash blossoms on this pizza with a goat cheese sauce which is pretty delicious. So watch out for those pretty squash blossoms and then make this yummy pizza!
♥ Teri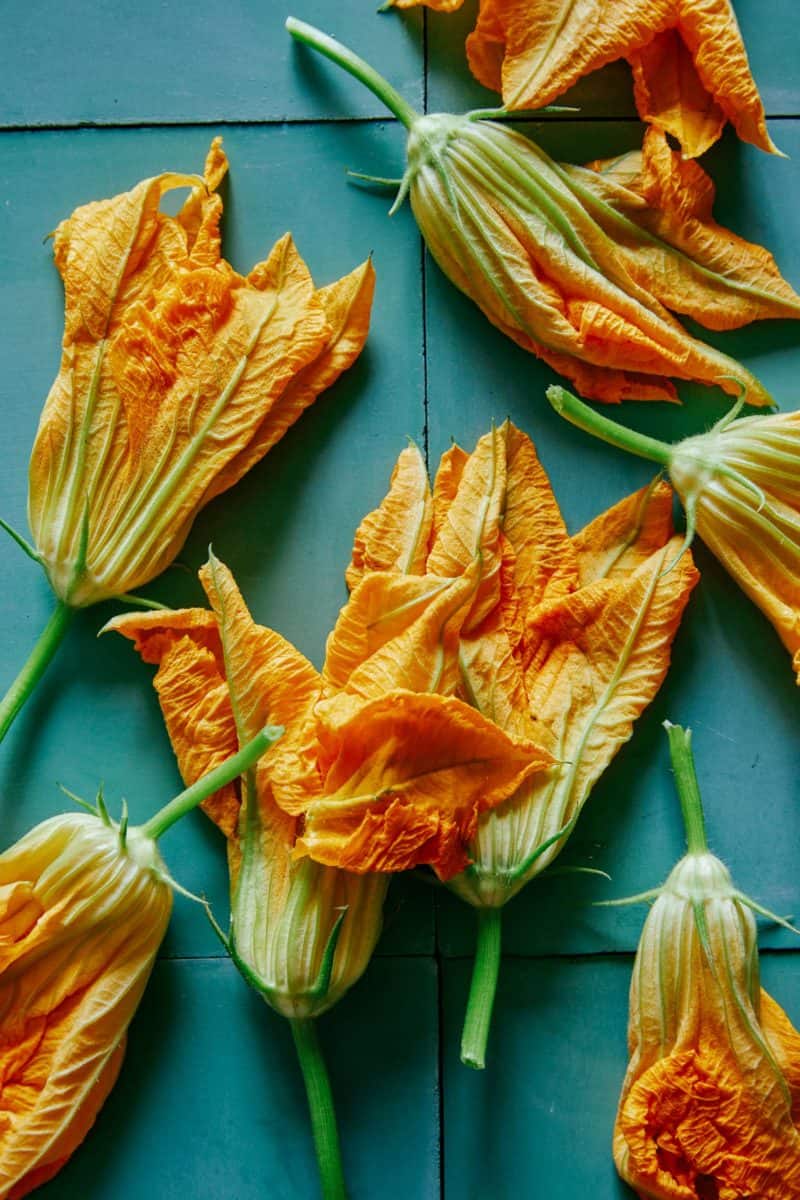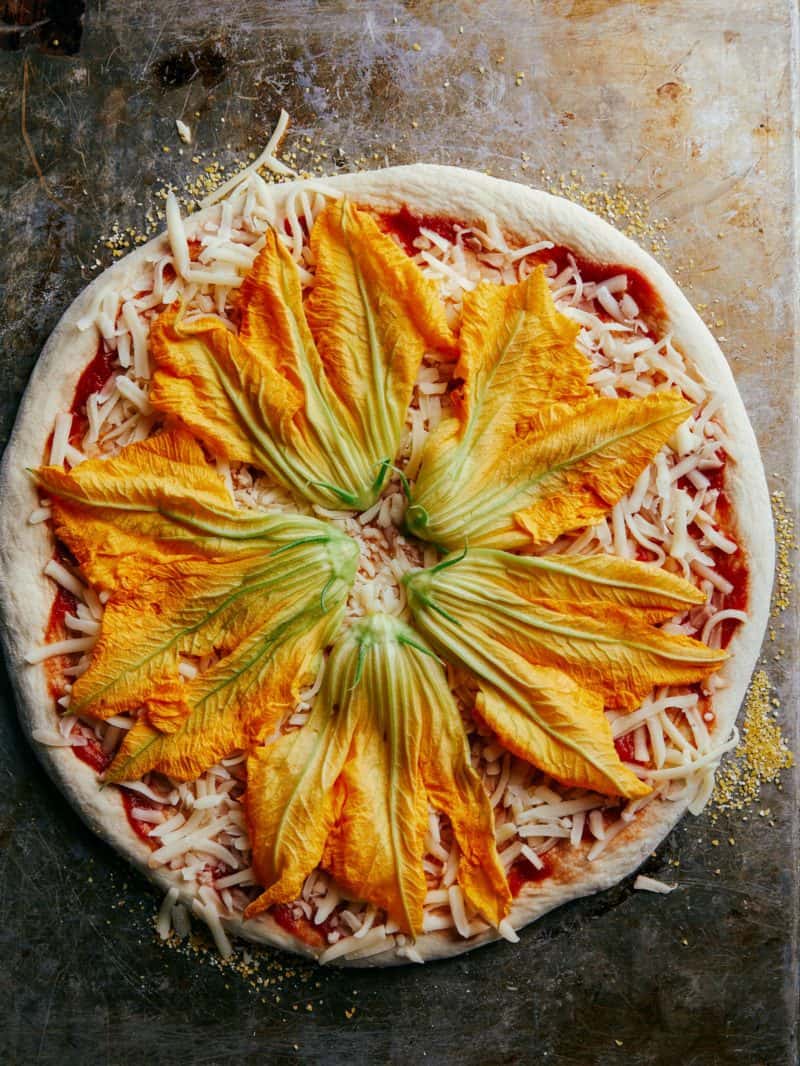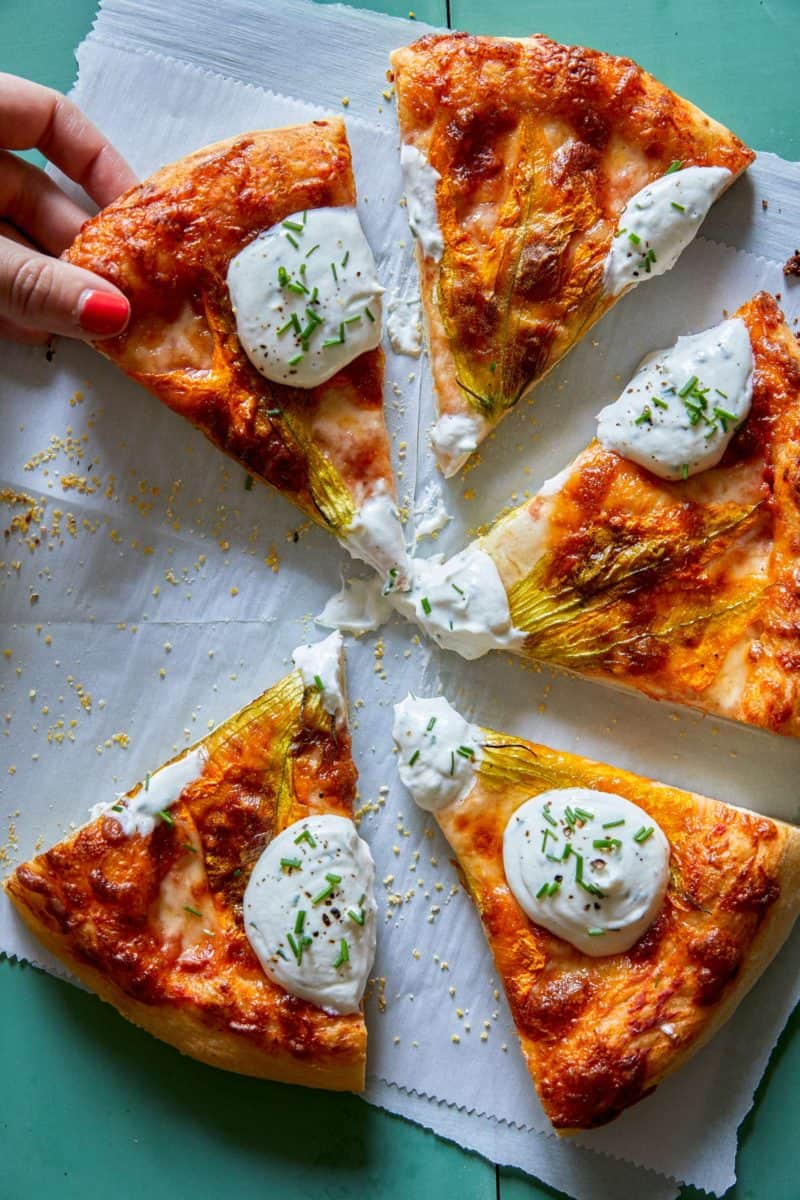 Zucchini Blossom Pizza

Makes 1 (12") pizza

Ingredients:
coarse cornmeal, for sprinkling
1 recipe pizza dough or favorite, fresh store-bought pizza dough
1 cup tomato sauce
1/2 heaping cup shredded mozzarella
1/2 heaping cup shredded fontina
6 zucchini blossoms, split lengthwise so they can lay flat.
goat cheese sauce:
8 ounces crumbled goat cheese, softened
1 tablespoon thinly sliced chives
2 teaspoons minced thyme
1 to 2 tablespoons heavy cream
cracked black pepper to taste

Directions:
1. Preheat oven to 450˚F. Sprinkle
2. Make pizza dough according to recipe. If using store-bought, remove from packaging, cover with a clean, damp towel and allow dough to come to room temperature.
3. Lightly flour a clean surface and roll dough into a 12" round, about 1/4 inch thick, leaving the perimeter (crust) slightly thicker.
4. Carefully transfer dough onto a cornmeal lined baking sheet.
5. Spread a light layer of tomato sauce onto the surface of dough and sprinkle with shredded cheese.
6. Top pizza with split zucchini blossoms and lightly sprinkle with salt and pepper.
7. Place pizza into hot oven and bake for 15 to 18 minutes or until crust has browned and cheese is bubbling.
8. While pizza is baking, make goat cheese sauce. Place all sauce ingredients into a mixing bowl and mix together with a fork until smooth and fully combined.
9. Scoop mixture into a piping bag or a Ziploc bag and refrigerate.
10. To serve: Remove pizza from oven and allow to cool for 5 to 6 minutes. Snip the tip of the bag of goat cheese sauce and dollop around pizza (sauce will begin to soften and melt once it hits the hot pizza surface). Slice and serve.

**Goat cheese sauce can also be served on the side.