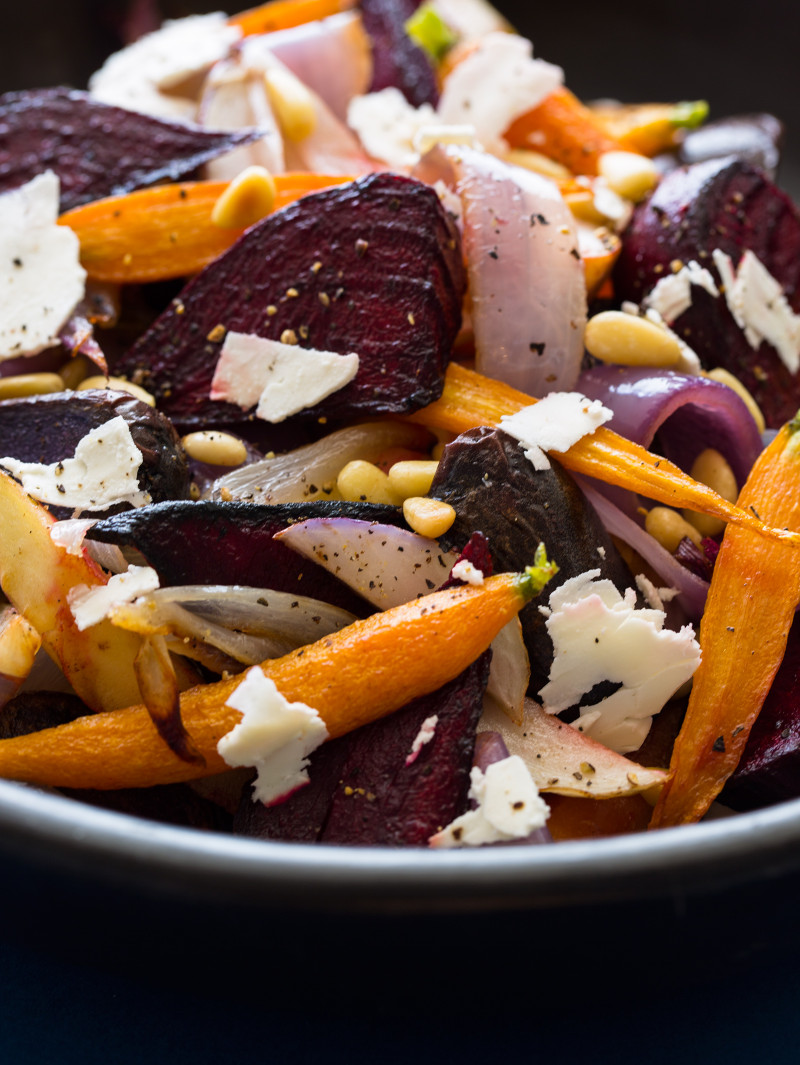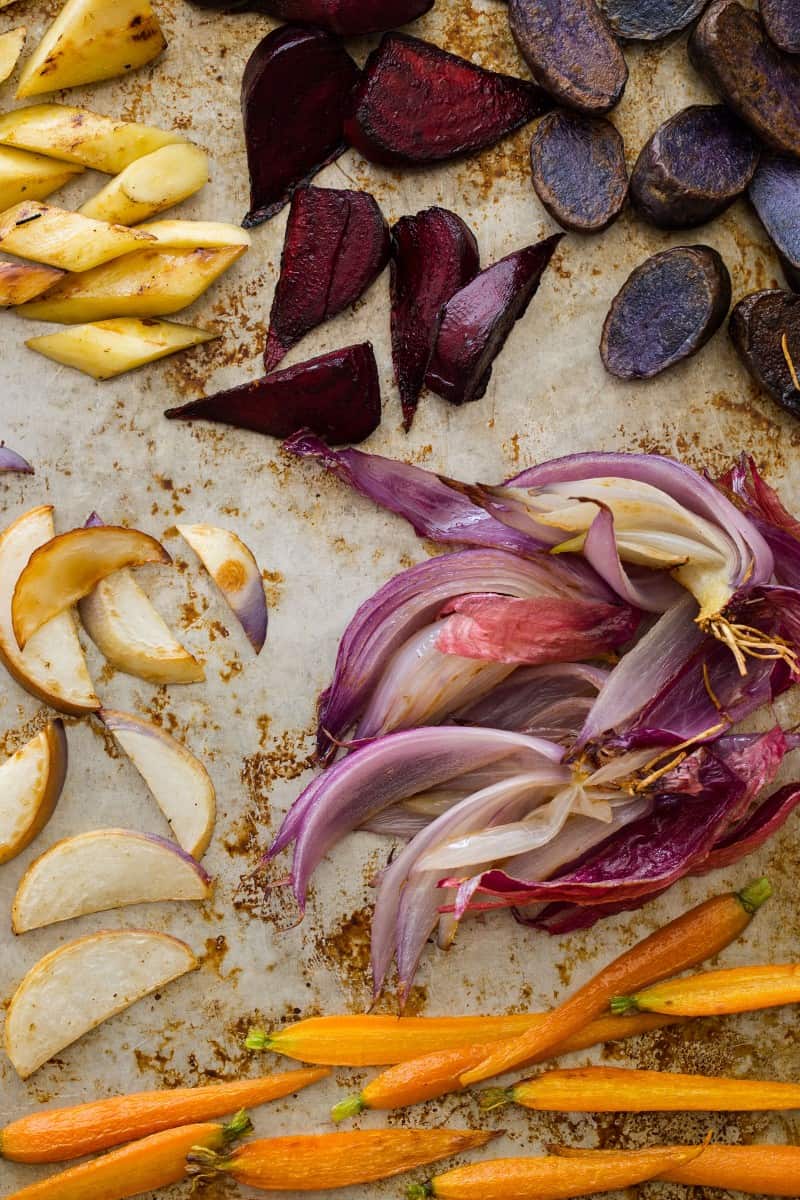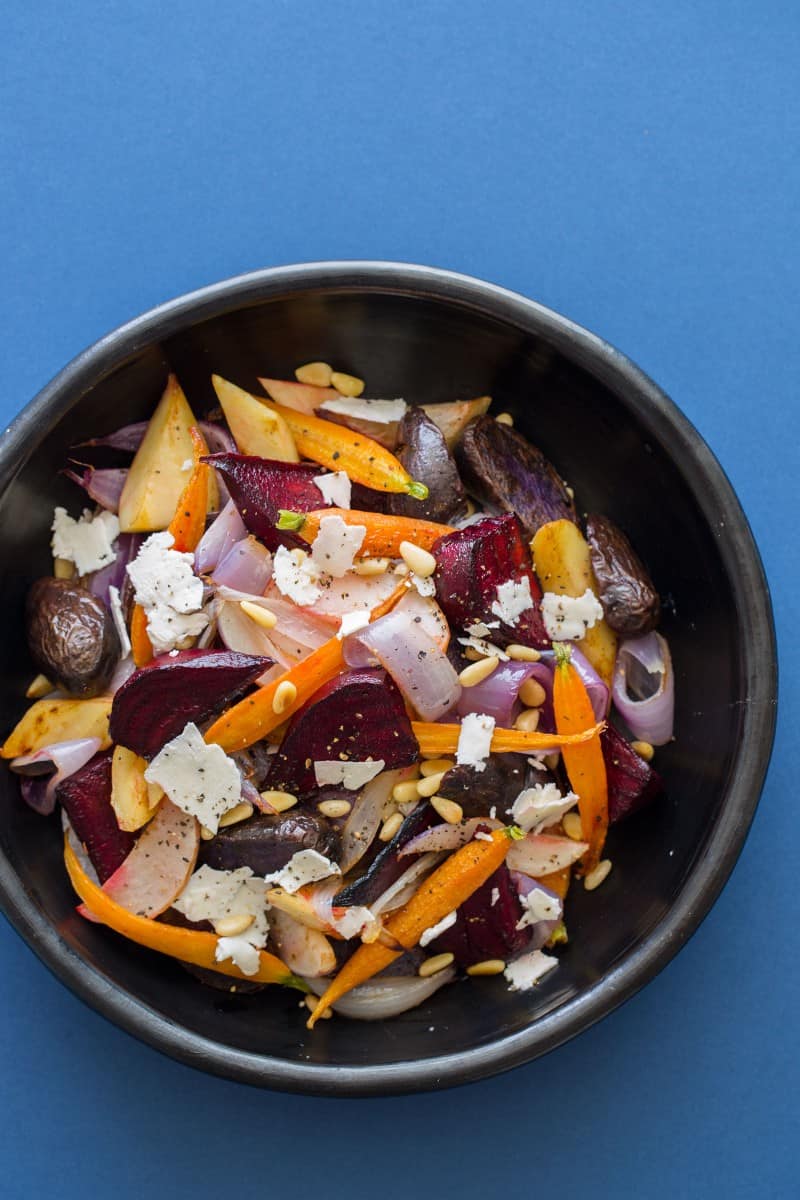 I guys! So we went a little MIA this past week working on some fun projects, but we're back with a bunch of fun and exciting things to share with all you lovelies! Today we have a roasted winter root veg. salad. I love salads like this; ones that can be considered a salad AND a side dish. I also love this salad bc you can eat it both warm and cold, so although it's a "winter" root veg. salad, you can eat this even when it's warm out…like LA these days, reaching around 75-80 degrees! "Are you there winter?? It's me, Jenny". (<~ sorry, just had to)
This dish is super filling, but won't leave you feeling heavy and gross…my favorite kind of dish! The pine nuts add the much needed crunch and the feta a nice salty flavor. I like to shave the feta onto this salad because I like how it melts in your mouth right away, binding itself with all the other flavors going on. Plus, isn't the shaved feta just so pretty?! You can easily shave feta by partially freezing it for about 30 minutes, then use a peeler or mandoline to shave it atop the veggies. Simple! It'll help you avoid a crumbly mess (which actually isn't all that terrible, is it? :) ) Anyway, I hope you all try out our Winter Root Vegetable Salad and we'll be back with more fun treats this week! Enjoy! xx, Jenny
Winter Root Vegetable Salad
Serves 4 to 6
Ingredients:
2 beets, peeled and cut into wedges
10 baby carrots, peeled and cut in half lengthwise
1 red onion, peeled and cut into wedges
2 parsnips, peeled and cut into 1 Inch pieces
1 turnip, ends cut off and cut into 1 inch pieces
8 purple fingerling potatoes, cut in half lengthwise
3 tablespoons extra virgin olive oil
1 recipe, basic balsamic vinaigrette
garnish:
1/2 cup pine nuts, lightly toasted
2 oz. feta cheese, shaved or crumbled
Directions:
1. Preheat oven to 375°F.
2. Place all root vegetables in a large bowl, drizzle with oil and toss together. Season with salt and pepper.
3. Divide mixture between two sheet pans and spread evenly.
4. Roast vegetables for 30 to 40 minutes, gently tossing around with a wooden spoon to ensure even roasting.
5. Remove from oven and allow vegetables to cool, 4 to 5 minutes (if serving cold, allow vegetables to cool completely before refrigerating until ready to serve).
6. Transfer vegetables into a large mixing bowl and gently toss together with balsamic vinaigrette. Lightly season with salt and pepper.
7. Top with pine nuts and feta and serve.