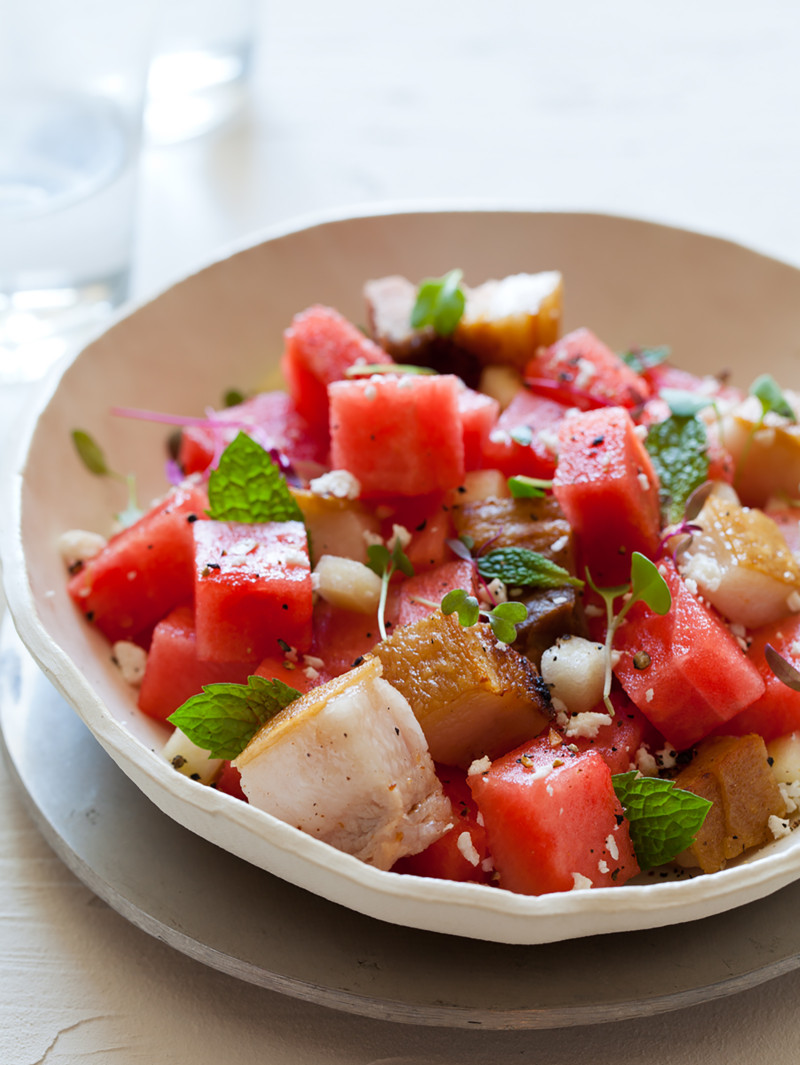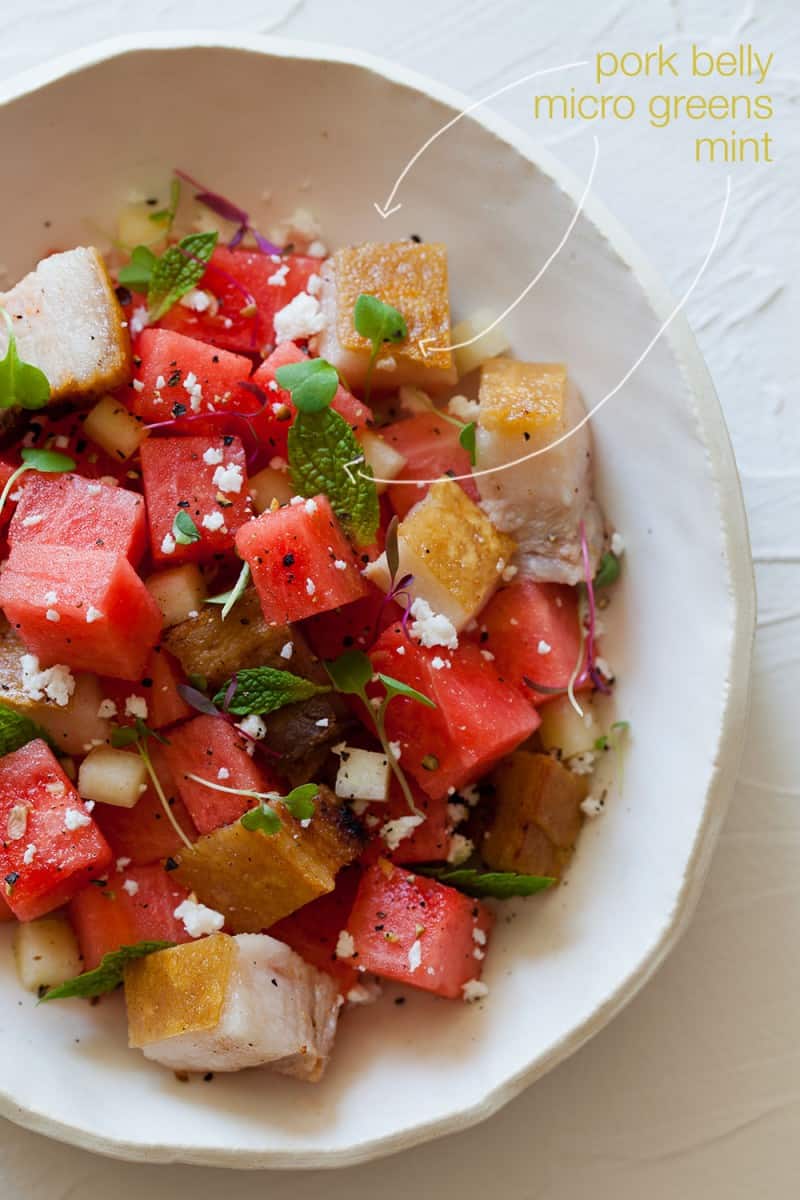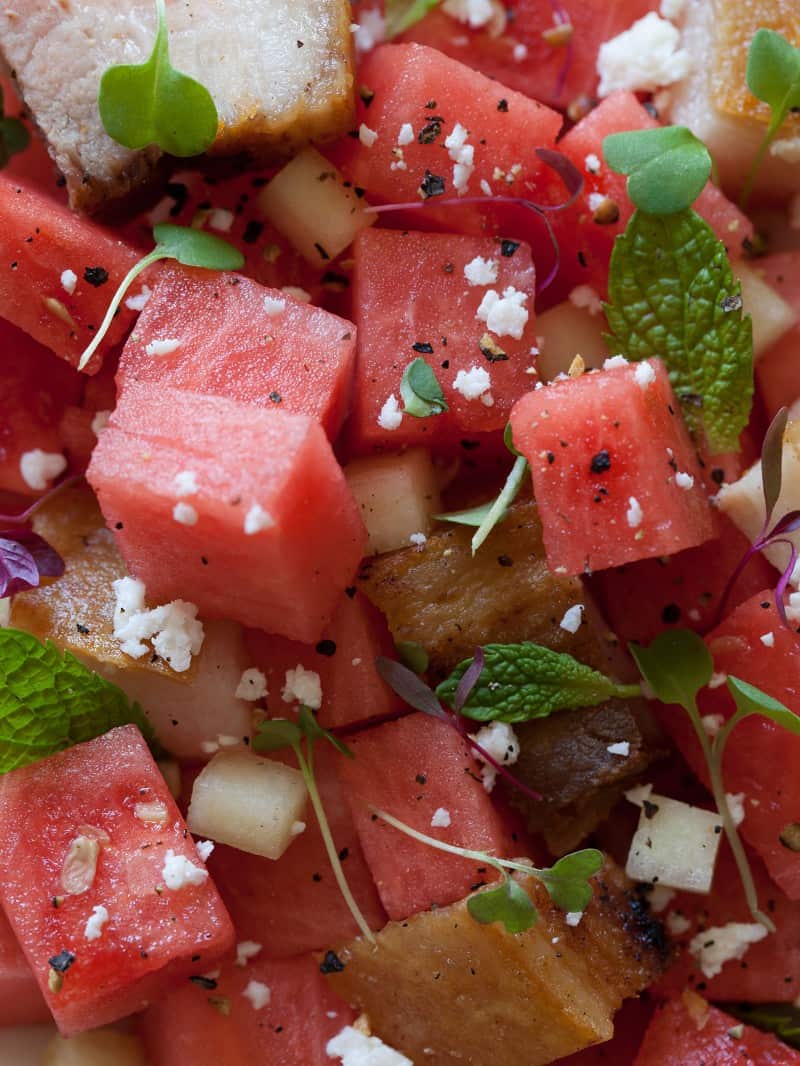 Hi All! Did everyone have a lovely Independence Day? I certainly did! The boyfriend and I barbecued and swam with friends and it was really great. This was also one of the first times in a very long time I experienced a holiday celebration where food wasn't one of the primary focuses…whaaa? I know….there was no crazy pig roast going….no expensively marbled steaks…..no artisan summer salads….no punch you in the face flavor packed carne asada…none of that. We DID though have burgers, hot dogs, chips (LOTS of CHIPS), and I'm pretty sure the only veg. in sight was from the
panzanella salad
I brought….oh well! Burgers and hot dogs are awesome and totally a-ok with me!….especially when your hot dog magically becomes stuffed with
flammin' hot cheetos
….HEAVEN IN A BUN. :)
Okay, but now back to the blog! Today we have sort of a fun little unexpected salad; a watermelon, feta and crispy pork belly salad! Every summer the "Heirloom Tomato, Watermelon and Feta Salads with Balsamic Vinaigrette" seem to find its way into everyone's household, mine included. Why? Because it's so good! Very refreshing and easy to make….but why not bulk it up a bit with something like super crispy pork belly?! Okay, hear me out….the flavors go really well together and the pickled watermelon rind (if using) and feta really seem to cut through the richness of the pork. Not to mention, crispy pork belly in anything is just really really awesome, me thinks. This Watermelon Feta & Crispy Pork Belly Salad is really easy to make. It takes a bit of time, but that's only because the pork needs to be boiled and then sit overnight. Even if you're impatient I urge you not to skip the overnight wait time…that's what will help dry out the skin, making it extra crispy when fried.
Enjoy!
xx Jenny
Watermelon Feta & Crispy Pork Belly Salad
Serves 3 to 4
Ingredients:
crispy pork belly:
1 lb pork belly
2 teaspoons garlic powder
1 teaspoon onion powder
1 teaspoon dry mustard
½ teaspoon dry ginger
½ teaspoon salt
1/4 teaspoon black pepper
vegetable oil for frying
3 cups watermelon, cubed
2/3 cup feta, crumbled
1/3 cup pickled watermelon rind, diced (optional)
black pepper to taste
1 recipe champagne vinaigrette
garnish:
mint leaves
micro greens
Directions:
1. Place pork belly in a large pot and fill with water. Place over medium-high heat and bring to a boil. Boil for 45 minutes.
2. Drain and rinse pork belly and pat dry with a paper towel.
3. Place the remaining pork belly ingredients into a small bowl and mix together. Rub spice mix over the flash of the pork belly, leaving the skin bare.
4. Place pork belly in a small container and place in the refrigerator for 8 to 12 hours, uncovered.
5. Fill a wok or Dutch oven with oil about 1 ½ inches high (a lid or splatter pan will be very helpful). Once the oil has reached 350°F carefully add pork belly, skin-side down.
6. Fry pork for about 5 to 7 minutes or until browned and crispy. Turn the pork belly over and fry for an additional 2 to 3 minutes.
7. Place onto a cooling rack lined baking sheet and allow to cool for about 10 minutes.
8. Cut pork belly into ½- 1 inch cubes and set aside.
9. To assemble: Place watermelon, pork belly, feta, and watermelon rind (if using) in a large bowl. Top with vinaigrette and gently toss together. Season with black pepper. Top with mint leaves and micro greens and serve.