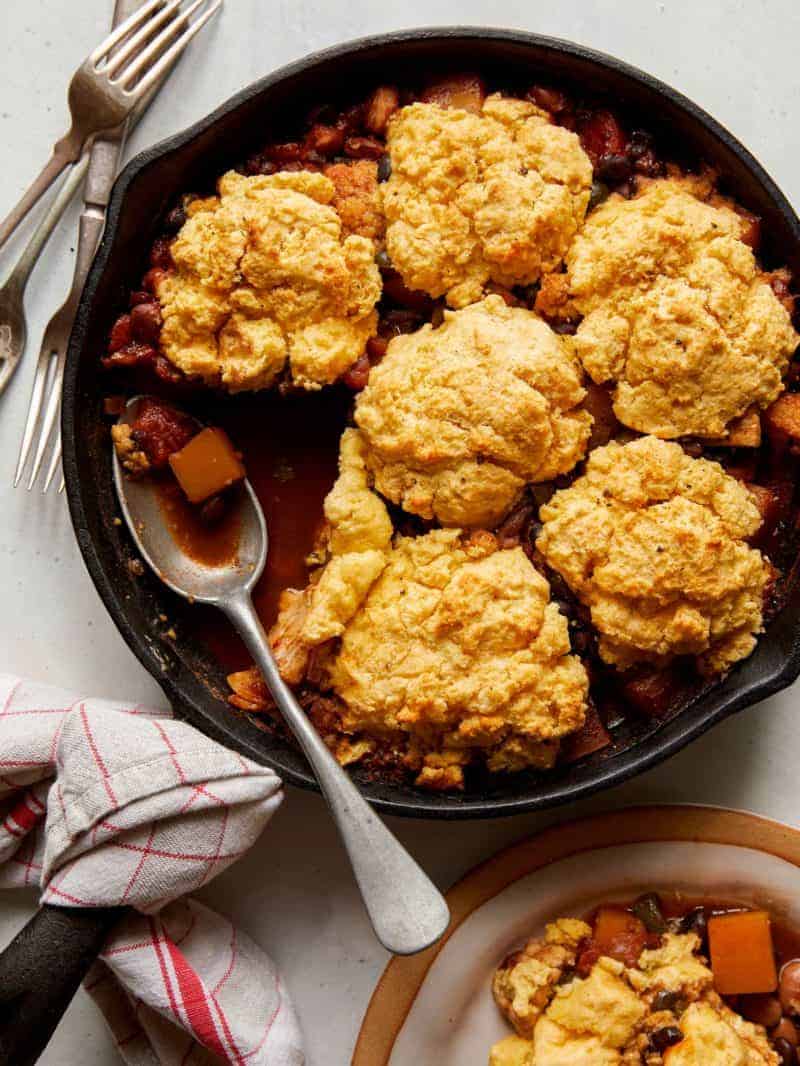 I love chili so very much. It's one of the most comforting things I think you can make. It's the first thing that comes to mind when it's cold outside and I'm planning dinner. So we have a new version for you that is meatless! With all the beans it's actually really filling, and a great recipe for meatless Monday if you do that! We made this vegetarian chili into a cobbler. It's perfect, it's cozy, and it cooked in one skillet which is pretty nice. Stay warm!
♥ Teri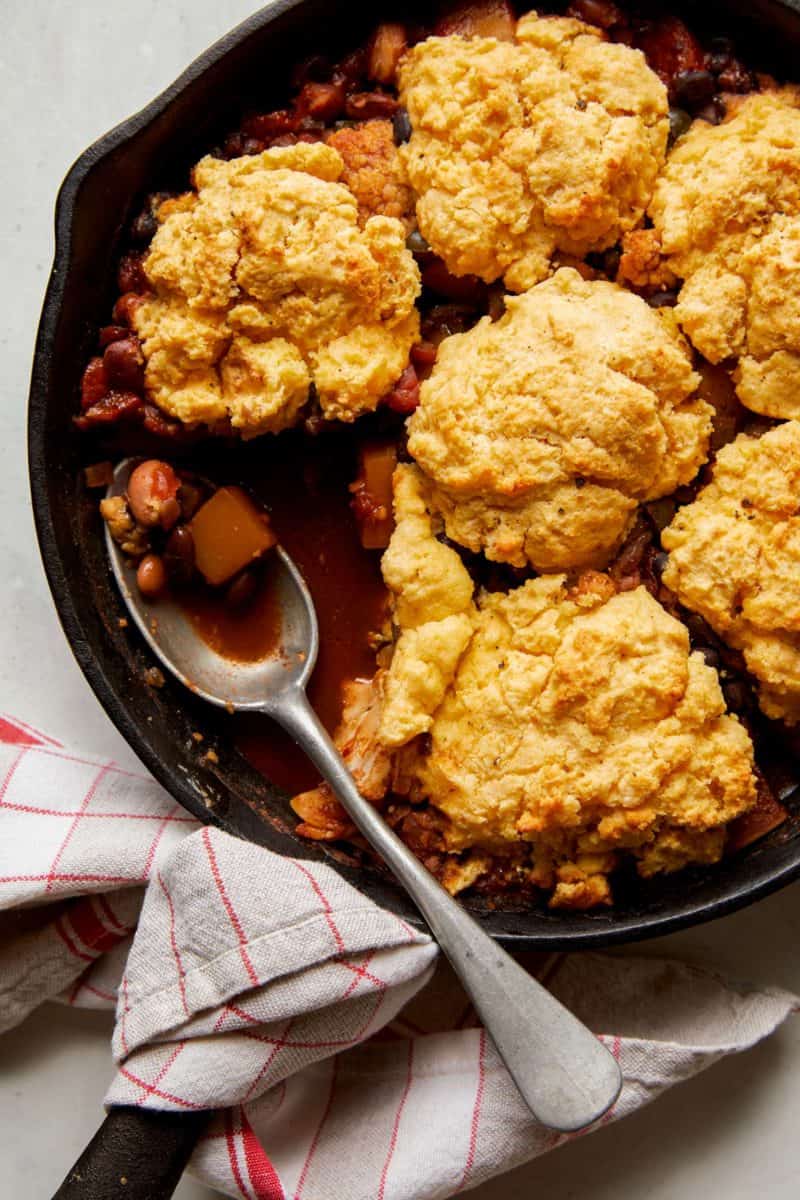 Vegetarian Chili Cobbler

Makes ~3 quarts

Ingredients:
chili:
2 tablespoons extra virgin olive oil
1 small red onion, chopped
1 poblano pepper, stemmed, seeded and chopped
1 jalapeno, seeded and diced
2 heaping cups peeled, seeded and chopped butternut squash
1/2 head cauliflower, stemmed and cut into bite sized florets
2 garlic cloves, minced
1 tablespoon thinly sliced chives
2 teaspoons minced oregano
1 bay leaf
2 1/2 tablespoons chile powder
1 tablespoon smoked paprika
2 teaspoon ground cumin
1 (28 ounce) can diced tomatoes with juices
1/4 to 1 cup vegetable broth, as needed
1 ( 15 ounce) can black beans with liquid
1 (15) ounce) can pinto beans with liquid
Salt and pepper to taste
cornmeal drop biscuits:
1 1/4 cup all-purpose flour
3/4 cup yellow cornmeal
2 1/2 teaspoon baking powder
1/2 teaspoon baking soda
2 teaspoons superfine sugar
1 1/2 teaspoons salt
1/2 teaspoon cracked black pepper
1/2 cup (1 stick) cold unsalted butter, cut into small cubes
3/4 cup buttermilk
1/4 cup unsalted butter, melted and slightly cooled

Directions:
1. Chili: Place a large pot over medium-high heat. Add oil to pot, followed by onion, poblano and jalapeno and saute for 3 to 4 minutes. Add butternut squash and continue to saute for an additional 3 to 4 minutes. Season with salt and pepper.
2. Add cauliflower, garlic, chives, oregano, and bay leaf and stir together. Add chile powder, paprika and cumin and continue to saute mixture for 4 to 5 minutes.
3. Stir in diced tomato with juices and lower heat to medium. Season with salt and pepper. Simmer mixture for about 15 minutes, adding 1/4 cup of broth at a time, if mixture gets too dry.
4. Stir beans into chili and simmer for 5 minutes. Remove from heat and pour into a 3 quart baking dish. Set aside. Vegetables should be tender with a slight bite to them (they will continue to soften in the oven).
5. Preheat oven to 400˚F.
6. Place flour, cornmeal, baking powder, baking soda, sugar, salt, and pepper into a large mixing bowl and whisk together.
7. Cut in butter with a pastry knife or using your fingers until a fine grainy texture forms.
8. Fold buttermilk into mixture until a loose dough forms.
9. Scoop 1/3 cup sized dollops of biscuits all over the top of the chili, until fully covered leaving about 1/2 inch space between each biscuit. Brush tops of each biscuit with melted butter.
10. Bake cobbler for 15 to 20 minutes or until biscuits are golden brown and vegetables in chili are fork tender. Cool for 10 to 15 minutes before serving.