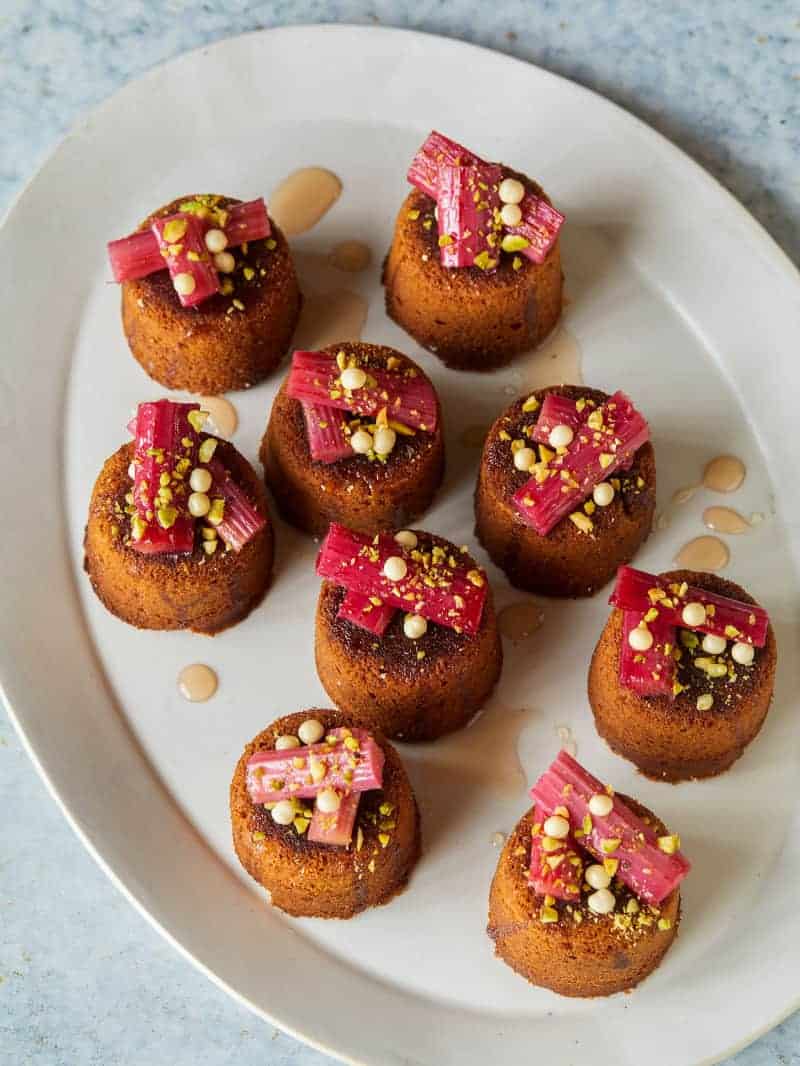 Believe it or not, rhubarb is still fairly new to me. Sure, I knew about strawberry-rhubarb pie growing up, but it wasn't until a handful of years ago that I had learned and developed a really great appreciation for rhubarb. It's so much easier to work with than I originally thought and when I first set out to candying my first batch…well lets just say I thought it would be like candying citrus, which requires a long simmering period…and I ended up with complete mush. Turns out candying rhubarb takes no time at all and you end up with the sweetest and prettiest lil' guys!
Today our recipe uses those yummy lil' guys for our Vanilla Mini Cakes topped with Candied Rhubarb and Pistachio! These are fun and simple cakes to make for a get together. You can find the pan I used here. Enjoy! xx, Jenny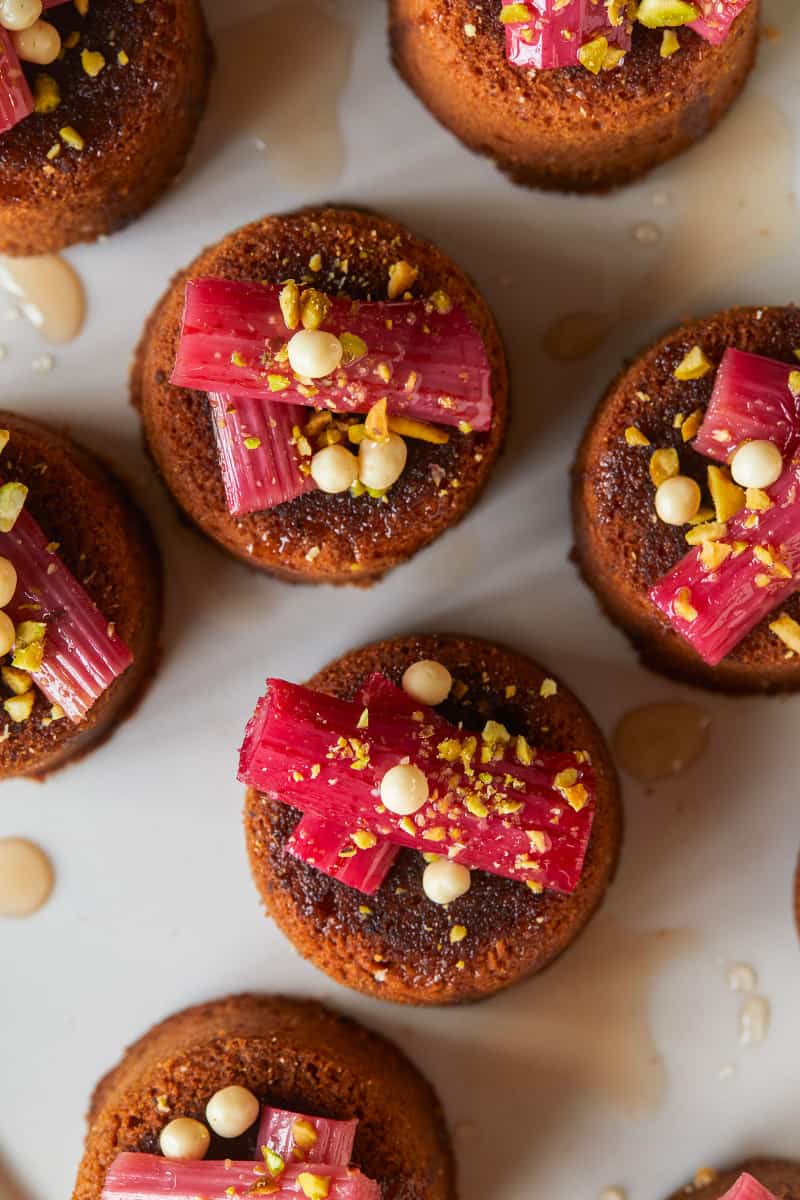 Vanilla Mini Cakes Topped with Candied Rhubarb and Pistachios
Makes 24
Ingredients:
vanilla cake:
1 1/4 cups cake flour
1 1/4 teaspoon baking powder
1/2 teaspoon baking soda
1/4 teaspoon salt
1 cup (2 sticks) unsalted butter, softened
3/4 cups superfine sugar (granulated is fine)
2 large eggs, lightly beaten
'caviar' from 1/2 vanilla bean (or 1 1/2 teaspoons vanilla extract)
1 cup whole milk
candied rhubarb:
3 stalks rhubarb, ends trimmed and cut into 2"x 1/2" pieces
2 cups sugar
1 1/2 cups water
1/2 cup crushed pistachios
Mini white chocolate crispy balls, optional
**Specialty Equipment: 1 mini cake pan
Directions:
1. For mini cakes: Preheat oven to 350˚F.
2. Place flour, baking powder, baking soda, and salt into a mixing bowl and whisk together. Set aside.
3. In another mixing bowl, cream together butter and sugar (using an electric hand mixer). Once the mixture is light and fluffy, add eggs and vanilla and continue to beat together.
4. Add dry ingredients and continue to mix together. Stir in the milk until just fully incorporated.
5. Lightly grease each cake pan cavity and fill each halfway with the batter. Bake for 14 to 16 minutes or until a toothpick comes out clean when inserted into the center of the cakes.
6. Remove cakes from the oven and set onto a cooling rack until cool enough to handle.
7. Remove each cake from their molds and place over a cooling rack lined with a baking sheet.
8. For candied rhubarb: Pour sugar and water into a shallow pan and boil until sugar has dissolved. Add rhubarb and continue to boil for about 2 minutes.
9. Carefully remove rhubarb from sugar syrup and transfer onto a cooling rack lined with a baking sheet. Drizzle some of the syrup over each piece of rhubarb and allow rhubarb to cool, about 20 minutes.
10. To assemble: Place a few sticks of rhubarb atop each cake and drizzle more of the syrup over each cake. Top with a sprinkle of crushed pistachios and white crispy chocolate balls, if using. Serve.