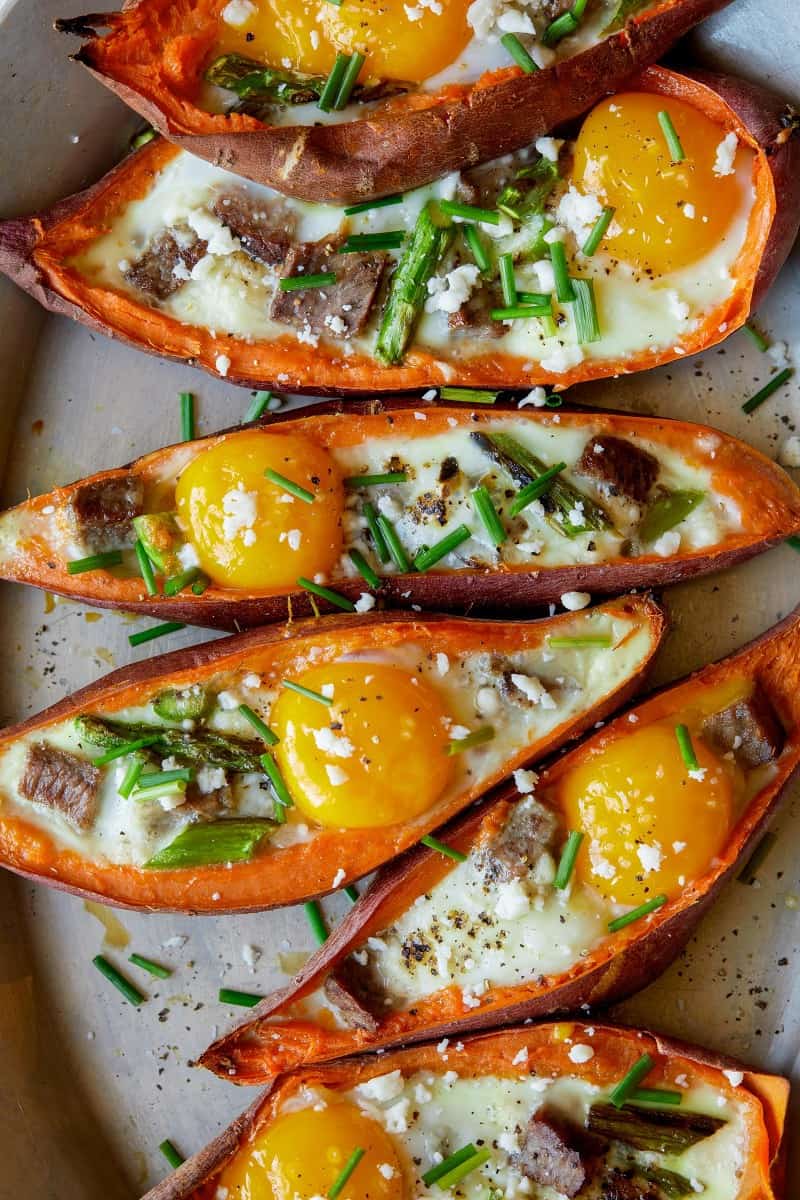 I'm a huge 'leftovers' person. To me it's just one less future meal to think about or put energy into, you know? My husband on the other hand is not so much a 'leftovers' sort of person. He doesn't like eating the same things two or three times in a row (understandable), but since it's just the two of us in our household we usually have some leftover protein or vegetables after dinner. I've found that I can usually trick my husband to eating leftovers if I repackage it in a different way. One of my favorite 'leftover meals' is this Twice Baked Steak + Egg Sweet Potatoes!
I love this dish so much and love that it only requires some leftovers, shredded cheese and Pete and Gerry's Organic Eggs to create a brand new and delicious meal, which even a picky spouse will love. :) This recipe is also nice and versatile as you can swap out the steak and asparagus for another protein and vegetable you have on hand from the night before, like diced, roasted chicken, shredded pork, sautéed bell peppers and onions, sautéed zucchini, there are so many possibilities! Since most of the ingredients are re-purposed from another meal the time to whip this dish up takes no time at all and it's totally delicious and satisfying. It really makes a great, complete meal for anytime of the day. Enjoy!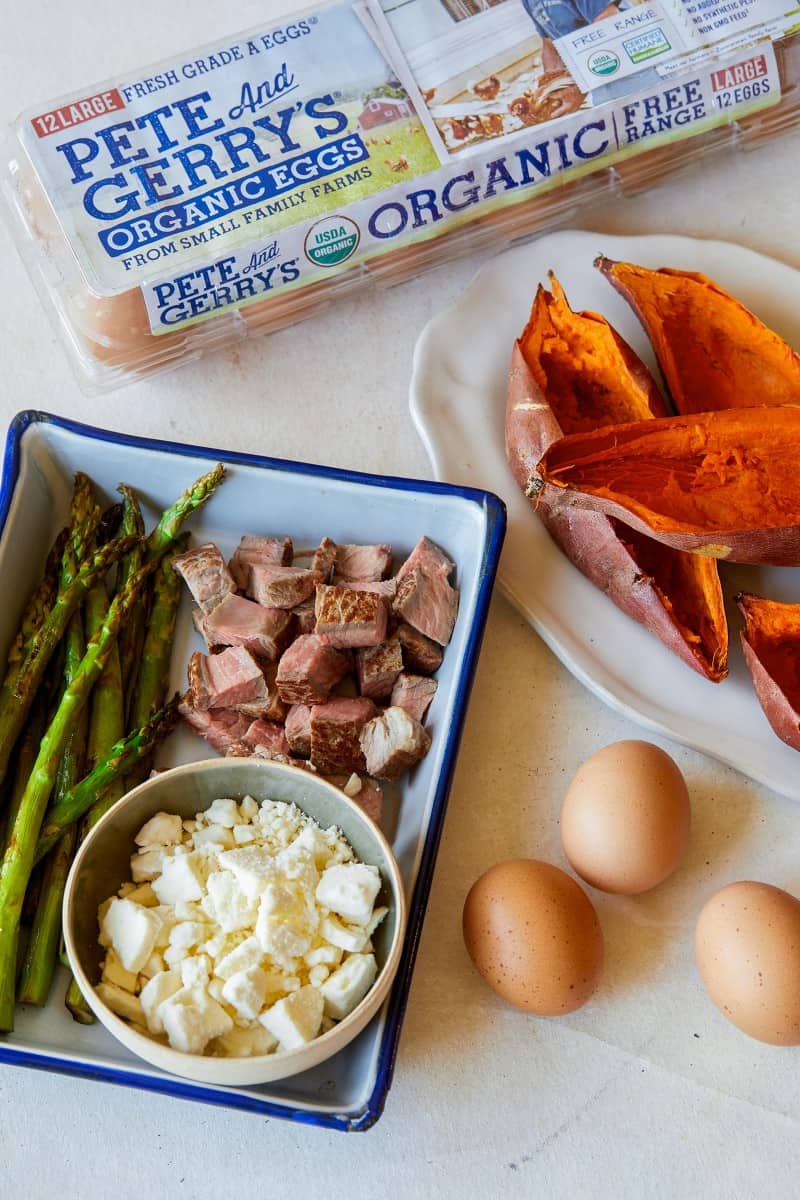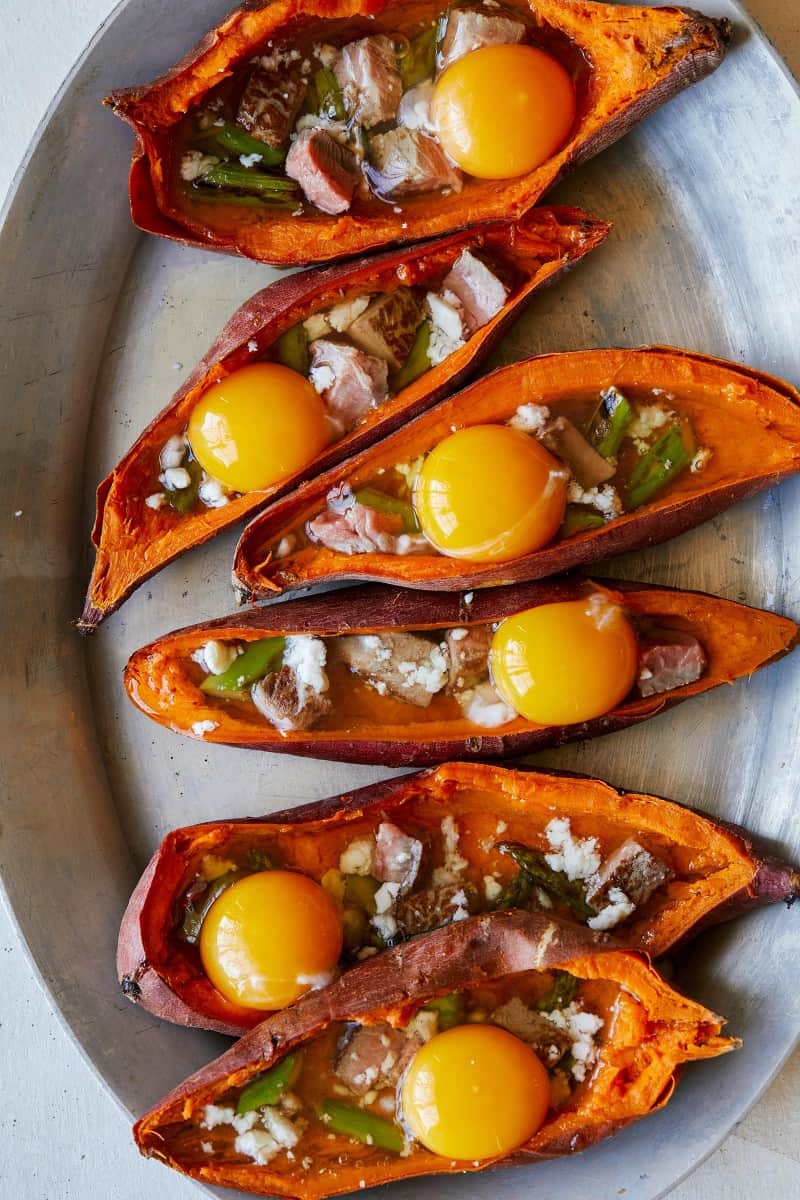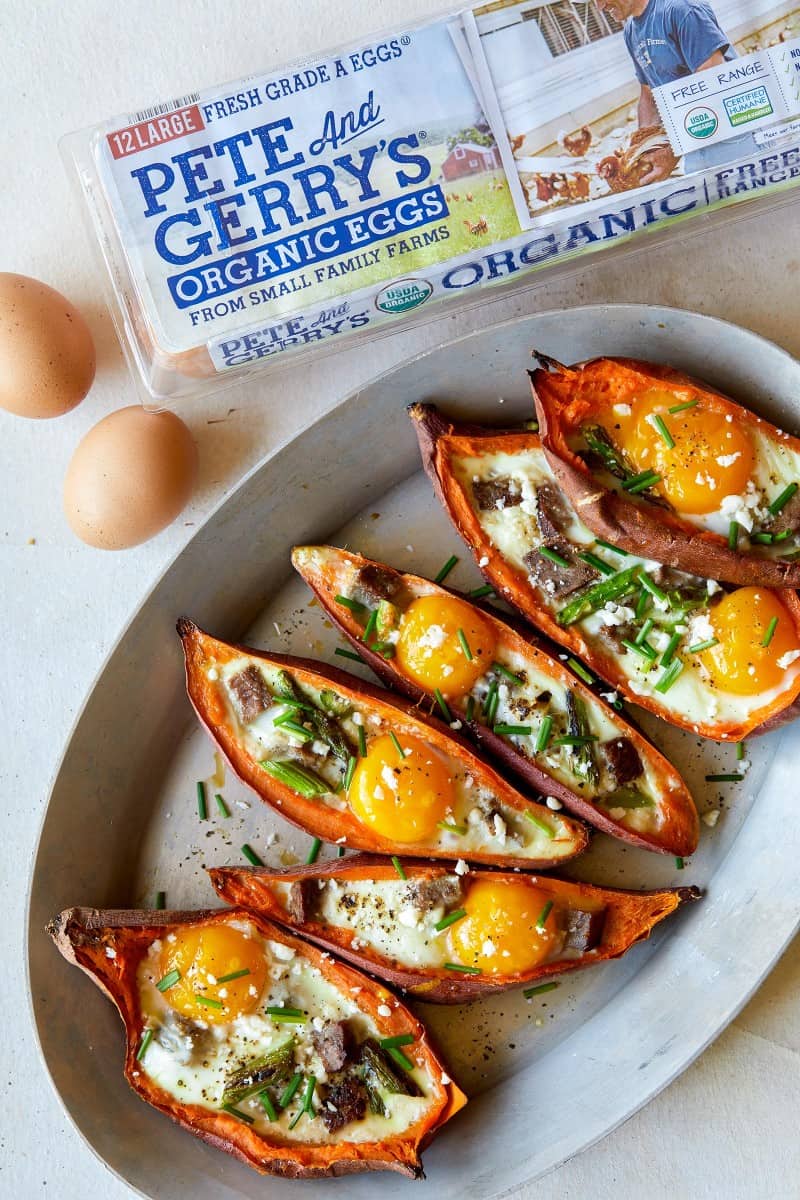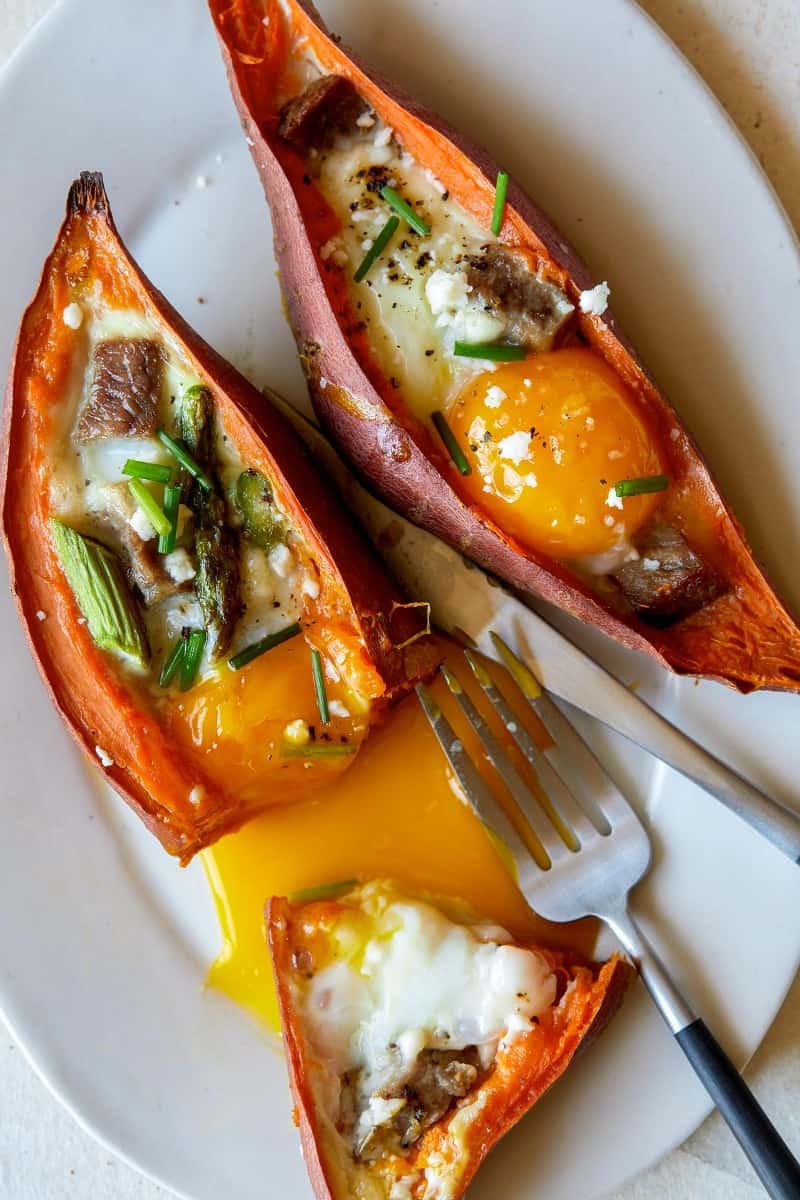 Twice Baked Steak + Egg Sweet Potatoes

Makes 6

Ingredients:
3 medium leftover baked sweet potatoes, sliced in half lengthwise
1 cup diced leftover steak, divided
1 cup sliced leftover roasted asparagus (1/2 inch pieces, cut on a bias), divided
6 large Pete and Gerry's Organic Eggs, divided
3/4 cup plus 2 tablespoons finely crumbled feta cheese, divided
thinly sliced chives or green onions, optional
salt and pepper to taste

Directions:
1. Preheat oven to 375˚F.
2. Slice each potato in half lengthwise and hollow each half out, scooping the potato flesh into a mixing bowl, leaving a 1/4"-1/2" perimeter as you scoop. Save sweet potato flesh for another use.
3. Place hollowed potato halves onto a baking sheet lined with parchment.
4. Evenly spread 2 heaping tablespoons of each the steak and asparagus into each sweet potato and top each with a heaping tablespoon of crumbled feta.
5. Crack an egg into a ramekin and carefully pour the egg into one of the sweet potatoes, over the steak mixture. Repeat with the remaining eggs and sweet potatoes. Lightly season with salt and pepper.
6. Place stuffed sweet potatoes into the oven and bake until egg whites just set and yolks are still runny, 9 to 12 minutes. Top each with an additional teaspoon of feta.
7. Allow stuffed sweet potatoes to cool for 5 to 6 minutes, sprinkle with sliced green onions or chives, if using. Serve.