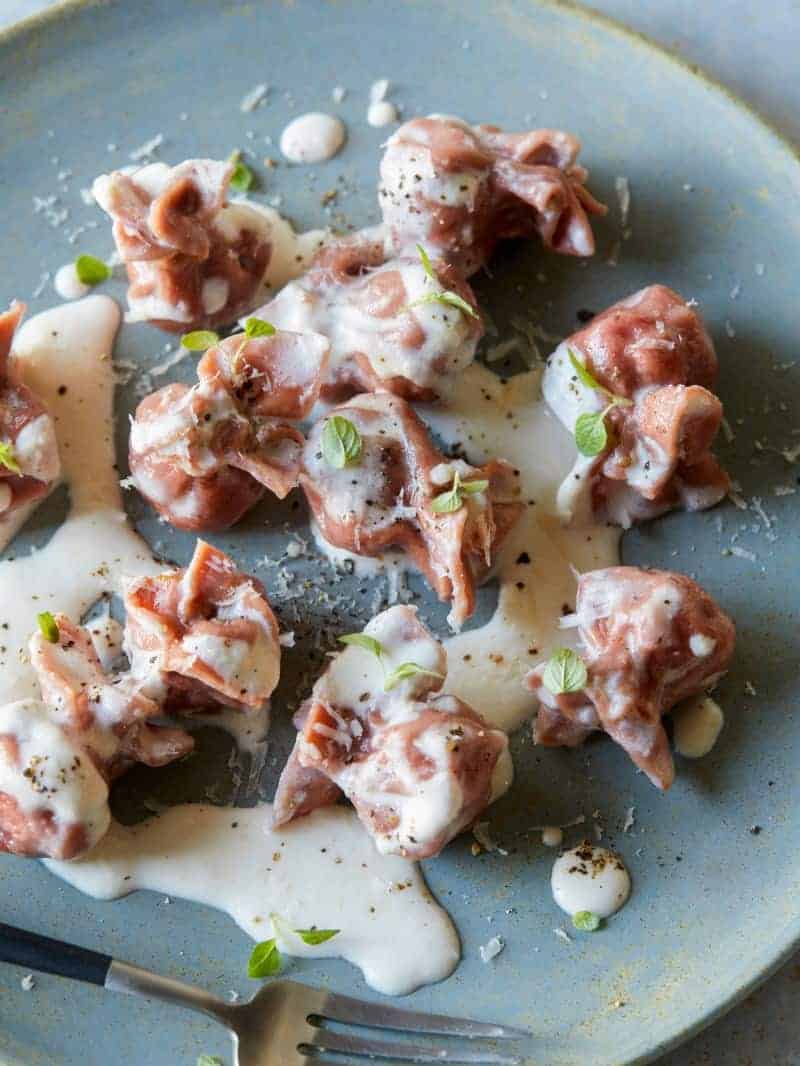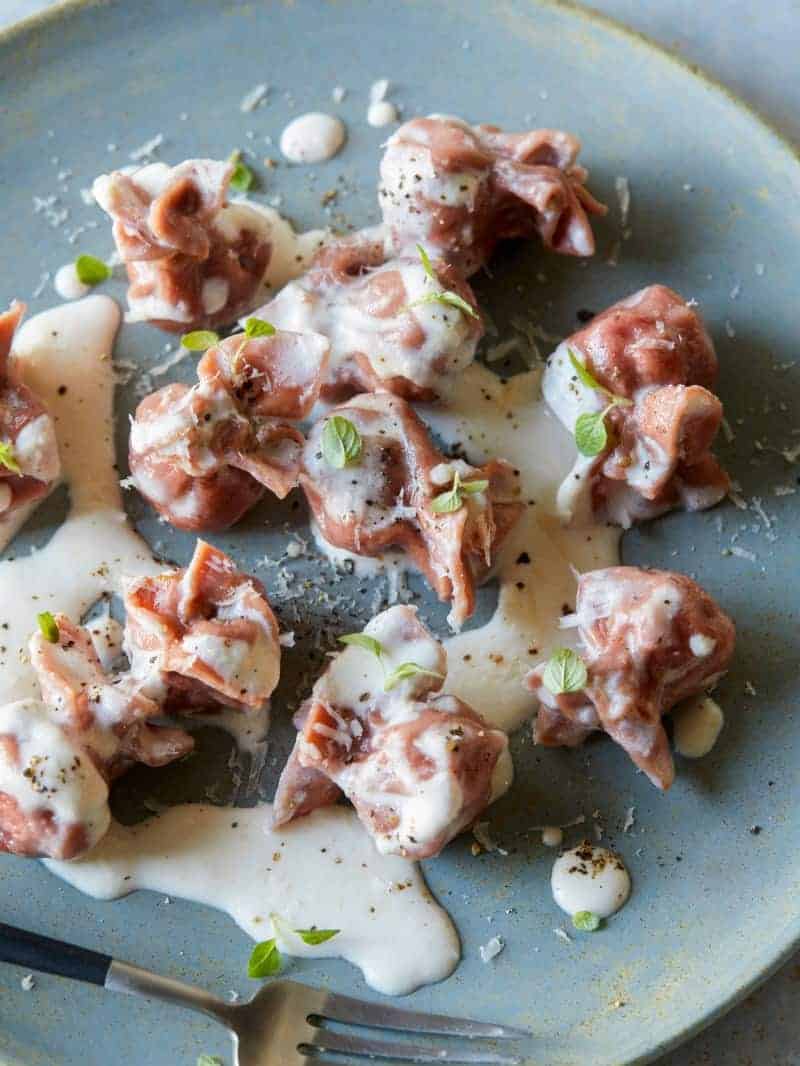 I'm so excited fall is finally here! LA is still being a little annoying about the hot weather, but I'm hoping that goes away soon. Either way, I'm jumping right into cozy, fall type meals! Today we have our Sausage Stuffed Fiocchi in a White Wine Cream Sauce. Once you get the pasta made, this recipe is super simple. The filling is Italian style turkey sausage, that's it! It's still packed with lots of flavor, while keeping things easy for us.
I also love this recipe because these fiocchi freeze really well! I love making a double recipe and freezing more than half of them for another time! I'm just beginning to trust my freezer more and more. Growing up my mom was always in the kitchen whipping something up and we hardly ever froze meals for a later time. These days the husband and I are usually pretty busy and sometimes getting home from work an hour or 4 later than expected and freezer meals are always appreciated for days like that…or honestly, even just when we're feeling lazy. :) Since I'm not totally used to it, its taken me a little while to figure out what will freeze well and what won't, but pasta, especially stuffed pastas, are very high on that list! So go make a big batch (preferably while watching something awesome or listening to a great podcast/book on tape) and freeze the crap outta them! lol. Enjoy! xx, Jenny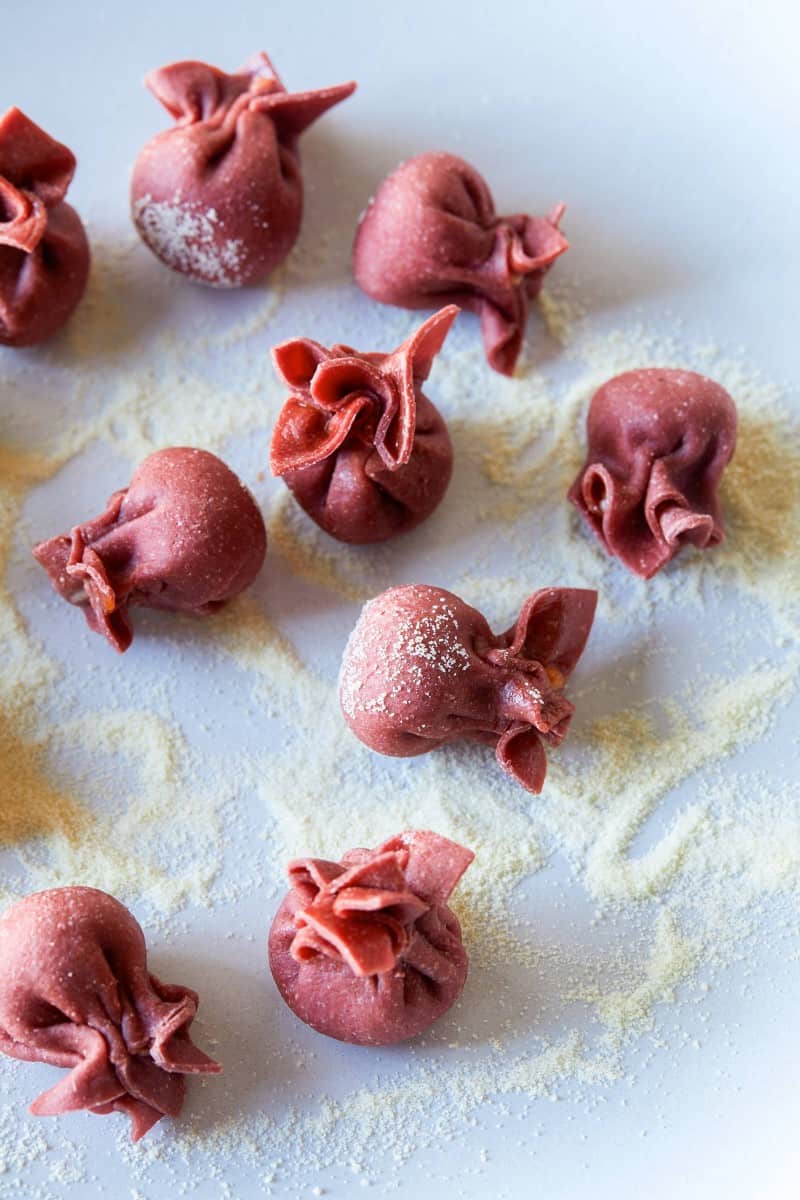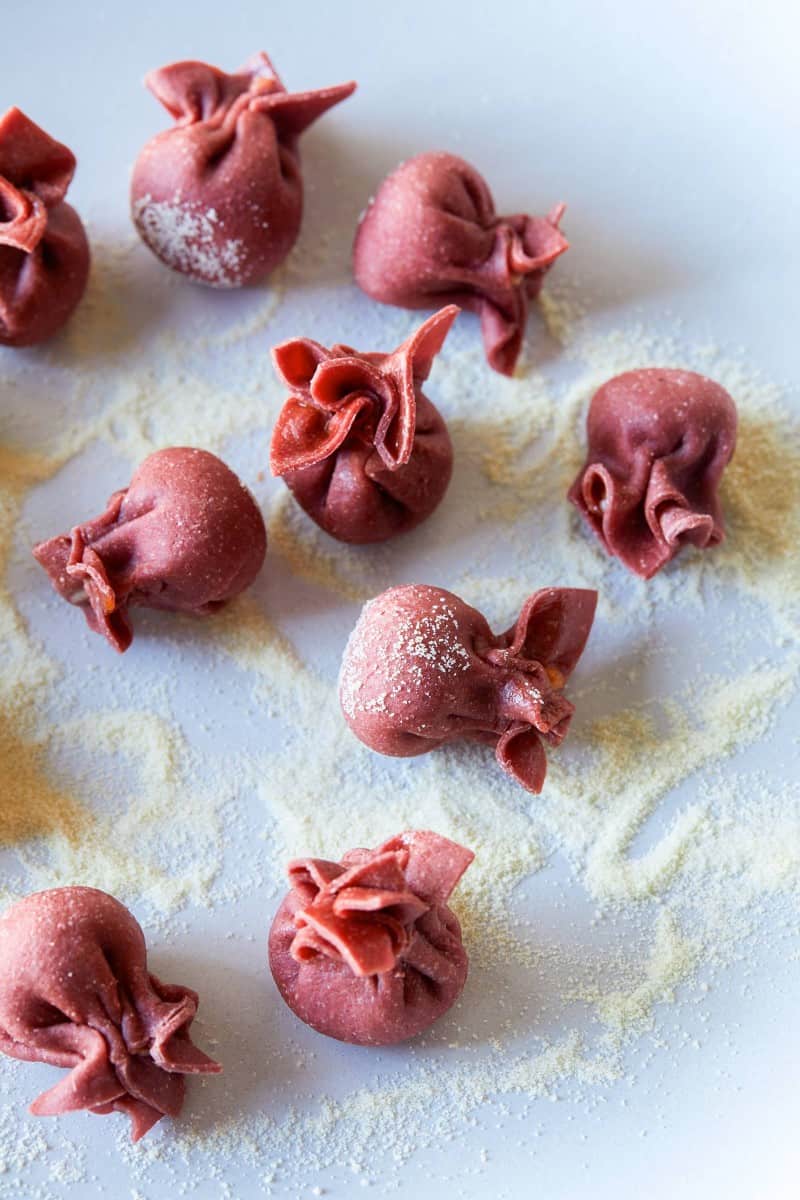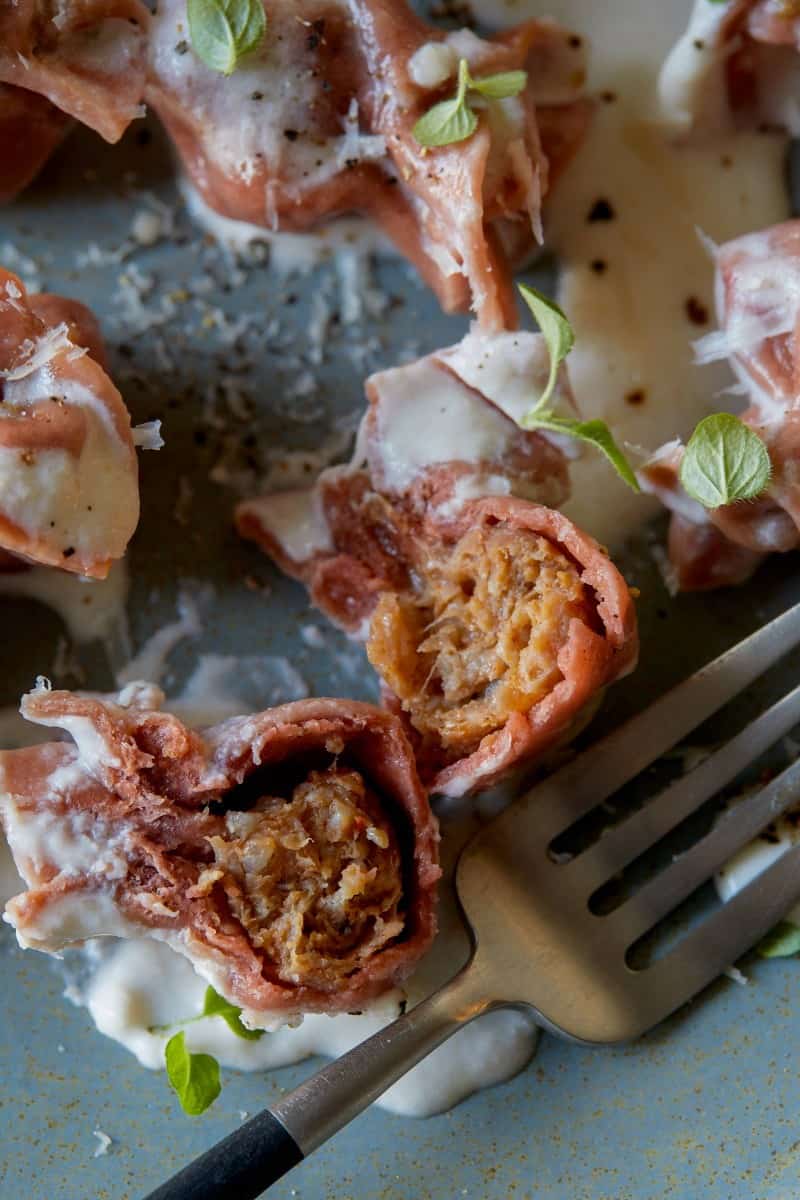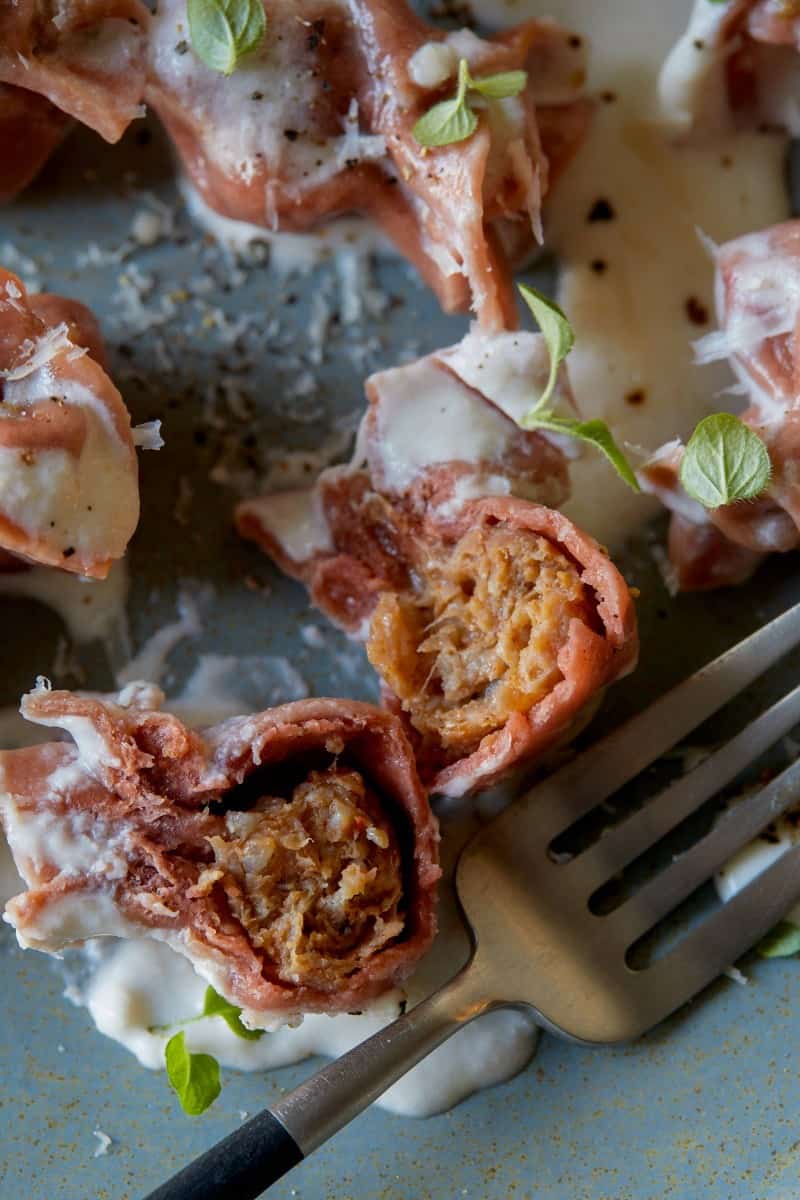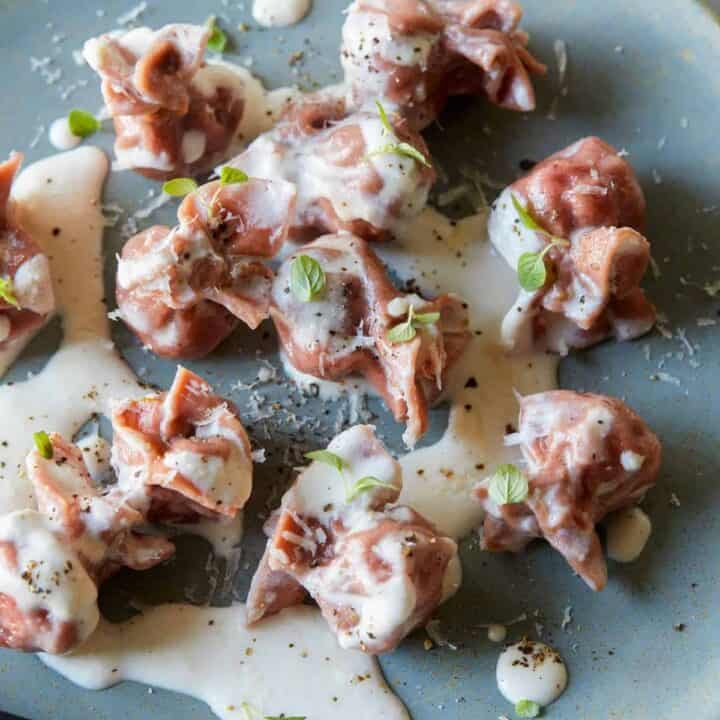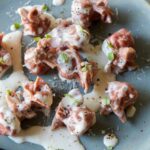 ---
Turkey Sausage Stuffed Fiocchi with White Wine Cream Sauce
INGREDIENTS
½

recipe homemade beet pasta dough

½

pound

Italian turkey sausage

1

egg, beaten

2

tablespoons

unsalted butter

1

shallot, minced

2

garlic cloves, minced

2

sprigs thyme

⅔

cup

white wine

1

cup

cream

Salt and pepper to taste
INSTRUCTIONS
Make ½ beet pasta dough recipe according to instructions and roll until paper thin. Cut out 50, 2 inch, circles and discard dough scraps.

Brush each pasta circle with egg wash and place 1 teaspoon of turkey sausage into the center of each circle. Bring the sides of each circle to the center and pinch and twist together to form little 'sacks'.

Sprinkle a baking sheet with semolina flour and place fiocchi onto the baking sheet, ½ inch apart.

Fill a large pot with water and place over medium-high heat and bring to a boil. Sprinkle a small handful of salt into the water and add about 20 fiocchi. Boil for about 4 to 5 minutes or until the sausage and pasta have cooked through and float to the top.

While pasta boils, begin sauce. Place a large skillet over medium heat and add butter.

Once butter melts, add shallots and garlic and sauté for 2 to 3 minutes. Add thyme and continue to sauté for 1 minute. Deglaze skillet with wine and continue to cook until almost all liquid has evaporated. Season with salt and pepper.

Add cream and simmer until liquid reduces by half and has thickened. Adjust seasonings.

Using a slotted spoon transfer fiocchi into the cream sauce and toss together.

Remove from heat, pull out thyme sprigs and top with freshly grated Parmesan. Transfer to a platter and serve.