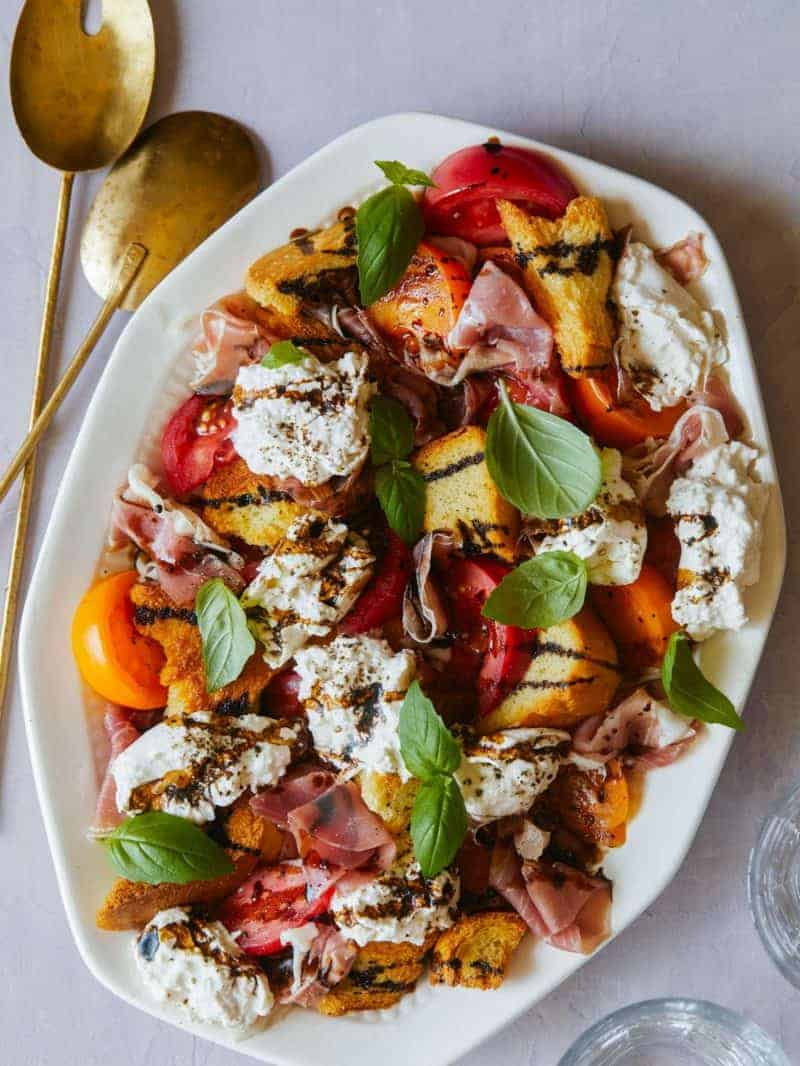 Tomato season's going to be winding down pretty soon, so we're taking advantage of all the super sweet and ripe, late season tomatoes, by eating as many as we can, in as many simple ways as we can. Today we have our Tomato, Burrata and Brioche Panzanella for you guys today. I know burrata isn't something new by any means, but for some reason I've been all about it this summer. I just can't get enough of the creamy cheese, paired with super sweet and delicious tomatoes. It's truly a perfect combination of flavors and it doesn't hurt to throw a bunch of salty prosciutto (even though I'm not eating prosciutto at the moment, until this baby arrives, sigh) and fresh basil into the mix, which is also something we've been doing a lot lately. The buttery, toasty brioche is such a fun addition to this whole mix and still keeps things super simple. I've really been about keeping things simple this summer, and you can't get more simple than fresh produce with a couple of extra creamy, salty goodies thrown into the mix. Enjoy! xx, Jenny
Tomato, Burrata and Brioche Panzanella

Serves 4 to 5

Ingredients:
balsamic glaze:
1 cup balsamic vinegar
2 tablespoons light brown sugar

4 brioche buns, torn into large bite sized pieces
3 large heirloom tomatoes, sliced into thin wedges
1 hothouse cucumber, thinly sliced on a bias
1/4 thinly sliced red onion
2 ounces paper thin sliced prosciutto
2 balls burrata
salt and pepper to taste

fresh basil leaves for garnish

Directions:
1. Balsamic glaze: Place balsamic vinegar and sugar into a small saucepan and place over medium-low heat. Simmer until mixture has reduced by half and thickened. Set aside until cooled completely.
2. Preheat oven to 350˚F.
3. Spread brioche onto a baking sheet, in a single layer, and bake for 10 to 15 minutes or until golden brown and toasted. Remove from heat and cool completely.
4. Assemble: Place toasted brioche, tomatoes, cucumber and red onion into into a large mixing bowl, season with salt and pepper and toss together. Transfer mixture to a large platter and top with prosciutto, balls of burrata and a drizzle of balsamic glaze. Season with salt and pepper. Top platter with basil leaves. Serve.