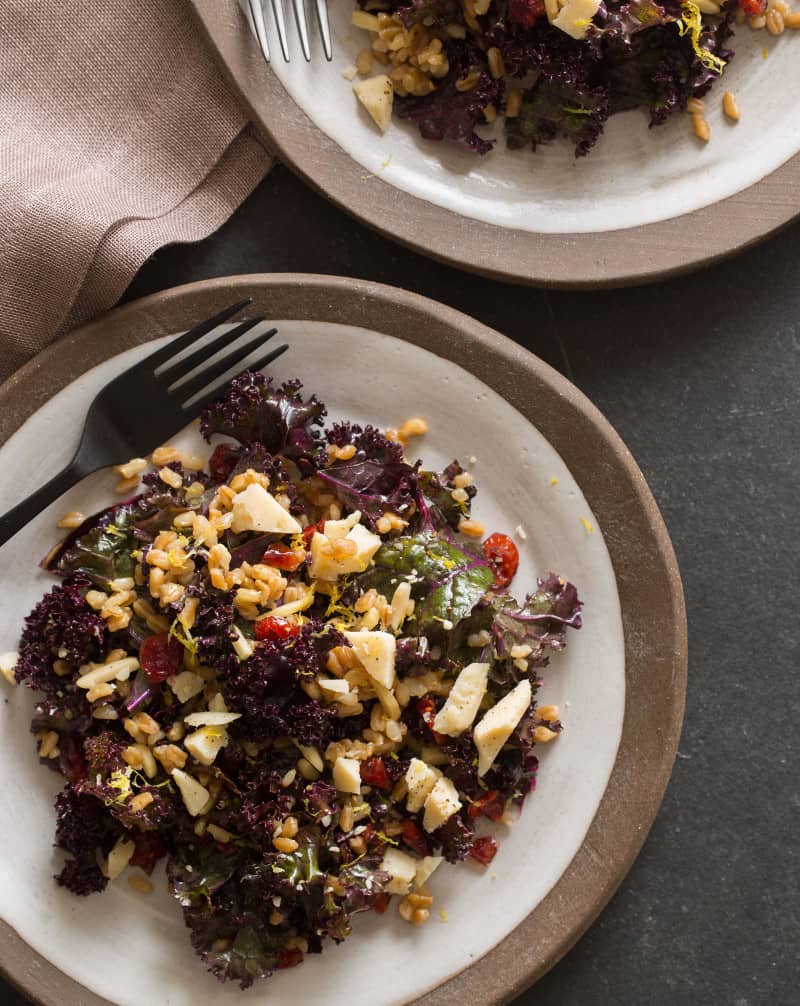 Hi! Yesterday we launched our new design! Do you guys like it? It works better on mobile, and we improved our recipe index search situation. It's a nice mini refresher. We hope you guys like it and find it easier to navigate. Anyway! I think this might be our first salad of the new year! Yay healthy salads! But really, I've been try to eat better, like I am sure a lot of you are doing as well. It's not really so much a new years resolution but more of a you feel better when you eat salads so let's do more of that. This salad is great because the lemon vinaigrette is super tasty, and is nice to make a batch of to dress any kind of salad. We also added some grains to this salad to make it a bit more filling. The kale is super hearty, so this is a great salad to make ahead of time and dress when ready. No wilting yay! Enjoy guys!
♥ Teri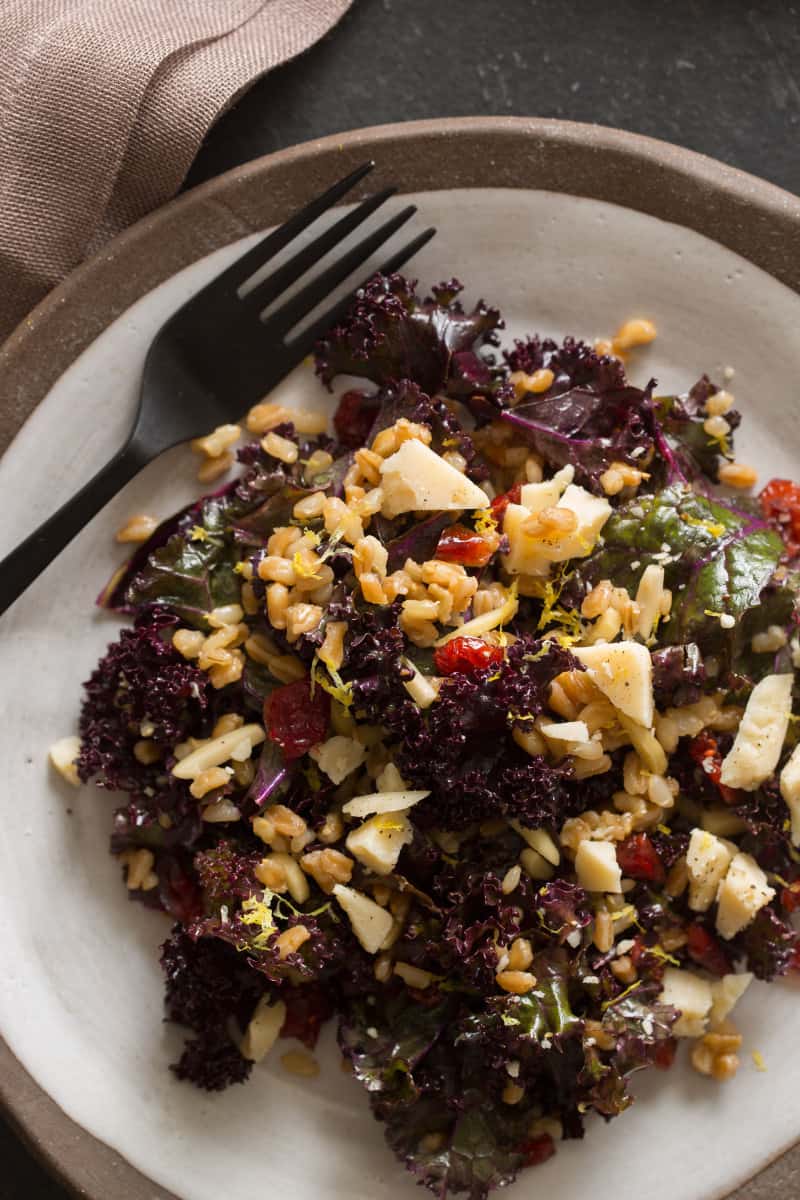 Three Grain and Kale Salad with a Simple Lemon Vinaigrette
Serves 4 to 6
Ingredients:
lemon vinaigrette:
2 tablespoons fresh lemon juice
1 1/2 tablespoons honey
2 teaspoons Dijon mustard
1 garlic clove, minced
2/3 cup extra virgin olive oil
salt and pepper to taste
1 bunch kale, ribs removed and torn into bite sized pieces
2 tablespoons of coconut oil (or extra virgin olive oil)
1/3 cup dry farro
1/3 dry short grain brown rice
1/3 cup dry pearled barley
3 cups vegetable or chicken stock
2/3 cup toasted slivered almonds
2/3 cup dried cranberries
Directions
1. For lemon vinaigrette: Place all ingredients, except oil, into a mixing bowl and whisk together. While whisking, pour oil into the mixture in a slow and steady stream until fully incorporated and well blended. Adjust seasonings.
2. For grain + kale salad: Place torn kale into a large bowl and top with vinaigrette. Massage vinaigrette into the kale. Cover and refrigerate.
3. Pour coconut oil into a medium pot and place over medium-high heat. Add grains and toast for 2 to 3 minutes. Pour stock into the toasted grains and bring mixture to a boil.
4. Once the mixture is boiling, reduce the heat to medium or medium-low and simmer until most the liquid has evaporated and the grains have cooked through, 30 to 40 minutes.
5. Drain any remaining liquid and season grain mixture with salt and pepper. Set aside and cool.
6. Once grains have cooled, remove the marinated kale leaves from the refrigerator and top with grains, almonds and cranberries. Toss together. Serve.