Hi Guys! We have some pretty exciting news we've been dying to share with you all: We're coming out with a COOKBOOK!! That's right, Tiny Food Party is coming out fall 2012, October 9 to be exact. For the past year, we've been playing working like crazy to produce a pretty little cookbook, with some fun and delicious recipes.
Why Tiny Food Party? Bite sized foods are awesome and we're sure you guys have noticed we have a bit of a thing for small bites. Tiny things are so freaking cute, and when you pair that with food it's magic. This is the perfect book for entertaining, or just being awesome.
In Tiny Food Party you'll notice some classic foods and dishes turned tiny, like Teeny Chicken Parmesan Crostini, Super-Small Deep Dish Pizzas, Mini Homemade Pop Tarts, and Teensy Funnel Cakes. Not only do we recreate classic American dishes, but we also dabble in international fare, with some of our favorite foods teensified! Don't think we've forgotten cocktail hour! Our cookbook definitely includes a cocktail section with quirky adult beverages including a mind blowing Itty Bitty Bloody Mary. Lets just say there are pickled green beans involved… and candied bacon rims….and deep fried quails eggs.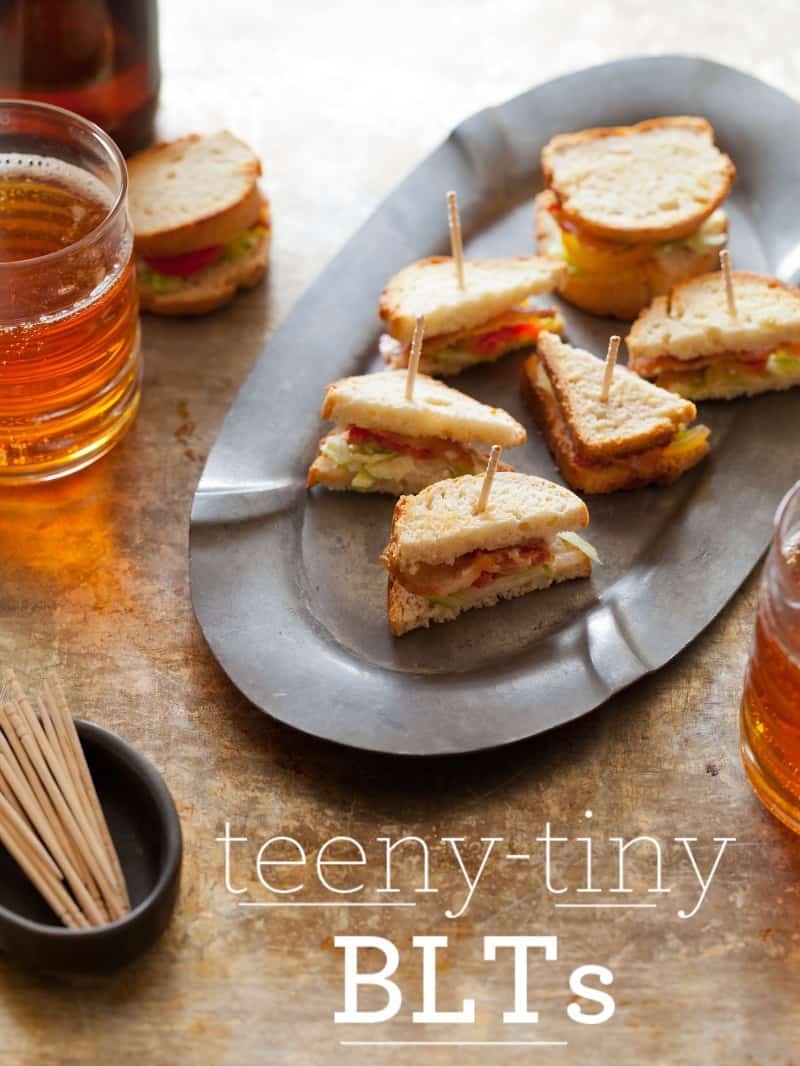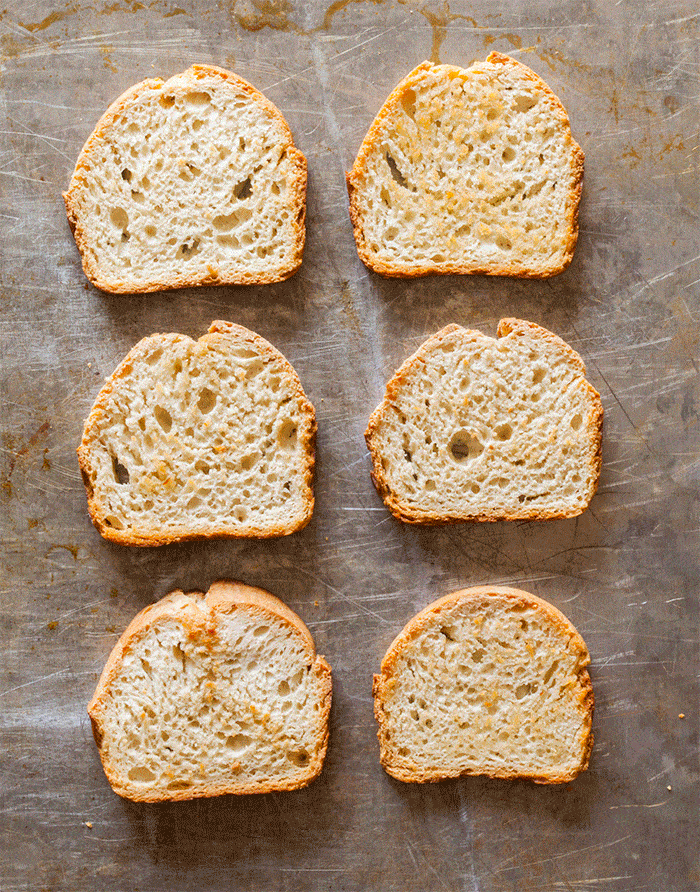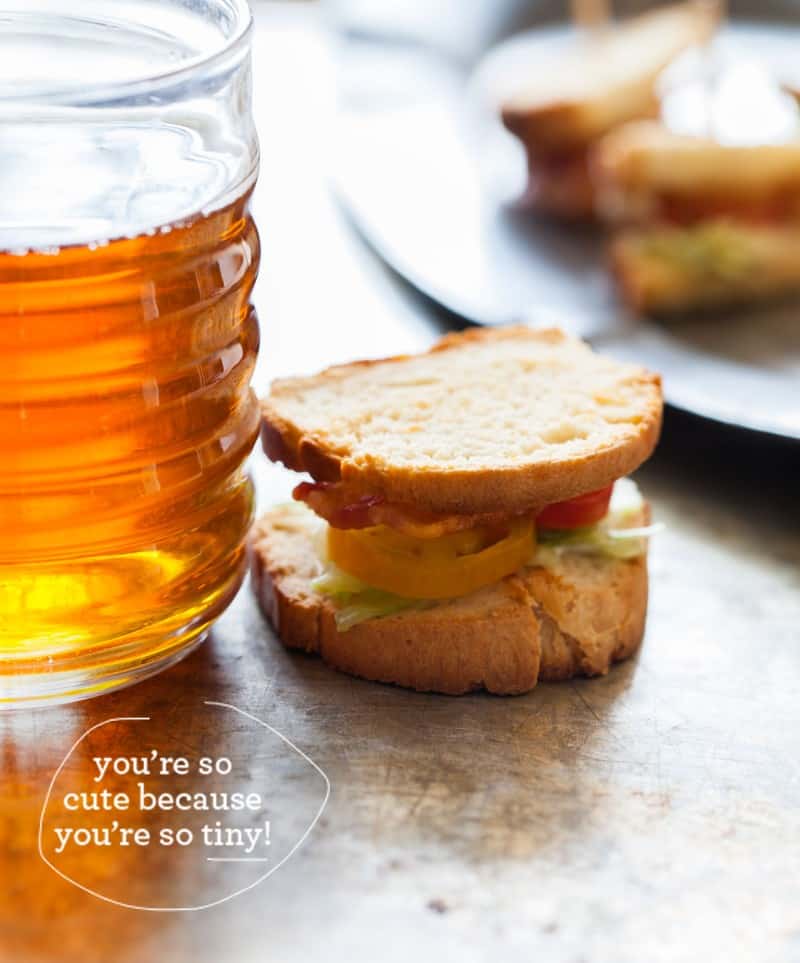 If any bloggers would like a review copy, just holler! Really! There is a limited supply available, so get yours now! Pretty please?! Email us at hi@spoonforkbacon.com with the subject like "I want to review Tiny Food Party! YAY!" and leave us your name and the name of your blog, then we will be in touch. Wooo! We are really excited, so to kick things off we have some Teeny Tiny BLTs for you today. Isn't the miniature bread adorable? We hope you are all as excited as we are! You can head on over to Spoon Fork Bacon's Tiny Food Party! page for more info on the book and find out where to buy it. Go there.
xx Jenny ♥ Teri
*UPDATE – we have gotten tons of emails for people wanting to review Tiny Food Party! YAY! Thank you! We can only choose so many, so if you decide to email us, please send us a link to your blog! Thank you!
Teeny Tiny BLTs
Makes 32
Ingredients:
1 loaf frozen Parker House bread loaves, cut into thirds then each piece split down the middle OR 1 french baguette, thinly sliced and toasted
1 tablespoon vegetable oil
8 strips bacon
3 1/2 tablespoons mayonnaise
14 to 15 cherry tomatoes, sliced
1/2 cup shredded iceberg
Directions:
1. Preheat oven to 350°F. Place cut loaves into 1½"x 3" mini loaf pans and allow formed loaves to thaw and proof in a warm area until doubled in size, about 1 to 1 ½ hours. Place loaves into the oven and bake for 35 to 45 minutes or until golden brown and cooked through. Remove loaves from the oven and the mini pans and allow to cool completely. Thinly slice loaves into ¼ inch slices and gently toast. Set aside.
2. Place oil into a heavy bottom skillet over medium heat. Add bacon strips and fry for 4 to 5 minutes. Flip bacon and cook for an additional 2 to 3 minutes. Drain on paper towels and cut each strip into four pieces.
3. To assemble: Spread a small amount of mayonnaise onto each slice of bread and top half of the slices with bacon, lettuce and tomatoes. Finish the sandwiches with the remaining bread slices, secure with toothpicks and cut (if desired). Serve!