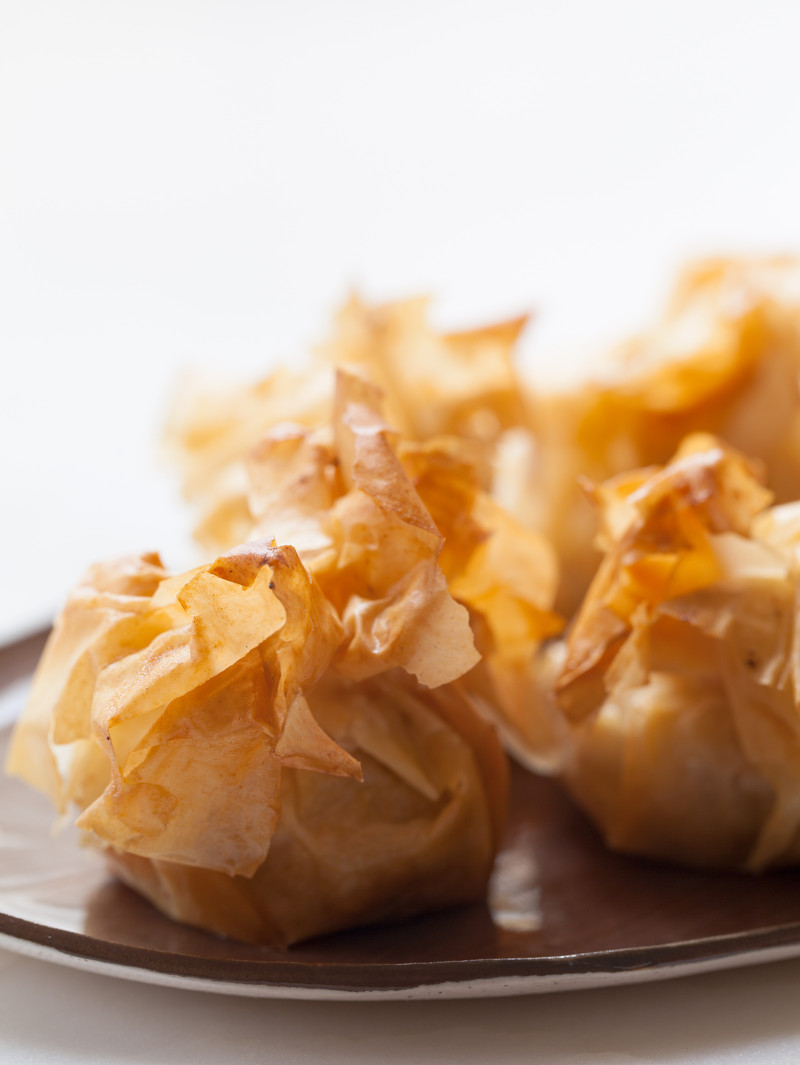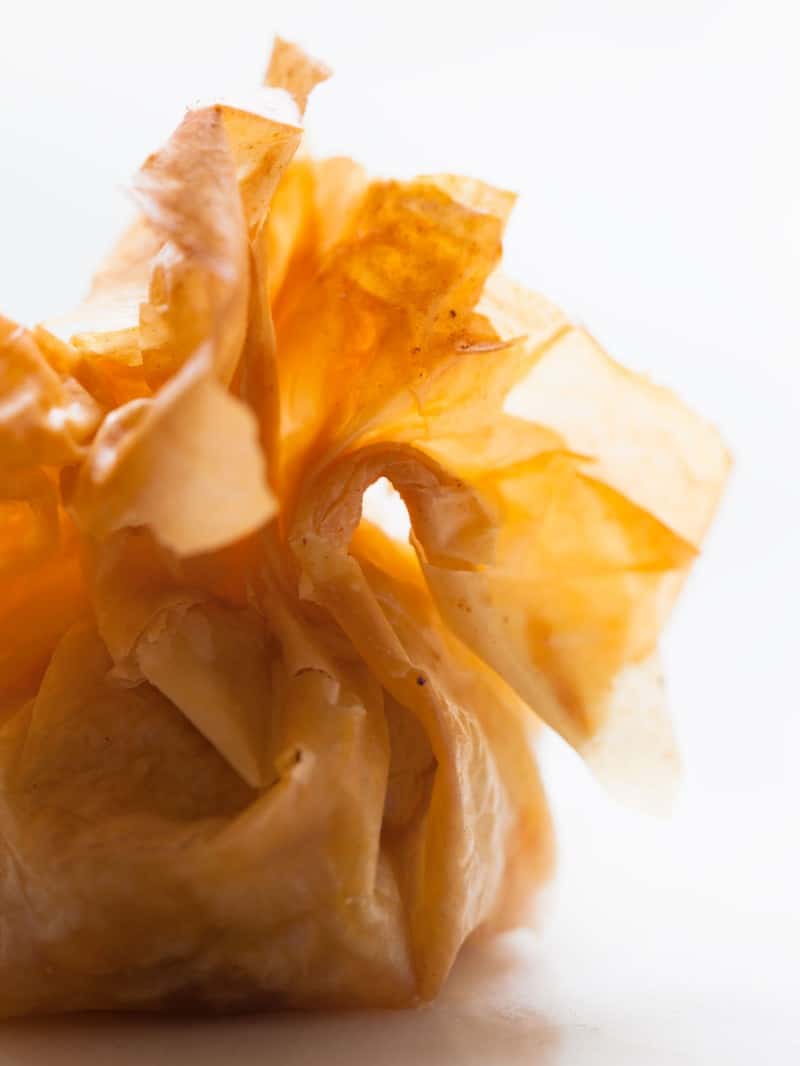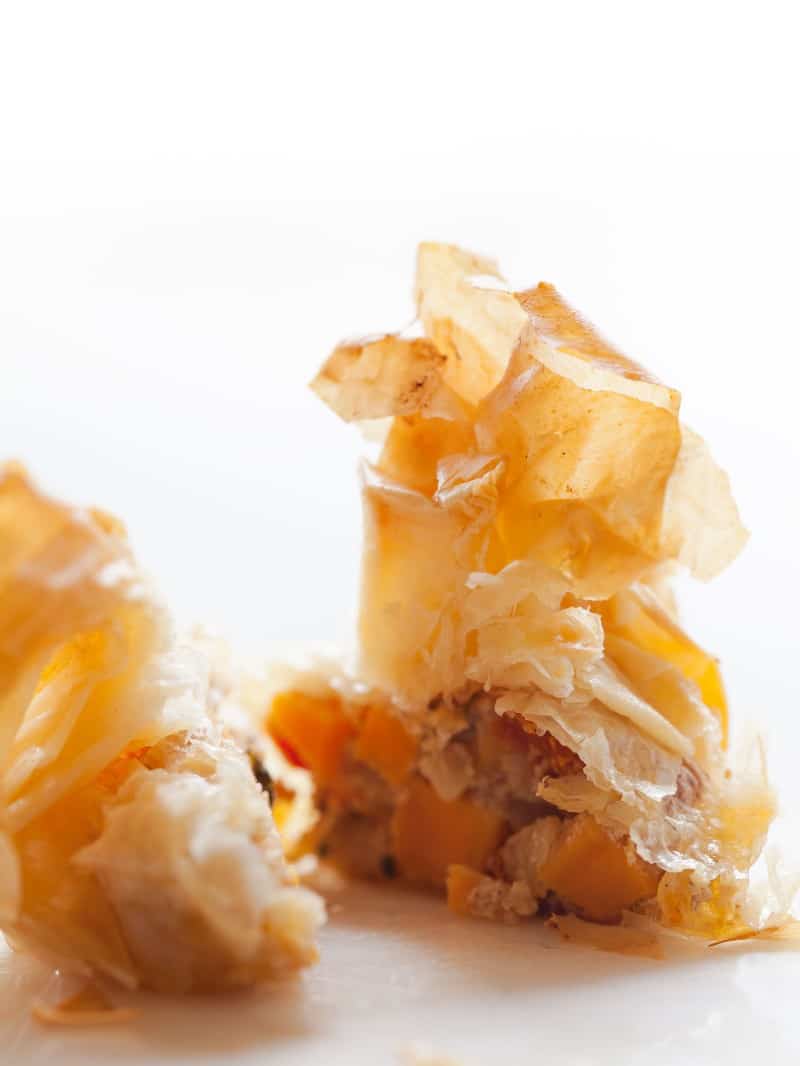 Holiday season is upon us, and it is becoming stressful. Thoughts running through my head include: How the heck am I going to pull of Thanksgiving for the first time? Will it be fun or disgusting to shove my hand into the big hole in the back of a turkey? How do people keep everything warm with one oven? I wonder who the next celebrity that gets weird nude photos stolen off their phone will be? I hope I don't burn things. So there is that going through my head. Constant circle of thoughts that is never ending. I know some of you are probably Thanksgiving veterans, so if you have any words of advice, I will very much appreciate it.
Moving on to things pertaining to this post, these are cute little appetizers. They are little filo pockets filled with goodness and they are super pretty. The tops kind of remind me of my hair when I wear it up. This is a bad thing, and now I will reconsider my go to hairstyle. Anyway, these are actually a great appetizer for parties. They are gorgeous, and easy. Not to mention the ingredients lend itself to Thanksgiving. We also have a lot of other appetizer recipes in our recipe index if you are looking for something specific. YAY HOLIDAYS!
♥ Teri
Sweet Potato Pecan and Goat Cheese Bites
Makes 26 to 30
Ingredients:
sweet potato filling:
2 tablespoons extra virgin olive oil
1 large sweet potato, peeled and diced
½ yellow onion, diced
1 garlic clove, minced
1 tablespoon thyme, minced
1/3 cup sweet bourbon
¼ cup toasted pecans, chopped
1 teaspoon cumin
½ teaspoon cinnamon
4 ounces goat cheese, crumbled
salt and pepper to taste
8 sheets filo, thawed
¼ cup butter, melted
Directions:
1. Preheat oven to 375°F.
2. Heat oil in a large sauté pan, over medium-high heat.
3. Sauté sweet potatoes for 4 to 5 minutes. Add onions and garlic and continue to sauté. Season with salt and pepper.
4. Add thyme and sauté for an additional 3 minutes.
5. Deglaze pan with the bourbon and cook until the liquid has almost disappeared, about 5 minutes.
6. Stir in the pecans, cumin and cinnamon and reduce the heat to medium.
7. Gently stir in the goat cheese until fully incorporated. Season with salt and pepper. Pour the mixture into a bowl and set aside.
8. Place a single filo sheet onto a cutting board and brush with butter; layer with another filo sheet and repeat until all have been used. Cut out 1½ inch squares.
9. Place a tablespoon of filling in the center of each square and form small bags, slightly twisting the top to hold the filling in place (creating small filo purses).
10. Place the bags onto a baking sheet lined with parchment and bake for 13 to 17 minutes or until the bags turn golden brown. Serve warm.