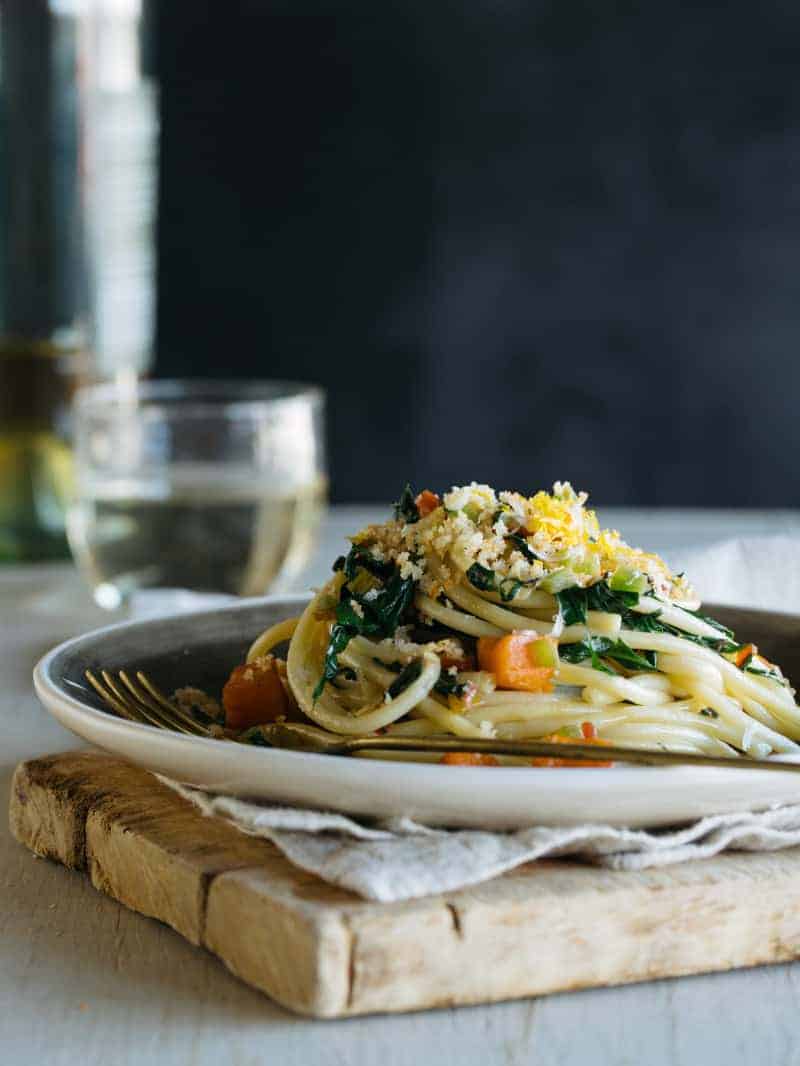 I hope everyone had a great thanksgiving weekend! The weather in LA has finally gotten to a stable, crisp and chilly temperature and it officially feels like the fall and winter seasons are upon us. This basically means one thing….load me up on carbs please!! Seriously though, my love for all things pasta and noodles is no joke and this Sweet Potato and Garlic Chard Bucatini with Orange Browned Butter is no exception. I love the simple, but hearty flavor combinations here and this bowl of goodness just screams cozy. It's also a super simple recipe that's perfect for busy weeknights or even lazy weekends, while binge watching your favorite show, ya know? :) Enjoy! xx, Jenny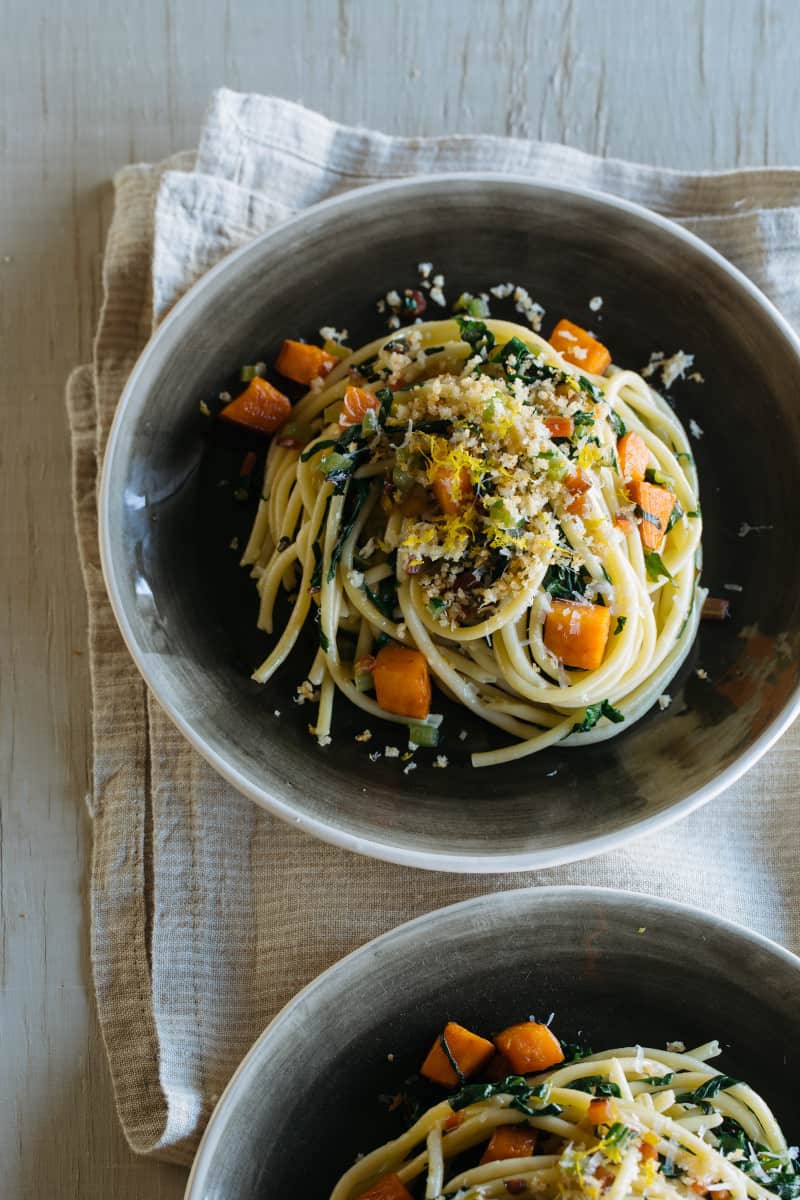 Sweet Potato and Garlic Chard Bucatini with Orange Browned Butter

Serves 4

Ingredients:
1/2 pound dry bucatini
3 1/2 tablespoons extra virgin olive oil
1 sweet potato, cleaned and diced
1 bunch rainbow chard leaves, thinly sliced
2 rainbow chard stalks, finely diced
2 garlic cloves, minced
1 teaspoon thyme, minced
1/2 cup (1 stick) unsalted butter
zest of 1 orange plus more for garnish
salt and pepper to taste

grated Parmesan

Directions:
1. Place a large pot of water over high heat and bring to a boil. Add a handful of salt into the water and add the pasta. Boil until the pasta is al dente, stirring occasionally. Drain and set aside.
2. Pour 2 tablespoons oil into a large skillet and place over medium-high heat. Add sweet potato, season with salt and pepper and sauté for 7 to 9 minutes, or until sweet potato is fork tender (reducing heat as needed). Remove from skillet and set aside.
3. Pour remaining oil into the skillet and add chard leaves and stems, sauté for 4 to 5 minutes. Season with salt and pepper. Sprinkle garlic and thyme over the chard and continue to sauté for 2 to 3 minutes.
4. Remove from skillet and combine with sweet potato.
5. Melt butter in the skillet over medium-low heat. Simmer until the butter begins to brown and a nutty aroma appears (6 to 8 minutes).
6. Add the orange zest and simmer for 1 minute. Add the bucatini, sweet potato and chard back into the skillet and toss together until evenly coated. Adjust seasonings.
7. Finish with more orange zest and a lot of grated Parmesan. Serve.