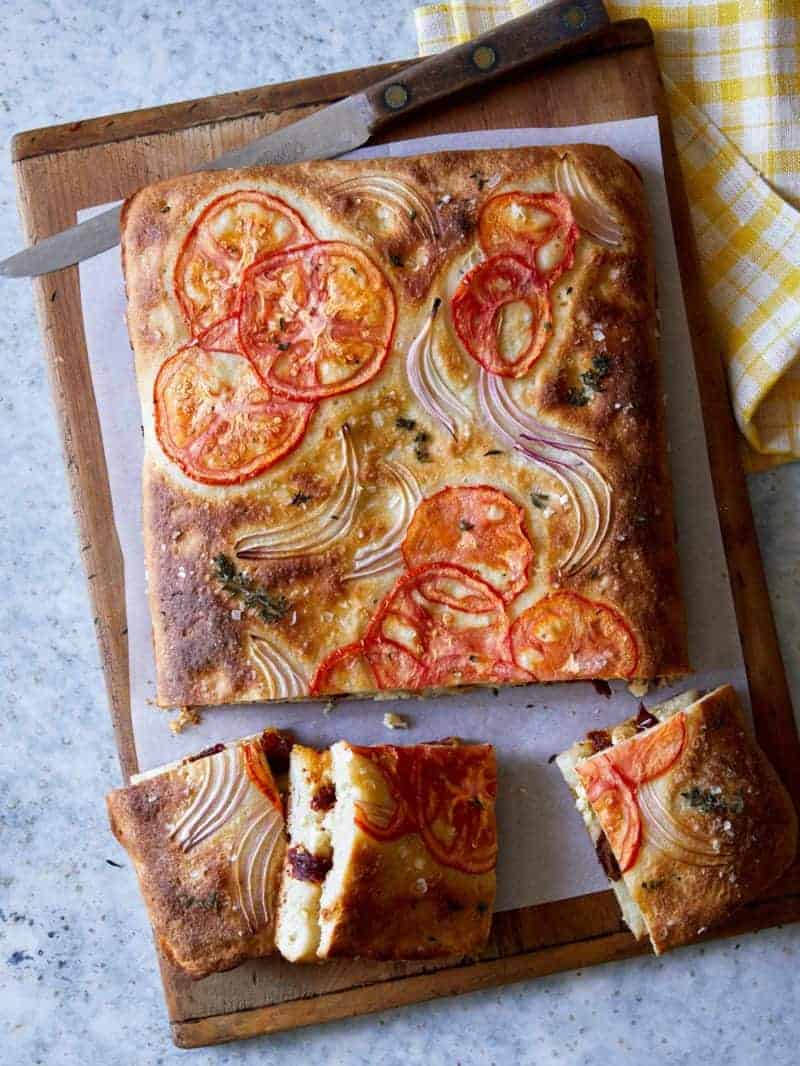 We are both fans of Focaccia (ok, who isn't?!) so we wanted to level up focaccia a little and thought it would be fun to make a stuffed focaccia recipe. Remember when stuffed crust on a pizza was a thing? This is kind of like that, except we stuffed ours with Sun Dried Tomato and Feta. Imagine eating this was a huge Italian chopped salad. That would be a dream. This is also ideal snacking bread. Make a batch, cut it up into pieces and have at the ready. Yes please!
♥ Teri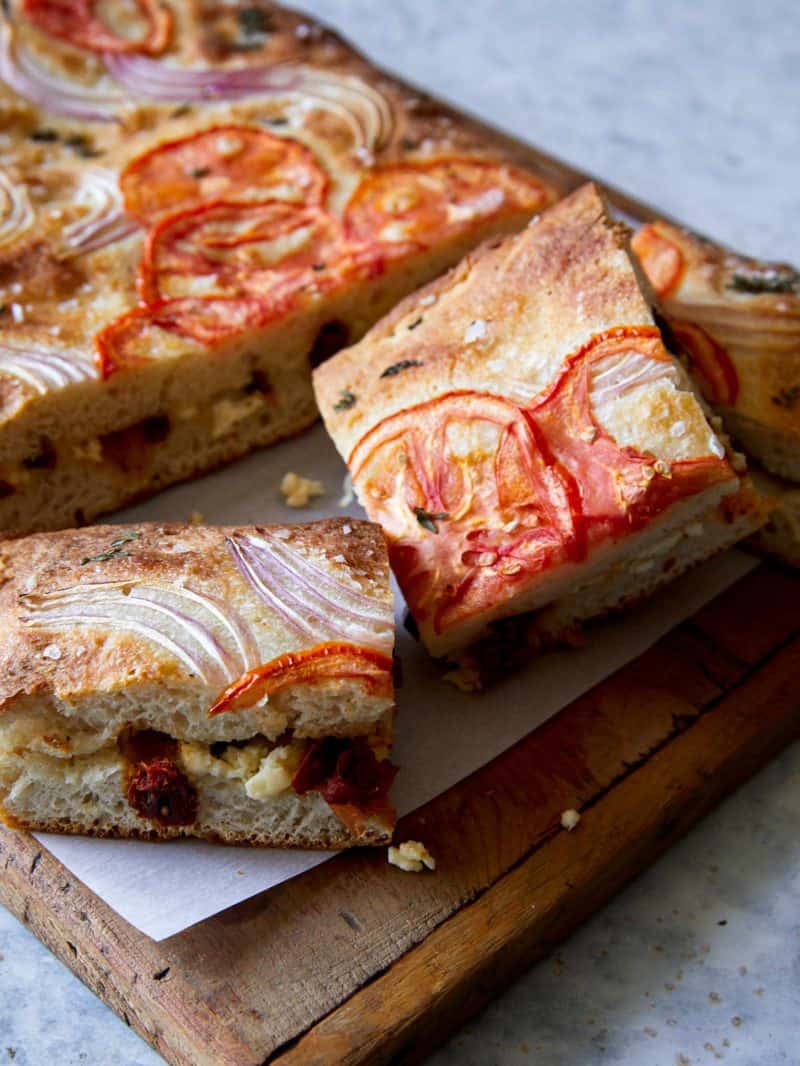 Sun-Dried Tomato and Feta Stuffed Focaccia

Makes 1 (9"x13") loaf

Ingredients:
2 cups warm water (~110˚F)
2 teaspoons active-dry yeast
1/2 teaspoon sugar
4 1/4 to 4 3/4 cups all-purpose flour
1 1/2 teaspoons salt
3 1/2 tablespoons extra virgin olive oil

1/2 cup sliced sun-dried tomatoes packed in oil, drained
1/2 cup crumbled feta
1/2 cup grated Parmesan
1 tablespoons chopped thyme
1 vine ripe tomato, very thinly sliced
1/10 very thinly sliced red onion
sea salt flakes

Directions:
1. Pour 2 cups water into a mixing bowl and sprinkle with yeast. Allow yeast to dissolve and bubble, about 7 to 8 minutes.
2. Add 4 1/4 cups flour and salt to yeast mixture and stir together until a sticky dough forms.
3. Turn dough onto a lightly floured surface and knead. Add a tablespoon of flour at a time, while kneading until a soft, elastic dough forms.
4. Place dough into a lightly greased bowl, cover and store in a warm place until doubled in size, about 1 hour.
5. Preheat oven to 425˚F.
6. Divide dough in half and brush baking sheet dish with 1 1/2 tablespoons oil.
7. Spread half of dough evenly onto the oiled baking sheet. Top with sun-dried tomatoes, feta and Parmesan.
8. Carefully spread and layer other half of dough evenly over sun-dried tomato mixture, pressing dough down all over with fingers.
9. Brush top of dough with remaining oil and top oiled brushed dough with thinly sliced tomatoes, red onion and thyme.
10. Loosely cover and allow dough to rise again, about 20 minutes.
11. Sprinkle top evenly with sea salt flakes and bake for 25 to 30 minutes or until focaccia is golden brown and fluffy.
12. Remove from oven and cool until focaccia is still warm. Slice into pieces and serve.