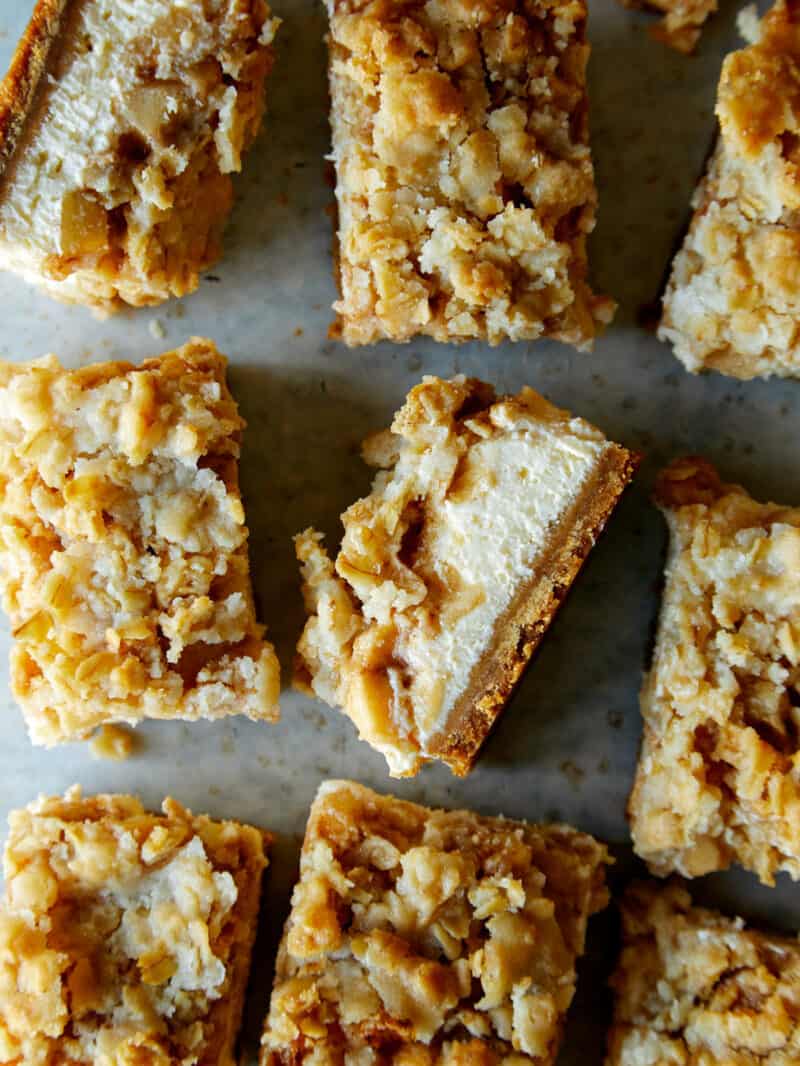 I think the first time I had an apple pie topped cheesecake was at Cheesecake Factory years ago. I thought it was one of the greatest desserts ever, lol. Today we have Apple Pie Cheesecake Bars for you guys. I turned them into bars because I like how this can be made in a baking dish, they can be broken down into more servings and there's no need to worry about a water bath situation! These bars also freeze really well, so you can make them up to a month ahead of time, cut them up and store them in the freezer for random snacking!
These bars are actually pretty easy to make. It starts with a basic butter, sugar and nilla wafer crumb crust that gets mixed together and pressed into the bottom of the baking dish. The filling is from our  New York Style cheesecake recipe and really easy to bring together. It's super rich and creamy with a slight tangy flavor that really balances everything out. The apple pie filling is also simple and the apples, brown sugar, tapioca starch (or cornstarch), cinnamon, ginger, nutmeg, and salt are all just tossed together and gently pressed into the cheesecake filling. Finally the recipe is topped off with a deliciously sweet and crumbly streusel topping filled with sugar, rolled oats, a little flour, and butter. It's sprinkling over the apple pie filling and just creates such a nice top crust over the whole thing. Enjoy! xx, Jenny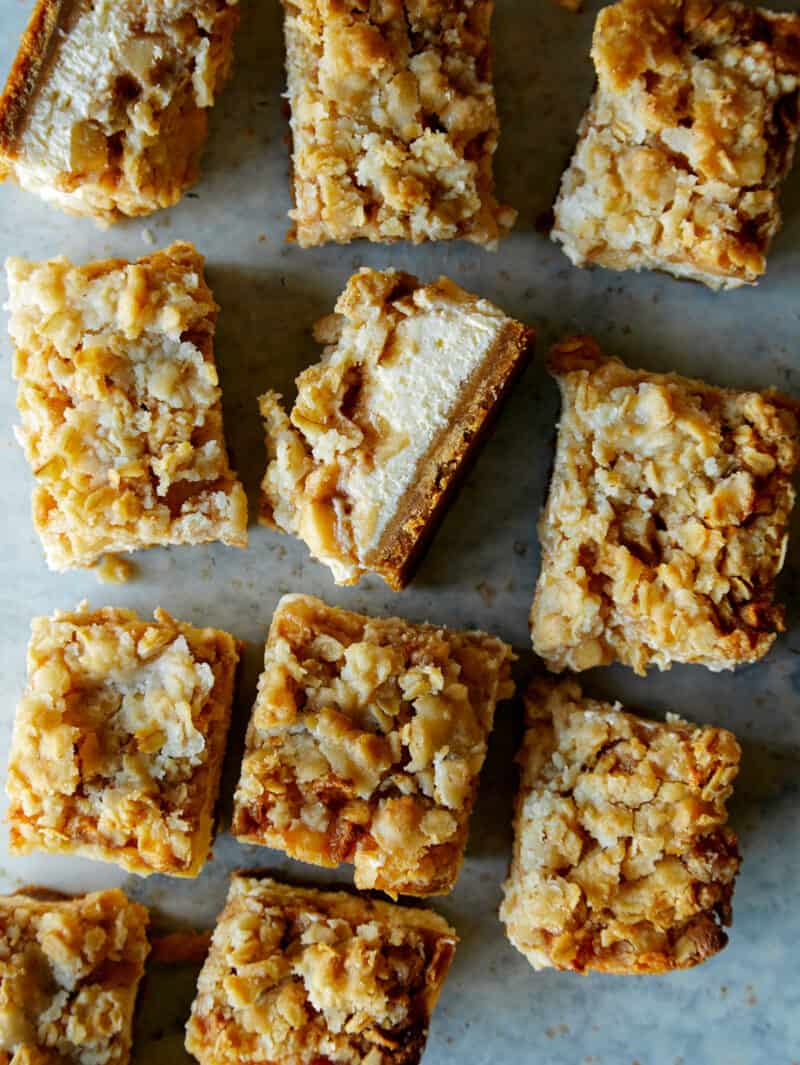 Streusel Topped Apple Pie Cheesecake Bars
Makes 1 (8"x8") pan
Ingredients:
Nilla wafer crust:
12 ounces nilla wafers, crushed into a fine powder
6 tablespoons unsalted butter, melted and cooled
1/2 NY cheesecake filling recipe
apple pie filling:
2 golden delicious apples peeled, cored and diced
2 tablespoons brown sugar
1 teaspoon tapioca starch
1 teaspoon ground cinnamon
1/2 teaspoon ground ginger
1/4 teaspoon ground nutmeg
1/4 teaspoon salt
streusel topping:
1/2 cup superfine sugar
1/4 cup rolled oats
2 tablespoons all purpose flour
3 tablespoons cold unsalted butter
Directions:
1. Preheat oven to 350˚F.
2. Pour wafer crumbs and butter into a mixing bowl and mix together until all crumbs are well coated. Press mixture into the bottom of a parchment lined 8"x 8" baking dish. Refrigerate for 30 minutes.
3. Make cheesecake filling and pour over crust, smoothing the surface.
4. Place all of the apple pie ingredients into a mixing bowl and toss together until completely mixed. Pour mixture over the cheesecake filling and smooth the surface.
5. Place the sugar, oats and flour into a mixing bowl and whisk together. Add the butter and cut into the mixture using a pastry knife until the mixture resembles cornmeal. Sprinkle the streusel evenly over the apple pie mixture.
6. Bake for 30 to 35 minutes or until golden brown and cooked through completely.
7. Allow the cheesecake to cool completely, then refrigerate for at least 1 hour.
8. Cut cheesecake into bars and serve.