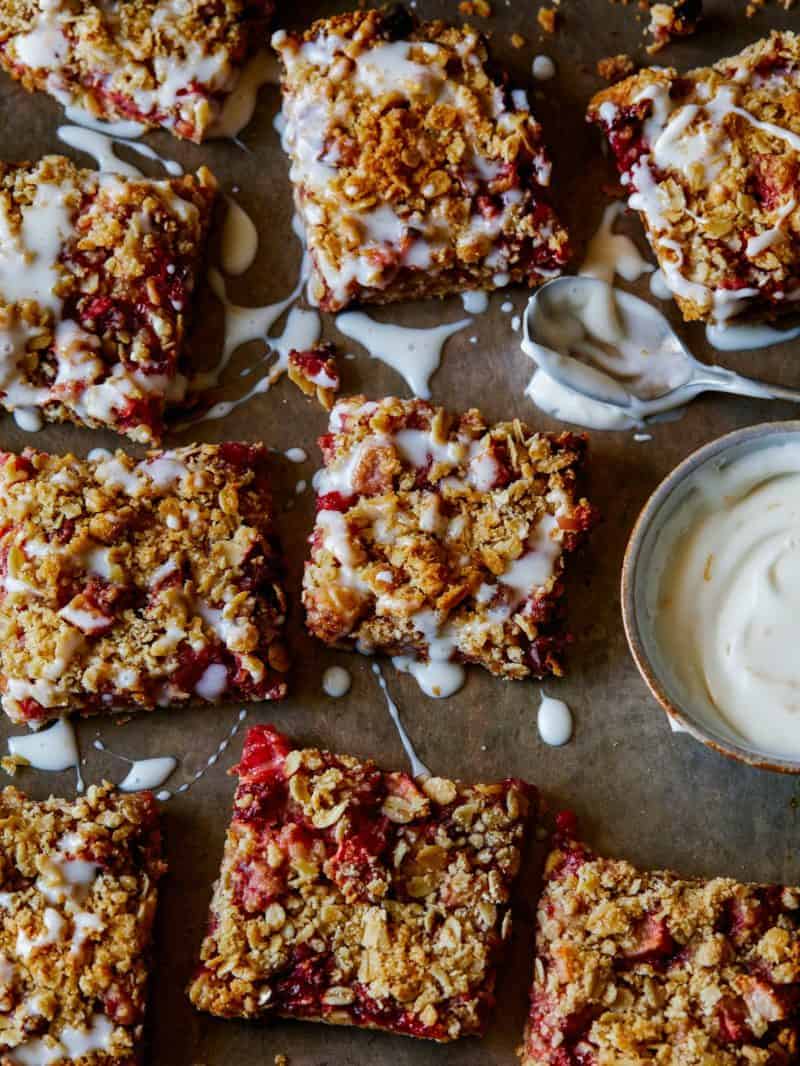 I really love these Strawberry Oat Crumble Bars. The strawberry is so fresh, and paired with the meyer lemon glaze it's pretty amazing. I really love this flavor pairing, and I also love the oats, texture of the oats in bars is so good. This one just has everything I want in a really good oat bar. These are great because they don't feel super heavy or intense, which makes them pretty great for snacking. I hope you love these ones as much as I do! :)
♥ Teri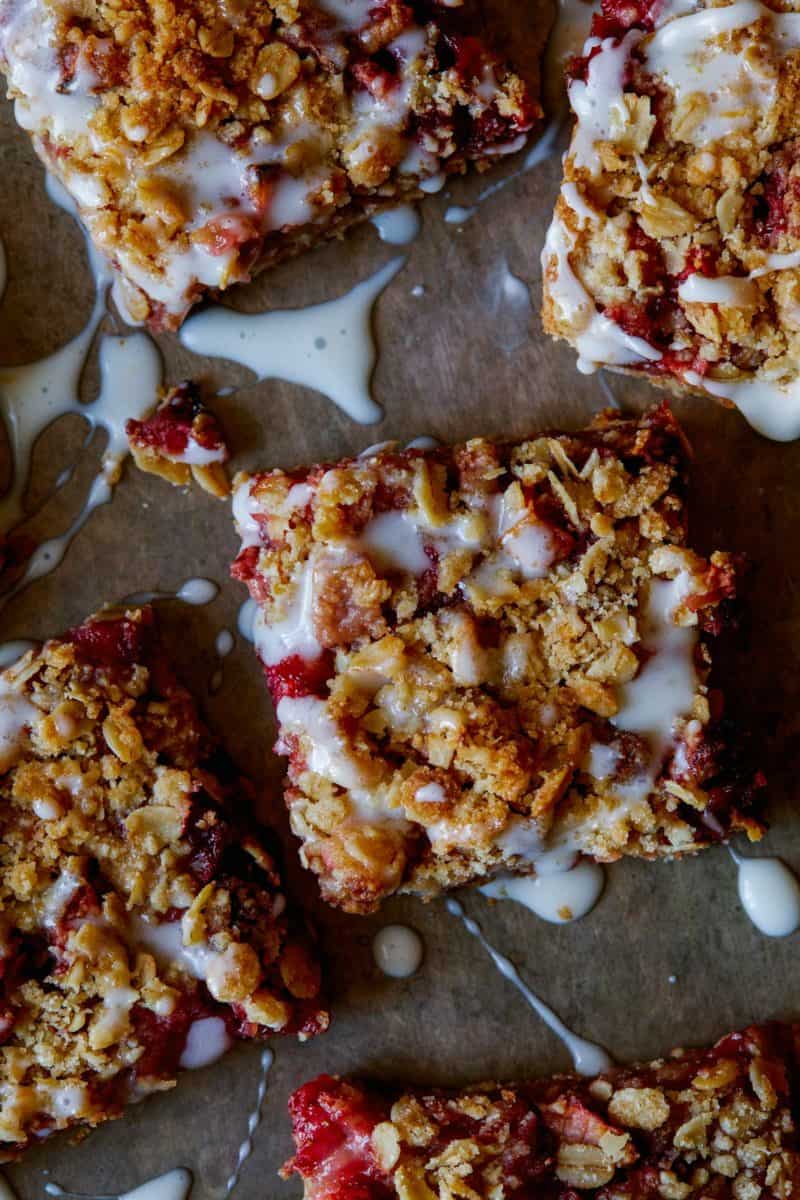 Strawberry Oat Crumble Bars with Meyer lemon Glaze

Makes 1 (8"x 8") pan

Ingredients:
oat crumble:
11/2 cups old fashioned oats
1 cup all-purpose flour (or 2/3 cup white whole wheat flour)
1/2 cup light brown sugar
3/4 teaspoon baking powder
pinch salt
3/4 cup (1 1/2 sticks) cold unsalted butter, cut into small pieces
filling:
1 pound hulled and diced strawberries
2 tablespoons fresh Meyer lemon juice
2 tablespoon light brown sugar
1/2 teaspoon tapioca starch
glaze:
1 cup sifted powdered sugar
zest from 1 Meyer lemon
pinch salt
4 1/2 tablespoons heavy cream (or whole milk)

Directions:
1. Preheat oven to 375˚F.
2. Line 8"x 8" baking dish with parchment paper, so that it overhangs on two sides. Lightly grease the exposed sides of the baking dish. Set aside.
3. Place all crumble ingredients, except butter, into a mixing bowl and whisk together.
4. Cut butter into oat mixture until evenly distributed and you get a fine, mealy texture.
5. Pour half the oat mixture into the baking dish and firmly and evenly press mixture into the bottom of the dish. Refrigerate baking dish and bowl of remaining crumble in the refrigerator for 30 minutes.
6. In another mixing bowl toss together strawberries, lemon juice, sugar, and starch until strawberries are fully and evenly coated.
7. Remove crumble mixtures from refrigerator and sprinkle half the strawberry filling evenly over the pressed crumble.
8. Sprinkle half the remaining oat crumble over the strawberries. Repeat by layering remaining strawberries over oat crumble and finishing with a layer of the remaining oat crumble.
9. Bake bars for 35 to 40 minutes or until strawberries are juicy and crumble has browned and cooked through.
10. Remove from oven and cool for at least 30 minutes.
11. Meyer Lemon Glaze: In a small bowl whisk together sugar, zest and salt. Add cream and stir together, with a fork, until the glaze is thick and smooth.
12. Cut bars into 9 even squares, drizzle with glaze and serve.