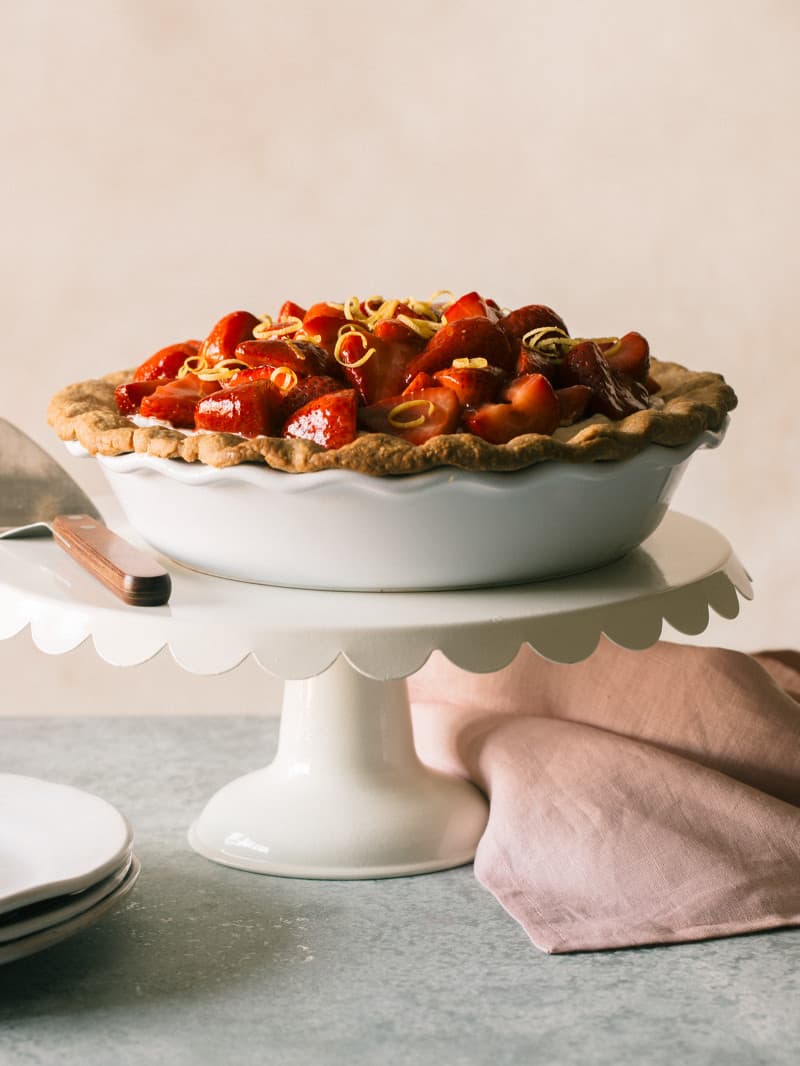 For some reason I'm especially excited about strawberry season this year. I love strawberries, particularly the extra sweet and juicy ones from the farmers market, but for some reason strawberry related recipes have really been resonating with me in a way I've never felt before (really nerdy stuff, I know). Anyway, that basically means that you're all in for a slew of strawberry recipes in the next couple of months, so I hope you're all as excited as I am, lol!
Today we have our take on Strawberry Cream Pie! I changed up the classic version just a bit by turning the simple whipped cream topping into a light and fluffy, almost "no-bake cheesecake" like filling…but even lighter! I also swapped the "strawberry" and "cream" fillings so that the gorgeous strawberries sit on top of the cream filling instead of the other way around. Finally, instead of creating a cornstarch like glaze to top the strawberries, I very lightly roasted them instead. I love lightly roasting strawberries, especially with a hint of balsamic vinegar. The balsamic and honey nicely caramelize the strawberries and leave a really tasty and subtle, tart finish to them.
This pie definitely requires a little bit of time to prepare with the different layers, the bake time, and all….. but it's totally worth it! If your mama is into strawberries this might be the perfect Mother's Day treat for her too…just saying. :) Enjoy! xx, Jenny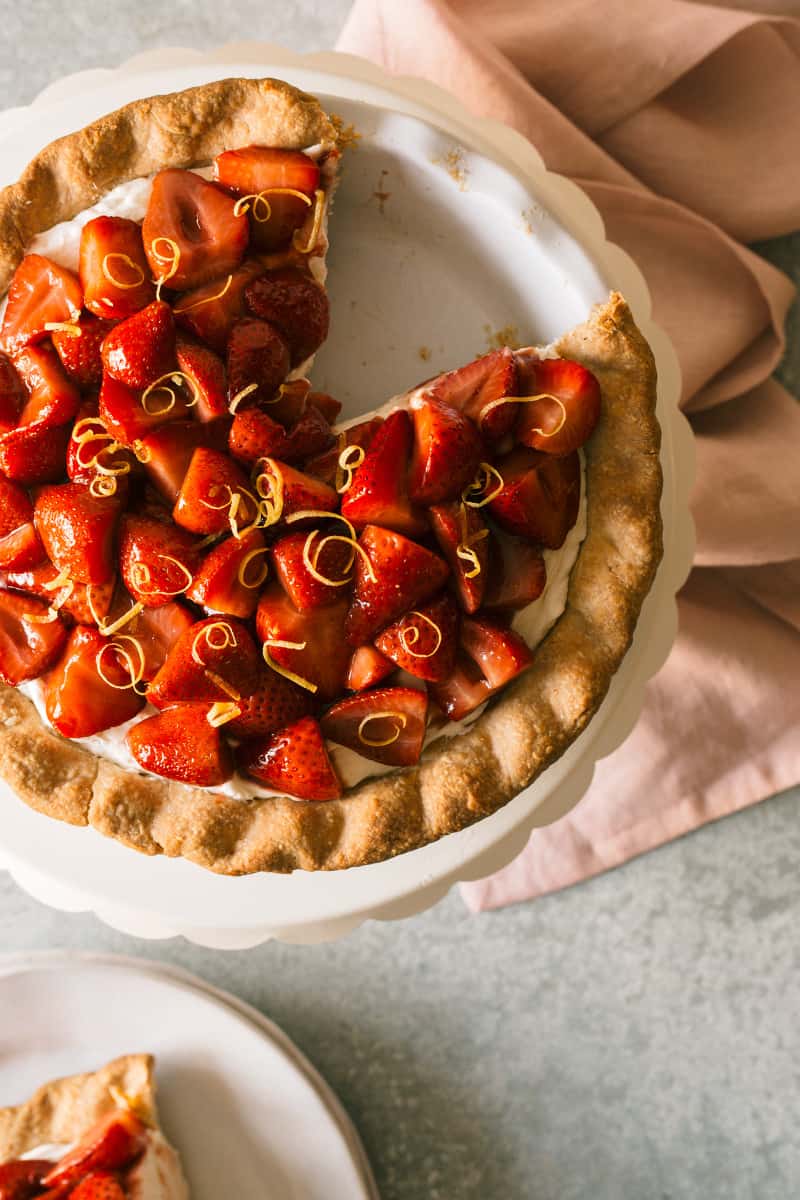 We love strawberry recipes so much – we have a ton! Here are some others to enjoy: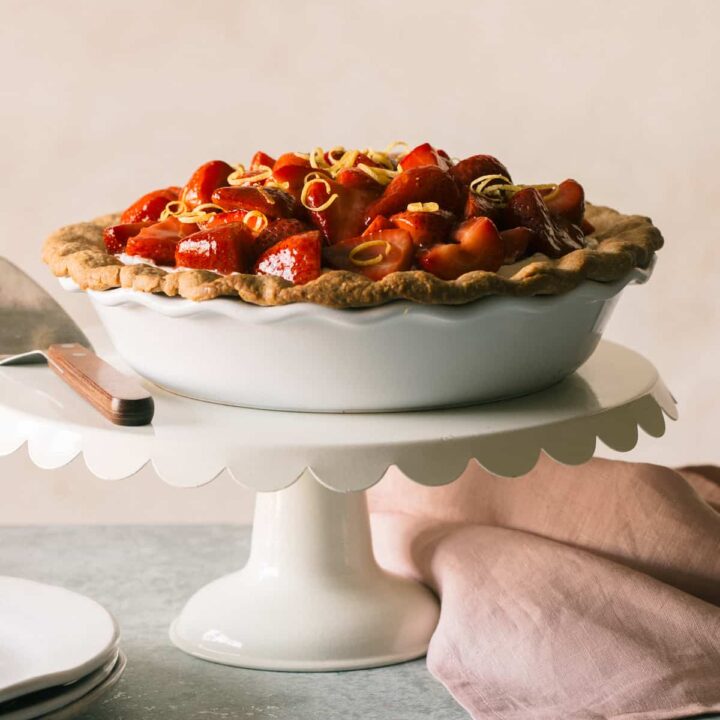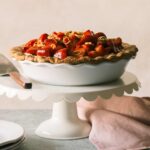 ---
Strawberry Cream Pie
INGREDIENTS
balsamic roasted strawberries
2

heaping cups

halved strawberries

3

tablespoons

honey

1

tablespoon

lemon juice

2

teaspoons

balsamic vinegar
cream cheese filling
12

ounces

cream cheese, softened

1

cup

plus 2 tablespoons superfine sugar

2 ½

teaspoons

vanilla extract

zest of 1 lemon

2

heaping cups

(medium-peak) whipped cream
INSTRUCTIONS
Make recipe for pie dough according to instructions. Once dough has been chilled in the refrigerator, roll the dough out onto a clean surface sprinkled with flour until about ¼ inch thick. Place dough into the pie dish, crimp the edges and trim off any excess dough. Refrigerate the dough for 1 hour.

Line the inside of the pie dish with aluminum foil or parchment paper and fill to the top with uncooked beans or uncooked rice. Place prepared pie dish onto a baking sheet and blind bake in the oven for about 25 minutes. Once the crust is partially baked, remove the "pie weights" (beans or rice) as well as the foil or parchment and return the crust back to the oven to complete baking, an additional 18-22 minutes. Or until the crust is golden brown. Set aside and allow crust to cool completely.

For roasted strawberries: Preheat oven to 375˚F. Place all ingredients for the strawberries into a baking dish and toss together until completely combined. Lightly roast in the oven for about 12 minutes or until strawberries begin to soften and caramelized, but have still kept their color and shape. Remove from the oven and cool completely.

For the cream cheese filling: Place cream cheese and sugar into the well of a stand mixer, fitted with a paddle attachment and beat until light and fluffy. Scrape down the sides of the bowl, add the vanilla and lemon zest and continue to beat together until no lumps remain. Gently fold in the whipped cream until fully incorporated.

To assemble: Fill the cooled pie shell with the whipped cream cheese mixture and smooth out the surface. Top the cream cheese filling with the roasted strawberries, making sure to include all the juices. Refrigerate for 1 hr. Top pie with lemon zest and serve.
KEYWORD:
peanut butter pie, strawberry pie