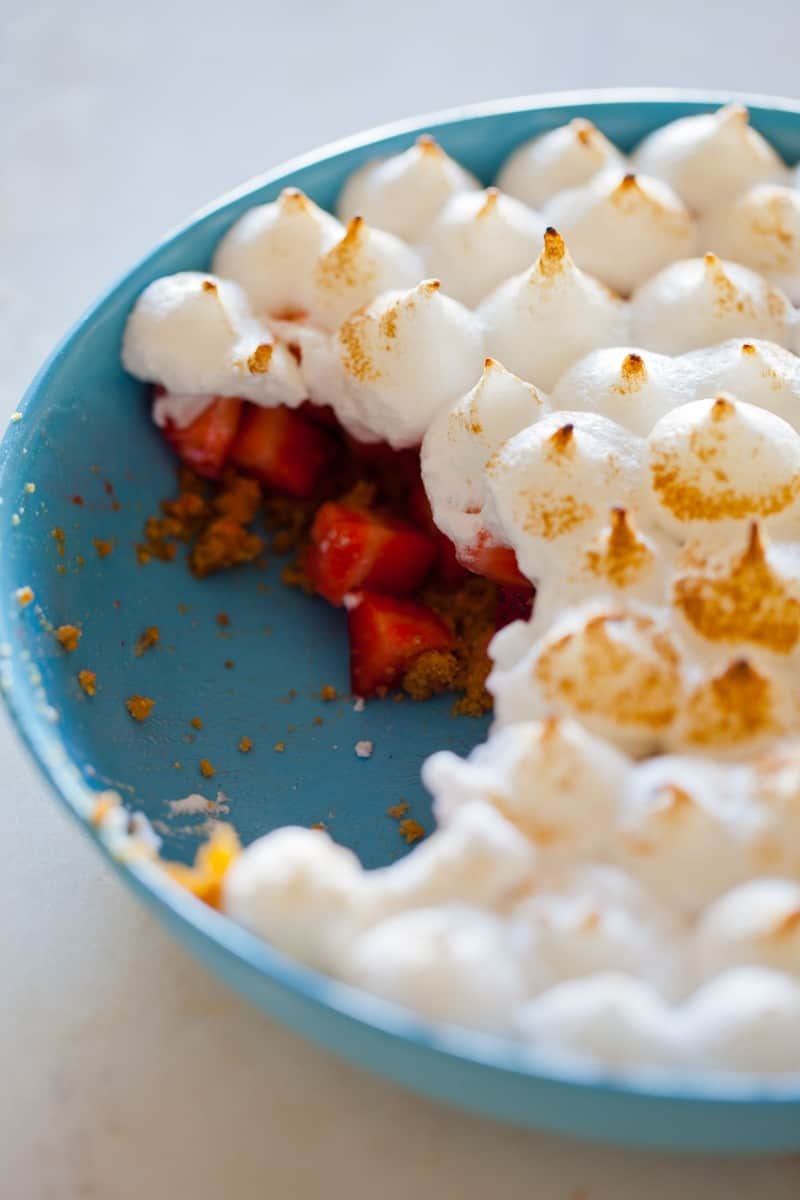 Strawberries and Cream. I grew up in Idaho, where my grandparents had a miniature farm on the outskirts of Boise. They had a little strawberry patch that I used to pick from. As a child, I remember being fascinated by the little berries growing from the plants. They were so tiny and cute, nothing like the large ones you find at the market. They were charming. My favorite way to eat them was chopped all up, sprinkled with sugar, and covered in a fatty milk. Strawberries and cream will always be one of the most delicious and simple things you can ever eat. Today, we have a take on my fond childhood memories.  A simple graham cracker crust, filled with sweet strawberries, and topped with a fluffy meringue, Strawberries & Cream. Yum.
♥ Teri
Strawberries & Cream
Serves 6 to 8
Ingredients:
cinnamon-graham cracker crust:
2 ½ cups graham cracker crumbs
3 tablespoons granulated sugar
1 ½ teaspoons ground cinnamon
¼ cup ( ½ stick) unsalted butter, melted
strawberries:
1 ½ lbs strawberries, washed, hulled and diced
2 tablespoons powdered sugar
½ lemon, juiced
meringue topping:
4 egg whites
1/2 teaspoon cream of tartar (optional)
2/3 cup granulated sugar
½ teaspoon vanilla extract
Directions:
1. Preheat oven to 350F.
2. For crust: Place ingredients for crust into a mixing bowl and mix together until crumbs are well coated in butter.
3. Press the mixture into a lightly greased (9 inch) pie dish and bake for 15 to 20 minutes. Allow crust to cool completely.
4. For strawberries: Place strawberries into a mixing bowl and sprinkle with sugar and lemon juice. Toss together until strawberries are fully coated. Set aside.
5. For the meringue: Place egg whites into a stand mixer fitted with a whisk attachment (or a hand mixer) and beat on medium speed until mixture begins to get frothy, 1 minute. Add cream of tartar and bring speed up to medium-high, beat for about 2 minutes. With the motor running, begin adding sugar until fully incorporated and mixture is glossy and forms stiff peaks, 2 to 3 minutes. Fold in vanilla and scoop mixture into a piping bag, with a round tip .
6. To assemble: Pour strawberries (juices and all) over crust and spread  to form an even layer. Pipe meringue over strawberries and place dish under a broiler for 1 to 2 minute or use a brulee torch to gently brulee the top (don't singe it like I did, above!). Serve.