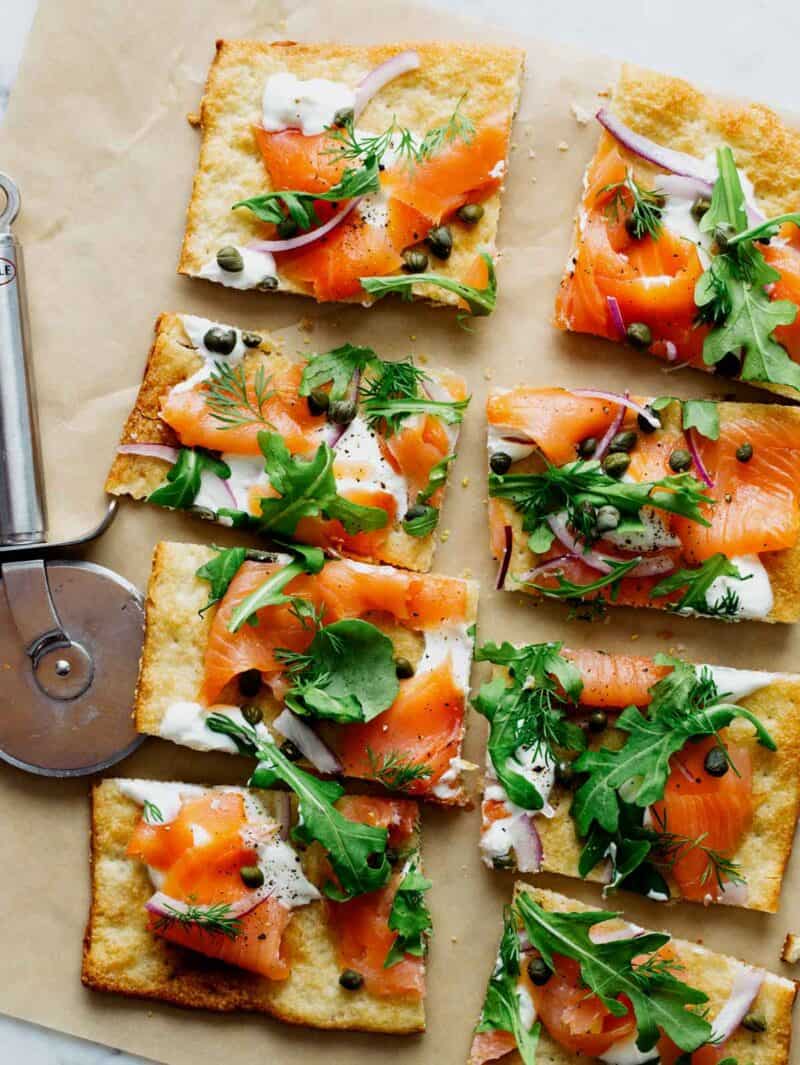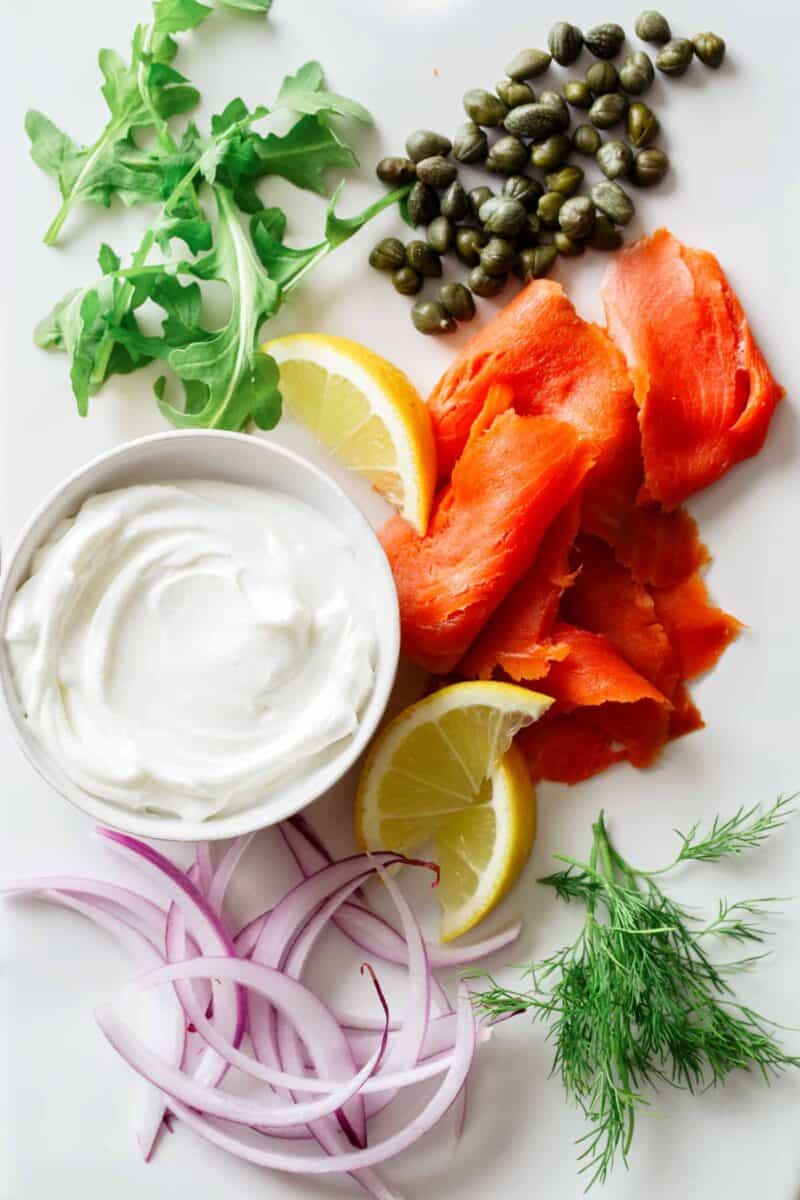 When Teri and I are alone in the studio together there are a few things that have become lunch "staples". We're all about the working lunches so it's usually something that can be whipped up quickly, like one of our favorite things: DIY sushi bowls. Our other main alternative is turning to Urth Caffe. We love the large variety they offer and the eats are usually pretty healthy, yet filling
Although a big positive is that they offer a large selection of salads, sandwiches, paninis, quiches, pizzas, etc. I seem to ALWAYS get the same thing….the D'Lox pizza. I just really love this 'za and love that it usually takes me two sittings to finish it. The combination of the crispy crust with velvety pieces of smoked salmon, rich creme fraiche and then all the bright and fresh toppings create the most amazing flavor blast in your mouth. So good!
Today we've created our own version of that amazing, yet simple pizza. You can alter this however you want! Sometimes I add a layer of thinly sliced cucumbers to the mix or crushed pepper flakes for a slight kick. I think as long as you're using fresh ingredients, you're all good. This is great to serve cut up for a brunch, cocktail party or just a quiet night in with a nice glass of white wine. The super bowl is coming up in the next week or so (I looked it up on the internets and everything!) and not everything necessarily needs to be heavy and fried. This is probably going to end up on my super bowl table this year as a delicious, healthier alternative to all the super rich dishes that are bound to cascade the tabletop. Enjoy! xx, Jenny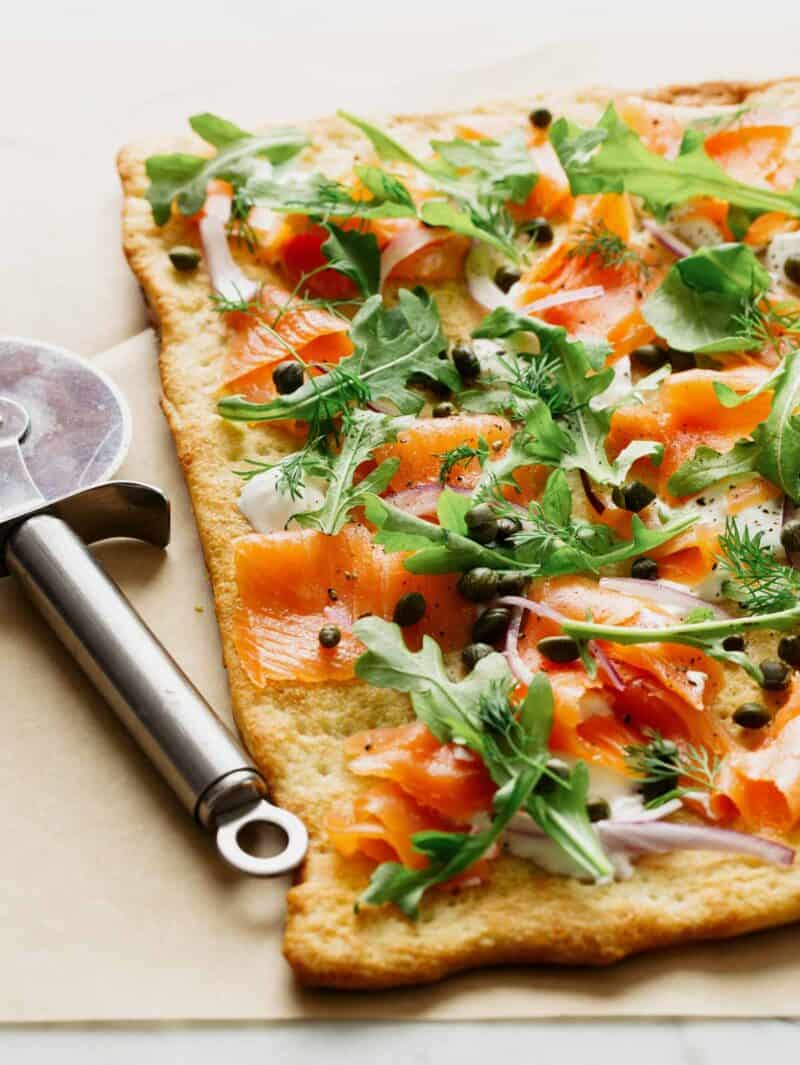 More recipes you might like: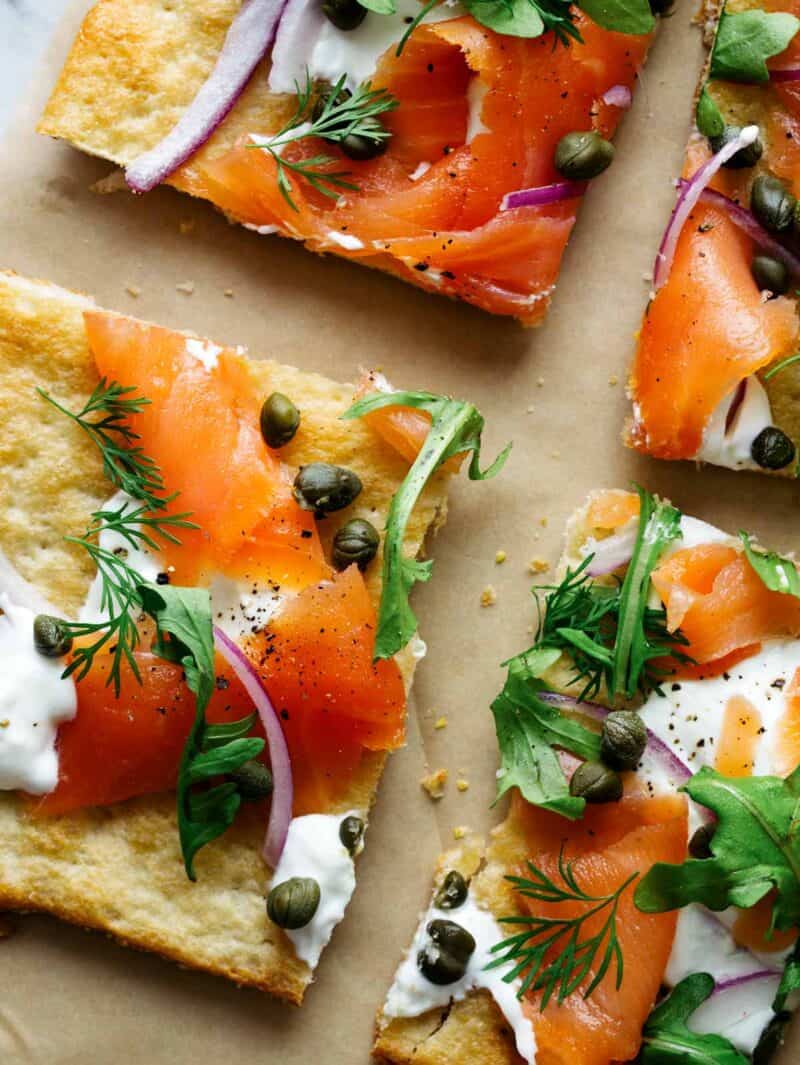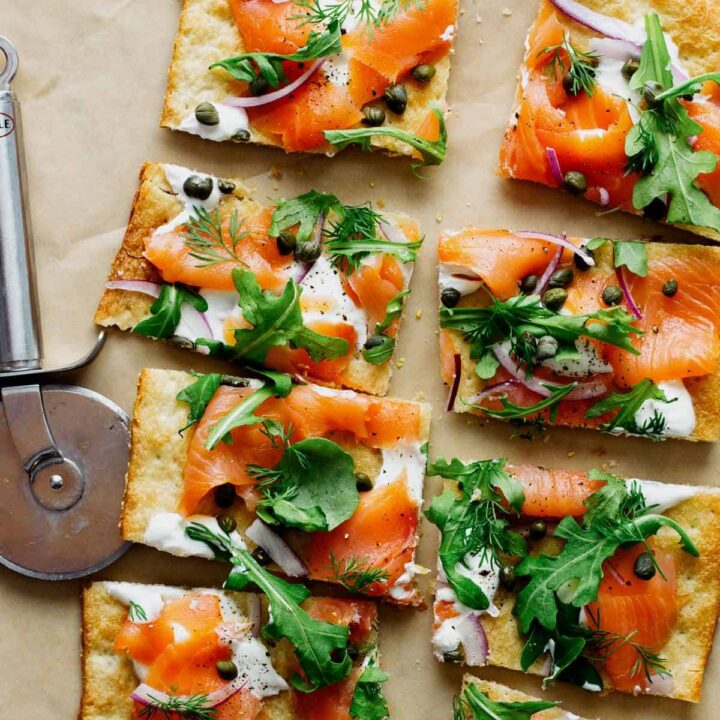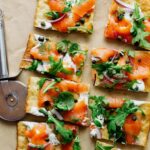 ---
Our Best Ever Smoked Salmon Pizza
INGREDIENTS
basic pizza dough
1

cup

warm water (110°F)

1

envelope

(¼ ounce) active-dry yeast

1

tablespoon

granulated sugar

1

teaspoon

honey

1 ½

tablespoons

extra virgin olive oil

3

cups

bread flour plus more for dusting

1 ½

teaspoons

salt
toppings (enough for two pizzas)
½

cup

crème fraiche

6

ounces

cold smoked salmon, cut on a bias into thin strips

¼

red onion, thinly sliced

¼

cup

capers, drained

1

cup

baby arugula

3 to 4

large sprigs dill

zest of 1 lemon

salt and pepper to taste
INSTRUCTIONS
Preheat oven to 425°F. (be sure to preheat pizza stone as well, if using)

For dough: Place water, yeast, sugar, honey, and olive oil in a mixing bowl and gently stir together. Allow mixture to sit for 5 minutes (water should begin foaming slightly).

While yeast mixture sits, sift together flour and salt. Add flour mixture to yeast mixture, ½ cup at a time, until fully incorporated and dough begins to form. Turn dough onto a lightly floured surface and knead until smooth, about 8 to 10 minutes. (dough should spring back when poked)

Form into a ball and place in a lightly greased bowl and cover with plastic wrap or a damp towel and place in a warm area and allow to proof until doubled in size, about 1 ½ -2 hours. Punch dough down and turn onto a clean, lightly floured surface.

Divide dough into two equal pieces and roll each piece into a 14 inch disc, about ¼ inch thick. Cover baking sheets with parchment and sprinkle with a layer of cornmeal. (if using a pizza peel, sprinkle peel with thin layer of cornmeal)

Place crusts in prepared baking sheets, pierce the surface all over with a fork, and brush with small amount olive oil.

Bake for 10-12 minutes or until golden brown and crisp. Remove from oven and allow crust to cool before topping.

To assemble: Dollop ½ the crème fraiche atop the crust and top with pieces of salmon. Top salmon with a sprinkle of red onions and capers. Sprinkle ½ arugula and dill (sprigs, lightly torn) over the top and finish with a little salt, pepper and lemon zest. Serve.