Labor Day is right around the corner and we're bringing back this Smoked Paprika and Garlic Shrimp Skewers because they're super tasty and make great summer appetizers for an afternoon get together! I topped them with some radish confetti to balance out the marinated shrimp flavors AND because it makes things a little more fun, and food should be fun, right?!
These guys are super easy to make and really make a delicious, stress-free finger food that people really love! You can opt out of the radishes or just stick them on the side if you want to give people the option to confetti their own shrimp or not! Enjoy! xx, Jenny
This recipe was originally posted on September 21st, 2014. The original post is below. 
Hi Guys! Fall is just around the corner and we're so excited! We're hoping this means the hot, hot, HOT weather will disappear and the lovely crisp air of fall with grace us with its presence. We love the ability to get cozy in boots and scarves during the chilly fall months, its really is a treat for us to get all bundled up.
We're jumping into fall with these Smoked Paprika and Garlic Shrimp Skewers, topped with a fun confetti of radish for added freshness. If you're ever in need of a quick and easy appetizer for your next get together or potluck, make theses! Seriously though, this recipe is so simple and yields delicious, smoky shrimp. Today we're using Smoked paprika to really create the gorgeous color on the shrimp as well as incorporate a really nice earthy, smoked flavor. The paprika itself doesn't add an intrusive heat to the dish, but really just adds a nice subtle flavor.
We've topped this dish with a fresh confetti of radish because I love the balance of freshness it provides as well as the crunchy texture. Plus, mincing it up not only creates beautiful "confetti", but it helps the radish stick to the shrimp for an easy 'pick up a shrimp and go' type of sitch (ha!). We hope you're all as ready for fall as well are, and hope you'll whip this super easy dish up the next time you're in need of an appetizer OR you can even ditch the skewers and serve the shrimp over a bed of quinoa, green beans, or even some spaetzle for a complete meal. Enjoy!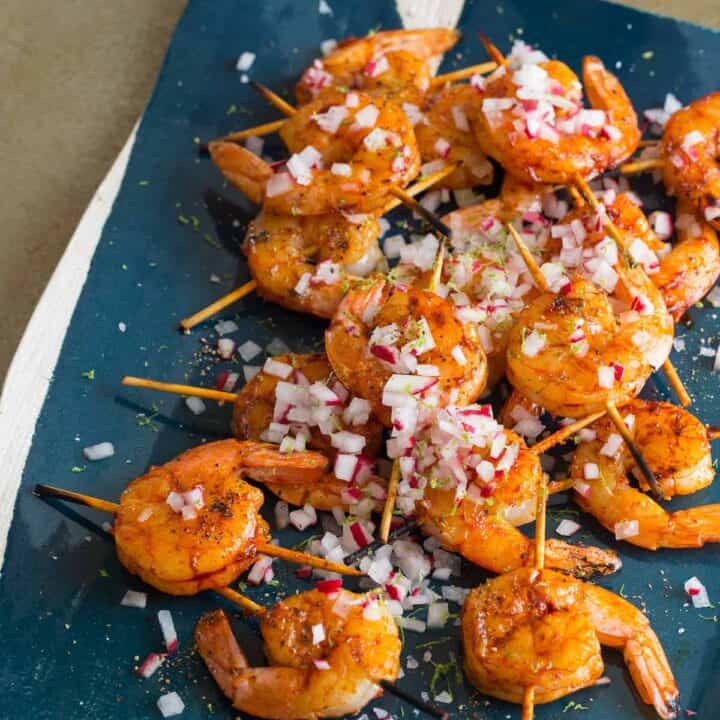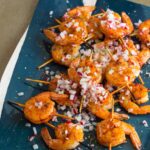 ---
Smoked Paprika and Garlic Shrimp Skewers with a Fresh Confetti of Radish
EQUIPMENT
24 (3 inch) bamboo skewers
INGREDIENTS
2 ½

tablespoons

coconut oil, melted

can substitute extra virgin olive oil

2

teaspoons

smoked paprika

1

teaspoon

sea salt

½

teaspoon

cracked black pepper

¼

teaspoon

cayenne pepper

2

garlic cloves, minced

juice and grated zest of 1 lime

24

medium

shrimp, peeled and cleaned with tails intact
garnish
2

radishes, trimmed and minced into ⅛ inch cubes

grated zest of 1 lime
INSTRUCTIONS
Soak bamboo skewers in water for 30 minutes.

Place first 6 ingredients into a small bowl and whisk together.

Place shrimp in a large mixing bowl and toss together with marinade. Spear 2 shrimp through each skewer, cover and refrigerate for 30 minutes.

Heat a grill or grill pan over medium-high heat. Add the shrimp skewers onto the hot surface and grill for 3 to 4 minutes. Flip and grill for an addition 2 to 3 minutes.

Remove from heat and transfer to a large serving plate. Top shrimp with radish and lime zest and serve.
Calories:
118
kcal
Carbohydrates:
1
g
Protein:
8
g
Fat:
9
g
Saturated Fat:
8
g
Cholesterol:
91
mg
Sodium:
863
mg
Potassium:
52
mg
Fiber:
1
g
Sugar:
1
g
Vitamin A:
545
IU
Vitamin C:
2
mg
Calcium:
55
mg
Iron:
1
mg