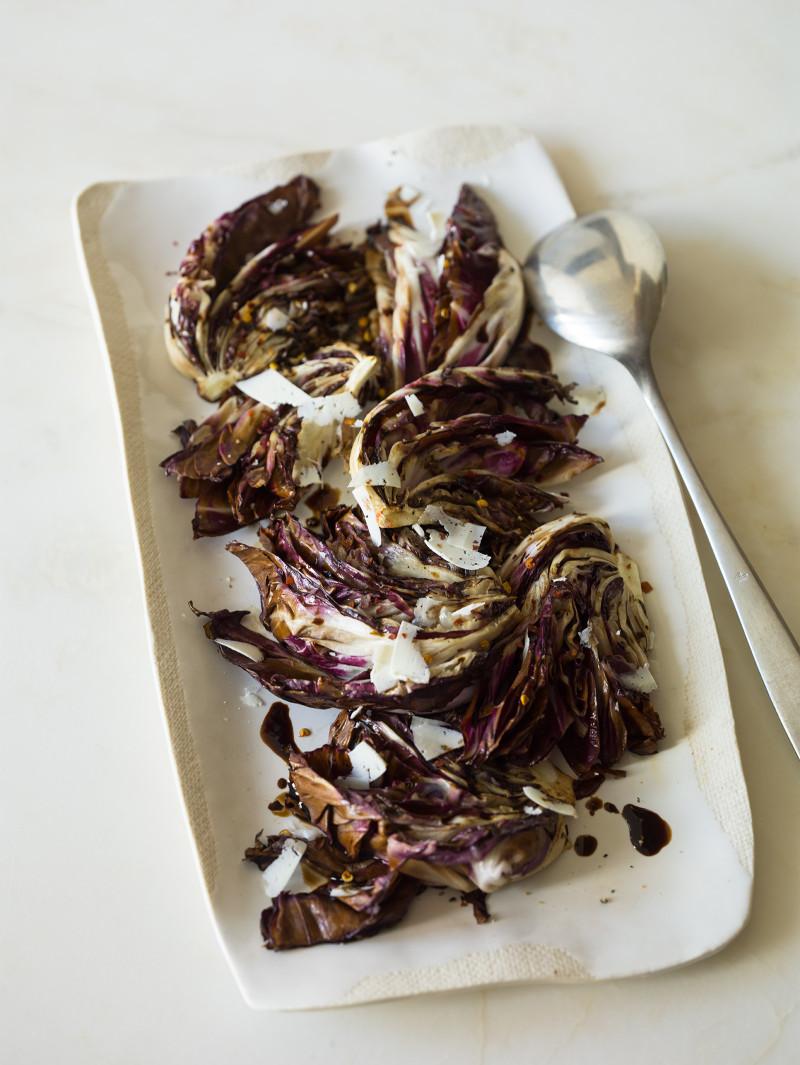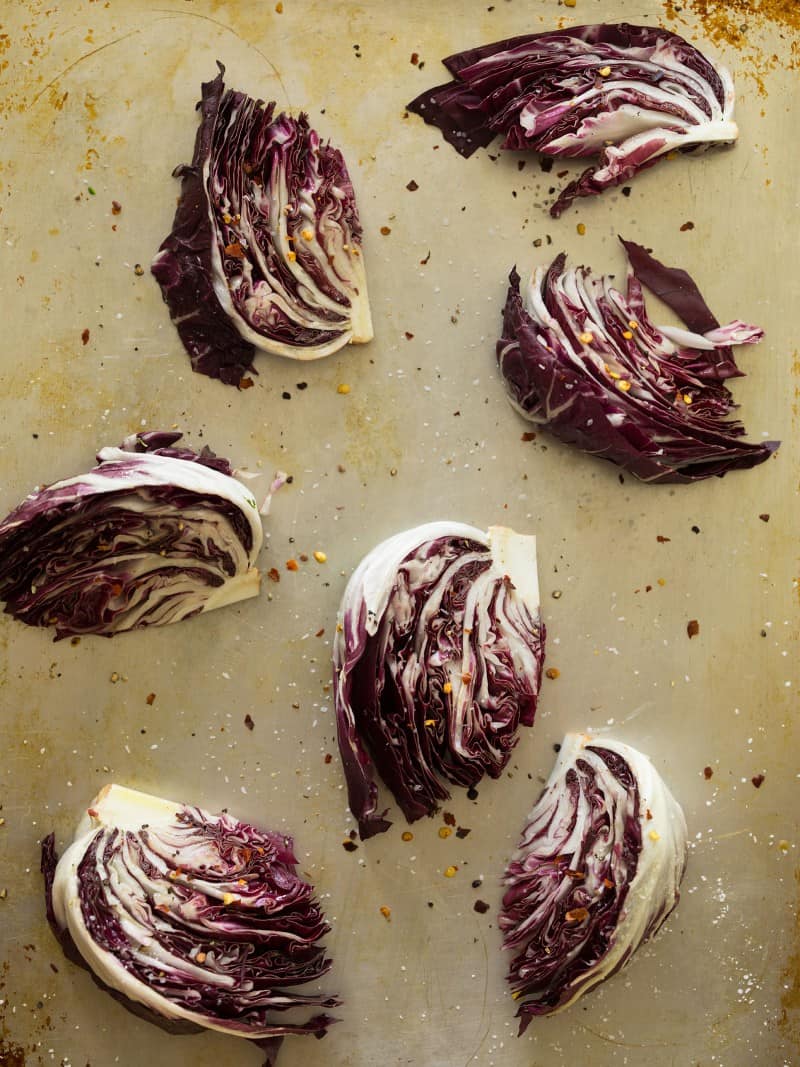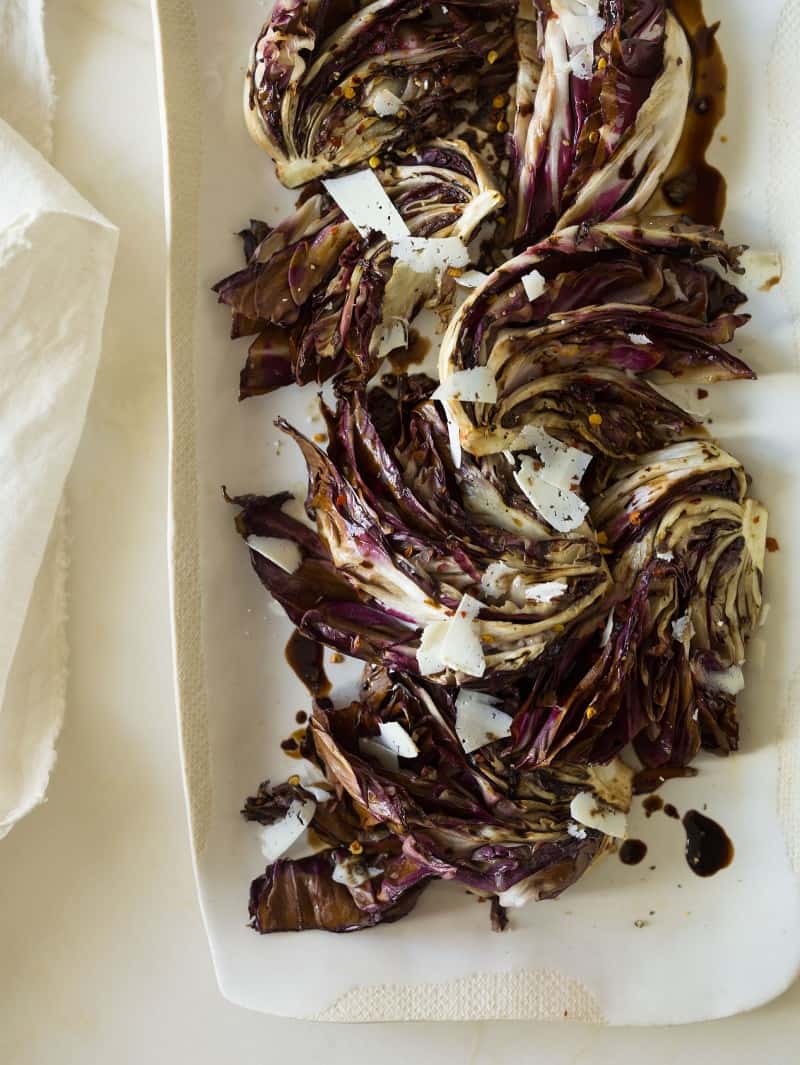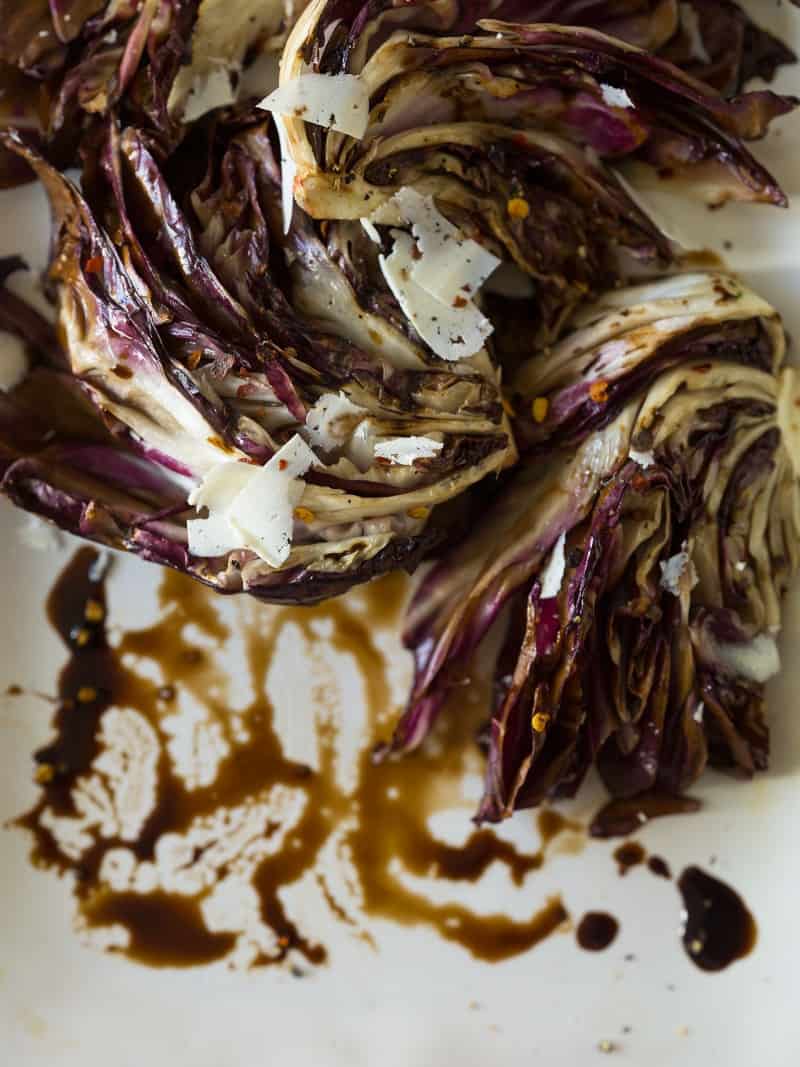 Hi guys! We've had a weird spike in temp out here in LA and we're up to about 80 degrees F! This calls for an early spring celebration….grill radicchio. Grilled vegetables in general….so yum. I love grilling vegetables because t's so easy and the results are always good…always. You get this natural smokey flavor from grilling your veg and with a light brush of some melted butter and balsamic?! Whoa so good. Sorry, just having a grilled veggie moment. :) Anyway, this radicchio me loves! I love the bitterness of radicchio, the great crunch it gives and the slightest bit of sweetness that tends to linger in your mouth, especially when grilled/charred. The grilling also softens the overall bitter flavor for those of you not so into those flavor notes. The balsamic drizzle is like radicchio's soulmate. So good. You don't have to add the honey by any means; the balsamic will thicken and sweeten up quite nicely on its own, but I like adding a touch of honey every now and then because it adds a "barely there, but glad it's there" type of taste where the reduced balsamic doesn't seem as molasses-like.
I know the grilling might be a little for some of you out there, but it's fun to think that spring is right around the corner! Bye! xx, Jenny
Simple Grilled Radicchio with a Balsamic Drizzle
Serves 3 to 4
Ingredients:
1 cup balsamic vinegar
2 1/2 tablespoons honey, optional
2 tablespoons extra virgin olive oil
1 lemon, juiced
1-2 teaspoons crushed red pepper flakes
1 teaspoon ground coriander, optional
2 heads radicchio, each cut into 6 wedges (stem attached)
garnish:
2 ounces shaved ricotta salata
1. Preheat grill or grill pan to high heat.
2. In a small saucepan combine balsamic vinegar and honey (if using). Stir together. Place over medium to medium-low heat and allow to simmer until reduced by half, about 30 minutes. Allow to cool completely.
3. In small bowl combine oil, lemon juice, pepper flakes, and coriander and whisk together. Brush wedges of radicchio and grill surface with oil mixture and add radicchio to grill/grill pan.
4. Grill for about 5 minutes. Flip wedges and brush again with oil mixture. Season with salt and pepper and continue to grill for 3 minutes. Remove from heat and allow to cool for 3 to 5 minutes. Adjust seasonings.
5. Drizzle with balsamic glaze and shave ricotta salata over the top. Serve.