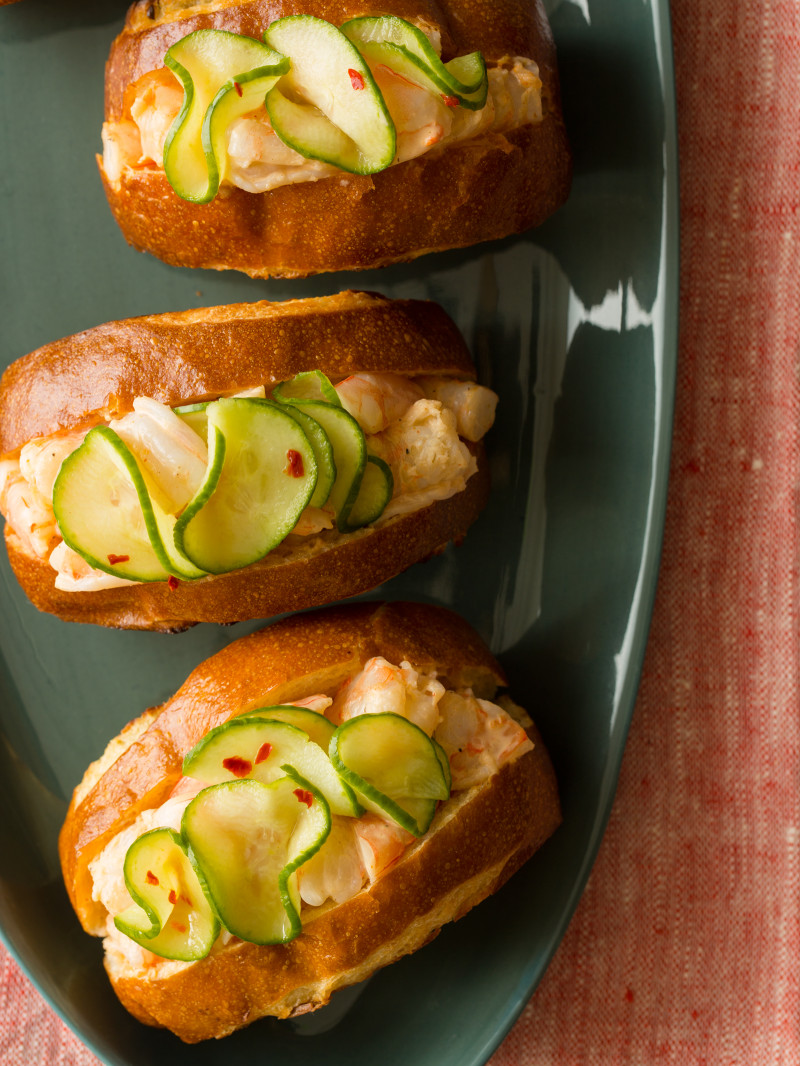 Today we have a special recipe for you, Shrimp rolls. These are like more affordable lobster rolls, and perfect for summer parties. We teamed up with Sir Kensington's and used their new Special Sauce in this recipe. This Special Sauce is the perfect balance of creamy + tangy, which is why we decided to use it for these shrimp rolls (although this sauce is also great to use as a condiment for French fries, tater tots, burgers, hot dogs, etc). The Special Sauce by Sir Kensington's is really the only ingredient besides shrimp you need to make these, so this recipe can be whipped up in no time. It really is a no fuss party recipe. We also topped our shrimp rolls with a quick pickled cucumber for some extra crunch. We love to use pretzel rolls for our seafood rolls, and the way we have directed you to cut the buns yields a pretty good sized roll for a party where you may have lot's of other dishes going on. You could also make these rolls smaller for more of an appetizer, or larger to make more of a hefty meal. We like the shrimp and sauce to marry in the refrigerator for about 30 minutes, but you can certainly leave it in for longer to free up time to have a drink and mingle with you friends. Also, did you guys know that Sir Kensington's makes delicious all natural, gluten free, non-GMO verified condiments including ketchup, mayonnaise, and mustard? Not only do their products taste delicious, they are very passionate about what they do and we really appreciate that. Sir Kensington's Special Sauce (as well as their other products) can be purchased at Whole Foods and on their website. Enjoy!
(P.S. You can use this app to help you purchase sustainable seafood, we use it all the time!)
Enjoy guys!
Shrimp Rolls
Serves 4
Ingredients:
1 lb. raw shrimp, peeled, deveined and cleaned
1 lemon, cut in half
1/2 teaspoon salt
1/4 cup Sir Kensington's Special Sauce
4 pretzel rolls, 2 parallel ends trimmed and the top center of the bun scored until 1/2 inch from the bottom of the rolls
1/4 cup unsalted butter, melted
quick pickled cucumbers:
1/2 hothouse cucumber, very thinly sliced (best done on a mandolin)
1 cup apple cider vinegar
3 1/2 tablespoons sugar
1 tablespoon sea salt
1 teaspoon red pepper flakes
Directions:
1. For shrimp: Fill a large pot about 1/2 way with water, squeeze lemon juice into the water, and add the squeezed lemon halves.
2. Place the pot over medium-high heat and bring to a boil. Once water is boiling add shrimp and lower heat to medium. Poach shrimp for 4 to 6 minutes or until cooked through, but still slightly opaque. Strain shrimp from the poaching liquid and place into a mixing bowl. Cover and refrigerate for 30 minutes.
3. Remove shrimp from the refrigerator and chop into bite sized pieces. Place shrimp back into the mixing bowl and toss with 1/2 teaspoon salt.
4. Add Sir Kensington Special Sauce to the shrimp and toss together until shrimp is well coated. Cover and refrigerate for 30 minutes.
5. For quick pickled cucumbers: Place the cucumber slices into a mixing bowl. Pour vinegar, sugar and salt into a small pot and place over medium heat. Stir and simmer until sugar and salt dissolve. Pour mixture over cucumbers and stir in red pepper flakes. Cover and refrigerate for 30 minutes to 1 hour.
6. For rolls: Brush melted butter onto the cut sides of each bun. Toast each roll, on each buttered side, in a large skillet over medium heat, until each side has toasted, about 3 minutes on each side. Remove from heat and set aside.
7. To assemble: Carefully open the center score of each bun and generously fill with the shrimp mixture. Top each shrimp roll with the quick pickled cucumbers and serve immediately.
**This post was created in partnership with Sir Kensington's. All thoughts and opinions are our own. Thank you for supporting our sponsors! It helps us keep going!**