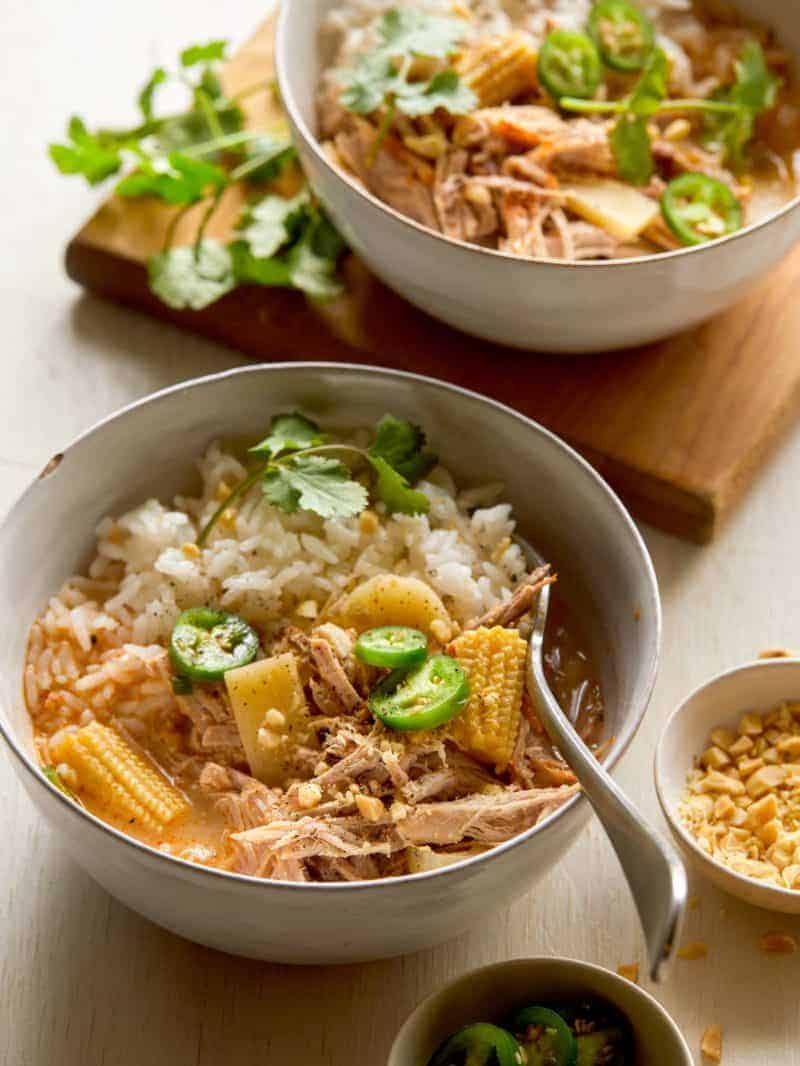 We are so excited to share this super easy slow cooker recipe with you today! We love using our slow cooker when work is especially crazy. Every little bit of time saved is a really big help. When it's cold outside (it's been raining so much here in LA! It's been nuts!) we crave hearty dishes. We love this Shredded Pork Coconut Curry because it's super filling and makes great leftovers. We used the Smithfield Sweet & Smoky Marinated Fresh Pork Roast in this recipe because it's conveniently pre-seasoned, yummy, and made from 100% fresh pork with no artificial ingredients. It really helps cut the time down on the prep for this recipe.
Smithfield is helping at-home cooks like us get out of our regular dinner rut and get creative in the kitchen with the Smithfield "Shake It Up" Contest. From now through April 26, visit Smithfield.com/ShakeItUp for more details, and to submit a photo of your original dish along with a brief description on how you shake up your go-to recipes with Smithfield Fresh Pork instead of beef or chicken.
You can also visit Smithfield.com and get some other quick and easy recipes that are perfect for weeknight dinners. Available in a wide variety of cuts and flavors, you can find Smithfield Marinated Fresh Pork products at local grocery stores including Walmart, Publix, Food Lion, ShopRite, Albertsons/Safeway, and Save A Lot. We hope you enjoy this one!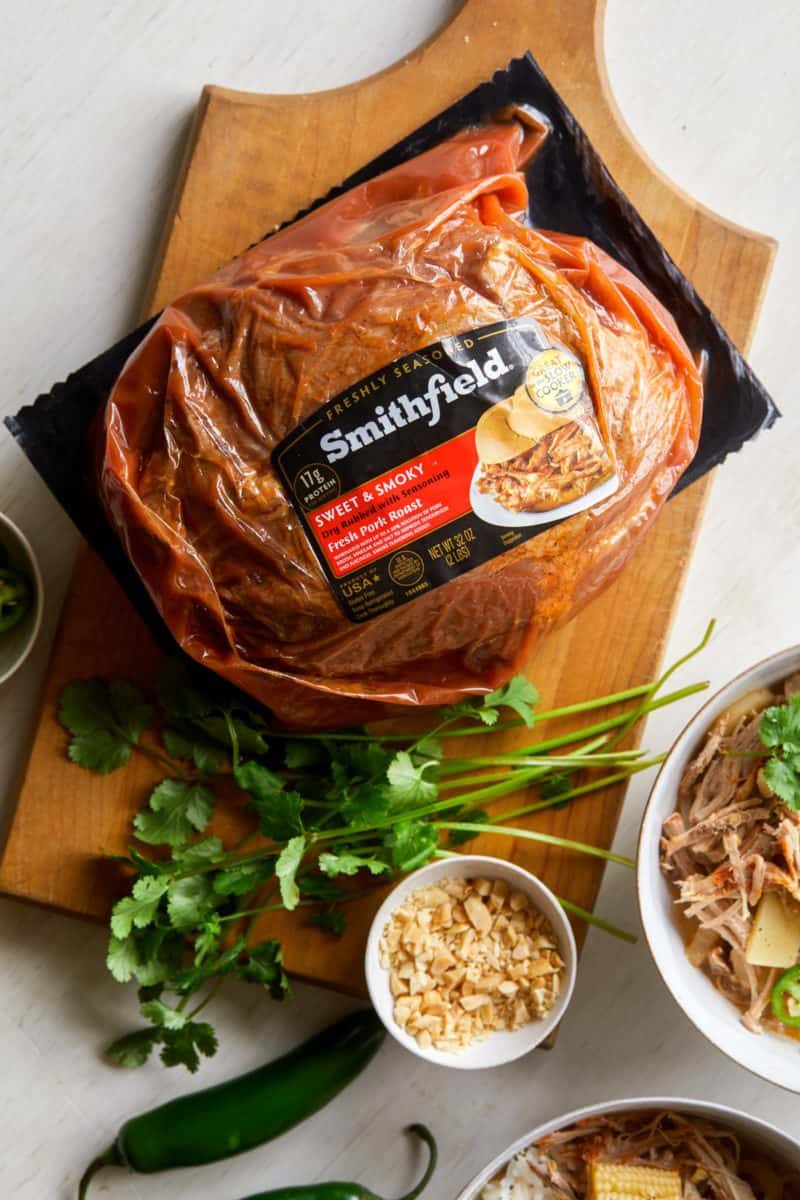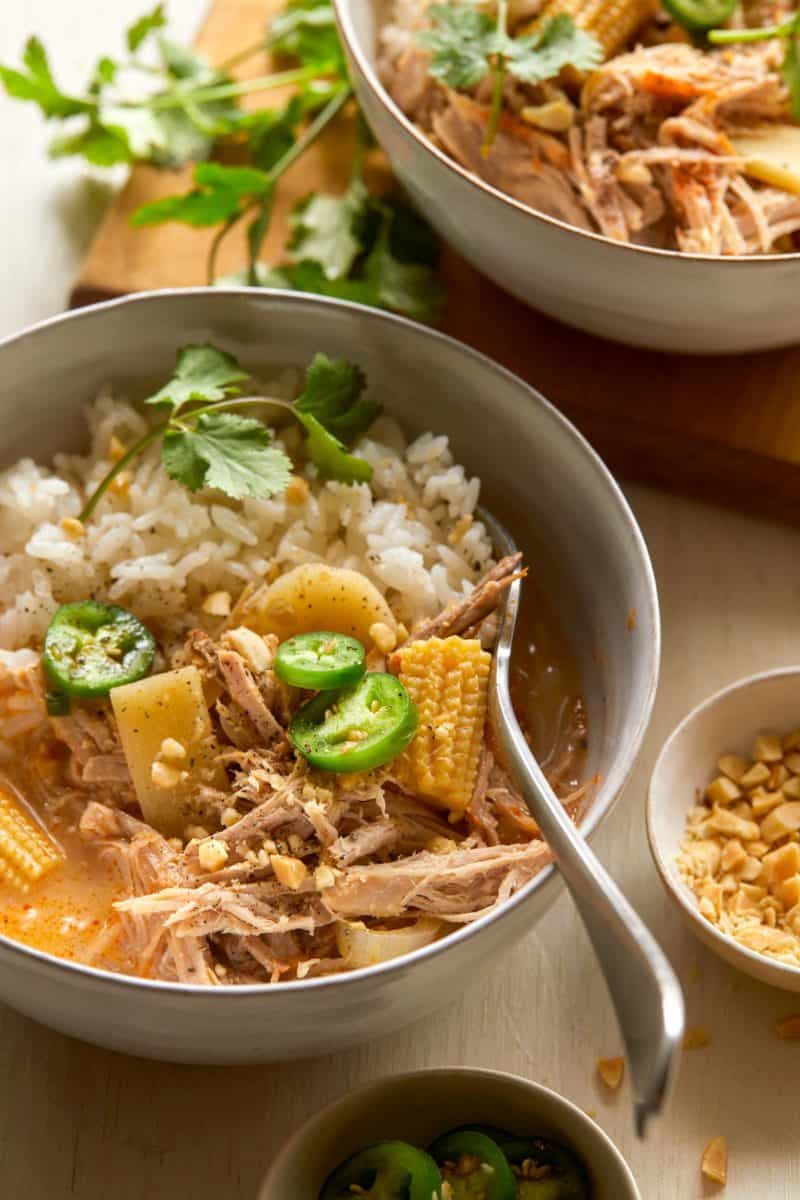 Shredded Pork Coconut Curry

Serves 5 to 7

Ingredients:
1 Smithfield Sweet and Smoky Marinated Fresh Pork Roast, quartered
1/2 thinly sliced sweet onion, divided
4 thinly sliced garlic cloves, divided
2 tablespoons grated ginger, divided
3 cups unsalted chicken stock, divided
1 (5 ounce) can sliced bamboo shoots, drained
1 (5 ounce) can sliced water chestnuts, drained
10 each whole, canned baby corn, drained and cut into thirds crosswise
1/2 serrano pepper, seeded and diced
1 (15 ounce) can coconut milk, shaken
1 lime, juiced
salt and cracked black pepper to taste

steamed rice, for serving
garnish:
crushed peanuts
thinly sliced serrano pepper
cilantro leaves

Directions:
1. Place half of each the sliced onion, garlic and ginger into a 4 to 5 quart slow cooker.
2. Add quartered Smithfield Sweet and Smoky Marinated Fresh Pork Roast to slow cooker and pour 1 ½ cups chicken stock over pork roast. Season mixture with salt and pepper.
3. Cover slow cooker with lid and set to high. Cook pork roast for 4 hours.
4. Remove lid from slow cooker and transfer pork to a plate. Discard liquid mixture.
5. Add remaining onion, garlic and ginger to slow cooker and top with reserved pork.
6. Pour remaining stock over pork, followed by bamboo shoots, water chestnuts, baby corn, and diced serrano.
7. Place lid back over slow cooker and cook on high for an additional hour.
8. Uncover slow cooker and completely shred pork with two forks.
9. Stir coconut milk and lime juice into shredded pork mixture, season with salt and pepper and cover. Cook for 10 minutes to heat coconut milk, then adjust seasonings and stir.
10. To serve: Scoop steamed rice into each bowl and top with a ladle or two of curry. Finish each serving with a sprinkle of crushed peanuts, some sliced serrano and fresh cilantro leaves.