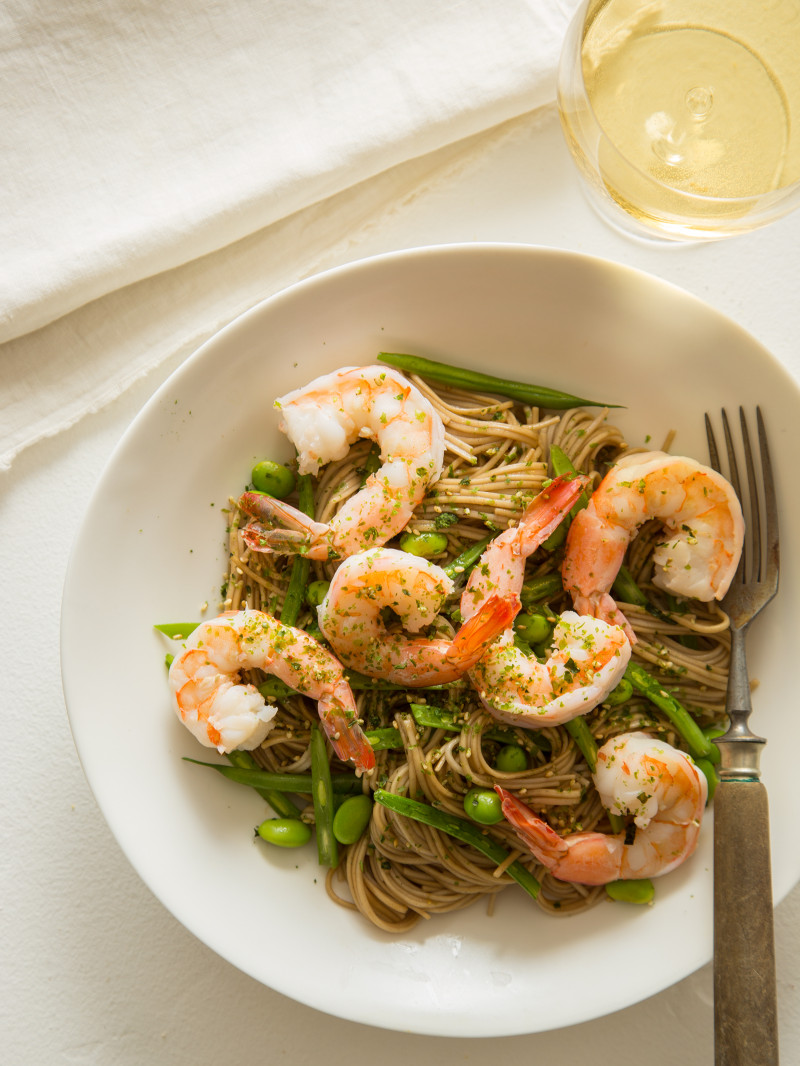 How pretty is this dish? Soba noodles are a great alternative when you mind says pasta but your body (or in my case thighs) says "Umm no, you need to eat a salad." This is considerably lighter than a crazy heavy pasta dish, but still super filling and won't leave you in a coma. Perfect for those hot days, and so tasty! The noodles are tossed in a sesame soy vinaigrette that really brightens up all the ingredients in this dish. The shrimp is a great addition for a little protein action. This also holds up in the fridge pretty well so it's a great idea to make more to have some leftovers for a quick lunch or another dinner. :)
♥ Teri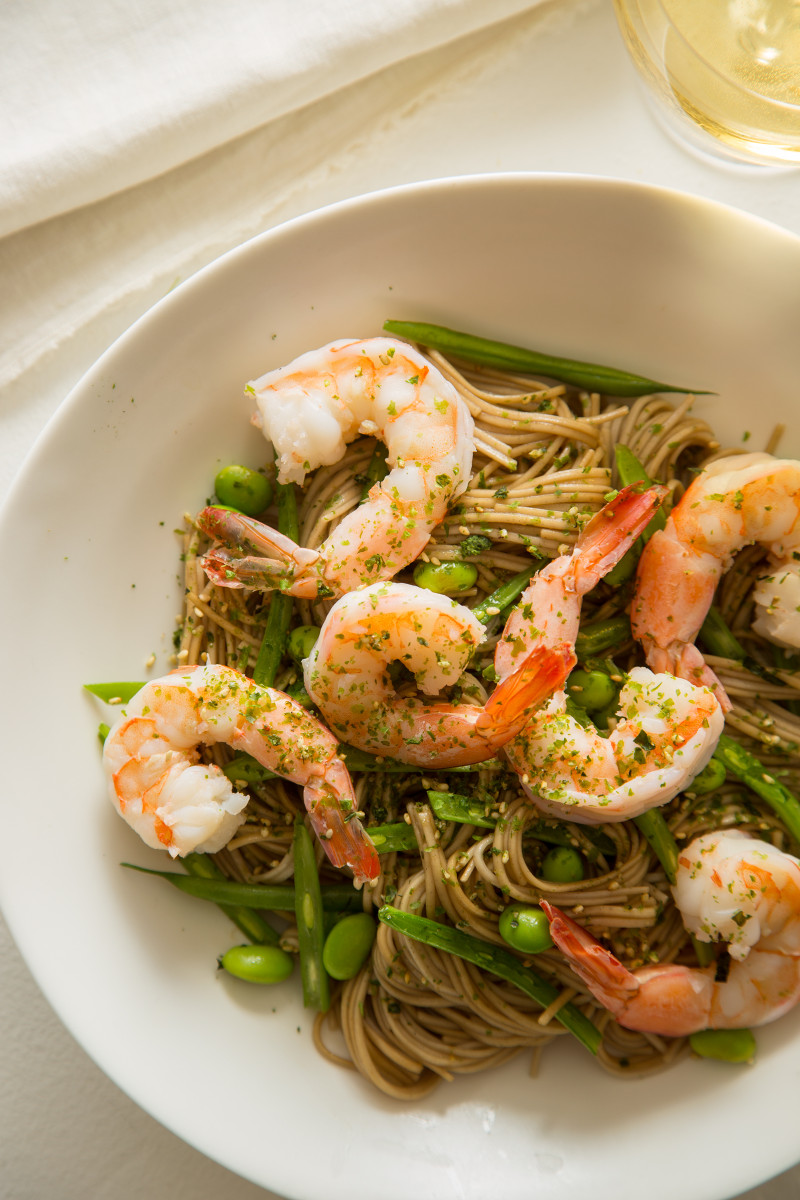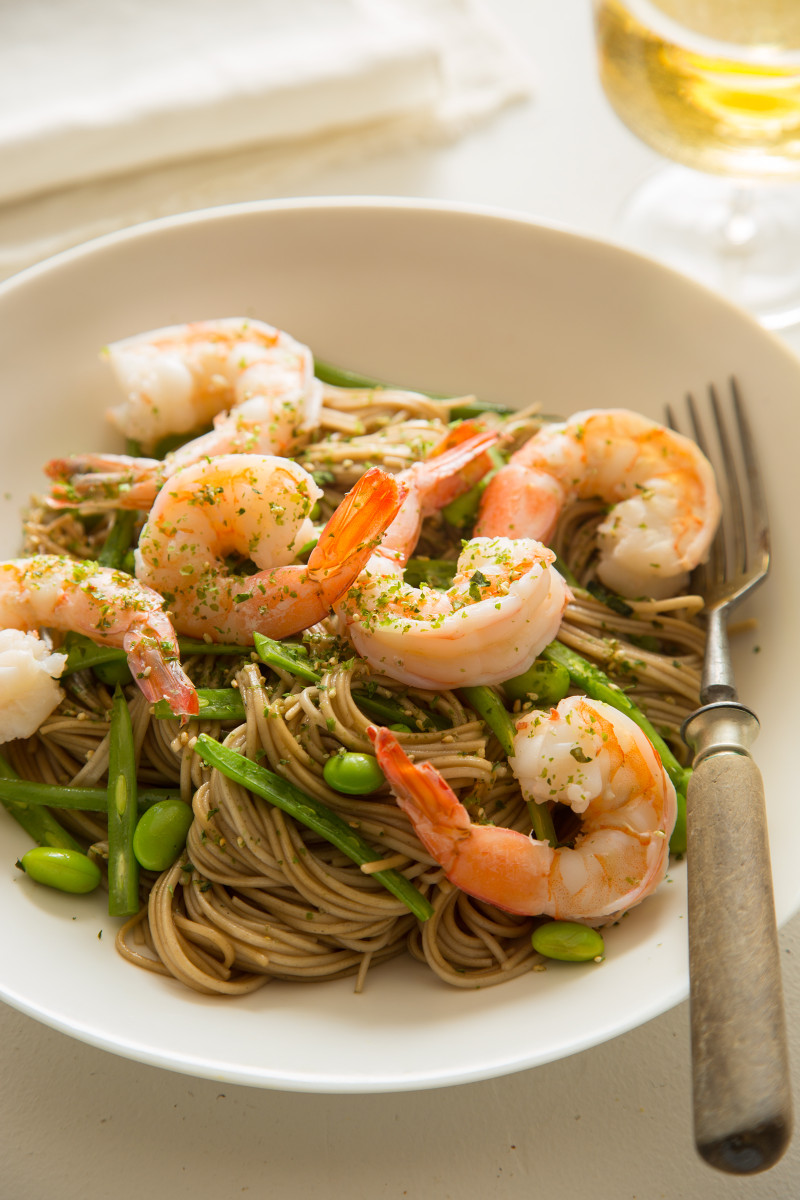 Sesame Soba Noodles with Shrimp
Serves 3
Ingredients:
sesame-soy vinaigrette:
2 tablespoons soy sauce
1 tablespoons rice wine vinegar
1 tablespoon sesame oil
2 1/2 teaspoons sugar
1/4 teaspoon cracked black pepper
2 cups vegetable stock
12 large shrimp, peeled, deveined and cleaned with tails intact
12 ounces cooked and cooled soba noodles
1 cup cooked and shelled edamame
1 cup petite green beans, halved lengthwise
garnish:
toasted sesame seeds
or furikake seasoning
Directions:
1. Place all sauce ingredients into a large mixing bowl and whisk together.
2. Pour stock into a saucepan and bring to a simmer. Add shrimp and poach for 4 to 5 minutes. Remove from heat and transfer to a bowl of ice water. Drain and lightly season with salt and pepper.
3. Add noodles, edamame and green beans into the mixing bowl with the vinaigrette and toss together until the noodles are well coated and everything is completely combined.
4. Top with shrimp and lightly toss together.
5. Finish with a generous sprinkle of toasted sesame seeds or furikake seasoning and serve.