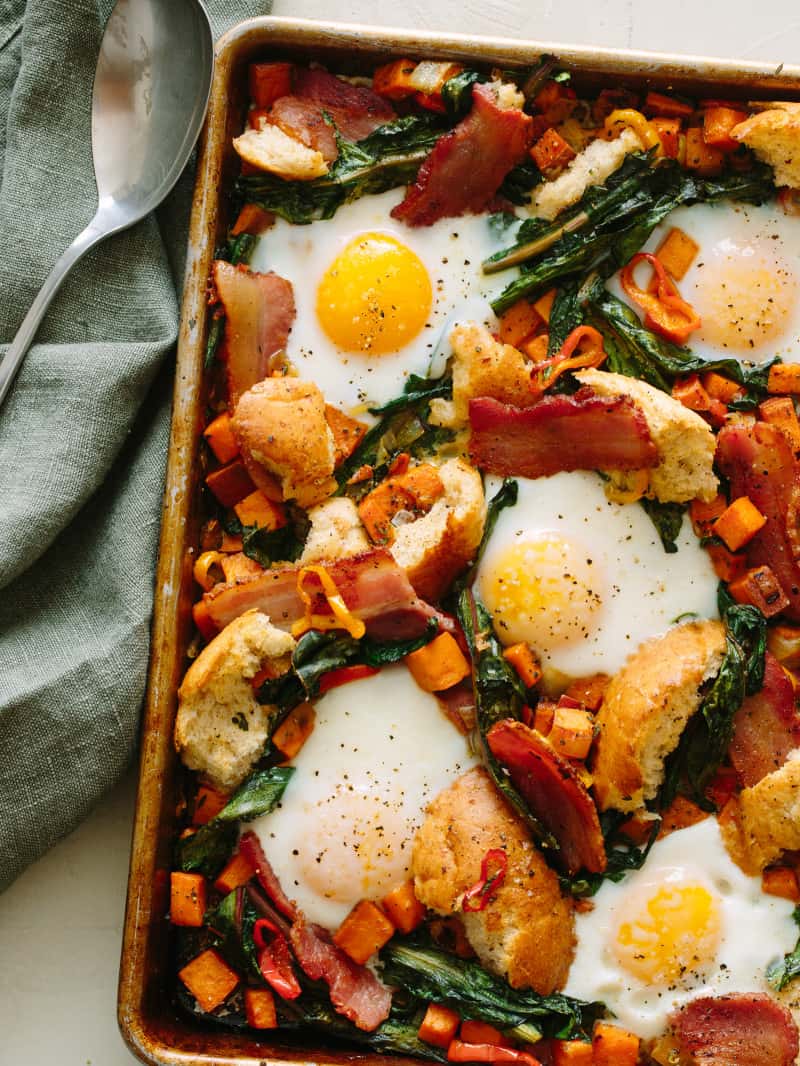 One of my favorite things to do on a lazy Saturday morning is to whip up a fun breakfast! Lately I've been really into these Savory Breakfast Pans! They're so easy to make and the options are endless! Plus this is a great dish to serve to a group and there's a little something for everyone in each bite. We made ours with bacon, o-brien-style sweet potatoes, sauteed dandelion greens, torn and buttered bread, and of course finished them off with lots of runny yolk eggs! Another thing I love about this dish is that you can make most the of the components ahead of time and can just throw everything into a pan together the morning that you want to eat it. I also really love this dish with breakfast sausage, charred broccoli rabe and lots of shredded cheese. We omitted the cheese for today's recipe (crazy, I know), but feel free to load it on because cheese only makes things better. :) Enjoy! xx, Jenny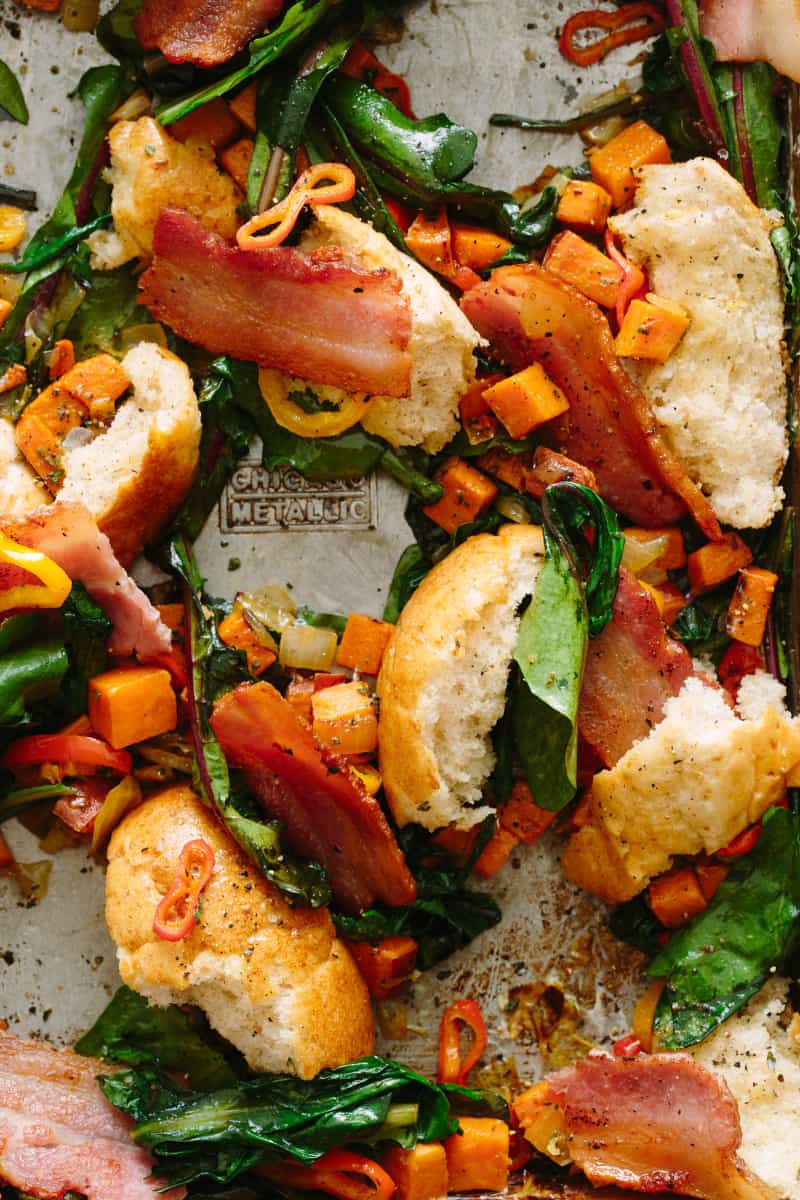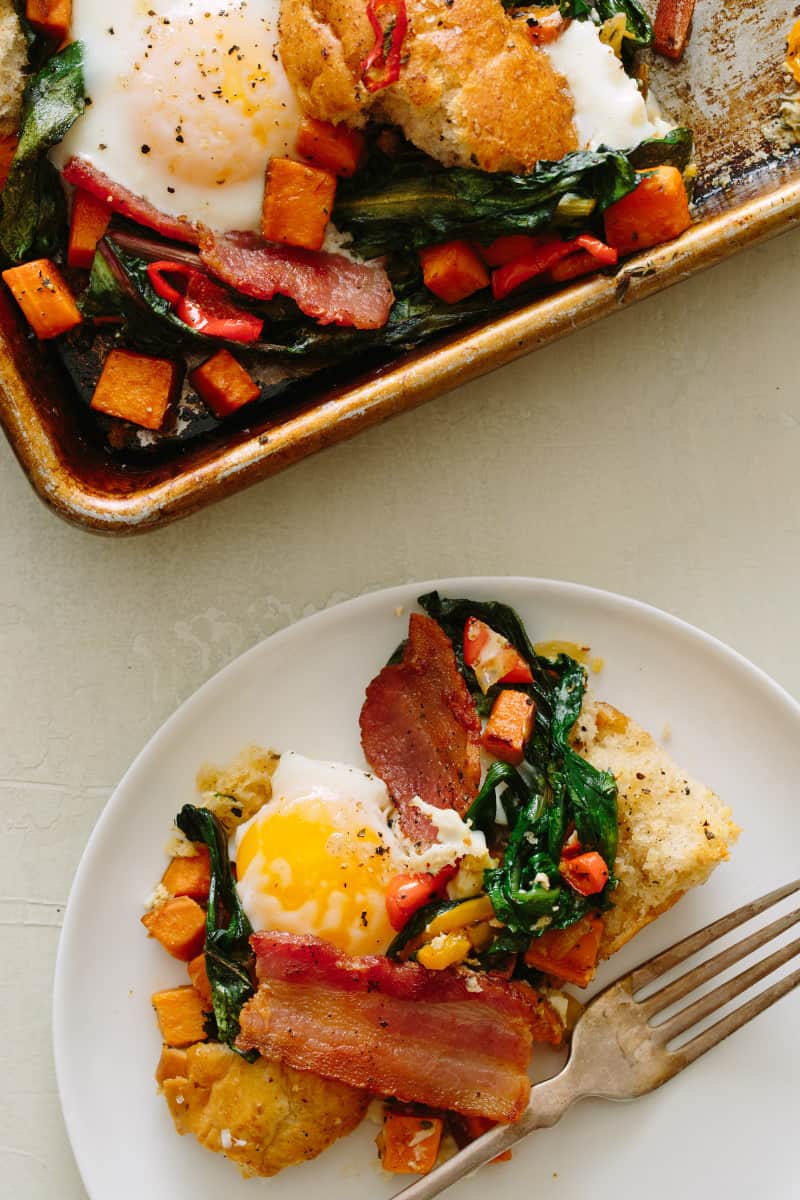 Savory Breakfast Pan

Makes 1 13'x 19" baking sheet

Ingredients:
3 1/2 tablespoons extra virgin olive oil
1 sweet potato, peeled and diced
1/4 red onion, diced
4 sweet peppers, thinly sliced with seeds and stem discarded
1 tablespoon thyme, minced
2 teaspoons oregano, minced
1 bunch dandelion greens, trimmed
4 1/2 tablespoons melted butter, cooled and divided
4 dinner rolls, torn into large pieces
6 to 8 rashers cooked bacon
6 large eggs, cracked into individual ramekins

Directions:
1. Preheat oven to 375˚F.
2. Pour 2 tablespoon oil into a large skillet and place over medium-high heat. Add sweet potatoes and red onion and sauté for 8 to 10 minutes. Season with salt and pepper. Add sweet peppers and continue to sauté for 2 to 3 minutes. Add herbs, sauté for an additional minute and transfer to a mixing bowl. Set aside.
3. Pour remaining oil into the same skillet and sauté dandelion greens for 2 to 3 minutes. Season with salt and pepper. Set aside.
4. Place torn bread pieces into a large mixing bowl and toss together with 3 1/2 tablespoons melted butter. Season with salt and pepper.
5. To assemble: Brush remaining oil onto a half sheet pan and add everything except the eggs. Toss together until well mixed then evenly spread around the pan. Create 6 round divats throughout the pan and carefully pour each egg into each divat.
6. Bake for 20 to 25 minutes or until the egg whites have just set with the yolks still a bit runny. Adjust seasonings and serve.