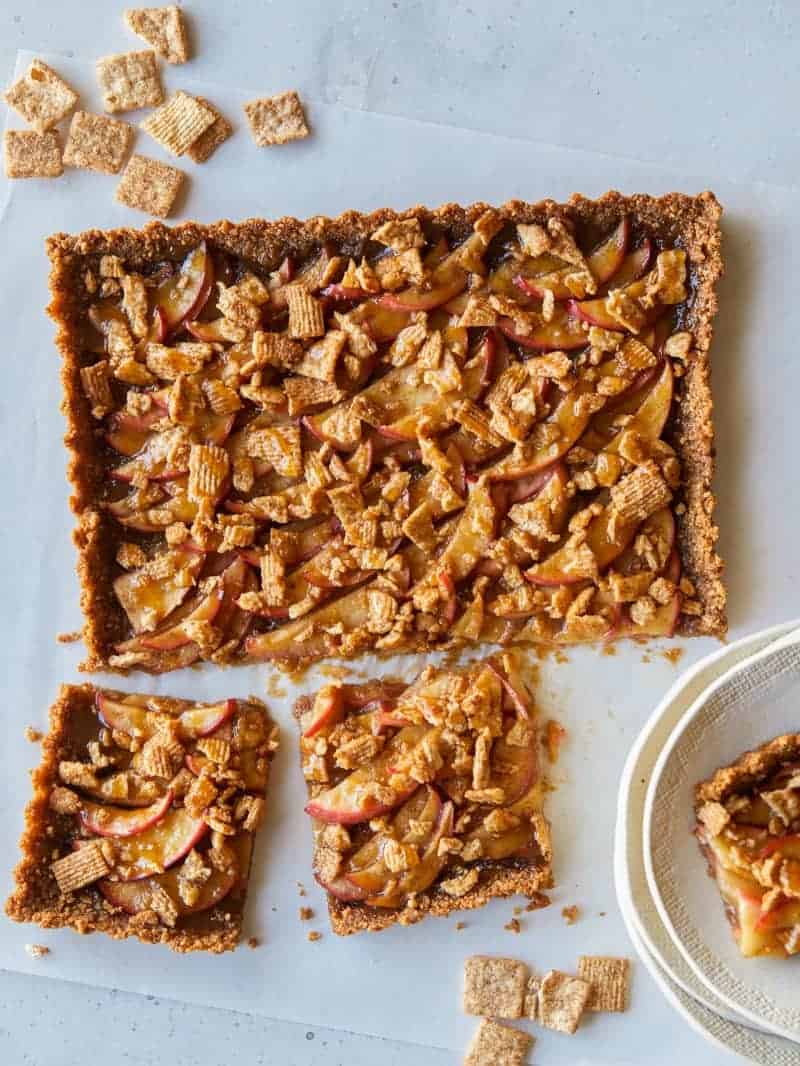 I'm pretty sure almost everyone freaks out (in a good way) when fall comes around, I know I do. I just love the start of "cozy everything" season. The weather, the food, the clothes, the overall vibe, I just love it all! A big part of fall for me are apples. I love apples! Especially the fun varieties that come out around this time of year. Although honeycrisps aren't super specialty or anything, they can be so expensive any other time of year, it's crazy!
I'm also pretty into this recipe because of the Cinnamon Toast Crunch action we have going on in there. Why is that cereal the sugary crack of all cereals?? Like we know it's terrible for us, but it's SO good! It's basically dessert disguised as cereal, but that's cool with me. Side note: have you guys ever crunched some on top of really good vanilla ice cream, with a drizzle of salted honey?? No?? DO IT!
Anyway! The combination of the cinnamon toast crunch cereal, the apples and salted caramel sauce makes for one tasty lil dessert, that's pretty low maintenance too! It's a great way to kick off fall dessert season! Cheers to cheap apples and sugary dessert cereal! Enjoy! xx, Jenny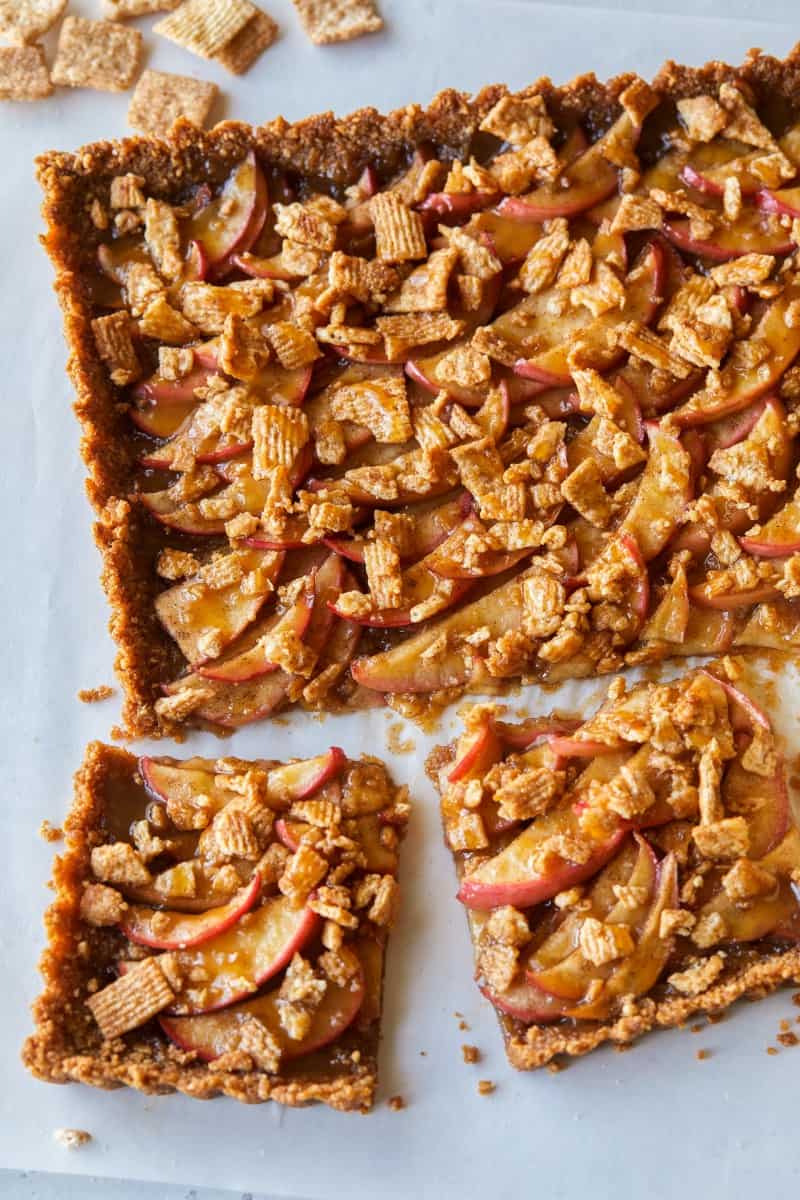 Salted Caramel Apple Tart with Cinnamon Toast Crunch Crumble

Makes 1 (8"x8") tart

Ingredients:
4 cups cinnamon toast crunch cereal
1 stick unsalted butter, melted, cooled and divided

1 cup salted caramel sauce
filling:
2 large (honeycrisp) apples, cored, halved and thinly sliced
3 1/2 tablespoons light brown sugar
1 tablespoon fresh lemon juice
2 teaspoons tapioca flour
1/2 teaspoon ground cinnamon
1/2 teaspoon ground cardamom, optional
1/4 teaspoon salt
1 1/2 tablespoons unsalted butter, softened

sea salt flakes, for sprinkling

Directions:
1. Preheat oven to 350˚F.
2. Crust: Place cereal into a food processor and pulse until roughly crumbled. Remove 1 cup and add 2 tablespoons butter to the reserved cup and toss together. Set aside.
3. With the motor running, finely crush remaining cereal, while adding remaining butter, until fully incorporated.
4. Pour mixture into the bottom of an 8"x 8" tart shell and press into the bottom and sides. Refrigerate for at least 30 minutes and up to 1 day.
5. Filling: Place apples into a large mixing bowl and add remaining ingredients. Gently but thoroughly toss together until well mixed.
6. To assemble: Drizzle 1/2 cup salted caramel sauce evenly into the bottom of the prepared tart shell.
7. Top caramel sauce with apples, evenly arranged, filling the entire tart shell.
8. Drizzle another 1/4 cup caramel sauce over apples and dot with butter. Place tart onto a baking sheet and bake in oven for 25 to 30 minutes or until pie is bubbling.
9. Remove from oven and sprinkle reserved cereal crumble on top.
10. Place tart back into the oven and bake for an additional 15 to 20 minutes.
11. Remove tart from oven and cool, about 30 minutes.
12. Drizzle remaining caramel sauce over tart, sprinkle with sea salt flakes and serve.